Telus Health Acquiring EQ Care to Survive Virtual Care Competition Against Maple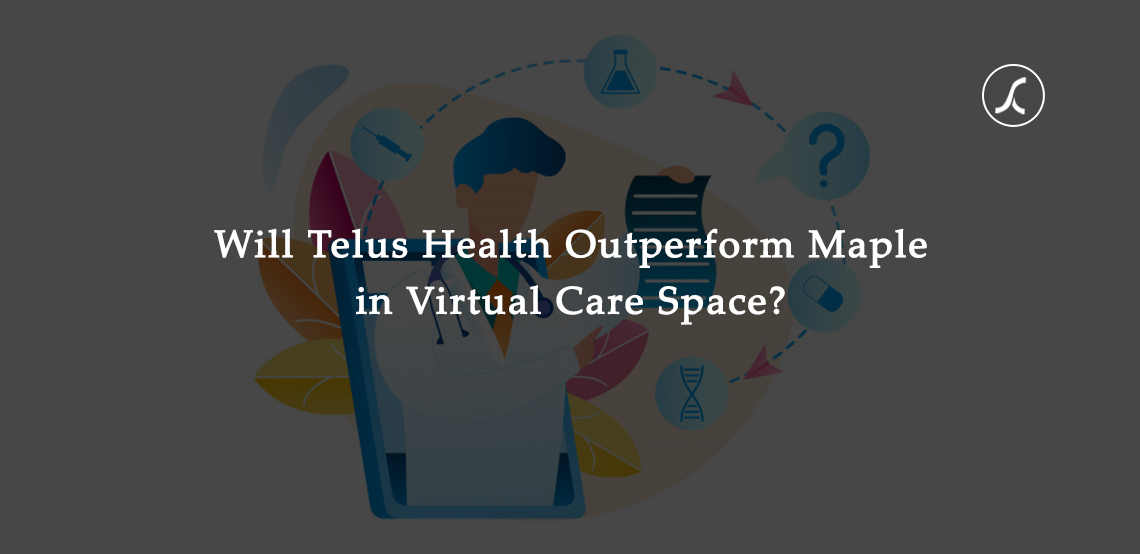 3 years ago
Telus Health recently announced that they are acquiring a Montreal-based virtual care company - EQ Care.
The Spokesperson of Telus has already confirmed the acquisition. However, they are yet to declare the deal publicly. It is anticipated that they will announce it in the new year.
According to the Spokesperson, this acquisition will result in broader access to digital healthcare services to Canadians.
But according to our business experts, there are a few very significant yet very common hidden reasons behind the unexpected acquisition.
What does Telus Health offer?
Telus Health provides several digital healthcare solutions and software in North America.
It also provides several useful mobile apps to let patients connect with healthcare providers remotely.
Akira and Babylon are the two most popular telemedicine apps of Telus Health.
During the pandemic, the usage of these apps has skyrocketed.
These apps are also equipped with many unique features such as an AI-enabled symptom checker.
(We provide a similar HIPAA/PHIPA/PIPEDA compliant white-label telemedicine app from $20000.)
Why Telus Health acquired EQ Care? - An analysis
Virtual care through telemedicine solutions or apps has already been very popular in Canada.
It is so popular that many provinces such as Ontario, B.C., and Alberta have brought televisits under its provincial health plan coverage.
But when it comes to telemedicine companies, there are only a few dominating the Canadian market.
Babylon by Telus Health and Maple are some of them.
They are in fact top competitors of each other.
Be it features, pricing, and popularity, Maple is performing better than Babylon by Telus Health.
Maple has achieved many outstanding milestones in 2020, whereas Babylon by Telus Health lacked behind.
Exciting announcement: we're one of Deloitte's Fast 50 Companies to Watch for 2020! The Fast 50 program recognizes Canadian companies that are transforming everything. Here's the complete list of winners for this year https://t.co/E7ommTYJX1 #Fast50ca #CanadianTechnology

— Maple (@getmaple) November 18, 2020
Considering the newest & hottest market opportunities of virtual care emerged with the pandemic, Telus Health is pushing very hard to outperform Maple - with this new acquisition.
Canada is a very huge market for virtual care.
But Telus virtual doctor through Babylon app is available in only four provinces: British Columbia, Alberta, Ontario, and Saskatchewan.
On the other hand, its major competitor - Maple - is providing telehealth services in all provinces of Canada.
Like Maple, Babylon could also have increased the market coverage to the entire Canada.
However, the major challenge Babylon by Telus Health has been facing is its hiring and onboarding process of doctors.
Babylon provides virtual care services through its hired doctors. Whereas, Maple provides virtual care services through its partnered doctors who aren't employees of Maple.
Because of this only reason, it could be a very tedious and costly process for Babylon to hire and manage doctors in all provinces.
So, Telus Health found the alternative - acquiring EQ Care!
EQ Care has been in the Canadian virtual care space for more than 30 years. Most importantly, it covers all provinces with its national virtual care service in English and French languages.
Telus Health is making healthcare more accessible through multiple solutions. Babylon By Telus Health is one of them.
In its Q2 and Q3 reports from the year 2020, Telus Health reported a decrease in revenue from its other solutions including in-person clinics but increased demand for virtual care solutions.
And when it comes to virtual care solutions, the major solution Telus Health owns is the Babylon app - which is the outcome of the partnership with a British healthcare provider - Babylon Health.
The same trend we have been witnessing in entire Canada. People are finding televisit safer, affordable, and easier than an in-person visit to a clinic.
Thus, it is important for all telemedicine startups to capitalize on this latest trend which is not going to disappear in the near future.
Will Telus Health outperform Maple in the virtual care space? Babylon by Telus Health Vs Maple
Yes, Babylon by Telus Health can easily outperform Maple. But for that, Telus Health seriously needs to work on healthcare service delivery and the Babylon app.
The following are the top areas where there is scope for improvement for Telus Health.
Maple enables patients to talk to doctors any time on any day. Whereas, Babylon operates during the set hours.
Maple allows patients to talk to doctors directly without scheduling an appointment. But in the case of Babylon by Telus Health, patients have to schedule appointments.
Secure Chat, Audio, and Video
Using the Maple app, patients can talk to doctors through chat, voice call, or video call. But to speak with a physician on the Babylon app, patients must turn on the video.
There is no time restriction on televisits arranged through the Maple app. But all appointments on Babylon app are capped at 10 minutes.
Enough of Maple and Babylon. Let's talk about your telemedicine app!
If you're healthcare providers such as hospitals, LTC homes, clinics, or healthcare startups and planning to launch a telemedicine program, we'll solve challenges on your path toward success.
A HIPAA/PHIPA/PIPEDA Compliant Telemedicine Solution

Starts at $40000

Telemedicine Solution

Delivery Within a Week

 
Scope for App UI and Features

Customization

 
Integration with Top

EHRs & EMRs

(Telus PS Suite, Oscar EMR, PointClickCare EHR, MED e-care EHR, Accuro EMR) 

Healthcare Compliance

Consulting and Audit 
The following is a glimpse of our telemedicine solution.