Top 10 financial and operational reasons you need to know to hire managed IT services provider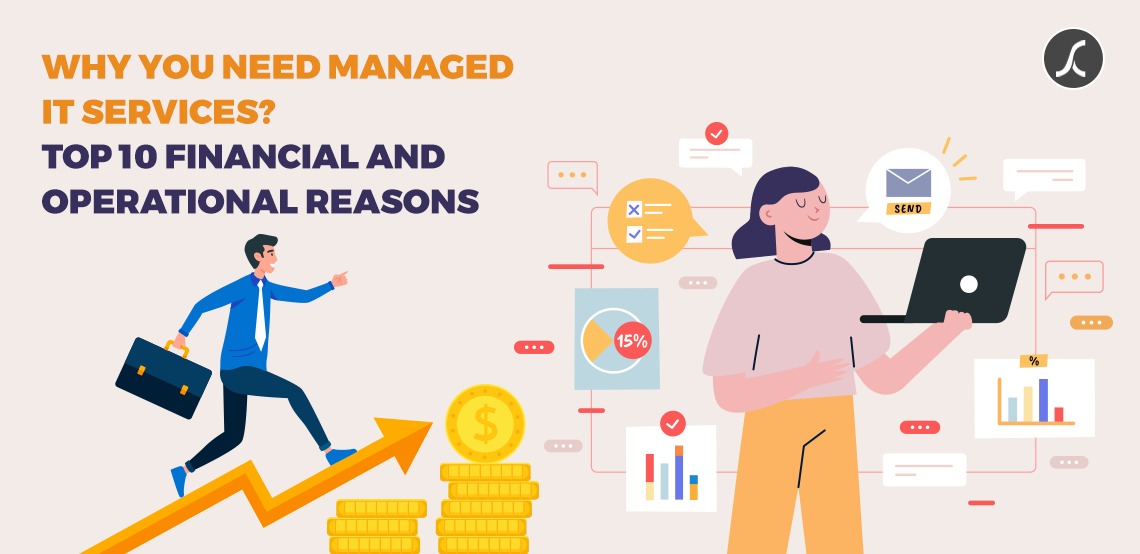 4 years ago
Who should read the benefits of IT redistribution?
SMEs and large enterprises which are,
Exceeding IT budget

Struggling to hire and train a qualified workforce

Coordinating with multiple vendors to purchase IT devices

Lacking the expertise to keep the system up-to-date and secure
Why you need managed IT services to enhance operational and financial outcomes?
By outsourcing IT services, a hospital can focus more on rapid patient care rather than IT operations which results in shorter waiting times. A real-estate company attracts more buyers with groundbreaking virtual 3D experience technology. A manufacturing unit can scale down IT infrastructure during the holiday season to save IT costs and scale up again to meet demand.
Regardless of the industry you serve, managed services enable you to derive many financial and operational benefits, listed below.
Financial benefits:
Reduced monthly IT billing efforts & costs
Coordination with multiple IT vendors to purchase IT devices at the retail price tag or IT services with a monthly billing plan is a waste of your time and money.
But a managed IT services provider (MSP) delivers IT devices and IT services through their partnered IT vendors with prices less than the retail market. This practice saves your IT billing costs and collaboration efforts.
Downsize on-site IT resources
The IT infrastructure costs can be reduced dramatically if you switch to MSPs. By using their data centres and other IT infrastructure resources, you as the enterprise can downsize your on-site IT resources.
This practice not only reduces your IT infrastructure hardware costs but reduces energy consumption and space required to house it.
Labour management without high HR budget
Hiring, training and managing the staff to look after your IT resources are time-consuming and costly tasks.
But, MSPs are trained to adapt to new enterprises and quickly take control over their IT operations without demanding training or any other special treatment.
A system downtime always costs high. It does not only cause financial loss, but it also affects the user experience and company reputation.
Your IT outsourcing partner forms a dedicated team to respond professionally and eliminates the error before it results in system failure.
Small initial IT investment
An SME cannot afford to hire staff, buy IT hardware, and set up IT infrastructure. The unexpected cost can also arise anytime.
But with MSP, SMEs can break their IT costs into small monthly payments instead of allocating large capital to deploy and house IT infrastructure in a single shot.
Operational benefits:
Stay focused on core business
Enterprises many times misfire business opportunities while busy in managing IT resources.
An MSP offloads your IT burdens by deploying and managing the IT resources proactively. This practice enables you to focus more on core business and not on IT resources.
If a system downtime becomes a common phenomenon, the staff cannot execute their tasks effectively which ultimately affects the company performance.
But with an MSP, you can ensure the constant delivery of all necessary IT resources to staff which helps them work uninterrupted.
Implement new technologies rapidly
Do not run business old-school. Keep pace with technology.
MSPs do not only implement the new technologies in the organization, but they leverage the technologies and train the staff to navigate new technologies.
The ultimate outcome would be the upper edge on competitors.
Avoid compliance violations fines
Being compliance-ready is the most challenging task for enterprises. A compliance violation can cost a business license.
An IT outsourcing partner defines a strategy, carries out an audit, and makes your business or digital product compliant with all government laws and regulations.
Scale-up on-demand to meet changing demands
Enterprises are either running businesses with underperforming IT infrastructure or overly configured IT infrastructure.
But with MSP, you can scale up or scale down the IT infrastructure according to the demand to save IT costs without failing to meet demand.
Achieve 56% more operational performance and zero IT burdens
We are the top managed services provider in Ontario, Canada. In the last 6 years, we have worked with many enterprises in the healthcare, manufacturing, and real estate industries and saved more than 100,000 productivity hours for our clients.
With our team of network experts, app developers, security experts, VoIP/FoIP engineers, hardware specialists, and software engineers. we are capable of satisfying your every single IT requirement.
We are offering:
Computer hardware deployment, configuration, and management

Network deployment, monitoring, and support

Cloud set up and maintenance

End-to-end cybersecurity protection and prevention

Establish and manage business telephony solution (VoIP & FoIP)

Data backup and disaster recovery

Mobile device management

HIPAA, PHIPA, PIPEDA compliance certificate
To make you derive maximum benefits, we work with top IT vendors such as,

Our business expert will contact you back within 3 business hours and give you a free 30 min consultation.