List of Top Network Monitoring Tools in Canada and How Our 'Network Perfect' Team Saves Networking Costs and Time by 61%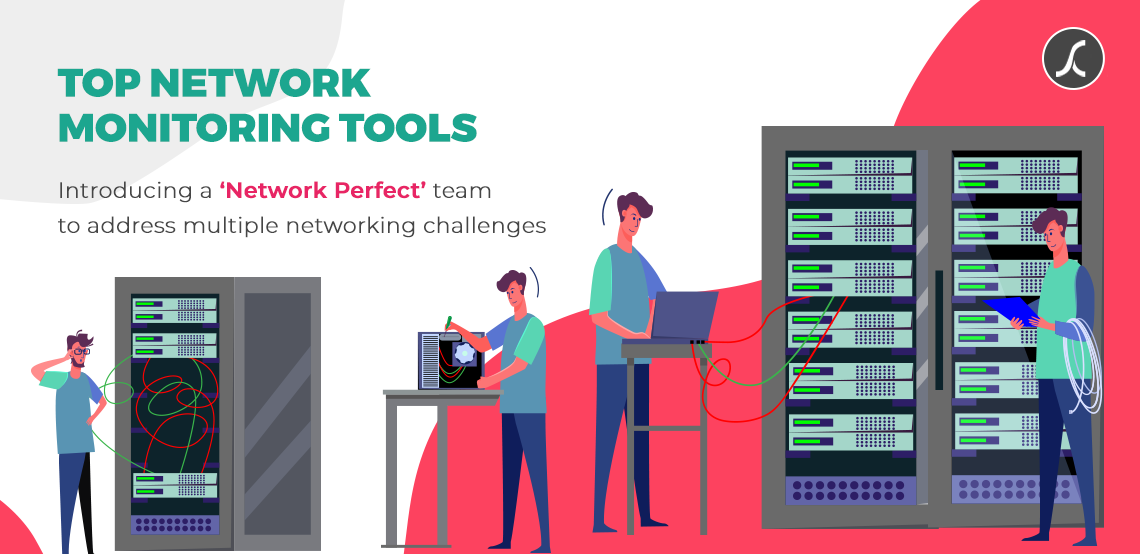 3 years ago
This blog is helpful for SMEs and large enterprises that are bringing their business processes online during COVID-19. This blog contains the top network monitoring tools and details about our 'Network Perfect' service/team which saves your networking costs and time by 61%.   
The COVID-19 pandemic has emphasized the need for closure collaboration among different corporations and stakeholders. 
Having a robust and secure network has recently become the fundamental requirement of all businesses to achieve business continuity during COVID-19 and beyond. Sensing opportunities, many startups are providing network monitoring tools. 
Recently, the New York-based startup OWkin which actualizes the collaborative research and development among hospitals, pharmaceutical companies, universities and other research institutions by building a secure network has raised $25 million in its fresh funding round. 
However, network monitoring is as important as network deployment. Thus, here we have listed out top network monitoring tools available to use in Canada. 
Top network monitoring tools in Canada:
Network monitoring is the continuous practice of keeping an eagle eye on networking devices to ensure high device availability and discover the errors as quickly as possible. 
For the enterprise-class network, network monitoring is carried out with the help of system or computer tools which identify the slow of failing networking hardware and notify the network administrator. 
The following is the list of such network monitoring tools in Canada.
Network Monitoring Tools
Top Features
Download Link
Solarwinds Network Performance Monitor

 

» Easy to set up
» Discover network issues automatically
» Highly customizable
» Web-based performance dashboard
» Forecast and Capacity Planning
» Analyze WiFi network
» Create heatmap of WiFi network
» Real-time monitoringspan

Download

 

PRTG Network Monitor from Paessler
» Use technology such as
» SNMP, WMI, SSH, Flows/Packet Sniffing, HTTP requests
» Require low experience to use
» Monitor devices in the datacenter with a mobile appspan

Download

ManageEngine OpManager
» Many analysis features
» Manage your network, servers, network configuration and fault & performance
» Pre-configured network monitor device templates

Download

WhatsUp Gold 2017
» Easiest to use
» Highly configurable tool
» User-friendly and visually attractive dashboard
» Price/feature balanced network monitoring tool
» Customizable alerts
» Automatic and manual failover
» Real-time performance monitoringspan

Download 

Nagios XI
» Flexible pricing model
» The free version, open-source, one-time license and subscription
» Adaptive to plugins
» Support only Linux
» Safest toolspan

Download
Here, it is worth mentioning that a network monitoring tool requires configuration and network engineers to navigate the tool. Enterprises also need to accommodate a network support team which solves network errors and network security teams to make sure the secure network. Hiring, training, and managing these many resources (teams) are indeed tedious and costly tasks. Here is where SyS Creations plays its role. 
'Network Perfect': Network deployment, network monitoring, network support, network security all under one roof 
Our 'Network Perfect' service or team enables you to get all networking services such as network deployment, monitoring, security, and support from one source. 
We are your fully-staffed outsourced network department. We work on your time for you only, with an aim to solve your every network-related requirement without making you hire, train, and manage a single resource. 
At the end of the day, we save your time and networking costs by more than 60%. 
'Network Perfect'  explained: 
Our 'Network Perfect' team or service offloads the IT burdens from your shoulders and replaces your whole network department. 
You can consider the 'Network Perfect' team as an outsourced network department which accommodates project manager, network engineers, network security experts, and network support engineers.  
With such a well-versed team, we satisfy your following network-related requirements.   
We plan, design, configure and deploy the network. Through our network of trusted vendors, we order the networking hardware, configure it and install it at your place. 
Read our case study where we described how we set up the network in an Ontario-based LTC home within 3 days, remotely. 
We monitor networking components like routers, switches, firewalls, and servers for fault & performance. We evaluate them actively to optimize their availability.
If an error shows up in the network, our deployed network monitoring system automatically alerts the network support team which later solves the error within minutes to maximize the uptime.  
We safeguard your network by leveraging security technologies. Because of it, you can know the top sources of threats, identify the most affected network, and impose the content filtering to restrict users from opening inappropriate or harmful content.
Benefits of 'Network Perfect': 
More business:

Since we are managing your most resource-sensitive task, you can be more focused on your business which ultimately increases your revenue and user outcome. 

Optimal performance:

When experts are at work, high network performance becomes routine. 

Fewer costs:

You don't have to hire, train and manage the resources as trained experts work professionally for you remotely or on-site without asking a single favour. 
Let's connect to hire 'Network Perfect' team or to just hire network monitor 
We know the pain. So, we are easing it with the 'Network Perfect' service or team.  We facilitate enterprises to solve every networking requirement from one source. 
Network monitoring tools are very purposeful to monitor the network. But it cries for configuration and expert watch. You can hire our network monitor exclusively. 
But if you have multiple networking requirements, our 'Network Perfect' team is the best choice. As we discussed, our 'Network Perfect' team is your outsourced network department that deploys, monitors, and secures the network. 
Due to the unprecedented situation caused by COVID-19, we are currently helping entrepreneurs remotely but with the same impact and enthusiasm. 
Please feel free to contact us if you have any questions related to the 'Perfect' team or want to hire it.