Connected and Virtual Kidney Care with a Web or Mobile App for Kidney Patients: Is it a Right Investment?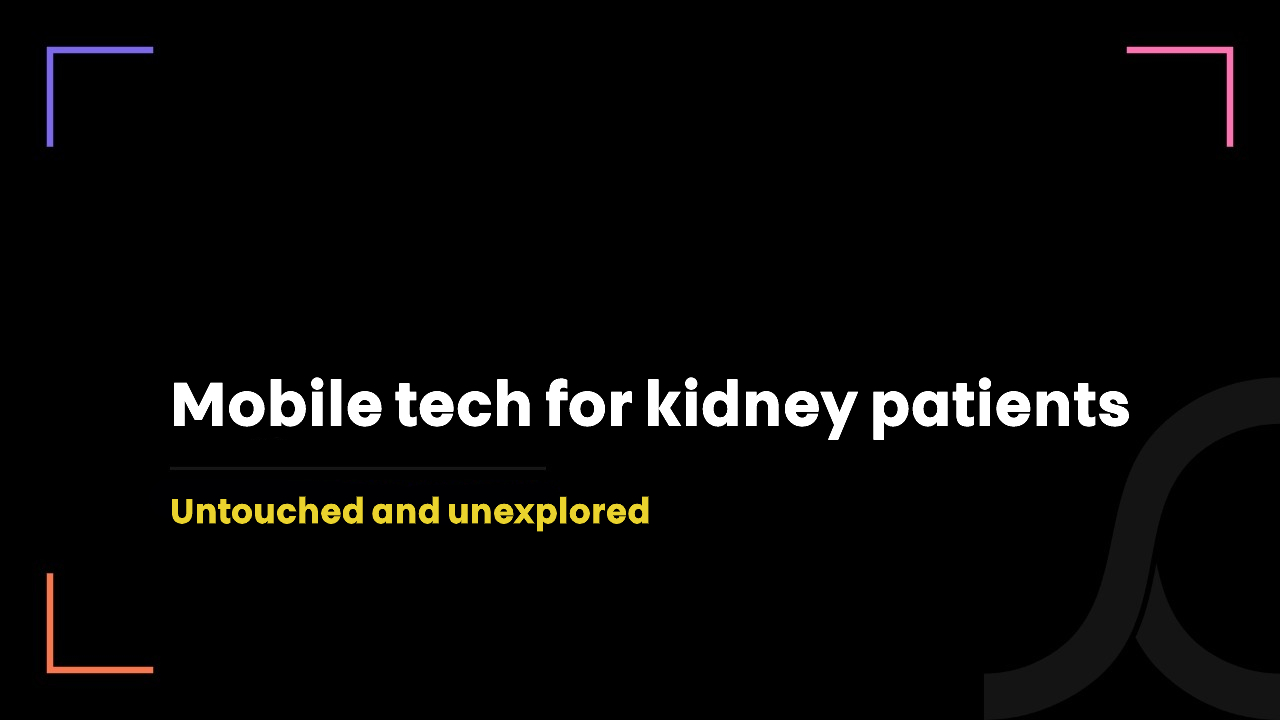 2 years ago
Let us make it clear. 
This is not a wealth creation blog.
This is the blog of creating a technology platform for kidney patients which in the first place makes kidney care connected & virtual and in the second place, makes you achieve good ROI. 
So, let's start with the fundamentals.
What is the need for technology in kidney care?
The next few will be horrifying moments for you!
Annually, kidney disease affects 37 million people in the USA which is roughly 15% of the population. 
And talking about Canada, somewhere around 2.9 million Canadians are already living with kidney disease.
These numbers clearly depict that on-ground situations are really messy. But the pandemic messed it up further. 
During the pandemic time, kidney patients delayed the care to the extreme level as they had fear of catching the virus and no easy & direct access to providers. 
Health agencies are anticipating that after cardiovascular diseases, diseases related to the kidney will soon emerge as the most common chronic illness.
One way to manage chronic kidney conditions on a large scale is to increase the budget and run special programs.  
But increasing the budget will not help patients as it is not practically feasible to match the speed of increase in budget and increase in the number of kidney patients. 
Similarly, running specific programs will not also prove impactful as it is not feasible to cover all patients with special programs.
So, when everything and everyone fails, technology comes to the rescue, like always. 
Because technology has the potential to reach a large number of people in a single shot.
Talking about kidney care technology, a connected and virtual kidney care app is the most workable solution. 
Here is why...  
Well, it puts both patients and providers in a win-win position by connecting them virtually and providing crucial medical data in real-time. 
Its virtual care model makes kidney care more accessible, affordable and rapid than ever before. 
Whereas, its connected care model makes kidney care outcome-driven and patient-focused with real-time vital body data availability.  
Web or mobile apps for kidney patients: How does it drive the patient outcomes?
The use cases of mobile or web apps in complex care delivery are game-changing and known to everyone, thanks to the pandemic. 
In several scenarios, a mobile app-based care delivery outperforms in-person care. The best example here is how a mobile app delivers 10X more convenience to the patients compared to in-person care.
Especially patients having chronic conditions find mobile apps the most convenient medium as they can now get rid of the inconvenience caused by frequent travelling and waiting at the doctor's clinic. 
This indirectly saves costs for patients while making them accessible to quality care very rapidly.
But talking about clinical outcomes of patients, well, a mobile app for kidney patients is designed and built with the purpose to enhance patient outcomes. Thus, the results are obvious.  
How?
So, here is the thing.
A mobile app or online platform gives the rare opportunity to the patients to not delay care unnecessarily.
A mobile app enables patients to record and track their overall health and wellness.
A mobile app enables patients to receive medication at their doorstep.
A mobile app facilitates providers to have access to patients' medical records.
A connected mobile app actualizes remote care with continuous remote health monitoring and precise alerts to care teams.
A mobile app helps patients build up good habits and get rid of bad habits to increase their health and wellness scores.
A mobile app eases chronic care management at the doctor's front.
A mobile app performs many administrative tasks automatically which saves crucial clinical time.
A mobile app makes data management and data access more secure and instant.
A mobile app helps patients to find all nearby dialysis centers and book appointments seamlessly.
Because of all these ways of how a mobile app for kidney patients enhances patient outcomes, it is undoubtedly the right investment. 
Earning possibilities: How to make money with a connected and virtual kidney clinic?
The impact is real. But the question is, how to convert impact in revenue? 
Possibility #1: Pay-per-visit model
Launch your virtual kidney care service to individual patients and charge a fixed fee on every virtual visit they have on your platform.
For virtual visits on weekends and holidays, you can charge more.
Possibility #2: Subscription model for virtual kidney care
Launch a subscription plan to attract patients already diagnosed with chronic kidney conditions. Offer them multiple virtual visits, monthly medication plans, personalized wellness programs and custom resources under a single subscription plan.
Possibility #3: Subscription model for connected kidney care
If you have IoT-enabled connected kidney care technology, run a subscription plan for letting patients and doctors access remote patient monitoring hardware and software.
Possibility #4: Sell it under the SaaS model to hospitals and clinics
This is a huge market. Sell your virtual and connected kidney care technology to hospitals and clinics under the SaaS model. They pay you a monthly fixed or usage-based fee and in return, they use your platform for providing modern kidney care to their patients.
Possibility #5: Bring it under a freemium model
Make it most feature-packed >> categorize these features into a basic feature and advanced feature categories >> let users use basic features for free but charge a fee for using advanced features.
This is a most tested monetization strategy!
Add these features to your platform developed for kidney patients and providers to deliver real value
The ultimate goal must be delivering real value to patients that they haven't yet found anywhere else. And the easiest way to deliver what patients haven't received is by adding purposeful and advanced features. 
Patient features:
Sign up/login
Set up the profile
Set goals
Track progress
Explore care cycle
Schedule virtual visit
Chat, voice call, video call functions
Record clinical data manually
Wellness dashboard
Diet manager
Workout planner and guide
Nearby dialysis centers
Book appointments directly
Payment
Notification
Provider features:
Sign up/login
Set up the profile
EMR/EHR integration
Patient dashboard
Chat, voice call, video call function
Earning report
Appointment management
eReferral
ePrescription
eNote
Advanced features:
Remote monitoring
Chatbot
AI-enabled Analytics
Early-stage symptom tracker
Admin & access management for SaaS model
Marketplace
We're already ready to help you & you are serious about helping kidney patients: Not just a coincidence!
We're an Ontario-based healthcare-focused IT company.
We are healthcare-specific only with an aim to empower healthcare professionals and healthcare startups with healthcare technology so that ultimately patients receive benefits.
With our most intelligent team of developers, UI/UX designers, business analysts, QA engineers and compliance specialists, we build robust and practical healthcare solutions. 
We have previously deployed our healthcare IT expertise to streamline primary care, mental health, senior care, diabetes care, cardiac care and even women's health.
Things are pretty easy for us as we have dedicated resources for complex tasks such as EMR/EHR integration, remote monitoring and even healthcare compliance. 
Our team also includes healthcare professionals who have a single but powerful job - add clinical value into technical products! 
So, overall, we have experts & expertise and most importantly a reason & personal interest to help you in your journey of a health tech startup.