How Much Does it Cost to Build a Virtual Vet Care Platform like Vetsie?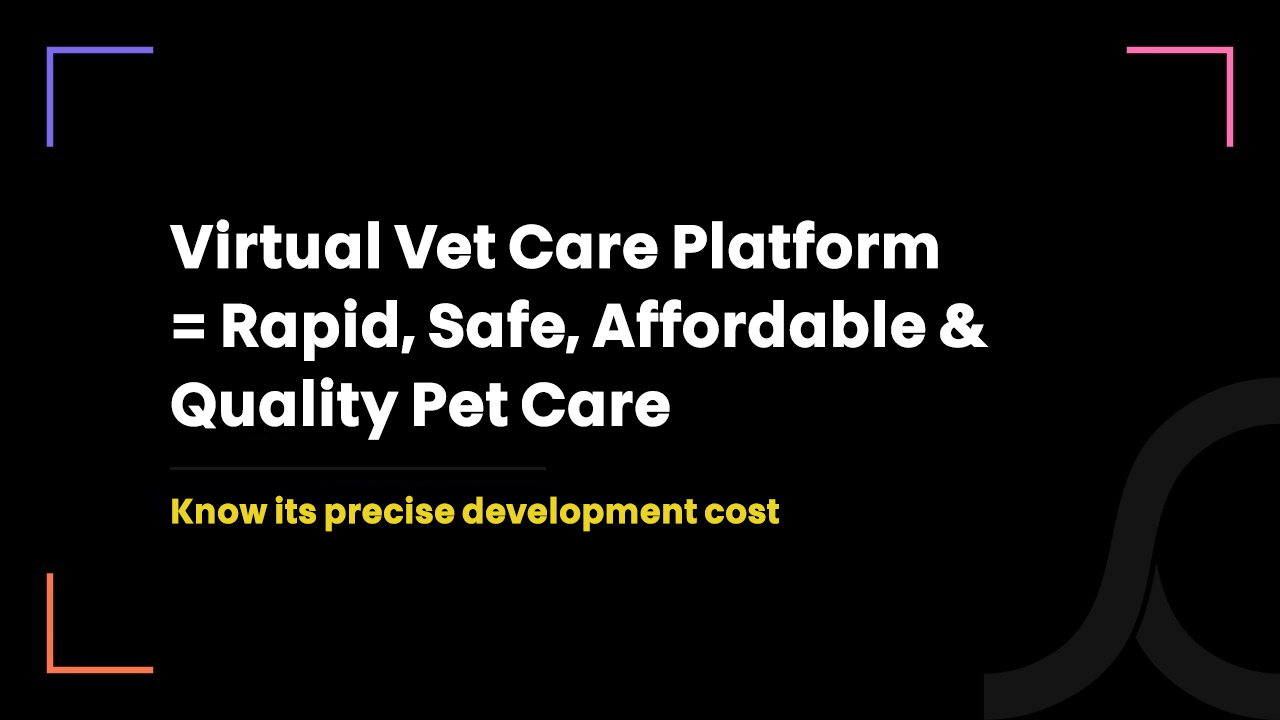 2 years ago
You must be aware of Vetsie which is talk of the town after the news of it raising $285,000 in pre-seed round hit the market. 
Like you, we are also excited about the fruitful future of virtual vet clinics. 
But as virtual care IT and compliance experts, we feel we should talk about the cost to build a virtual vet care platform like Vetsie as that must be what you are most concerned about. 
So, let's start but with a little disclaimer.
In this blog, we won't just reveal the cost of the virtual vet care platform. But we will also explain each factor that affects the cost.
So, if you are here to know only the cost, it would be at least $30000 for a white-label platform and at least $45000 for a custom platform in North America. 
Okay. Now for those, who want to know why it costs $30000 or $45000, let us explain every factor that affects the development cost of the virtual vet platform. 
Explained: Why a virtual vet care platform like Vetsie costs a minimum of $30000 in North America?
You might have already experienced that none of the app development or IT companies ever share the exact cost estimation without knowing your actual requirements.
Ever wondered why? Because, a team of business analysts at an IT company assesses your requirements, carries out the technical feasibility study, defines development technologies, development platform and feature set to estimate the time it requires to design and develop your virtual care solution. 
Once they know the time it requires to build your solution, they can easily give you the precise cost estimation as per their hourly development charges. 
In this sense, it is all these factors - your requirements, development technology, platform, feature set - which affect the overall development cost. 
Thus, now let's discuss each of these and more affecting factors in brief. 
1. Type of platform you wish to develop
This is the major driving factor. And you need to decide the type of platform very carefully as it not only influences the budget but also influences the overall success of the platform.
Following are the top types of virtual vet care platforms you can build.
Here, your hired IT company builds the platform from scratch by following the entire software development life cycle (SDLC).
A custom platform always costs you more as developers need to code it from scratch which requires at least 1000 hours in the case of a virtual care solution. 
An MVP version of the virtual vet care platform is equipped with useful and basic features only which result in fewer development hours and a more affordable solution.
Once you test it in the market, you can later add the extra features to it based on the feedback of initial users. 
This is undoubtedly the most risk-free approach as you invest more only after testing it in the real market. 
However, your investment in the MVP platform remains the same as a custom platform, but here, you get a privilege to not invest a huge amount in a single shot. 
A white-label virtual vet care platform eliminates the limitations of both custom and MVP platforms.
First of all, a white-label platform is armed with all basic, must-have and good-to-have features like a custom platform. 
And secondly, it costs you very affordable as the development company has already built the majority of its modules. 
It is also worth mentioning that you can customize the white-label platform as per your needs and also app development companies deliver it to you with your branding options.
Check out our white-label virtual care platform
2. OS ecosystem (Android, iOS, Web) you develop it for
Let's first talk about Android and iOS.
Both are different OS ecosystems. Both require different development technologies and skillsets to write code for. 
Thus, app development companies charge you separately. Meaning, it doubles the cost of building a virtual vet care platform. 
However, there is a workable alternative.
You can consider developing a cross-platform virtual vet care app for which developers only have to write code for once as a cross-platform app runs both on iOS and Android OS with a single codebase. 
If you're wondering, the app which requires a dedicated codebase for Android and iOS is called a native app.
Due to obvious reasons, a native app is costlier than a cross-platform app.
Talking about the web app, it is the most affordable among all as it requires a single code base, does not have advanced features like mobile apps and can easily be built with basic development technologies. 
3. Feature set 
There are two characteristics of the feature set that influence the overall development cost greatly. First is the number of features and the second is its complexity.
If you want to add just 10 features but those all 10 features are complex to accomplish, the development hours get increased automatically which leads to higher development cost. 
But if you want 50 basic features in your virtual vet care platform, developers can easily accomplish all those features within only a few hours which reduces development cost. 
Thus, it is crucial to define the feature set very carefully.
Here, we are sharing some of the features of Vetsie which you should also take into consideration.
Virtual care 
1:1 live chat 
Seamless payment 
Custom scheduling 
Client care portal 
Medical notes
Virtual team 
Clinic marketing 
4. Compliance including PIA/TRA
There are several data privacy laws that apply to your virtual vet care platform in Canada.
Thus, you have to address all of the technical and administrative regulations to be compliant with applicable privacy laws.
And if you fail to comply with applicable laws, you become liable for a hefty fine. 
Moreover, you also need to carry out PIA/TRA. PIA reveals privacy vulnerabilities your entire organization has, whereas TRA reveals privacy vulnerabilities your tech platform has. 
Many app development companies do not have dedicated compliance specialists which leaves you with no choice but to hire dedicated ones by paying huge hourly fees for just compliance consulting.
So to avoid this extra cost, we suggest you hire a local Canadian IT company that accommodates dedicated compliance specialists and understand the gravity of being compliant with privacy laws. 
Since our inception, we have been more focused on compliance. Our dedicated healthcare compliance experts work parallel with the business analysts and development team to address all technical and administrative compliance requirements.
Check out our case study: How to execute PIA?
5. A region where you outsource your project
Different development companies in different regions charge differently. The following image gives you a better understanding.
Though several Asian countries charge very nominal fees, we would suggest you hire only a local tech company to build a virtual vet care platform as local companies can understand your local market, user requirements and compliance in a much better way. 
With their on-ground understanding and awareness of your business terrain, they can easily assure that your platform is able to solve local challenges and surpass your local competitors.
Your this major myth needs to be busted
Myth: Software or app development is only about coding.
Reality: Software or app development is 10% coding and 90% workflows, documentation, UI/UX, prototyping, testing, compliance audit, and piloting.
Answering other some important questions
If you go for custom app development and even MVP app development, only you own the code. But if you purchase white-label software, you have to validate ownership with a tech company as several companies don't offer you code ownership to keep the overall cost low. But they allow you to own a white-label platform by paying extra.
Is it a one-time investment?

 
No, you have to bear operating costs that include maintenance, APIs fees, regular compliance audit and IT support.
If I already have UI/UX ready, will app development companies charge me for that? 
If you already have UI/UX ready, your hired development company does not design a new UI/UX. But yes, they may make some changes to it without charging you anything.
However, it is advisable to execute an entire project with a single tech partner to avoid unnecessary delay, rework and collaboration challenges.
Is my idea secure with an app development agency?

 
All app development agencies sign an NDA (non-disclosure agreement) which legally restricts both parties to share any confidential project information without each others' permission.
How does my hired app agency keep me updated on project progress? 
Once your hired app agency starts working on your virtual vet care development project, they provide your weekly or fortnightly updates.
They also give you a working demo of app modules they have developed as per the project timeline. 
We're local Canadian virtual care tech and compliance experts - ready to help you!
We're an Ontario-based healthcare-focused IT company. Virtual care or telemedicine is something we are most confident working with. 
Be it custom, MVP or white-label version of virtual vet care solution, we can help you with our Canadian healthcare-specific knowledge. 
What extra we provide to our healthcare clients is peace of mind by solving all of their tech, business and compliance challenges.  
Because we strongly believe our clients should not shoulder any extra burden which we can easily shoulder to solve!