VoIP for Pharmacy Solution: How Do We Offer You a Premium Phone System at Affordable Price?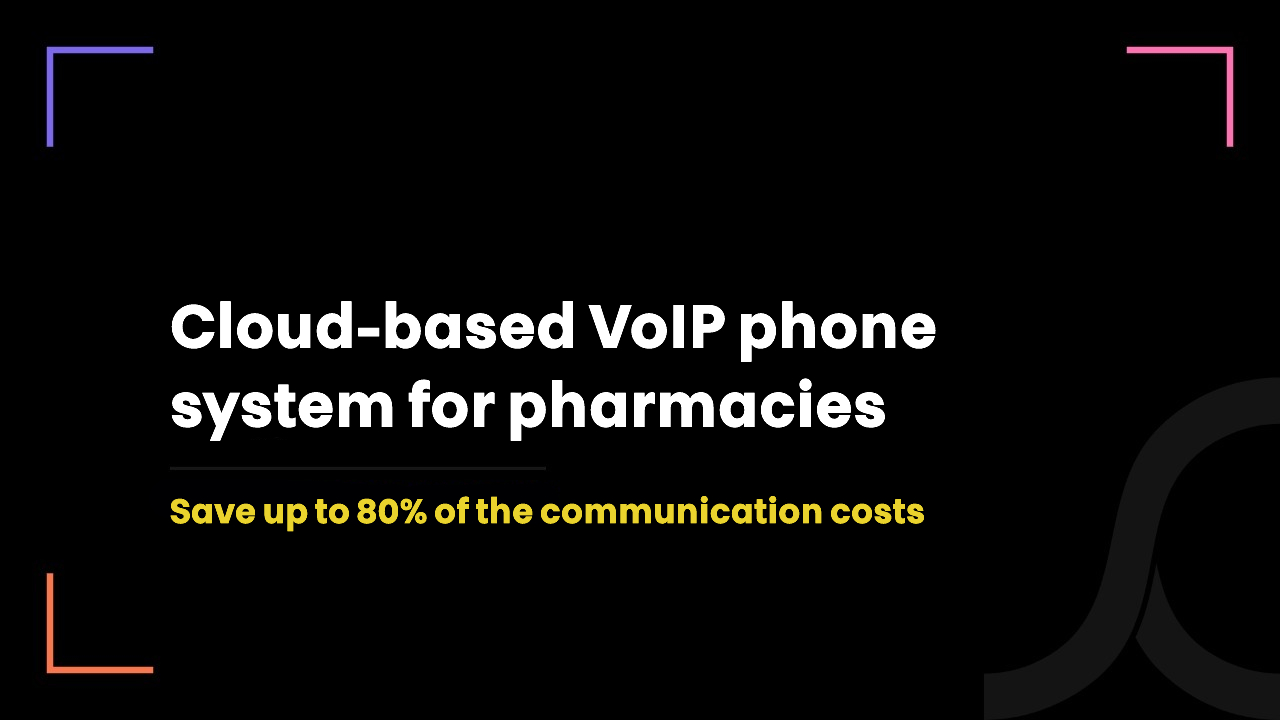 5 months ago
Scalability, security, and flexibility! The solid 3 pillars on which we as a health-tech company guarantee the best solutions for your pharmacy's phone system.
Now coming straight to the point,
Why should you invest in a VoIP phone system for your pharmacy with us?
The Voice over Internet Protocol phone system is fast taking over your traditional telephony systems in healthcare.
Just reading this blog will help you discover how flexible and cost-effective cloud-based phone systems for pharmacies can be with us.
VoIP phone system only needs internet. We have helped numerous pharmacies in big cities and rural areas with their phone bills by switching them to VoIP pharmacy phone systems.
All you have to do is contact us and we will take care of the rest from setting up the phone instrument to advanced features and integrations (IVR systems) designed for your pharmacy.
Maintenance and tech fees
There is no additional hardware to install, maintain, or upgrade with virtual telephony systems. We keep an eye out that your VoIP system is automatically updated with the most recent version of features and will never experience problems due to out-of-date equipment.
And in case you encounter some technical issue we are just a call away. Or if needed our expert officials can drop by whenever you need.
Custom workflow and installation
We get your setup up and running as soon as possible. So, if you have strict deadlines, no need to worry! We have a skedaddled installation option ready with us.
We have in-house compliance specialists who will provide you guidance to adhere to HIPAA, PIPEDA, and PHIPA rules as your VoIP pharmacy phone system may store or record customers' ePHI information. 
So, you do not have to pay a hefty sum to a compliance consultant from outside. Saving thousands of dollars.
Asking the right questions
Before we begin the whole VoIP setup process for your pharmacy, we always make sure to address these questions
1. What is the size of your pharmacy? (Requirement of minute-based or unlimited plan)
2. What cluster of devices will you be using or need? (Depending on the compatibility of the plan you may need VoIP accessibility on mobile devices/ SIP hard phones/ softphones)
3. Do you have one or multiple pharmacies and locations? (How many contact telephone numbers do you need to port in or add?)
4. How to configure call queue, routing, and voicemails? (we decide based on your activation diagram before deploying it)
VoIP solves problems of pharmacies and pharmacists for good
The problems you will say NO to with our VoIP pharmacy phone system setup service.
Additional administrative staff
Your pharmacy or pharmacies won't need extra people doing the same job. With the VoIP phone system setup that we execute, different locations and phones can be managed by one single individual.
Switching to VoIP can save 80% of the communication costs. For pharmacy businesses, VoIP solutions eliminate the need to choose between excellent services and cost-effectiveness.
You do not want to leave your customers unsatisfied with your services. Since it is internet-based customers, physicians' offices, or your vendors will never hear a busy tone.
You are always within reach in case of emergencies by answering phone calls from anywhere. Not just the telephonic conversation, the SMS system can also do wonders for your pharmacy's prescription refill department.
Unnecessary business hassle
We are quite connected within the healthcare industry. With our almost decade-long existence, we have built quite good connections with healthcare service providers. Getting you the best deals from companies on your behalf. 
7 factors to consider when choosing a VoIP provider
1. Features
Look for a VoIP provider that offers the features that your pharmacy needs, such as IVR systems, call routing, voicemail, call recording, call forwarding, and more.
Ensure that the provider offers the features that meet your specific business needs.
2. Scalability
As your pharmacy grows, your communication needs will change.
Look for a VoIP provider that offers scalability, so you can easily add or remove phone lines, users, or features without disrupting your business operations.
3. Reliability
Your pharmacy's communication system must be reliable. Look for a VoIP provider that offers a high uptime percentage, backup systems, and redundancy options to ensure that your business stays connected.
4. Support
Consider the level of support that the VoIP provider offers.
Do they have a dedicated support team? Do they offer 24/7 support?
Do they offer training for your staff?
Look for a provider that offers the level of support that your pharmacy needs.
5. Security
With the sensitive data that pharmacies handle, security is crucial. Look for a VoIP provider that offers robust security measures, such as encryption, firewalls, and secure data centers.
Ensure that the provider is compliant with relevant regulations, such as HIPAA.
6. Price
Compare prices from different VoIP providers, but don't choose based solely on price.
Consider the value you get for your money, the features included, and the level of support and security provided.
7. Reputation
Look for a VoIP provider with a good reputation. Check their online reviews and ask for referrals from other pharmacy owners who have used their services.
Choose a provider that has a track record of providing quality services and support.
How we helped a Canada-based pharmacy handle growing VoIP demand without extending the budget
We were approached by a pharmaceutical company. They wanted to upgrade their business calling within budget.
With the requirement of providing affordable, centralized, and scalable VoIP solutions connecting all their sites in such a way that the affordability remains the same even if they plan to expand in the future.
Additionally, they required an hour and person-based routing for quick delivery service.
Just so you know. We never back out from a challenge!
As soon as we got in touch with the client and understood all of their requirements. We sent out our teams to different sites for scouting to collect real-time data.
Sounds quite like a spec-ops mission… Not exactly! But it wasn't even less than that.
After the assessment, we put forward multiple execution plans to the client from which we decided the most suitable one. Yes! We believe in teamwork.
Using our exclusive knowledge, contacts, and experience working in the healthcare industry, we dealt with and got everything arranged and executed on behalf of the client. 
we dealt with and got everything arranged and executed on behalf of the client.
And since 2016 the client has been paying the same amount for VoIP pharmacy phone systems even after expanding the staffing to 15 folds.
The client does make regular calls to us. But not regarding problems, instead of maintaining the relationship that we built with them.
To get further detailed insight into how we accomplished the task and the roadmaps we used, check out the whole client success story in our case study section.