What Makes SyS Creations, SyS Creations 😎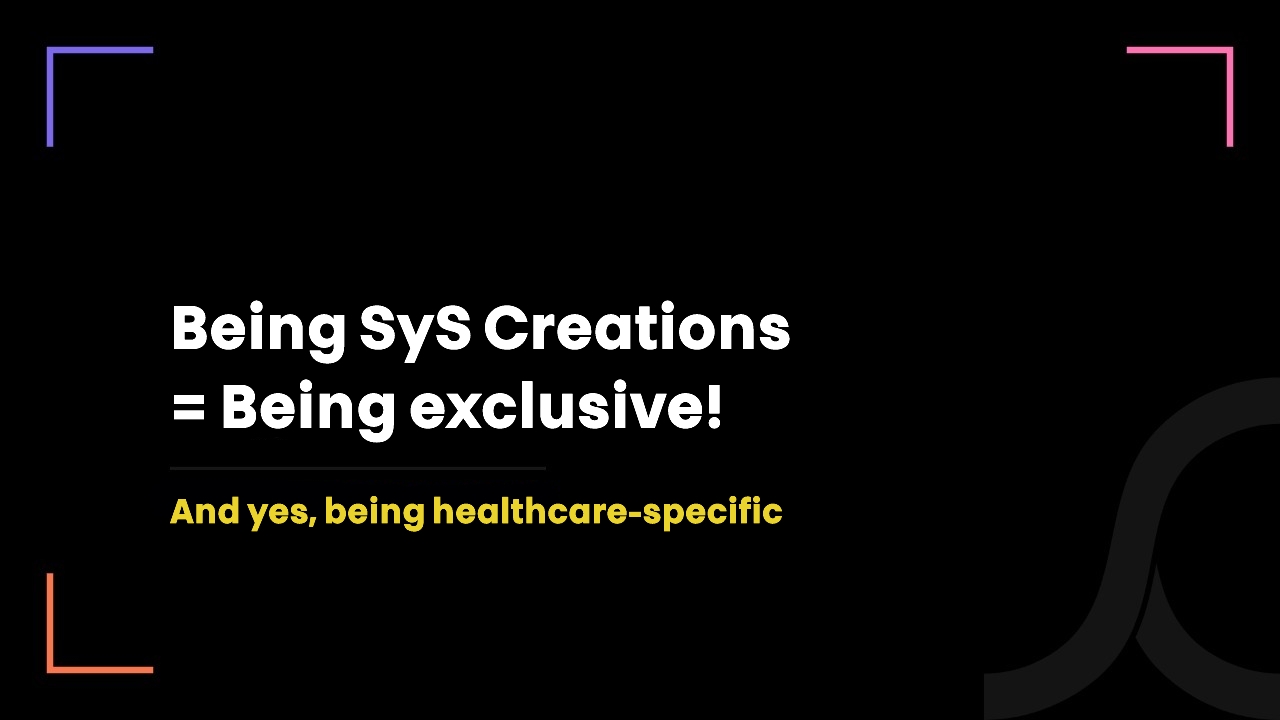 2 years ago
Humble beginnings, or being humble. As we step into the competitive cult of the business world, every brand, every company, and every firm is running a race to mark themselves in the Hall of Fame.
Today, I just have one question: why? Is it for the profits, is it for survival, or is it to prove the point of superiority?
No! No! We haven't changed our business niche. We are still your favorite healthcare IT company to whom you may approach anytime when you feel like you need something done in healthcare, or generally have a healthcare business idea.
Woah! That felt philosophical. Just to let you know this is not a venting session, it's just been a long time that we wrote something for ourselves.
Apart from how AWESOME we are at delivering healthcare IT services like app development, compliance consultancy, integrations, AI, RPA, ML, and the list goes on and on. (See I still can't manage to stop myself from writing for you all.)
The ballers of the healthcare town
A hot plate of self-praise coming right up!
We've compiled over 200 projects for startups and healthcare institutions, assisting them in realizing the vision they saw with their eyes open.
Well, to be honest, it is more like user appreciation. Whatever, we are running through you right now has been said to us by the user, healthcare professionals, healthcare business clients, and the rest of the healthcare IT community.
But it took a lot to create the mapping impression of the best healthcare IT solution provider company. 
Remember what they say about John Wick. The man of focus and sheer f-ing will, well we adopted those two qualities a long way back almost 8 years ago.
Understanding the competitive landscape of healthcare IT, we developed our theory of 'we are in this for the people', with patient care as our primary goal and at the same time seeking the betterment of those who are serving for the betterment of people like doctors, nurses, caregivers, and all those associated with healthcare.
While others are in a constant state of Unagi, we are eliminating errors and competition with our smartass approach
We don't just provide solutions. We create a smarter IT environment with our team efforts.
SyS Creations is like the Walmart of everything you need in terms of healthcare IT. We believe in worldview, and if you have an idea for an innovative and effective program, we will make sure you have all you need and more.
We are the most affordable for any business. Our unique business model and sprint planning, with dedicated healthcare experts by our side, make us the ever undefeated gladiators of the healthcare arena. 
Rather than just sitting around and waiting for people to approach us for solutions. We take initiatives to spread awareness of the latest healthcare technologies. This is quite evident from the number of blogs we have written. (300+ in 2 years with all on new topics)
Unlike others, we believe that health is wealth, and not healthcare is a source of wealth creation. Associating with a large number of non-profit organizations, voluntary healthcare organizations to provide them with the best healthcare IT solutions within a scalable budget.
We strive to deliver win-win situations with our healthcare IT solutions. Always looking at the solution from the users' perspective gives us an edge over our competitors who just develop healthcare technology for businesses and organizations. 
At the same time, acting as a trusted advisor, do-gooder helps us cultivate relationships with our clients in the long run. Believing in working along, rather than working for. You can aptly say we are a benevolent business.
Unlock the treasure chest of healthcare IT solutions with us
All you need is SyS Creations. Always sharing knowledge in the encyclopedic section on healthcare is enough to get you through all the education you need when it comes to healthcare IT development.
From our latest research to every listed star of endeavor on our profile, you not only gain technical information but aesthetic, legal, and multidirectional developmental approaches and techniques as well. 
I see you have read the whole thing… then what are you waiting for? Just get in touch with us right away for your most efficient and effective healthcare idea to be turned into a spectacular reality.
No goodbyes… only welcome! 🥂