Why Is Cisco Unified Communications So Important for Medium & Large Scale Businesses?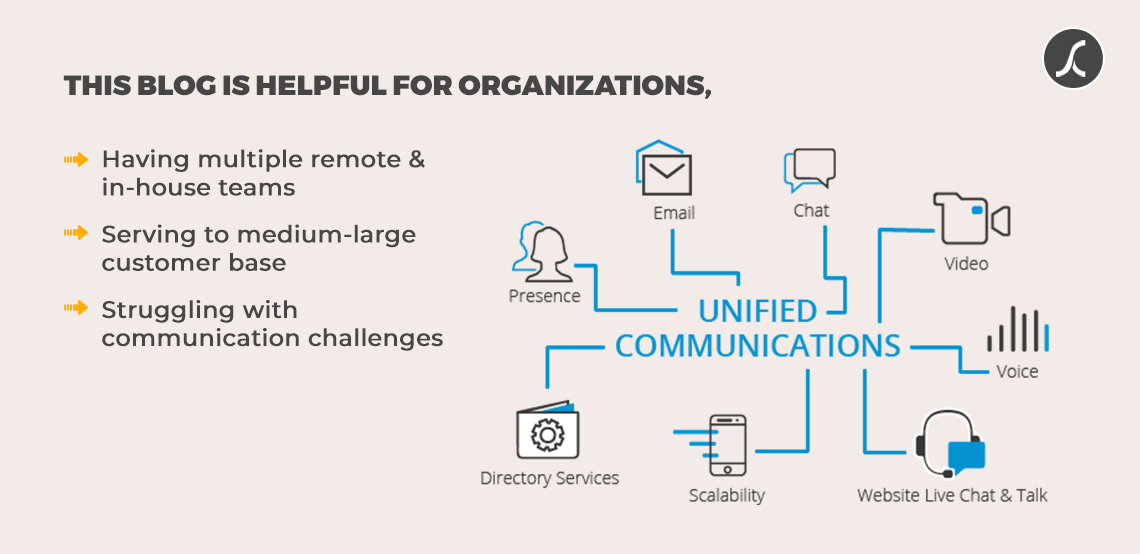 3 years ago
Rich collaboration experiences define productivity!
Employees need communication flexibility to effectively collaborate with team members and customers which ultimately thrives the results. Legacy telephone systems and third-party free chat apps aren't the solutions unless it is a staff of 10 people. The only workable solution here is unified communications.
What is unified communications and why unified communications is so important?

Let's understand 'what' and 'why' linked to unified communications in the single shot!
Scenario 1:
Jack reached the office at 9:00 am.
He checked the voicemail from the company telephone and noted down important tasks. He came back to his desk to check emails. When he was having breakfast in the cafeteria, he received calls on the company telephone and he missed those calls. He came back to his desk and scheduled a daily briefing meeting with the remote team.
It was 11:30 am.
Scenario 2:
Sam reached the office at 9:00 am.
Sam opened the dashboard of an integrated communication platform on his laptop. He checked his emails where he had audio files of voicemails he had received on his company telephone number last night. He called back through the laptop itself. He went to the cafeteria to have breakfast. While having breakfast, he talked to clients and remote teams from his smartphone.
It was just 10:00 am!
You must now have a clear understanding of unified communications and why it is important.
That was very straightforward learning. But the defined definition of unified communications is, accessing multiple enterprise communication services such as instant messaging, voice calls, fax, video conferencing, voicemails, emails, SMS only with a single platform from multiple devices.'
Unified communications use cases
Use case 1:
One of our clients serving in the real-estate industry asked us to fill the communication gap between their different global offices. That was the sole agenda.
Since they had multiple offices, remote & in-office teams, we integrated required Cisco communication tools such as Cisco Jabber, Cisco Webex Meetings and hosted it on the cloud to achieve unified communications.
The end results were a 58% reduction in business communication cost due to cloud hosting and 3X faster collaboration and communication due to a single fully-integrated communication platform.
Use case 2:
One of our clients serving in the Canadian pharmaceutical industry approached us back in 2016 to ease their collaboration pain. After studying their requirements, we suggested them to deploy a voice call solution rather than a full-fledged communication solution. As a voice call solution, we deployed VoIP.
The end results were a seamless call routing, uninterrupted & secure call, and centralized voice communication between their 4 branch offices. [Read Full Case Study Here]
Cisco unified communications applications and Cisco Collaboration Flex Plan
Cisco is leading the global market of business communication tools. They have introduced many communication tools for different requirements. You can deploy their business communication tools individually and then connect each other to have unified communications or directly subscribe to their exclusive unified communications applications plan. Let's discuss both options.
Cisco unified communications applications:
Cisco Jabber facilitates you to get several telephony features. It enables you to collaborate from anywhere across any device or browser. Using Cisco Jabber, you can call teammates and clients, chat with them and even share the files. It also supports Apple Watch and Android Wear.
https://youtu.be/RlNxmcUqJcM
Cisco Webex Meetings was exclusively launched by Cisco to solve the video meeting challenges of the businesses. It is the most popular enterprise-grade video collaboration platform with 130 million active users and 27.9 million mobile downloads. It offers highly secure integrated audio, video, and content sharing capabilities.
https://youtu.be/U2C9BVtGVrk
Optimized for midsize businesses, Webex Calling is a cloud-based phone system. It helps you satisfy business telephony requirements without housing, managing, and securing on-site phone systems. It is equipped with comprehensive PBX features such as virtual receptionists and personalized voice mailboxes.
https://youtu.be/lalnDTskMfU
Cisco Collaboration Flex Plan
It is a tedious task to manage the licenses of multiple Cisco unified communications applications. Thus, Cisco has rolled out a subscription plan for all important unified communications applications. Cisco promotes it as the 'one easy purchasing plan for all collaboration needs.'
Cisco Collaboration Flex Plan includes a wide range of collaboration solutions and other crucial resources.
Cisco Webex Meetings

Cisco BroadCloud - A dedicated cloud to deploy a full suite of calling and collaboration applications.

Cisco Meetings Server

Cisco Webex Calling

Cisco Unified Communications Manager
To access the Cisco Collaboration Flex Plan PDF, click here.
Do you need unified communications? - Top criteria
Deploying an integrated platform for unified communications is a costly and time-consuming choice. It also requires staff training, support team, and timely upgrades. Thus, before coming to any decision, it is advisable to validate the need.
The following are the top 4 criteria our business experts have listed out.
You should have unified communications only if,
You are having a medium to a large customer base with a minimum of 100 team members.

You are planning to achieve a feature-rich collaboration service in the cloud.

You are working with many remote teams.

You want to leverage the existing Cisco collaboration tools you have been using.
Requirement analysis, Cisco tools deployment & integration, staff training and support - We provide a one-stop solution!