Our Year in Review: While there is life, there is hope – in technology!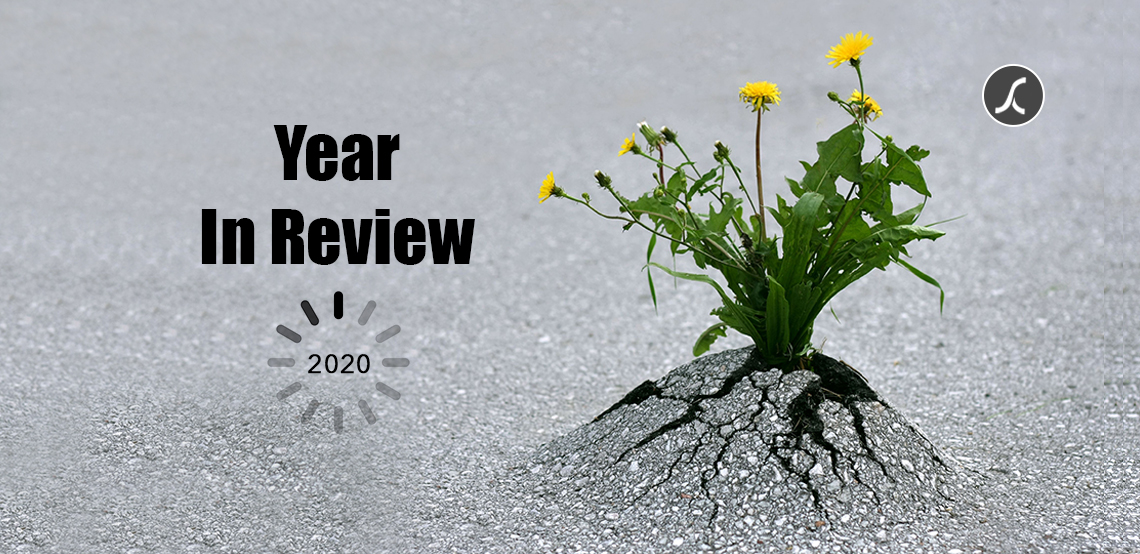 3 years ago
There is no simple way to sum up 2020. Alarming, ruthless, back-breaking, yet hopeful!
We not only lost around two million lives but also suffered great economic damage to tens of trillions of dollars.
This is exactly what an army of these little guys has been doing with our planet.
But as they say, while there is life, there is hope!
And for us, hope lies in technology!
Pre-Pandemic
We were ready with objectives, goals, and strategies to further push the boundaries of the technologies and eliminate bottlenecks from enterprise-level workflows.
We were on the verge of launching new services and solutions.
We were adding more and more industry arenas to our skillset and striving to revolutionize the industries single-handedly.
Meanwhile, we promoted adaptability at every level of our organization as it is crucial for an innovative IT company to be ready for any sudden flip of the market.
Both clients and teammates were happy. A few teams were working on reinventing the wheel while a few were working on making existing technologies more scalable and accessible.
And the most experienced team led by the CEO himself was working on a game-changing virtual care solution for long-term care homes.
Actually, at that time, we had not any idea that this solution would be easing the fight of long-term care homes against the pandemic!
Into the Pandemic
And the doomsday is here.
Ambulances rushing to hospitals, loud ambulance sirens crushing hearts, businesses shutting doors, government piling up PPEs, physicians wrapping plastics around, and all hoping for the best.
For the majority of people, the path to even the next step was unclear.
Soon the wreaked havoc started surfacing and it left all Canadians infused with sadness.
The news of our seniors dying due to coronavirus far away from their loved ones and family in long-term care homes was heartbreaking.
It was more painful as people were not able to do anything - not able to find a place where hope must be waiting for them!
But we found it in our everyday operations - in technology!
Since we had been practicing rapid adaptivity, we quickly collected our all resources and focus from other areas and earmarked it only for the unprecedented healthcare revolution.
With more strength - even in a new work pattern - the product team achieved a virtual care solution for long-term care homes 120 days prior to the deadline.
The onboarding and support team assisted 20+ long-term care homes shift from old-school less efficient ways of carrying out senior care operations to the future of healthcare practice.
But it was 2020. Even the easiest task turned out to be a difficult one.
To eliminate transmission risk, the government banned the entry of visitors to long-term care homes.
Damn, we now need to support clients remotely. But how?
As usual, we found hope in technology.
We deployed AR-based remote assistance technology to offer IT deployment and education remotely.
Long-term care homes are still fighting against the virus - but now with ease, with technology.
While spending 8 hours every day discussing and working with healthcare professionals, we discovered many areas where no one had dared yet to bring innovation, affordably.
Healthcare professionals were dangerously overwhelmed.
They were exhausted from many tedious operations like managing patients' appointments, onboarding, medications, concerns and claims.
Therefore, we introduced the 21st century's most useful technology - RPA - under our service set.
RPA executes processes on the computer by itself from scheduling appointments, ordering prescriptions, sending invoices, managing claims that makes healthcare professionals less burdened.
We measured the impact manually and we found that with RPA, a physician can save at least 3 hours in a day.
And for context, the physician can treat 10 more patients in these saved 3 hours!
Yes, we are proud that we didn't reinvent the wheel much. Because there was so much we could do to scale existing technologies first! 
After the Storm - Almost!
We're aiming to enter 2021 by only shouldering the significant lessons 2020 taught us.
Because there should not be room for sorrow and grief where there is technology and innovation.
Through all the uncertainty and fear, we grew to the highest state of awareness where we easily identify our role - that influences not only ourselves but the entire humanity.
Because we're not yet out of the circle filled with challenges and barricaded by our old-school methods of doing work. 
We need to escape together from this circle - as hope lies only outside of this circle!