Amazon Launches Amazon Clinic for Message-based Virtual Care: Know How You Can Start the Same Virtual Medical Clinic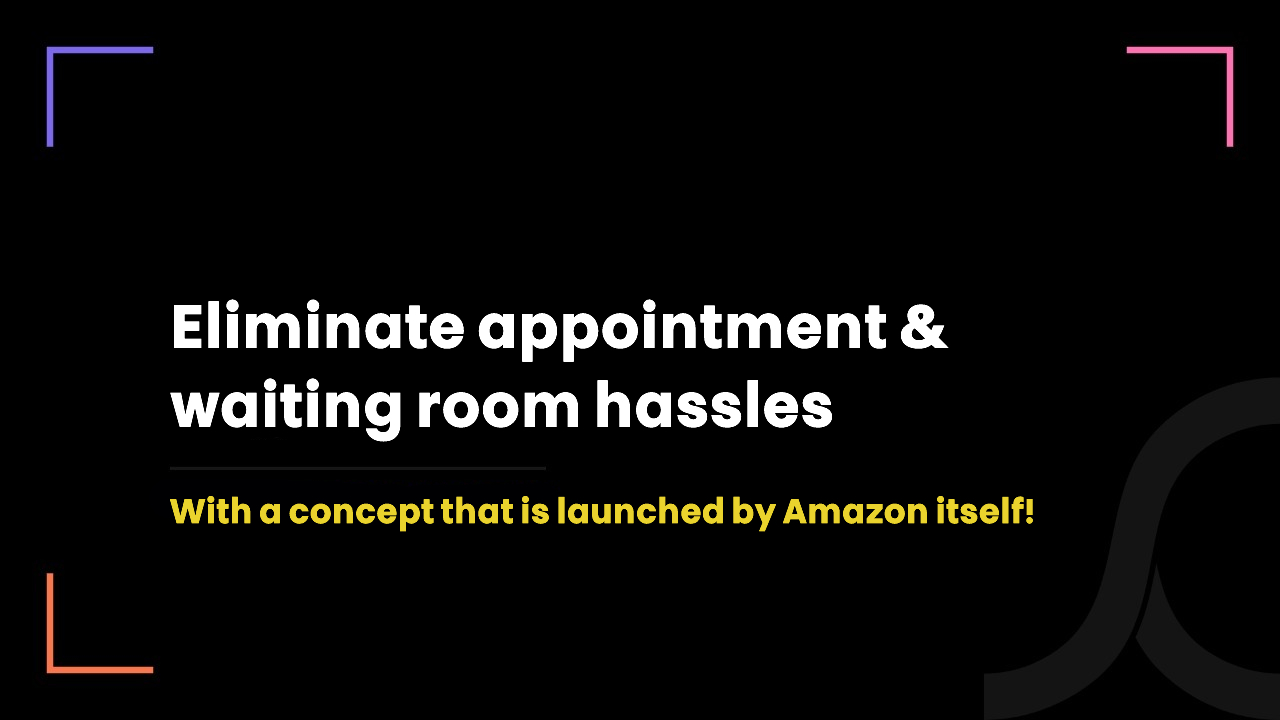 10 months ago
"The aim of Amazon Clinic is to connect patients to the services and products they want!"
With this strong purpose, Amazon again pushes into the digital health market.
And in this blog, we have covered everything you need to know about it.
In fact, we have also listed its current and future business moves so that you can start your own virtual medical clinic like Amazon clinic in the USA, Canada, UK, and beyond.
What is an Amazon virtual care clinic?
Amazon Clinic is a message-based virtual care platform.
It allows patients to get online care solutions for common conditions like – skin issues, allergies, hair loss, and sexual health.
Despite its just limited to message-based care solutions, still, Amazon Clinic has found its way to deliver convenience to virtual health services.
Because it also allows patients to get prescription solutions that they can fill in from Amazon Pharmacy or any other pharmacy.
Excited to announce Amazon Clinic! So proud of the team and all the hard work that went into the launch

Learn more about our new virtual health service: https://t.co/UO28J7Y9V9

— Nworah Ayogu (@nworahayogu) November 15, 2022
How does Amazon's virtual medical clinic work?
The aim is to help patients get what they want – in less time!
That's why Amazon Clinic partners with third-party telehealth providers HealthTap and SteadyMD to provide much faster and more convenient virtual care solutions.
And here is how it works.
Step-1: Patient opens the virtual medical clinic app.
Step-2: He or she now needs to answer a few questions about what's going on with their health and pay an upfront flat fee.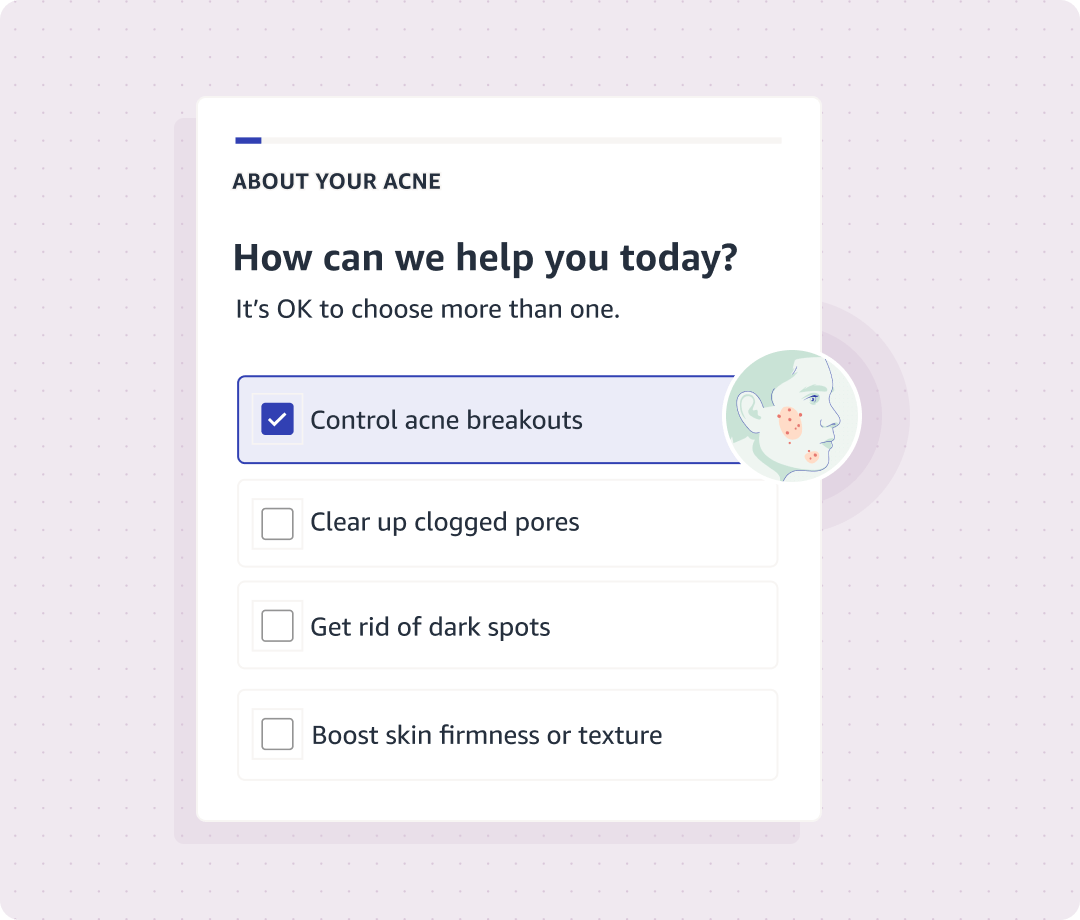 Step-3: A US-licensed physician or nurse practitioner will review the health condition and message a patient with follow-up questions.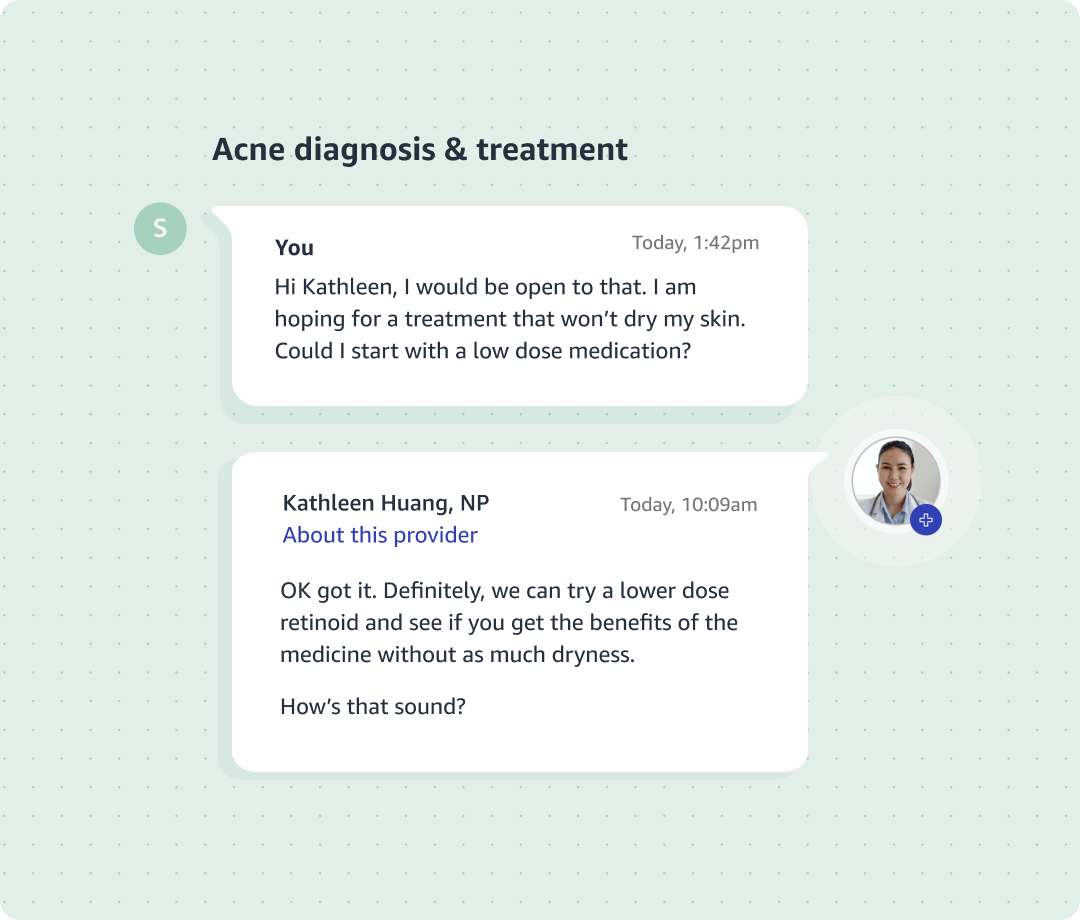 Step-4: Once it's done, a patient will receive a personalized diagnosis and treatment plan including any necessary prescription.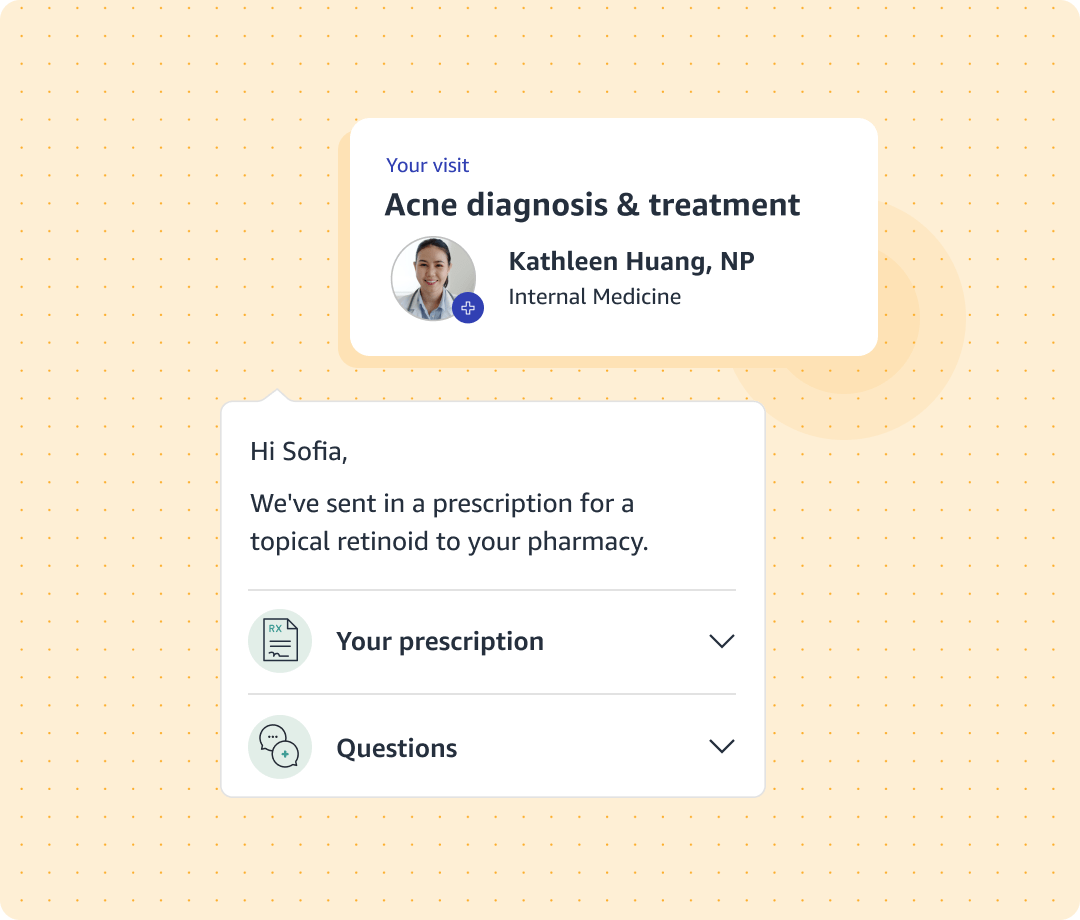 And this entire approach of Amazon Clinic eliminates appointment booking and waiting room hassles!
How does the Amazon Clinic make money?
It follows a pay-per-visit business model.
Meaning, a patient needs to pay every time he or she gets message-based care solutions from the app.
However, there is no fixed price for each visit.
Because the virtual medical clinic app sets its own prices which vary for each treatment.
Furthermore, in case a healthcare professional writes a prescription – the cost of the prescription doesn't count in the visit.
And for that, patients are free to fill their prescriptions from the choice of their pharmacies.
Why is Amazon pushing again into the digital health market?
The Amazon Clinic will operate in 32 states of the USA.
Right now, they have just focused on providing 24/7 care for common issues like allergies, hair loss, skin issues, and sexual health.
Because these issues can easily be addressed with a virtual care app.
In fact, many telehealth startups like Hims & Hers, Ro, and Nurx offer similar services.
And they all are performing well in terms of the revenue!
Still, Amazon found its way to put pressure on these existing digital health players.
Because – it's the largest retail giant in the world.
And those digital health players don't have that much reach or network that Amazon has.
That's the reason Amazon again pushed into the virtual healthcare market!
You must also read: Start a Healthcare Tech Startup like Ro
A few predictions by the health tech experts on the future moves of the Amazon Clinic
There is no doubt that the retail giant is trying its best to dominate the healthcare market.
The acquisition of PillPack (an online pharmacy brand) in 2018 and a recent deal with One Medical (primary care provider) are a few examples of it.
And it is also planning big with the Amazon Clinic too.
Right now its primary focus is just common healthcare conditions.
But in the future, there is a high possibility that it'll take a step into virtual mental health solutions.
Because Amazon already knows how big is the market of digital mental health.
In fact, before announcing that Amazon Care is going to shut down at the end of December 2022, the company partnered with Ginger in order to add behavioral health solutions to its Amazon Care app.
Apart from that, if the deal with One Medical becomes successful, it will add 188 medical clinics located in 29 different markets – into the pocket of Amazon Clinic!
This way, Amazon will also be able to get a strong grip on virtual primary care solutions too.
Want to start a virtual medical clinic like Amazon Clinic? Follow these 8 simple steps
Step-1: Define your goals and what you want to offer in the app.
Step-2: Plan the technologies, features, and functionalities you want in your app.
Step-3: Hire a healthcare-specific app development agency.
Step-4: Review the app design and functionality.
Step-5: Make sure that your virtual medical clinic app is compliant with all the data privacy laws.
Step-6: Run the pre-app-launch marketing campaign to create a buzz in the market.
Step-7: Launch the app in the market.
Step-8: Take the feedback from each user and improve the performance of services and the app.
Do further reading: How to Start a Virtual Care Service?
How we can help you develop a virtual medical clinic app?
We are an Ontario-based healthcare-focused IT company.
For the past 8+ years, we have been proactively working with healthcare startups, hospitals, clinics, enterprises, entrepreneurs, and individuals.
What makes us distinct from the rest is that – the kind of passion we have for healthcare.
And because of that reason, each one of our 50+ team members is healthcare-specific.
It includes – UI/UX designers, web and app developers, business analysts, compliance specialists, QA engineers, integration experts, RPA engineers, and AI & ML experts.
And here is how we can add clinical value and peace of mind to your healthcare business vision!
Virtual medical clinic app consultation:
We have a healthcare-specific team of consultants that will help you in,
Analyzing each and every aspect of the market including competitive analysis
Deciding the app functionalities that fit to your any clinical and business needs
Creating a list of features that adds real value to care delivery
Selecting the future-ready tech stack for the app
Identifying the result-oriented process to integrate any health tech system
Helping you stay fully compliant with the data privacy and security laws
Our white-label telemedicine app for virtual medical clinic
It's the best telehealth platform in the market.
Because it's a white-label app.
Meaning, it's a ready-to-use app that we customize as per your unique requirements.
In case you are wondering, here are the real-screen images of it.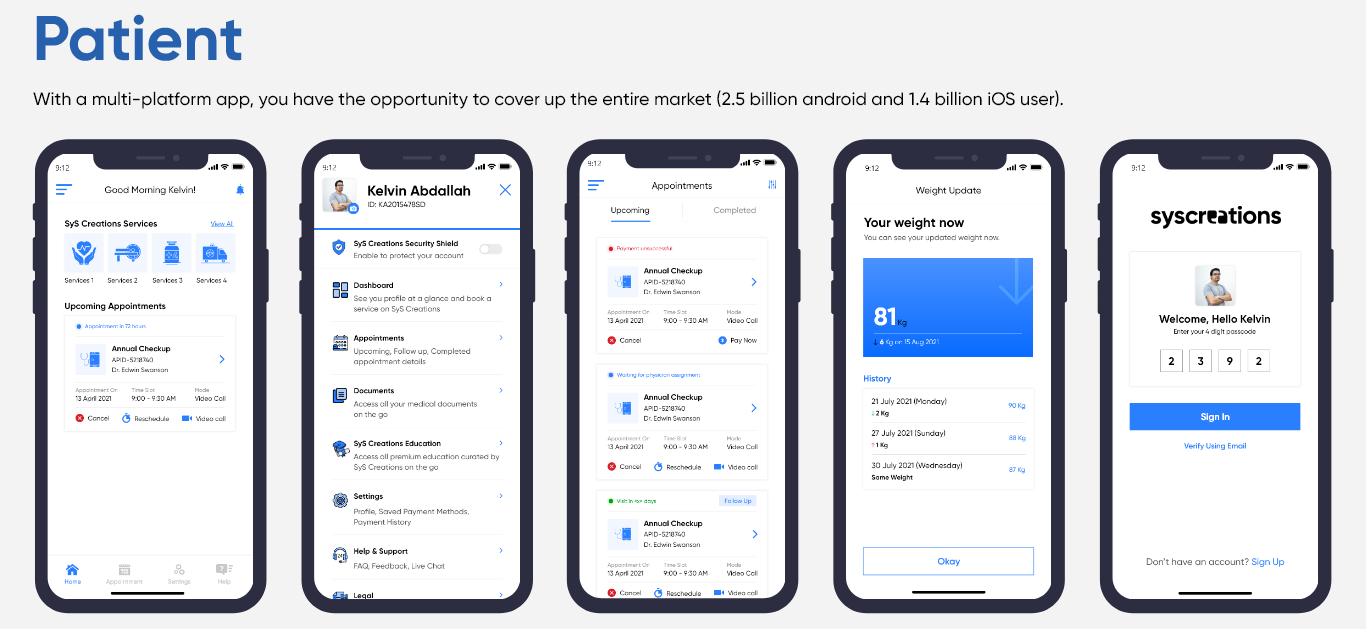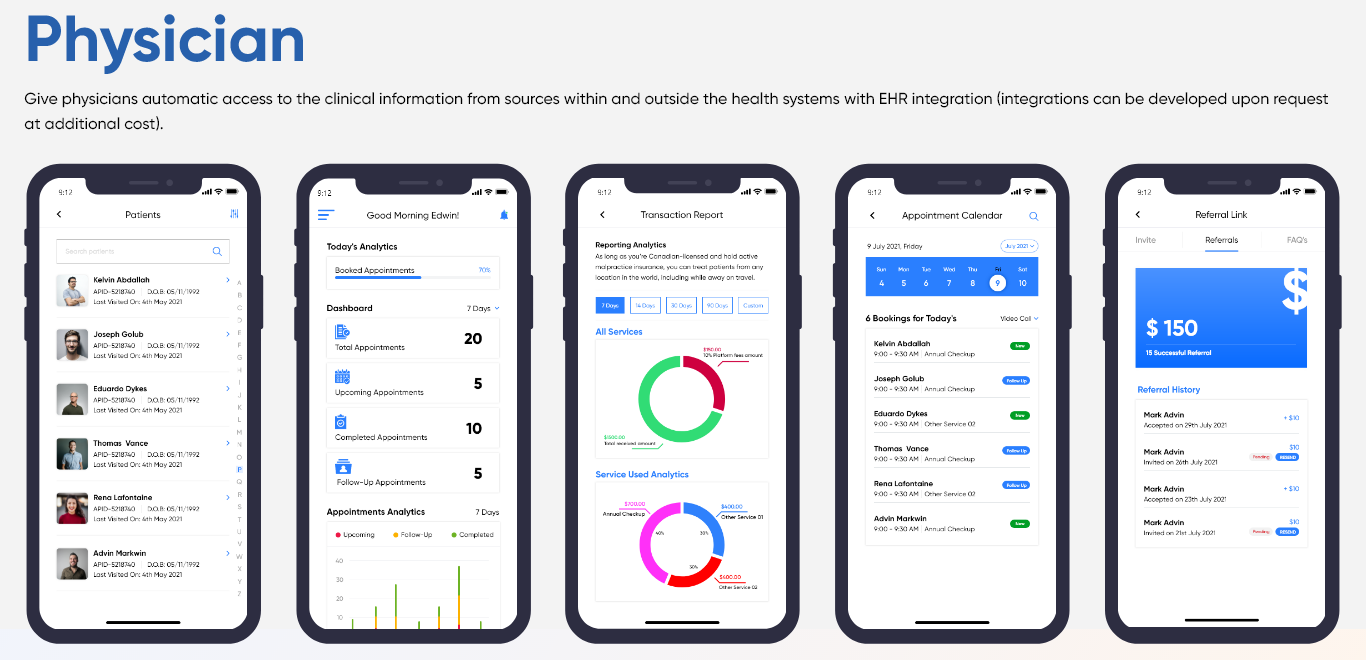 Top features of our white-label telemedicine app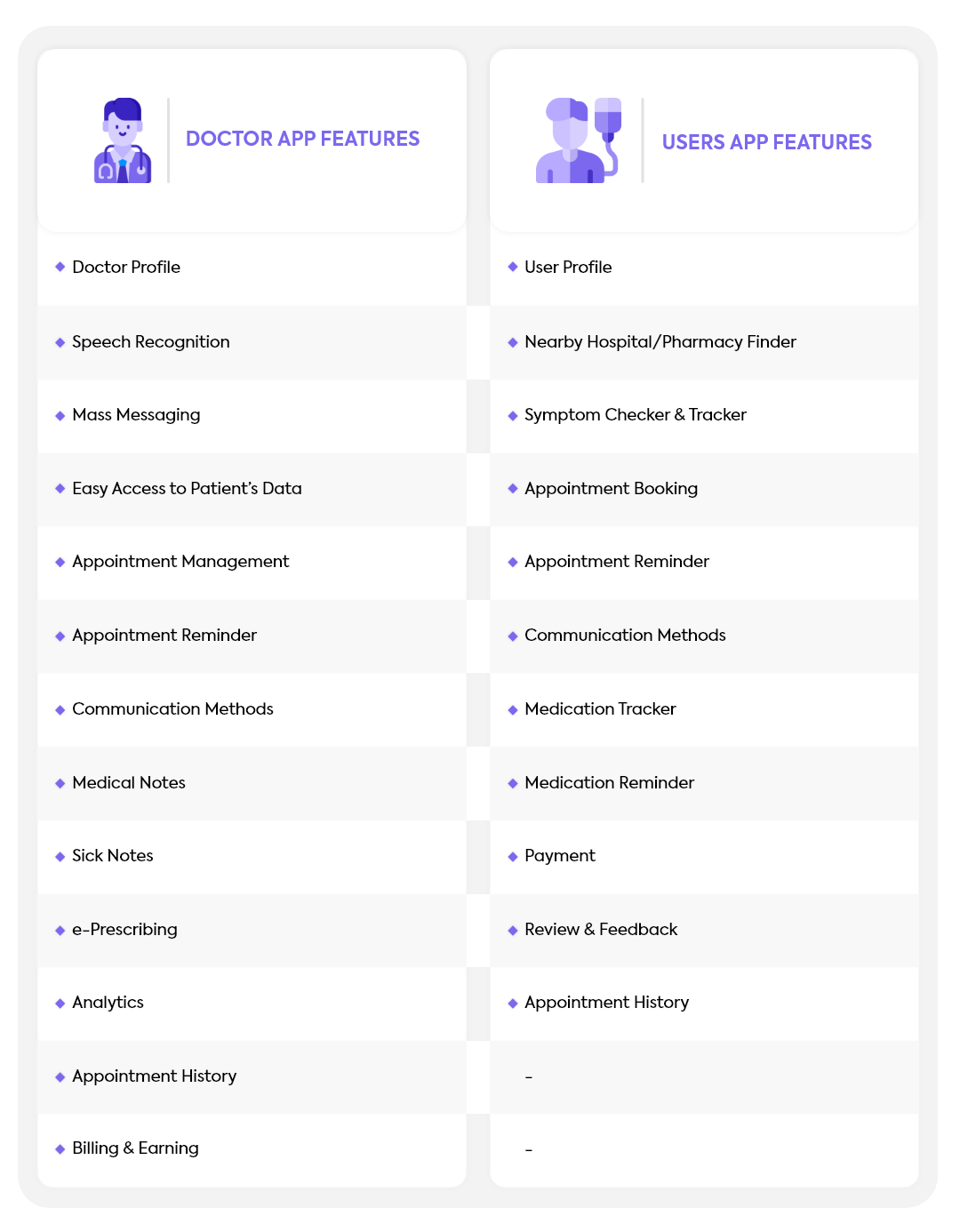 But what makes it special is that,
It's HIPAA, PHIPA, PIPEDA, GDPR, and HITECH compliant.
Comes up with a user-friendly interface
Customizable as per your unique branding, usability, workflow, and functionality needs
Seamless integration with EMR/EHR, IoT, HIS, LIS, etc.
No monthly or yearly subscription plans. You just need to pay one-time licensing fees.
Comes up with lifetime usage rights for an unlimited number of users
Want to know its other functionalities?