How to Build the Best App for pregnancy like Babyscripts? Explore 5 Best Pregnancy Tracker Apps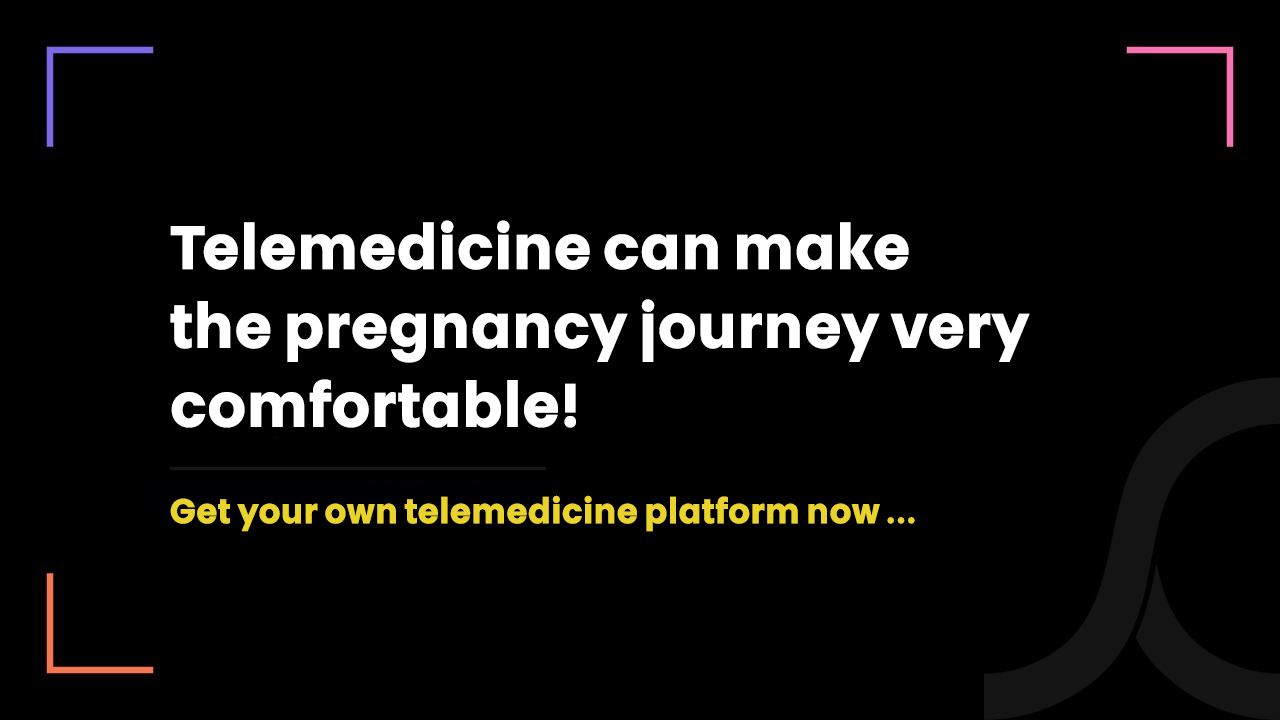 1 year ago
For a second, try to be very frank with yourself.
What would you prefer between an in-person visit to the clinic and a virtual visit with the clinician?
Indeed, a virtual visit - even after the pandemic. Because convenience, affordability, zero risks, and rapid care are what patients including you and me will continue to expect and it does not have anything to do with a virus!
Talking about virtual prenatal care, it is a most underrated yet game-changing use case of virtual care.
According to our internal survey, more than 67% of Canadian women agree that the most difficult part of the pregnancy journey is visiting clinicians at regular intervals.
They would rather prefer virtual maternity care using any supported app for pregnancy for regular medical consultation.
What is a virtual prenatal care platform and how does it work?
Virtual prenatal care solutions like Babyscripts aim to ease the pregnancy journey of women by making them accessible to clinicians from their mobile phones.
It also helps pregnant women to enjoy the convenience and rapid care. Following is how it works in different tiers.
Tier 1: Digital Education Layer
Trusted resources prepared and shared by clinicians empower pregnant women with the right knowledge of self-care, baby care, diet, workout and anything that influences their health and wellness.
These resources - delivered digitally through the app for pregnancy - are personalized to each patient to address the exact needs of pregnant women.
Tier 2: Virtual Care Layer
This is a core part of the virtual prenatal care solution. With its robust features, it enables patients to virtually connect to clinicians within minutes for regular consultations.
And thanks to EHR/EMR integration & purposeful features, clinicians can access the clinical history of patients, write ePrescriptions, medical notes and even refer patients for specialized care if needed.
Tier 3: Virtual Patient Management Layer
All best apps for pregnancy reduce the risks by facilitating remote monitoring of patients.
For instance, a pregnant mother has a risk of high blood pressure. She is provided with a Bluetooth-enabled blood pressure cuff that is connected to the app. So, now when her blood pressure increases and touches a certain limit, the app alerts the clinicians and caregivers.
Tier 4: Social Connecting Layer (Optional)
You can add social media-like features in your telemedicine for pregnancy care platform to let pregnant women connect to other women and share experiences or ask questions.
What values does an app for pregnancy provide to clinicians and patients?
If you are planning to build an app for pregnancy care or pregnancy app, you must know how it will help you derive benefits for the clinic and deliver benefits to your patients.
Benefits for clinicians:
You can acquire more patients.
You can provide quality care as you now have easy access to the clinical data of all patients.
You can keep patients engaged by sharing useful resources and reminders.
You can offer virtual care to patients from anywhere in the world.
You can onboard patients within minutes.
You can consult more patients (almost double than in-person visits) in a given time.
You can accept patients having health cards & private insurance and submit reimbursement claims from the same platform itself.
You can receive online appointments for both virtual and in-person consultations as well.
You can write referral notes and send referral requests from the app platform.
You can monitor the patients remotely.
You can optimize entire clinical cycles and reduce errors, save clinical time and generate more revenue.
Benefits for pregnant women:
They can get access to medical care within minutes, without leaving their home.
They can access custom and trusted resources shared by clinicians.
They can store their health and wellness data and keep an eye on their overall health.
They can receive care at any time.
They receive ePrescriptions directly on their app.
They never miss out on taking medicine on time, follow a diet plan and do exercise due to the advanced reminder system.
They can easily keep track of their mood and pain.
Explore the 5 best pregnancy apps or pregnancy tracker apps 2022
We have done comprehensive market research on the best pregnancy app in order to help you in understanding pregnancy apps more comprehensively.
#1. Ovia – Pregnancy Tracker App
Reviews: 4.9 stars with over 75.2K ratings
Cost: Free and in-app purchase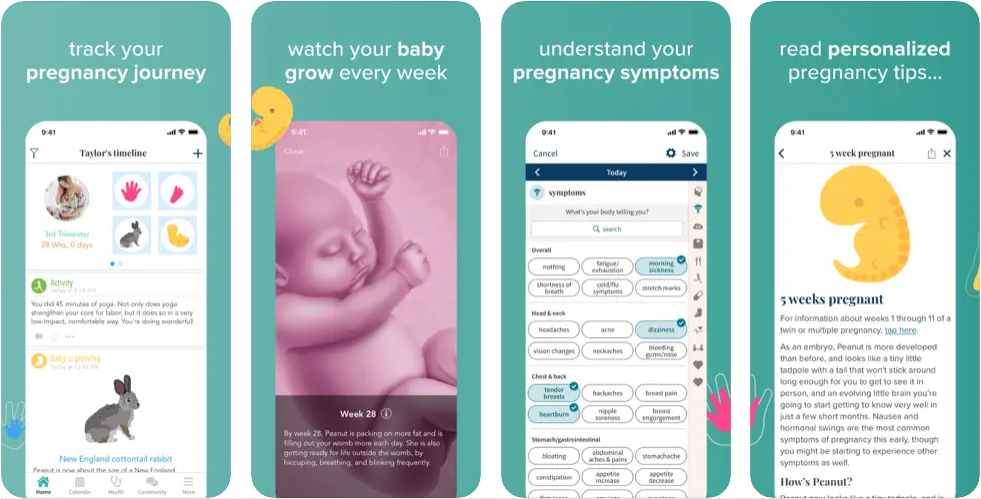 Ovia is one of the best pregnancy tracker apps as it contains innovative features such as –
Customizable health and symptom tracker
Medication, nutrition, sleep and exercise management
#2. BabyCenter – Overall best pregnancy app
Reviews: 4.9 stars with over 170K ratings
Cost: Free and in-app purchase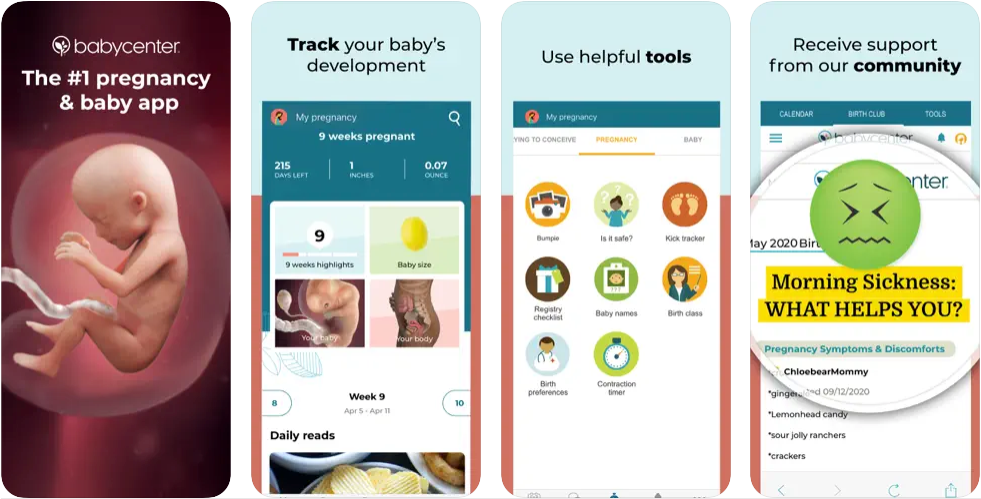 BabyCenter is one of the best pregnancy apps chosen by over 400 Million expecting parents.
What makes it special from the rest is that it also helps even after the baby arrives. For instance,
Baby's growth and development tracker
Decoding all the questions
Curated tips and encouragement
Everyday support through the first year
#3. Pregnancy+
Reviews: 4.8 stars with over 47.3K ratings
Cost: Free and in-app purchase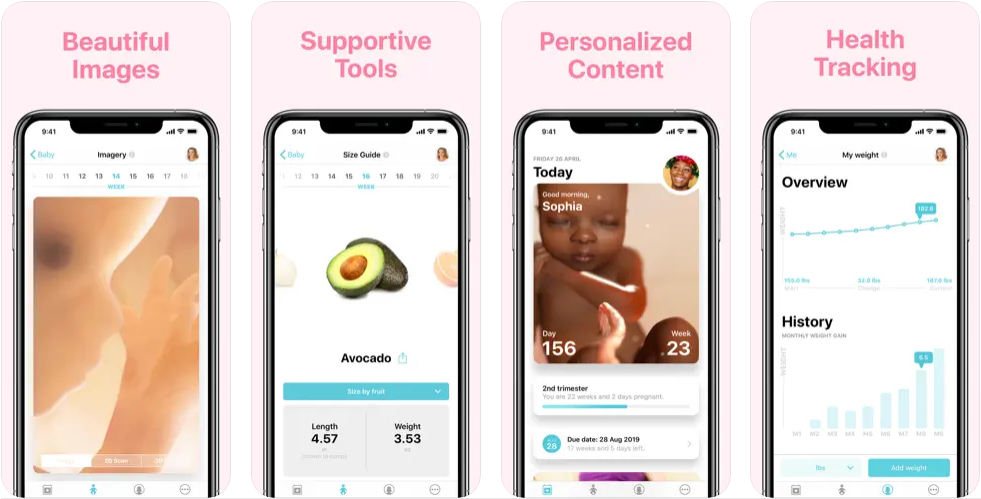 Pregnancy+ is the world's leading pregnancy tracker app.
Its robust and innovative features help women in any stage of their pregnancy journey. The main features include,
Weekly pregnancy information
Expert advice and daily articles
3D models in order to track the baby's development
#4. Pregnancy & Baby Tracker WTE
Reviews: 4.9 stars with over 298.8K ratings
Cost: Free and in-app purchase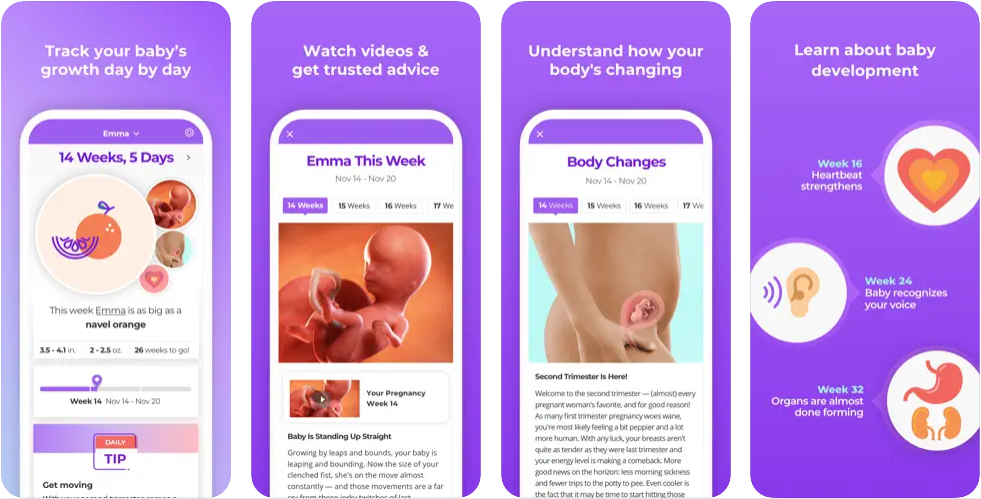 It is the all-in-one and best pregnancy tracker app in the world.
Because of its comprehensive support during pregnancy, it is chosen by over 15 Million parents.
It offers a 360-degree plan for,
When trying to get pregnant
#5. Nurture Pregnancy Week by Week
Reviews: 4.8 stars with over 27K ratings
Cost: Free and in-app purchase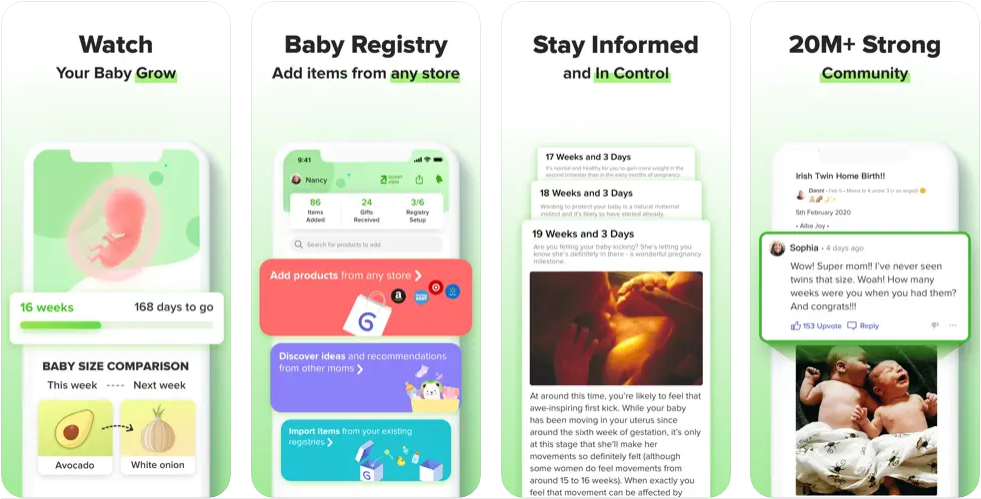 Glow Nurture is named one of the 10 Best iPhone Apps.
And it is the most advanced and comprehensive pregnancy tracker app as it harnesses the true potential of the data.
Its key features include,
Alerts and insights based on the entered data
Innovative symptoms tracker
Integrated with MyFitnessPal and Apple's Health App
All-in-one Baby Registry tool
Are you planning to build a virtual prenatal platform or pregnancy traker app for your practice? Here are the top options you have
If you wish to offer telemedicine for pregnancy care, you must require a telemedicine platform and when it comes to telemedicine platforms, there are the following top options.
1. Custom Telemedicine Platform
Here, you hire an app development agency that builds a telemedicine platform dedicatedly for you from start to finish.
Pros:
Custom platform for you only
You are the ultimate owner of the source code
It addresses your all custom needs
Custom theme or UI/UX
Custom features as per market
Cons:
Very costly (costs at least $80000+ in North America)
Very long development time (at least 4 months)
2. Cloned Telemedicine Platform
Here too, you hire an app agency but it builds your platform similar to an already performing platform by adding the same features and copying the UI/UX.
Pros:
Source code ownership
Easy development and design
Cons:
No custom features
Copied UI or theme
Costly development (at least $60000+ in North America)
Long development time (at least 3 months)
Chances for legal dispute
High financial risk
3. MVP Version of Virtual Maternity Solution
MVP approach is best suitable for those who have a limited budget, experience and a fresh idea. Because an MVP app is equipped with only basic and useful features and developed with an aim to test the market.
Pros:
A very little upfront cost
Can be delivered quickly within 1 to 2 months
Custom UI/UX
Low financial risk
Cons:
Cost as high as a custom platform in long-run
Ongoing intense development needed
Only basic app features in initial versions
4. White-Label Telemedicine for Pregnancy Care Platform
A white-label platform is a great choice. It is a ready-to-use and feature-rich platform delivered with your branding and customization options.
Pros:
Most affordable among all other options
Comes with branding options
Easy customization (if you need to add extra features)
UI customization too
Ready-to-use
Fastest delivery among all other options
Already compliant with privacy laws
Tested and trusted
Full code ownership
Armed with all basic, common and advanced features
How can we help you meet your technical, business and compliance goals?
We're an Ontario-based healthcare-focused IT company - have been serving the Canadian and US healthcare industry for more than 7 years.
We majorly work with healthcare providers and healthcare startups to help them solve healthcare challenges with cutting-edge technology.
During the pandemic last year, we launched a white-label telemedicine platform to empower healthcare providers with a robust telemedicine platform while not burning their pockets.
Yes, it costs half of the custom app, yet has all features and functionality the same as the custom one. It is also compliant with HIPAA, PHIPA, PIPEDA and other privacy laws.
Additionally, it isn't a typical telemedicine solution. It has many automated features that save clinical time for clinicians. It also has several features around the wellness of patients.
The following are some of its real app screenshots. It also comes in a web version too!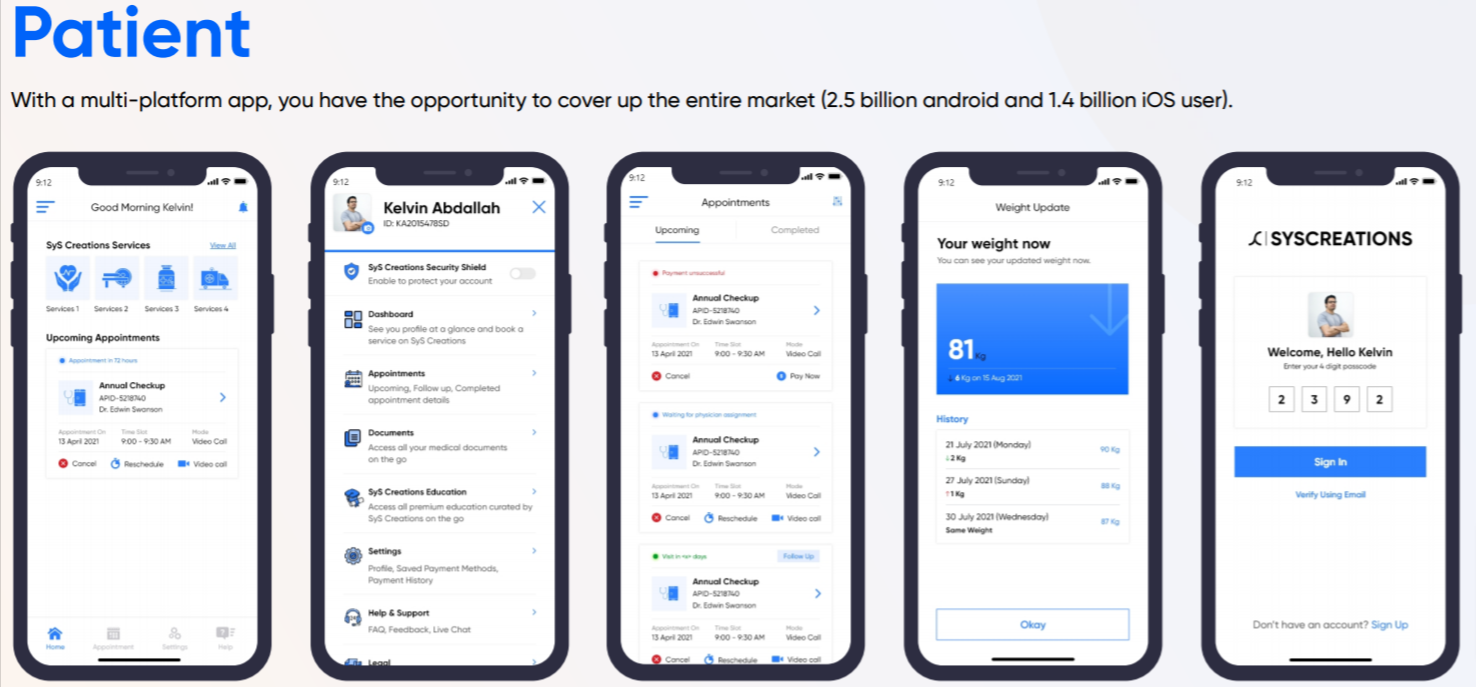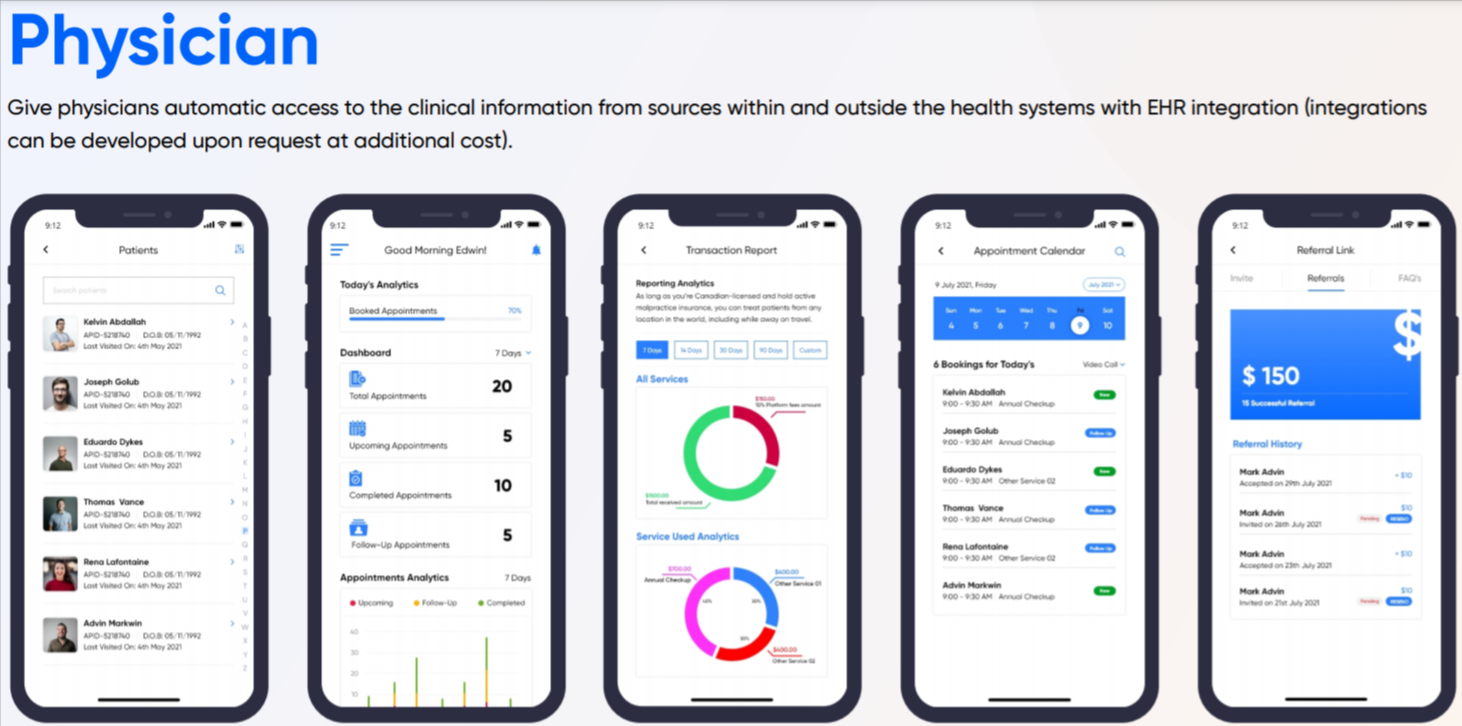 We are eager to show this beautiful piece of technology in action. We are happy to give you a free demo of it along with a consultation. Let us know your interest.
Our dedicated team of healthcare app developers, designers, business analysts and compliance specialists can even build a custom app for pregnancy care.
So, let's have a detailed discussion.