Build Your Own Clinical Collaboration Platform to Save Clinical Time, Enhance Patient Outcomes & Reduce Costs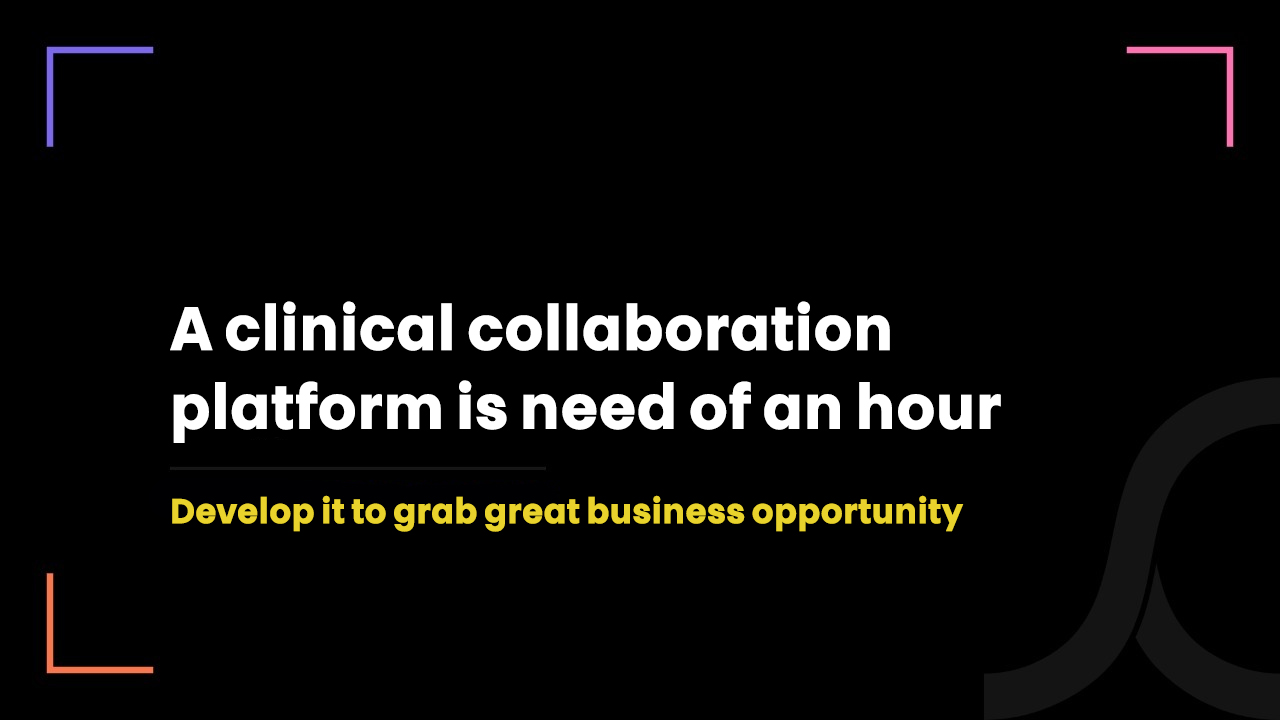 1 year ago
Clinical collaboration is life-saving. 
Majority of healthcare providers we met in the last 8+ years committed that they have changed their care plans after collaborating with other healthcare providers which eventually enhanced patient outcomes dramatically.
But technical challenges around secure clinical collaboration and communication is the major reason why many healthcare providers aren't still equipped with multi-disciplinary and inter-facility collaboration tools to collaborate with healthcare providers outside of their healthcare facility. 
Additionally, EMR - which is used by most healthcare providers for clinical purposes- lacks a very useful collaboration feature natively.
All EMRs do not allow healthcare providers to accept clinical data from outside of their facility.
Such loopholes and challenges in existing healthcare collaboration practice widen the scope and double the use cases of a clinical collaboration platform. 
What actually is a clinical collaboration platform?
Clinical collaboration platform (CCP) makes communication between several healthcare providers fast, easy and secure by bringing together fragmented healthcare communications. 
Clinical or healthcare collaboration platform integrates with an existing IT system or solution of healthcare entities to enable secure messaging from one place.
For instance, a hospital can integrate a clinical communication platform with its hospital management system to seamlessly let all authorized healthcare staff send files, chat, voice calls, and video calls while having a holistic view of patients and hospital staff data.  
Since it unifies all aspects of the information chain with a single platform, a clinical collaboration platform is more than just a messaging solution.
Types of clinical collaboration platforms you can consider to develop
Multi-disciplinary platform 
Such a type of clinical communication system or platform facilitates secure and easy collaboration between clinicians from multiple disciplines.
A multi-disciplinary platform allows clinicians to hold discussions and share clinical data of patients in real-time to discuss suitable care plans while having an eye on clinical data which eases the decision-making.
An intra-facility clinical collaboration platform is meant to be deployed at a single healthcare facility to streamline all communication and collaboration between clinicians of that single healthcare facility only.
Inter-facility platform actualizes collaboration and communication between healthcare providers of 2 or more different healthcare facilities such as hospitals, labs, pharmacies etc.
Clinical operations that can be streamlined with a clinical collaboration platform
Possibilities with a healthcare collaboration and communication system are endless. Following are a few of them.
Remote patient monitoring 
If you integrate a clinical communication system with a remote patient monitoring system, you can share vital body signs data being collected in real-time by remote patient monitoring devices with providers and discuss appropriate care plans. 
To provide quality care even when you are not physically around the patient, you can collaborate with other healthcare providers, share clinical data of patients, validate the clinical decisions and prepare a personalized care plan in collaboration - all remotely.
Laboratory outcome assessment 
Healthcare providers can connect seamlessly with lab technicians to discuss lab results while having easy access to text-based and image-based clinical data of patients the lab has collected.
Data sharing with EMRs deployed at other clinics    
If a clinic integrates a healthcare collaboration platform with its existing IT system, it can share data directly with EMRs deployed at other clinics.
It is possible due to HRM (Health Report Manager) integrated with a clinical collaboration system. 
Because EMRs natively cannot accept data shared by other clinics.
Using a CCP, physicians can assign patient care tasks to nurses which they can track and report from their dashboard of a collaboration platform.
Collaboration between referring and consulting physician 
A healthcare collaboration platform cuts down efforts made by referring physicians and consulting physicians to prepare a care plan, assess & track it and optimize it for enhanced patient outcomes.
It allows them to connect regardless of the referral software or HIS they are using to manage all inbound and outbound referrals.
Medical specialists can train large and geographically dispersed clinical teams with interactive multimedia content and secure video conferencing.
For each use case of a clinical communication platform we just listed out, end results are clinical time-saving and enhanced patient outcomes!
A clinical communication system brings peace of mind into the healthcare ecosystem
An immaculate communication system is something that lacks in many healthcare entities.
But a healthcare collaboration platform shatters all the obstacles.
It helps the healthcare organization to build a smarter, productive, and effective communication system.
Here is how it pours magic into the healthcare ecosystem.
Ensures operational efficiency
Lowers the operational and resource costs
Facilitates the clinical reporting to payers
Enables to deliver a high standard of care solutions
Allows to track performance and risk potential
Helps in improving the quality of patient care experience and satisfaction
Your clinical collaboration system should have these essential elements or features
If you are planning to build your own clinical collaboration platform, you must be wondering how you would evaluate whether your platform is going to be the best.
The following checklist will help you. 
It should be a cloud-based platform to support an increasing number of users and to have high system uptime.
It should be able to replace all communication channels and methods of healthcare facilities.
It should be compliant with all applicable data privacy laws and regulations.
It should have a feature to let healthcare providers make a voice call.
It should be armed with a scheduling feature to let providers know the availability of other providers for sharing sensitive information only when a receiver is available at the time of data-sharing.
It should support role-based messaging. Role-based messaging provides restricted abilities to providers based on their roles for sharing files or sending messages.
It should have a native feature to assemble teams to represent individual roles.
It should have a patient engagement solution.
Double-check compliance readiness - Philips' medical collaboration platform had several vulnerabilities
Northridge Hospital Medical Center had discovered 5 vulnerabilities in a medical collaboration platform provided by Philips.
Following is the list of found vulnerabilities that put compliance readiness and patient data security at risk.
How can we help you build a clinical collaboration platform with our technical and compliance skillset?
We are an Ontario-based healthcare-focused IT company.
We accommodate a resourceful team that includes healthcare developers, designers, business analysts, and compliance specialists. 
Be it individual healthcare providers or startups or enterprises, we have been solving their healthcare challenges with technical & compliance expertise and experience we have earned in the last 8 years.
Yes, we have been proactive in the USA and Canadian healthcare IT markets for 8 years. 
Our tech, business, and compliance teams work together to build a healthcare solution as per market & business requirements while satisfying all regulations of applicable data privacy laws.
This way, we don't just deliver you a healthcare tech solution. We deliver a compliant tech solution that can actually perform well in the market.
In other words, we deliver you business along with peace of mind by giving you access to our healthcare tech, business, and compliance experts.