Where can you invest Canada Emergency Business Account's $40,000 to make it $400,000?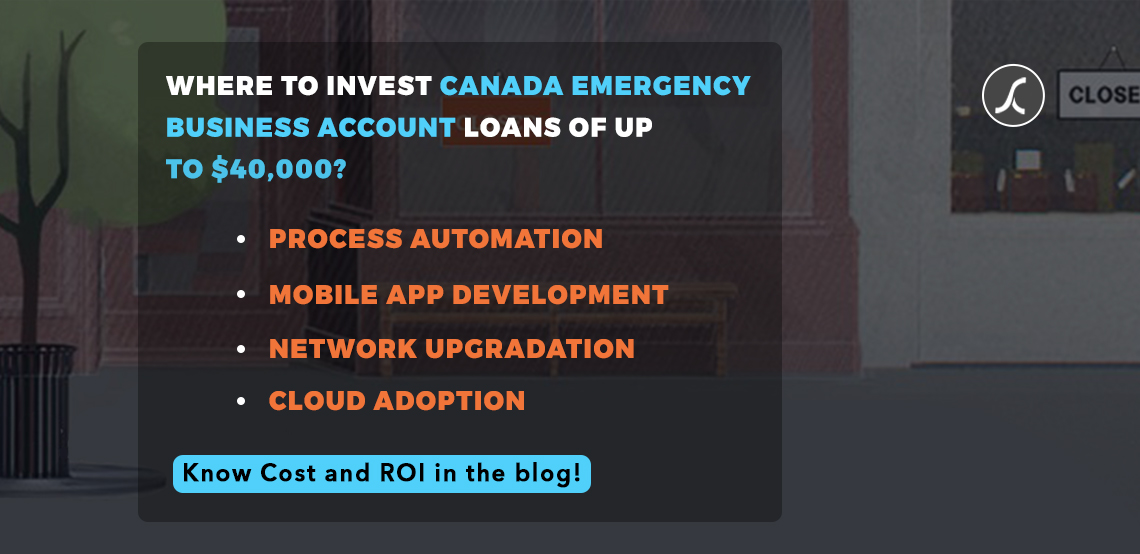 3 years ago
That was the historic move by the Government of Canada.
On April 9, 2020, the Government of Canada announced a relief program - Canada Emergency Business Account (CEBA) - to help small businesses safely navigate the period of shutdown.
The Canada Emergency Business Account helps small businesses gain access to capital during #COVID19. Find out how it can support your Canadian business: https://t.co/6ZkQWysDJL #CEBA pic.twitter.com/fMm3spCR71

— Trade Commissioner (@TCS_SDC) August 10, 2020
If eligible, small businesses and not-for-profit companies receive interest-free loans of up to $40,000.
The major perk is that if borrowers repay the balance of the loan on or before December 31, 2022, they will get loan forgiveness of 25 percent (up to $10,000).
Here is the recent news regarding Canada Emergency Business Account eligibility which might affect you
Before Friday, June 19, 2020, the government was considering owner-operated small businesses lacking payroll ineligible for CEBA.
However, on June 19, 2020, Minister of Finance - Bill Morneau - announced expanded eligibility rules.
According to expanded eligibility rules, businesses with payroll lower than $20,000 can now also get loans up to $40,000. For that, businesses will need,
A business operating account in the financial institution which is part of CEBA (Refer to the following PDF to know partnering financial institutions)

A Canada Revenue Agency business number

A 2018 or 2019 tax return

Eligible non-deferrable expenses of between $40,000 and $1.5 million
Just for your information, more than 669,000 loans have been approved since the launch of CEBA.
If you have already received $40,000 loan,
Here is the complete investment guide for making it $400,000 by next summer.
Let's start with a very simple calculation.
You have received $40,000. If you pay it back before 31st December 2022, you will need to pay only $30,000, saving $10,000.
Meaning, if you invest only $10,000 properly, you will be in a win-win situation in all ways because it's a totally 'free' and 'risk-free' amount you are getting.
So while keeping it on your shoulder to invest $30,000, we will only discuss the ways to invest 'free' and 'risk-free' $10,000.
1. Automate a labour-intensive process
First of all, automation does not mean to be applied to large enterprises only. Small enterprises can also deploy automation and derive many financial and operational benefits instantly due to fewer business complexities.
Pick any business process which is time-consuming and labour intensive, i.e., invoicing process. Automate it with robotic process automation (RPA) and replace employees with software bot.
What would be the cost and ROI?
Usually, it costs less than $10,000 to automate a process with a low-medium complexity.
The ROI would be the salary amount you will save by replacing employees with a software bot.
Indirect financial benefits include increased productivity, fewer errors, and 24/7 operations.
2. Develop a mobile app
You must have installed several apps on your mobile phone to buy products (grocery) or services (taxi) online. Same way, your customers wish to buy your service or products online!
A mobile app increases your market footprint, gives you crucial data of your business, helps you quickly expand your business and boost brand recognition.
What would be the cost and ROI?
The cost of mobile app development with all important features is only around $10,000.
Talking about ROI, you will be able to increase your sales instantly with a mobile app.
The precisely developed app will transfer your business into a brand that automatically attracts more customers and makes you experience a high customer retention rate.
3. Make a network uninterrupted
The network or internet is the most basic requirement of the businesses.
However, it costs huge when the network experiences downtime. According to Gartner, the average cost of network downtime is around $5,600 per minute.
To make your network uninterrupted, you need to upgrade it to an enterprise network and install network monitoring tools.
Network monitoring tools enable you to know the status of each networking component and identify & solve the network problems before it gets overbearing.
What would be the cost and ROI?
If you consider the premium networking hardware device from top manufacturers such as Cisco and Ubiquiti, it won't cost you more than $5000, combined.
Here, the ROI would be the productivity and efficiency your team will achieve while working on an uninterrupted network.
For example, a team of 10 employees now with high-speed and uninterrupted internet can complete the task in just 20 minutes, 40 minutes faster than in the past.
Meaning, you are saving 400 minutes of manpower per task.
4. Switch to cloud
You must be storing a lot of business data either in notebooks or in spreadsheets.
You also must be struggling a lot to access this data and to share it with your stakeholders easily and securely.
Switching to the cloud can end your endless struggle with data. It gives you a custom and personalized online server for data storage and for many more business-oriented purposes.
What would be the cost and ROI?
Cloud service providers generally charge you a monthly nominal fee. For instance, Microsoft cloud service - Azure - starts from just $13 a month.
As far as the ROI is concerned, switching to cloud service enriches your team productivity and collaboration efforts which directly influence revenue.
Most importantly, it keeps your data safe & secure and does not make you suffer a financial loss because of data loss.
If you're planning to apply for CEBA $40,000 loan,
Here is the PDF, containing
Program overview

Eligibility requirements for CEBA

Eligible non-deferrable expense categories

How to apply for CEBA?

Partnering financial institutions
With our past experience of helping Canadian businesses, we make your IT investment result-driven.
Investing $40,000 in such a way that it will really boost up your business is more important than receiving $40,000 as the loan.
One proven way to scale up the business and survive many more pandemics is the digitalization of business.
The business digitalization practice includes automation, mobile app development, network upgradation and cloud adoption.
We're a team of RPA R&D engineers, app developers, network engineers, cloud professionals, security specialists, compliance consultants and business success managers.
If you are planning to make investments in IT to transform your business in terms of productivity, efficiency & revenue, we will make your IT investment result-driven and future-proof to keep the total cost of ownership very low.