How Cloud Managed Services Help Healthcare Organizations In 2022?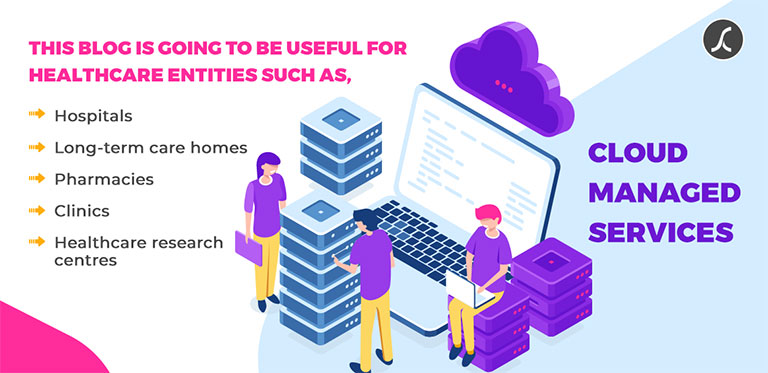 2 years ago
Though cloud offers flexibility, scalability, increased collaboration, and document control, the lack of expertise & costly workforce prevent organizations to deploy and manage cloud infrastructure that lets them derive maximum benefits. Organizations see possibilities in business transformation with the cloud.
However, the cloud has evolved with many challenges. Security and cost management are major ones. A cloud managed services provider rescue organizations from these challenges and streamline their business transformation with cloud journey.
Cost-saving, security, compliance are some of the benefits we make healthcare providers experience
With cloud technology, we have prepared Canada-based organizations for healthcare data tsunami. Many healthcare research centres are focusing on research work rather than managing data infrastructure.
Our cloud managed services include,
Infrastructure-as-a-Service:
You can leverage the infrastructure-as-a-service model to host servers, storage, and networks. While you access infrastructure on-demand, expert engineers manage and maintain it to let you focus only on your core healthcare practice.
It is similar to a scenario where you are using a warehouse on-demand without having the responsibility of warehouse cleaning or any other maintenance task.
With the infusion of patient data, healthcare organizations are outgrowing their legacy storage backup and finding themselves under a financial burden to buy costly upgrades. Urban hospitals and pharmacies outgrow way too easily.
We eliminate this challenge by connecting the healthcare system with private, public or hybrid cloud managed by the provider. This guarantees that an organization will always have sufficient space.
Infrastructure monitoring
Our experts monitor both physical and virtual servers with an aim to find events or irregularities that could depict the error. We monitor it round-the-clock and respond quickly & professionally in the event of an error.
Keeping infrastructure up-to-date with technologies and security standards is crucial to get a competitive edge. Many take this to the next level by customizing the technologies according to their need. For instance, cancer institutes develop their own platform and AI algorithms to redefine cancer diagnosis.
We always keep upgrades in our checklist to keep services and virtualized data centres secure and up-to-date. We take care of testing, installation, troubleshooting and version control.
Our other healthcare cloud managed services include maintenance, reporting, and vendor management.
Microsoft and Google are bringing integrated cloud capabilities to deliver better patient experience, insights and patient care
Microsoft recently launched a healthcare-specific cloud solution which is bringing together a set of capabilities of Microsoft Azure, Power Platform, Dynamics, and Microsoft 365 including Teams to streamline healthcare workflows. [

Techcrunch Article

]
Google recently launched a Google cloud healthcare API that facilitates the exchange of data between healthcare applications and solutions built on Google cloud.
Possible ways of how different healthcare providers can leverage cloud infrastructure
Cloud is the possibility.
Any data, patient outcome, workflow, insights-related problems can be solved brilliantly with the cloud. It even solves very unusual challenges. We helped a long-term care home to keep a track of residents' mental state and analyze the data to find patterns and reasons.
LTC homes:
Rapid senior care is still beyond the reach of many LTC homes due to a lack of streamlined workflows and virtual care capabilities.
Switching to the cloud enables LTC homes to store, collaborate and track senior care data to improve outcomes. It also streamlines workflows such as prescription management and frees up hours for LTC staff to focus more on senior care.
Hospitals:
Complex care structure and multiple departments make patient and hospital management a daunting task. It generally results in poor collaboration, long waiting queues, and overburdened hospital infrastructure.
With the cloud, the hospital can house several centralized software including EHR securely, store patient data, meet regulations, track patient journey, take appointments, ease team collaboration, and automate many processes such as health information exchange (HIE), payment, claims, biometric value reading etc.
Clinics:
Clinics cannot treat more patients effectively at the given time due to low staff strength and healthcare infrastructure limitations. Many claims to solve this issue with government funding. But the way to invest it on the right technology still remains the question.
Digital healthcare transformation with the cloud is the most cost-effective approach for small clinics due to its flexibility and on-demand model. Cloud facilitates clinics to take and manage booking appointments, save & track patient medical history, and treat patients remotely.
Pharmacy:
Many wonder how technology helps the pharma industry as they look odd together. But since the cloud is the possibility, pharma is no longer a non-technology-driven industry. Many pharmacy dispatch centres are dealing with day-to-day operations with robots and sophisticated algorithms.
Cloud facilitates pharmacies to manage vendor relationships, access real-time business data, open-up multiple revenue streams with online delivery platforms, deploy automation to reduce transcription errors and get crucial insights to make data-driven decisions.
The tested and trusted process (and experts) to enrich patient outcomes by 60% can be found here