How Our Efforts Are Seen in North America's Fastest-Growing Tech Conference – Collision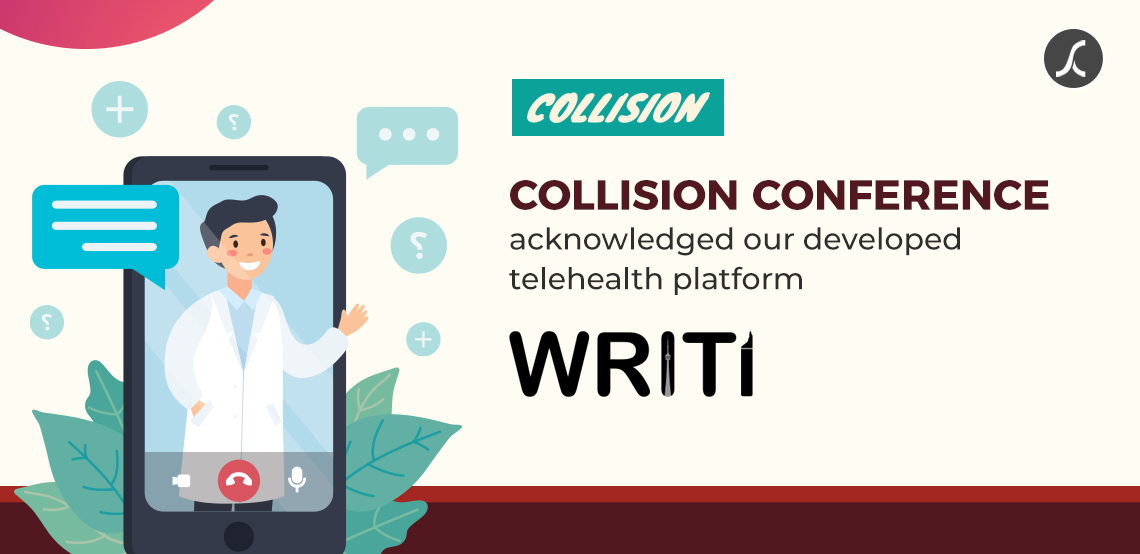 2 years ago
We always thrives to bring breakthroughs in the multiple flourishing industries of North America. We employ most cutting edge technologies to solve deep-rooted problems and help large enterprises as well as startup communities.
Recently, we accompanied a healthcare startup named Writi in their journey through telehealth app development complexities. While the Writi has already been streamlining the workflows in LTC homes during the COVID-19 period, one more achievement has been added to the list.
Writi has been officially added in the list of best Ontario-based innovative tech companies by the fastest growing tech conference of North America - Collision. The whole team of SyS Creations along with the Writi team is celebrating the acknowledgment given by Collision Conference. We would like to thank Collision for this encouragement.
About Collision Conference in Ontario
Collision is "Coachella for geeks" and the "world's best conference".
Back in March 2020, they decided that Collision would become a purely online event and named it the Collision from Home. It is organized between June 23-25, 2020. Collision from Home features more than 100 hours of premium content, expert-led workshops, and roundtables.
More than 32000 individuals are taking part in the Olympics of tech. They have welcomed the most renowned people as guest speakers. Some of them are Tedros Adhanom Ghebreyesus (Director of WHO), Justin Trudeau (Prime Minister of Canada), Parag Agrawal (CTO at Twitter), Brad Smith (Microsoft President).
We are excited and happy to develop such a solution which is participating with 66 more companies in Collision from Home – each has its revolutionary approach to help tech industry.
Find our solution Writi at Collision from home - https://www.sourcefromontario.com/en/page/collision-from-home-ontario-delegation
Writi - a cloud-based medication-management software
Writi is the most advanced telehealth or virtual healthcare solution for senior care. It works on mobile, tablet, and desktop. With this healthcare solution - nurses, pharmacists, and support staff can work virtually from anywhere. Writi facilitates LTC staff to reduce administrative burdens and paperwork. Writi has been helping many LTC homes to combat the coronavirus outbreak in Canada by providing rapid care to residents.
Writi owns two unique capabilities. It has been integrated with pharmacy software (Telus Health – Kroll) to ease prescription management and billing operation. It also supports the Ontario Ministry of Health's new billing codes for virtual visits.
6 remarkable features of Writi
Secure and easy scheduling of virtual visits and appointments

Virtual visits between residents and physicians via high definition video call on a mobile phone, computer or tablet

Secure instant messaging for enhanced communication with staff and patients

Electronic prescribing with automatic transmission to pharmacy

Orders are automatically added to the resident's digital record in Writi

Billing report for Physicians
How we contributed in Writi's success?
SyS Creations being the healthcare specialist believes in proactive consultation and solution delivery to decode compliance and development challenges healthcare startups are facing in Canada.
We precisely understood the requirements of the Writi team and prepared business and development strategies.
» Compliance: In the first phase, we helped them to decide on the business model and feature set. We also guided them on the legal ways to obey all government regulations imposed under HIPAA and PHIPA laws and ensure ePHI security.
» Development: In the second phase, our well-versed team of app designers and app developers worked ceaselessly and developed the telehealth solution which works on all the latest technologies and solves senior care challenges. They integrated all disruptive features and actualized a disruptive telehealth solution for senior care in LTC homes.
Last week, we have discussed 3 amazing ideas for virtual healthcare solutions.

Our mission is to define a winning strategy, execute the practice of workflow management, and implement the skill of planning IT architecture with economical methods. We are the people who work for your business goals and dreams in the best possible ways without delays and hidden costs.