How Couply For Doctors App Improves Doctor-Patient Relations?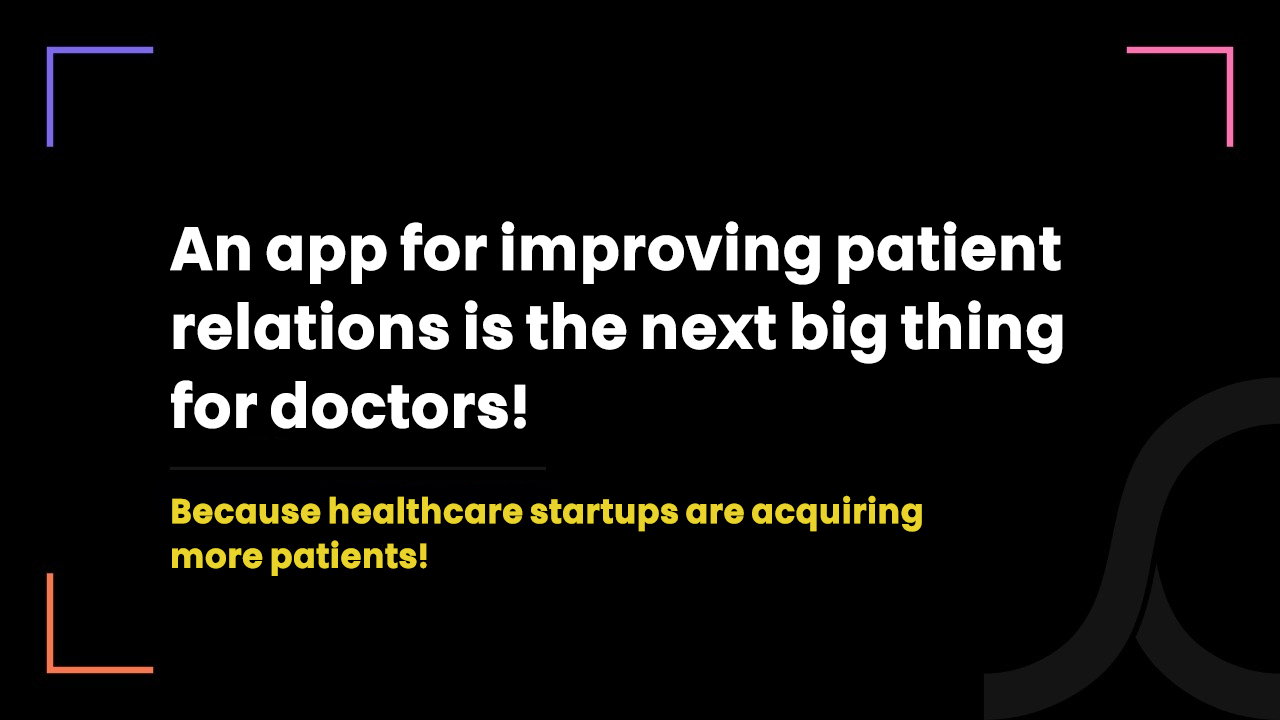 3 years ago
A Toronto-based couple-friendly app named 'Couply' has recently declared the Collision 2021 winner in its startup pitch competition. 
About Couply: 
Denesh Raymond and Tim Johnson founded Couply in 2019 with an aim to help couples sustain and add fun into their relationships. 
The Couply app - available both on Google Play Store and Apple App Store - enables couples to improve their relationship with unique app features.
For instance,
There is a 'personalized quiz' feature that helps couples to understand each other better. 
The app reminds couples of anniversaries and birthdays.
It also suggests anniversary gifts and date ideas. 
Couply will send you birthday and anniversary reminders along with some suggestions of great gift ideas and nice things that you can do to celebrate these special days 💞
- #appforcouples #coupleapp #couply #love #relationshipgoals pic.twitter.com/hTx3gFJUR7

— Couplyapp (@couplyapp) April 18, 2021
Every day, the app shares relation-centric quotes with couples to get inspired and feel grateful for the life and partner they have!
The app's UI is very sleek and the epic combination of red, pink, orange and white UI colours make it more appealing to couples. 
About Collision 2021: 
Collision is the fastest-growing tech conference in North America. 
Collision is "Coachella for geeks" and the "world's best conference".
It was organized on April 20-22, 2021 and it was attended by more than 38000 people from 140 countries. 
This event helped us a lot to get many unique app ideas for the healthcare industry.
Couply for doctors is one of the ideas that we are excited to share in this blog. 
Get to know our 'Couply for doctors' app idea
The whole concept of the 'Couply for doctors' app idea lies around doctor-patient relations.
The problem: 
Generally, a patient prefers a single doctor for his entire life and for his family. This life-long relation is most underrated in our community. 
For a patient, the doctor is the only hope and for a doctor, the patient can be his life-long friend!
But since doctors are already overburdened, they can't sustain a good relationship with their new or existing patients with dedicated efforts. 
And here is where new healthcare startups get an opportunity to acquire existing patients of doctors. 
This is sometimes a financially and emotionally awful experience for doctors!
The solution: 
What if there is an app like Couply - which is developed uniquely for patients and doctors?
Like the original Couply app, the Couply for doctors app has the same motive - to improve the relations. 
But here, it is all about improving relations between doctors and patients.
The Couply for doctor app must be armed with features that facilitate doctors and patients to connect with each other, know more about each other and share daily life activities, health status, food intake etc. 
This results in a very delightful and healthy relation between patients and doctors.
And since, it is an app to manage relations with patients, doctors are less likely to find it time-consuming and tedious! 
How does Couply for doctors app work?
It works similar to the original Couply app. 
Here, the doctors can create his profile and invite patients in his 'patient circle'.
Once patients accept the invitation request of doctors, they need to answer a few questions to let the app understand their life and health goals. 
The app later shares these goals with doctors and creates a patient profile.
Now, patients can talk to doctors via chat, voice call or video call from the app.
Patients can ask questions related to their health and wellness. They can even add their other family members into the 'patient circle' created by the doctors. 
Doctors can know the life and health goals of patients and provide personalized guides to individual patients. 
Doctors can also use this app for medical purposes.
They can take online appointments, provide virtual medical consultation, write ePrescriptions, write medical notes and take follow-ups. 
Yes, you can compare this app idea with a telemedicine app.
But unlike telemedicine, this app allows doctors to look after individual patients and connect to them in a more friendly way to sustain a good relation with patients. 
Here, patients are free to share anything or ask for any kind of advice from doctors.
And doctors also have the ultimate freedom to be a friend with patients - rather than a healthcare provider!  
Features 'Couply for doctors' app must have
This is the first of its kind app in the global healthcare industry. Thus, the more unique and advanced features you would add, the more difficult it would be for others to clone your app idea!
Features for patients: 
Profile
Quiz on life and health goals
Add other family members
Chat with doctors
Voice and video call with doctors (group or one-on-one call)
Book an online medical appointment
Ask for ePrescription and sick note
Pill reminder
Explore personalized advice from doctors
Share images, files, workout activities with doctors
Features for doctors: 
Profile
Send an invitation to patients
Explore patients' life and health goals
Explore patients' medical history
Manage appointments
Chat, voice and video calls with patients
Provide personalized advice
Get reminder and wish on their anniversaries and birthdays
Write ePrescription, medical notes and sick notes
Share healthcare and wellness articles you find online or write your own
Our other similar app ideas that strengthen doctor-patient relations
We have been proactive in the Canadian healthcare industry as technical experts and we are always on the lookout for unique and helpful healthcare app ideas. 
Here, doctors create their profiles and patients explore doctor profiles by just swiping left.
To book the appointment with a doctor, the patient simply needs to swipe right on the doctor's profile.
Tinder for doctors is a very engaging and easy way to book appointments with doctors.
There is no better way to manage relations with patients than visiting the patients at their homes for providing care!
Here, the app enables patients to call doctors at their homes for medical treatment.
This image-based app allows doctors to share images of their daily life with their patients and engage easily from anywhere.
Clubhouse is a very popular app that allows people to create virtual rooms and participate in an audio conversation on a fixed topic with other room members.
Using the Clubhouse for doctors app, patients and doctors both can host and join the audio conversation with other patients and doctors.
This takes the doctor-patient relations to the next level!
We don't just share ideas. We make it technically happen too!
If you have found any of these ideas game-changing or you already have a game-changing idea, we can help you with our technical and compliance expertise. 
We are an Ontario-based healthcare-focused IT company. The Canadian healthcare industry is our only performing area. 
And because of that, we perform outstandingly when it comes to apps, software and websites for Canadian healthcare providers. 
Our team accommodates healthcare app developers, designers, software engineers, RPA engineers, compliance specialists and business experts. 
So, with a great team and healthcare-specific knowledge, we can be your best and safe choice in Canada!
Let's have a talk. It would be a productive one and benefit you, our communities and the entire Canadian healthcare industry!