Healthcare app development: 4 best COVID-19 healthcare apps one can develop to leverage current demand surge in healthcare industry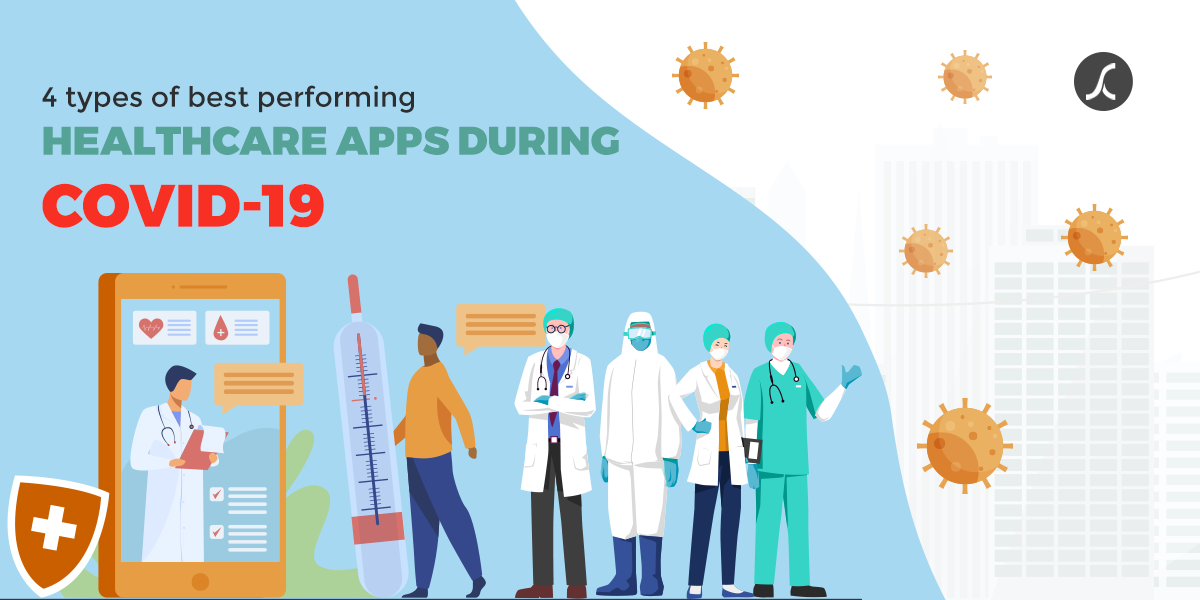 3 years ago
The coronavirus which has claimed more than 130,000 lives worldwide and more than 1000 lives in Canada is changing the user behaviour and so does the market landscape. 
People have adopted many new apps to continue living a normal life amid the pandemic and with limited access to brick and mortar stores. These all apps have been witnessing a sudden surge in demand and revenue. These apps fall under the category of grocery apps, food delivery apps, entertainment apps, and healthcare apps. 
Talking specifically about the healthcare apps, many healthcare apps are helping both COVID-19 and non-COVID-19 patients along with residents living in long-term care homes to combat COVID-19. These apps enable them to look after their health and carry out regular health checkups without leaving homes. 
Indeed, this is the best opportunity for entrepreneurs and healthcare institutions to develop healthcare apps and leverage current demand surge in the healthcare industry. 
In this blog, we are going to list down 4 types of best-performing healthcare apps that you can develop to earn money and help humanity at the same time. We will also discuss the cost of COVID-19 healthcare app development in Ontario, Canada.
Healthcare App Development - 4 types of healthcare apps you can develop amid a pandemic
Healthcare apps have always been attracting more users as healthcare is the basic need of everyone and a healthcare app satisfies that need in the easiest way possible. Following is the list of 4 types of COVID-19 healthcare apps which you can consider to develop during this healthcare crisis. 
Type #1: Telehealth apps 
This is the most popular and purposeful type of healthcare app. Every available telehealth app in Canada is experiencing utilization surge like never before. 
How does a telehealth app work? 
A telehealth app basically connects patients and physicians and allows patients to get healthcare services through a mobile app remotely.  Physicians can also provide effective care to patients even remotely, all thanks to digital clinical tools in the app. A physician can access patients' medical history, write prescriptions, and even write sick notes.  
Top telehealth apps in Canada: 
The following is the list of top telehealth apps in Canada. 
Type #2: Virtual healthcare app for senior care 
Long-term care homes or nursing homes in Canada are struggling most to cope up with pandemic. According to the latest report, close to half of the deaths that the government is tracking are linked to long-term care facilities. 
A virtual healthcare app, dedicatedly developed for long-term care homes, can strengthen LTC homes' efforts to minimize the number of deaths. Many Canadian nursing homes have already been using such apps. But these apps are outdated and lacking many important features. 
How does a virtual healthcare app work? 
The major users of the virtual healthcare apps are healthcare professionals working in LTC homes such as RN, RPN, physicians, and DOC. These all clinicians can execute their senior care tasks by the virtual healthcare app itself. For instance, nurses can check the prescriptions of each resident and schedule virtual visits between residents and physicians. Physicians can diagnose residents through virtual visits and write prescriptions. DOC can validate the tasks completed by nurses and physicians. 
The best virtual healthcare app in Ontario, Canada
Writi is the best virtual healthcare app in Ontario, Canada. 80+ physicians and 800+ users have already been registered on Writi. It has also processed 11K+ prescriptions. 
Writi is PHIPA and PIPEDA compliant and it has security features like two-factor authentication and modern encryption to ensure the privacy and security of resident data. 
Writi supports the Ontario Ministry of Health's new billing codes. Writi virtual healthcare app includes 3 different apps, each for LTC homes, physicians, and LTC pharmacies to streamline all LTC operations
Type #3: Mental health apps 
Our world is chaotic like never before and chaos is notorious for disturbing people's mental health. Being calm and well-focused is very crucial for people in this challenging time. A feature-packed mental health app definitely helps people meditate and improve mental health to remain fully operational even during a pandemic. 
However, there isn't a single type of mental health app because of the many mental health-related issues.  
Types of mental health apps: 
General mental health apps:

Help users build good habits, control mood, and improve it. 

Mental health education apps:

Let users get knowledge of mental health disorders. 

Mental disorder apps: 

Target specific mental health disorders and showcase treatment to cure it.

 
Self-improvement apps:

Designed specifically for people who are fit but still want to improve their mental health.  These apps offer breathing techniques, meditation, and audio relaxation. This is the most popular type of mental health apps. 

Earning with mental health apps: 

The business model of mental health apps depends on the type of mental health app.  However, there are two major ways mental health apps are making money. These two ways are, 

Freemium model: 

The freemium business model allows users to utilize basic features of the app, then charges for "upgrades" to the basic package. 

A mental health app owner can share his app's online space with other companies and organizations for ads and earn money from it. 

Type #4: Diet apps for seniors 

Needless to say that seniors are most vulnerable to coronavirus. And this is the only reason why WHO suggests every individual as well as the government to look after seniors more aggressively during the COVID-19 period. Fortunately, many apps are available out there which support senior care. However, these apps generally give a cold shoulder to the diet of seniors which is vitally important for their immune system and overall health.  

How do diet apps for seniors work? 

Diet apps for seniors help seniors to select or prepare healthy meal plans. To prepare the meal plans, the app takes the senior's health condition into account. App counts the calories a user consumes in a day. The diet app is also equipped with workout plans for the seniors. And it even enables seniors to talk to nutritionists directly from the app. 

App features to add in a diet app for seniors 

Nutritious meal planner 

Water tracker 

Barcode scanner 

Favourite foods 

Food history 

Total consumed calories 

Coaching and daily goal setup 

Feedback 

Virtual visit with nutritionist 

After reading so far, if you are thrilled to develop any of these healthcare apps and eager to know the COVID-19 healthcare app development cost, let us reveal the cost and how we can help you in consultation and development. 

COVID-19 healthcare app development cost

SyS Creation is the Ontario-based IT consulting and healthcare app development firm that has been working with many LTC homes in Ontario. We have developed our own virtual healthcare solution for long-term care homes.

We accommodate teams of well-versed business experts, app developers, app designers, and legal experts who all work together to deploy your PHIPA compliant healthcare app in the market within 45 days. 

If you have your own team of app developers, you can derive benefits from only our IT consultation service for healthcare app development in Ontario. 

Talking about the cost of healthcare app development, it depends on many factors such as the number of features, the complexity of the features, technologies, platform etc. But if we take an average of every factor into account, the healthcare app development cost would be somewhere between $10000 to $25000.

To know more about healthcare app development, to share your requirements, and to get an instant & personalized quote, please feel free to schedule a one-on-one meeting with our expert.