Build a Dating App for Cancer Patients to Help Them Find Hope and Happiness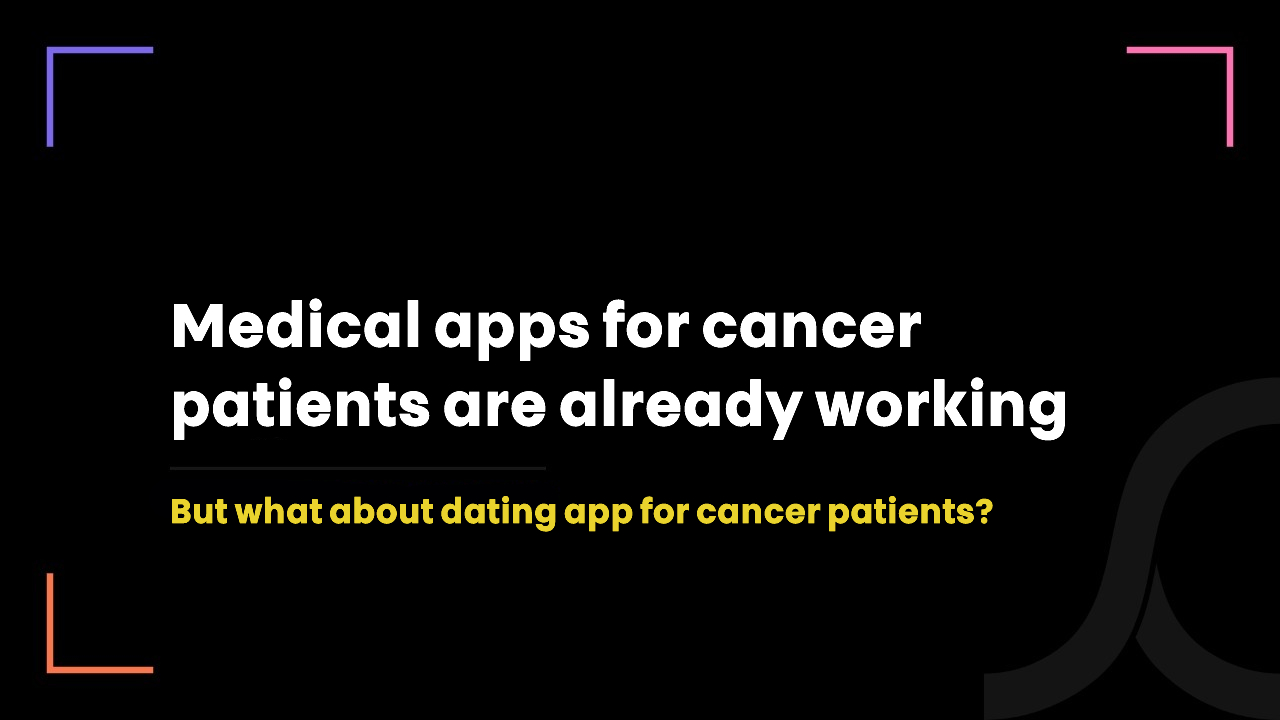 2 years ago
Dating for cancer patients and those who are living with its scars can be a taboo topic for people. But it's a time where they need emotional support, feel socially connected and hopeful about their life.
The article focuses on the emotional challenges cancer patients face, and how online dating apps can help them to feel emotionally supported and hopeful about their life. 
Though the topic looks slightly strange, the facts and figures will raise your concern about the people suffering from cancer.
In 2018, there were 17 million new cancer cases and 9.5 million cancer deaths worldwide.- IARC
By 2040, the global burden is expected to grow up to 27.5 million new cancer cases 16.3 million cancer deaths.- IARC
In 2021, approximately 229,200 new cancer cases and 84,600 deaths were reported in Canada alone which is 28.2 % of all deaths.- Canadian Cancer Society
The situation gets worse for the people who have a low survival rate, it's challenging for them to accept the fact, deal with their emotions and go on with their life as a new normal. 
Social and emotional challenges faced by the cancer patients
Once diagnosed, almost all cancer patients feel psychological and emotional issues that can live with them for a longer time even after the treatment. This may include fear of recurrence, depression, grief due to loss of health, issues with body image, and relationships.
Patients who are under the treatment, having functional limitations, and having low family support get into social isolation, as the life around them keeps going on. Often most patients feel like jumping into the mainstream to live a normal life. Sadly they immediately realize their inability to do so.
For single people, it's obvious to feel like dating but being with cancer affects their energy and physical ability to be involved in the relationship. However, it didn't mean that patients can't have that emotional support through companionship.
In fact, it's a time when a patient needs someone to share what they are going through and feel related, it helps them to cope with a hard time and feel hopeful about their life. 
Insecurities about dating in cancer patients and how online dating apps dedicated to cancer patients can help
Problem with the available dating sites:
When it comes to dating sites, most websites focus on random hookups and first looks. On such dating sites, it might be difficult for the cancer patient to relate their sufferings and feelings with the one who hasn't gone through it.
The most frustrating thing for cancer patients who have experienced amputations, or major changes in their physical appearance is a lack of self-esteem. It's obvious to feel upset and angry at the way cancer treatment has changed their bodies. 
A negative body image can badly affect how cancer patients see themselves as an overall person, their desire for intimacy, and social interaction. Naturally, communicating with loved ones and people suffering from similar conditions helps them to minimize the negative thoughts and makes them accept who they are.
How can an online dating app for cancer survivors help?
A dedicated online dating app for cancer patients can solve most of the patient's problems related to their body image, self-esteem, and other insecurities. 
The reasons are,
There is no need to explain why they are here on the dating site.
It's easy to find other cancer survivors and patients suffering from similar conditions.
It's not mandatory to share profile details, one can keep a high level of privacy and anonymity.
Overall, it's a simple way for cancer patients to find people who can really understand them.
Is there a dating site for cancer survivors?
The answer is yes. However, there are only a few dating sites for cancer survivors. The most popular of them is RomanceOnly.com (former 2date4love.com), founded by cancer survivor Laura Brashier in 2011 with the tagline "intimacy without intercourse".  The website now connects thousands of users across 126 countries. 
The site offers services for the Sex-C adults seeking romance- committed relationships, build on affectionate companionship, physical connection, and authentic love without any expectation of intercourse. For the subscription to the service, the site charges a minimum amount of $9.99.
Other sites such as Cancermatch.com are running on donations made to malecare.org, Asexualcupid.com (not dedicated to cancer patients but can be used by them) helps asexual men and women find matches who can provide companionship, emotional support, and even romance which can improve their medical and mental conditions.
How to build a dating app for cancer patients and survivors?
Building a dating app for cancer survivors is all about creating a safe environment for them to find a community of people who understand what they are going through, and where it's easy to relate their situation with like-minded people. 
While building such a dating app, it's essential to keep the privacy of an individual at its top unless the user doesn't want to reveal it.
Here are the steps to build an online dating app for cancer patients.
1. Find your target audience: Here your target audience are cancer patients, you can make it more specific by filtering it through demographic characteristics such as age.
2. Understand and evaluate their requirements: Conduct online surveys and interviews to find what the user needs and define problem statements and scope.
3. Find and study top competitors: Though there are few competitors, studying them will help you to get an initial design idea.
4. Create prototype: Develop a prototype model to get the complete to validate your ideas, and align your to the team according to it.
5. Define business model: Define monetization strategies and clarify how you can deliver value to customers.
6. Define User Journey, UI/UX design and workflows: Find out how you want your user to interact with the app and how to make the app intuitive.
7. Create Features set: Add only essential features to keep the app simple.
8. Start coding frontend and backend and perform QA testing: Select an advanced tech stack for your app development, follow clean code architecture, and test your app to assure quality.
Once you get the quality assurance, you can launch your app after completing the compliance audit. Also, it's critical to keep your app well-maintained and updated.
The following is the complete process we follow at SyS Creations! 
Important features of online dating app for cancer survivors:
User profiling
Instant chat, calling, and video calling
Media storage and sharing
Supporting community
Profile configuration and setting (Hide / Show profile )
Access to content for cancer awareness
Search and filter option to find people in local areas
Find your soulmate/ meet your match
Automatic delete chat and shared content
You can add more features later such as AI-based chatbots, Gamification, exploring community events, and online meetups. 
It would be a source of pride for us to utilize our tech knowledge for cancer patients
We're an Ontario-based healthcare-focused IT company. We only entertain healthcare IT projects which help both patients and physicians.
Today we have written on a dating app for cancer patients because of its indirect clinical outcomes.
We believe there is always something more we can do for the betterment of cancer patients.
Our team includes app developers, UI/UX designers, business analysts, QA engineers and compliance specialists who all would feel privileged solving even one problem of cancer patients.
We would like to leave you with another beautiful piece of content on cancer » An Inspiring Healthcare Startup Story of Alula – Founded by Cancer Survivor