Electronic Prior Authorization Automation: A Key to Achieving 10X Productivity & Velocity in Prior Authorization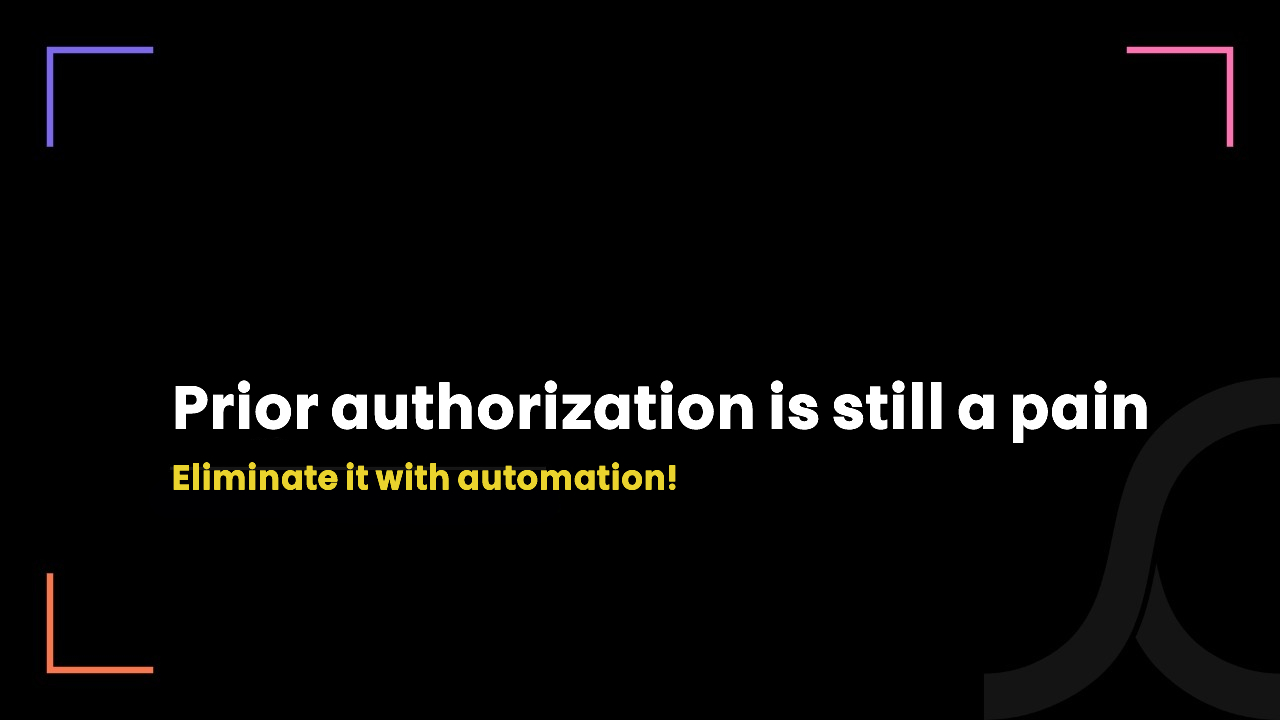 6 months ago
Prior authorization is hard to manage, there is no doubt about it.
Because it is,
Time-consuming for healthcare provider
Costlier for healthcare practices
Talking about its impact on patient care, well, almost 94% of physicians in the USA said that prior authorization delays care for 90% of their patients.
The primary reason behind it is – manual workflows that are surrounded by tedious phone calls.
But you can change that and make this hectic process less frustrating and more productive with – electronic prior authorization software!
It has huge potential to bring peace of mind into the lives of providers, payers and patients.
And you'll know it in the next 3 minutes.
What is electronic prior authorization?
Under some medical and prescription care plans, healthcare providers need to take approval from the payers before performing it.
This process is called prior authorization.
However, this entire process is mostly performed manually for treatment and medication plans.
It includes – data entry, documentation, phone calls, emails and Fax.
But an electronic prior authorization automation totally eliminates it – easily and securely.
It automates the manual processes from submitting requests to eligibility checks and documentation to getting approval.
Meaning, it speeds up the prior authorization process for everyone who is involved in it.
Who can automate prior authorization?
Electronic prior authorization automation is not just limited to providers.
But it also lets pharmacy businesses and healthcare payers streamline all their workflows associated with it.
And if you are one of them you can implement automated electronic prior authorization software into your practices.
How does electronic prior authorization software equipped with RPA tech work?
Let's understand it with a simple example.
We assume that you are a healthcare professional and want to perform a medication-related prior authorization process using the software.
So in that case, the following is a complete streamlined workflow you need to follow.
(Note: The software is integrated with the EHR.)
Step 1: Select the medication
Now the electronic prior authorization software is already integrated with the EHR, you just need to select the prescription plan for the patient.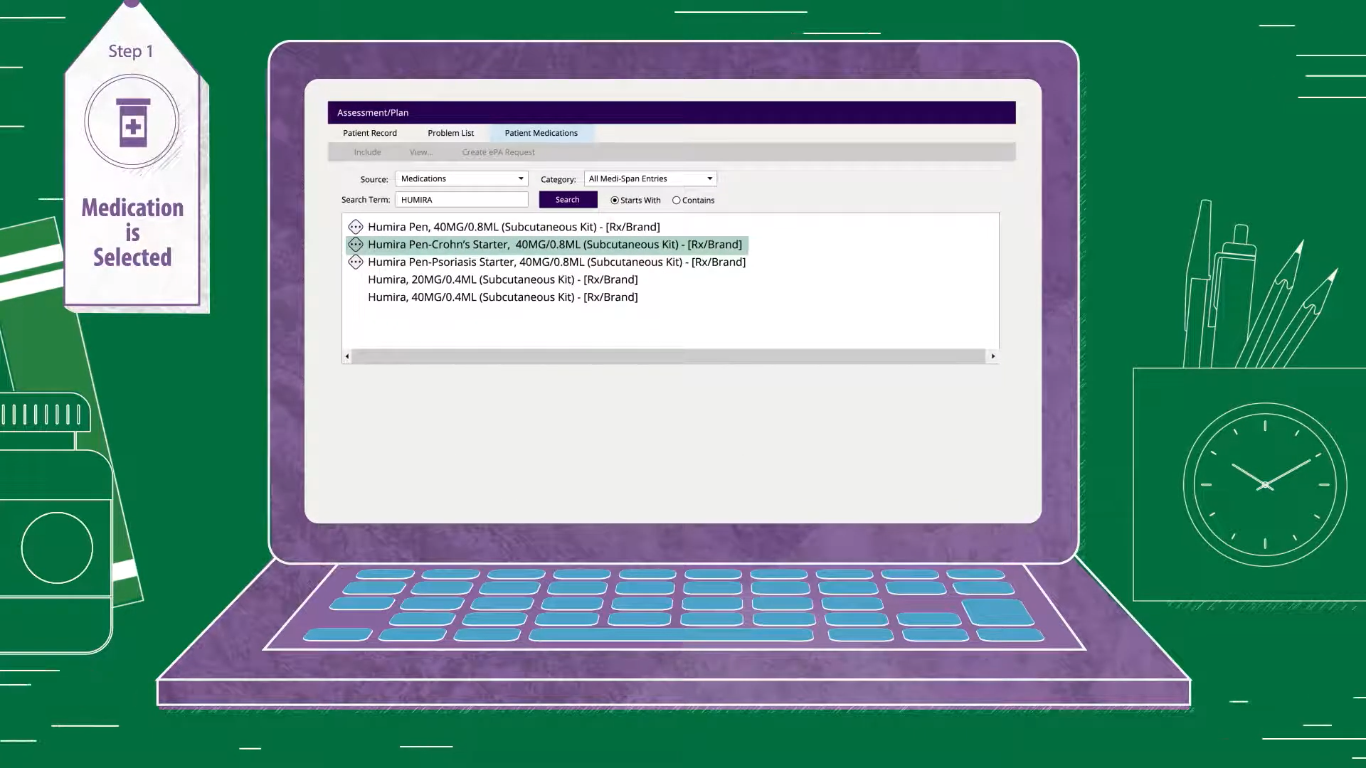 Step 2: Check whether prior authorization is required or not
The software will automatically show the requirement of prior authorization for the medication you selected for the patient.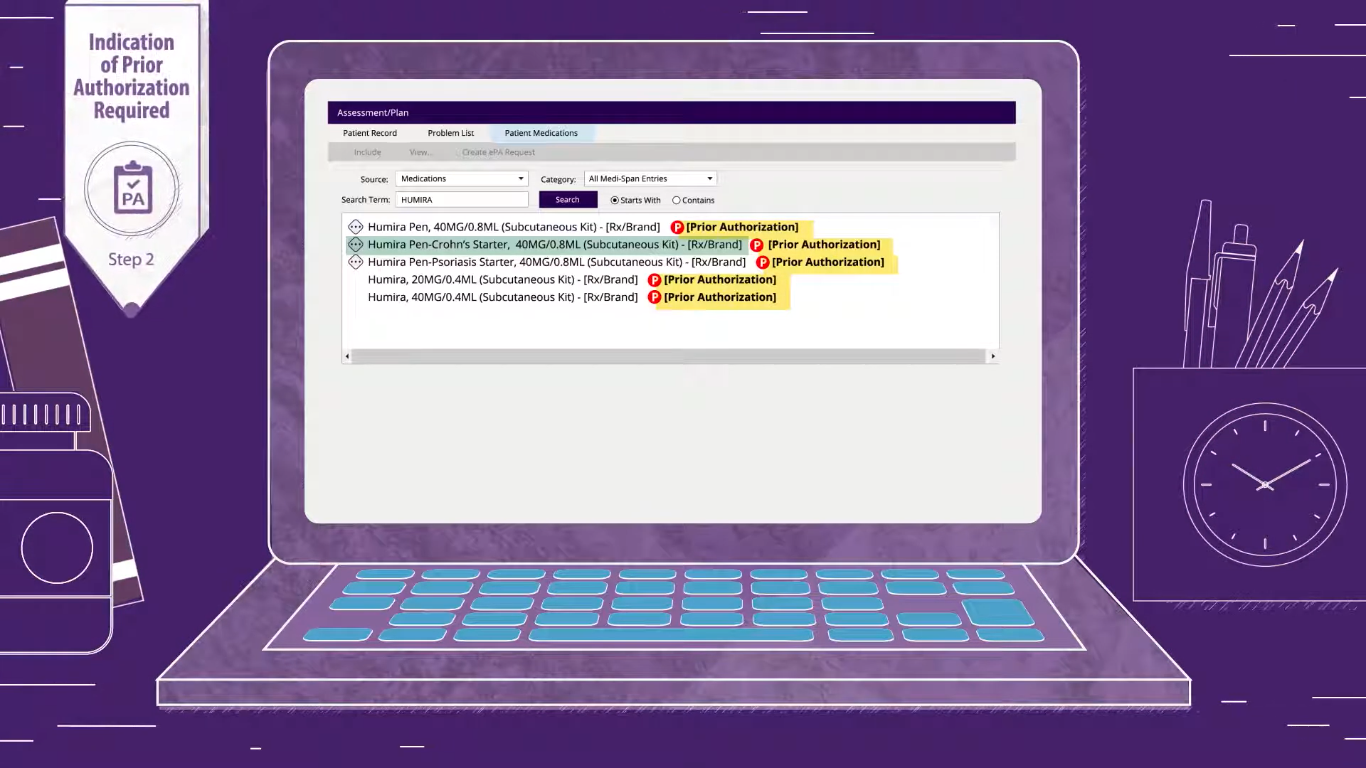 Step 3: Submit the electronic prior authorization request
If the medication plan you selected requires prior authorization, you'll need to perform the entire process before sending the prescription note to the pharmacy store.
And for that, the first step is to submit the request.
Step 4: Answer questions
Once you submit the electronic prior authorization, the software will ask you a few questions.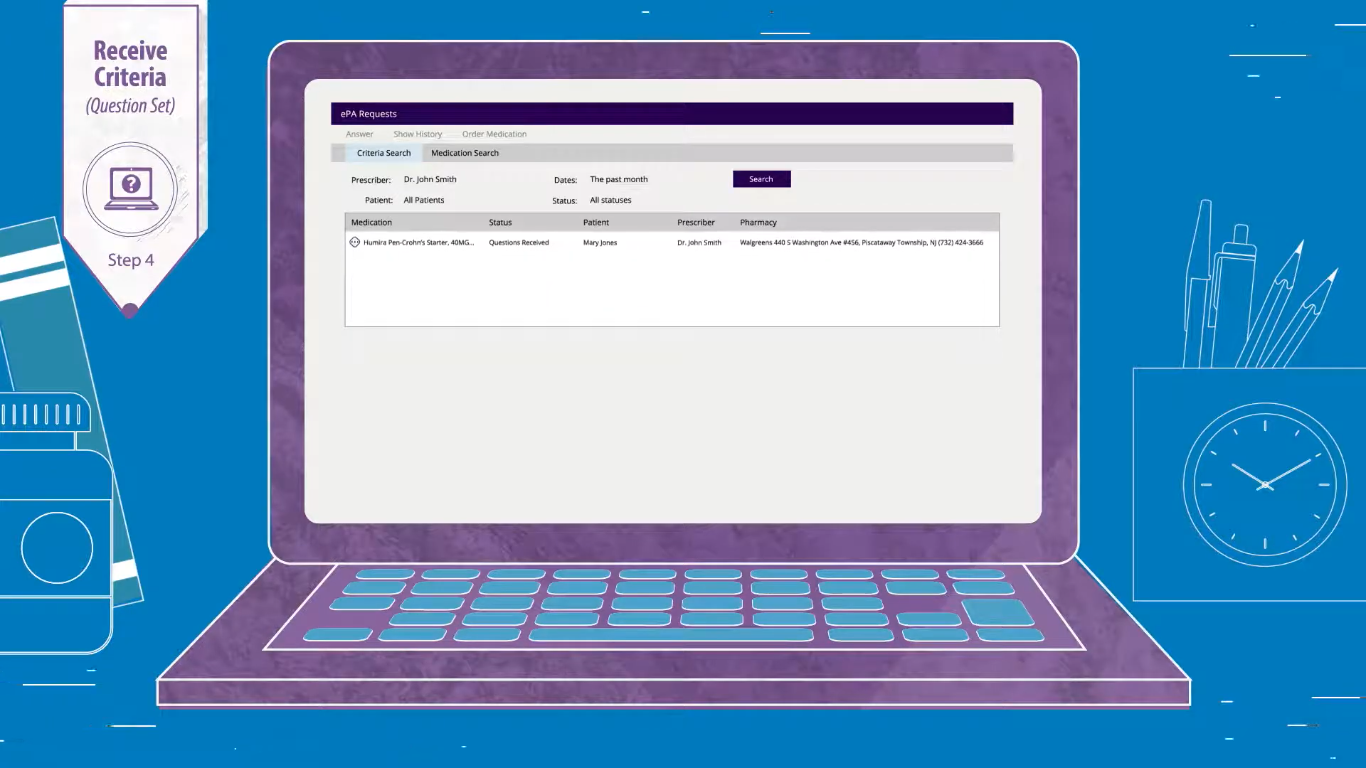 And these questions directly sync into the EHR.
This also helps the other physicians and staff members to complete the process on your behalf of you.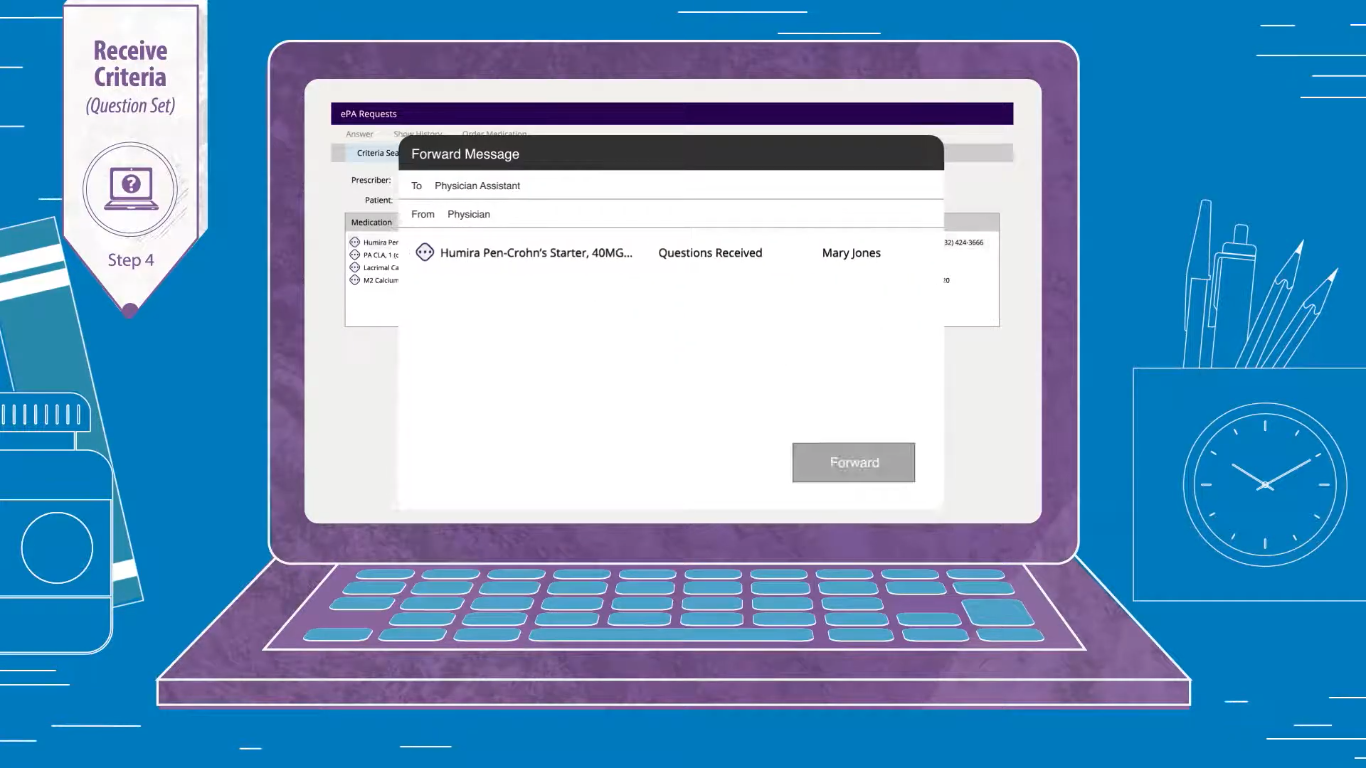 These questions may be related to – medication plans and pharmacy benefits – in various forms.
For example,
1. True False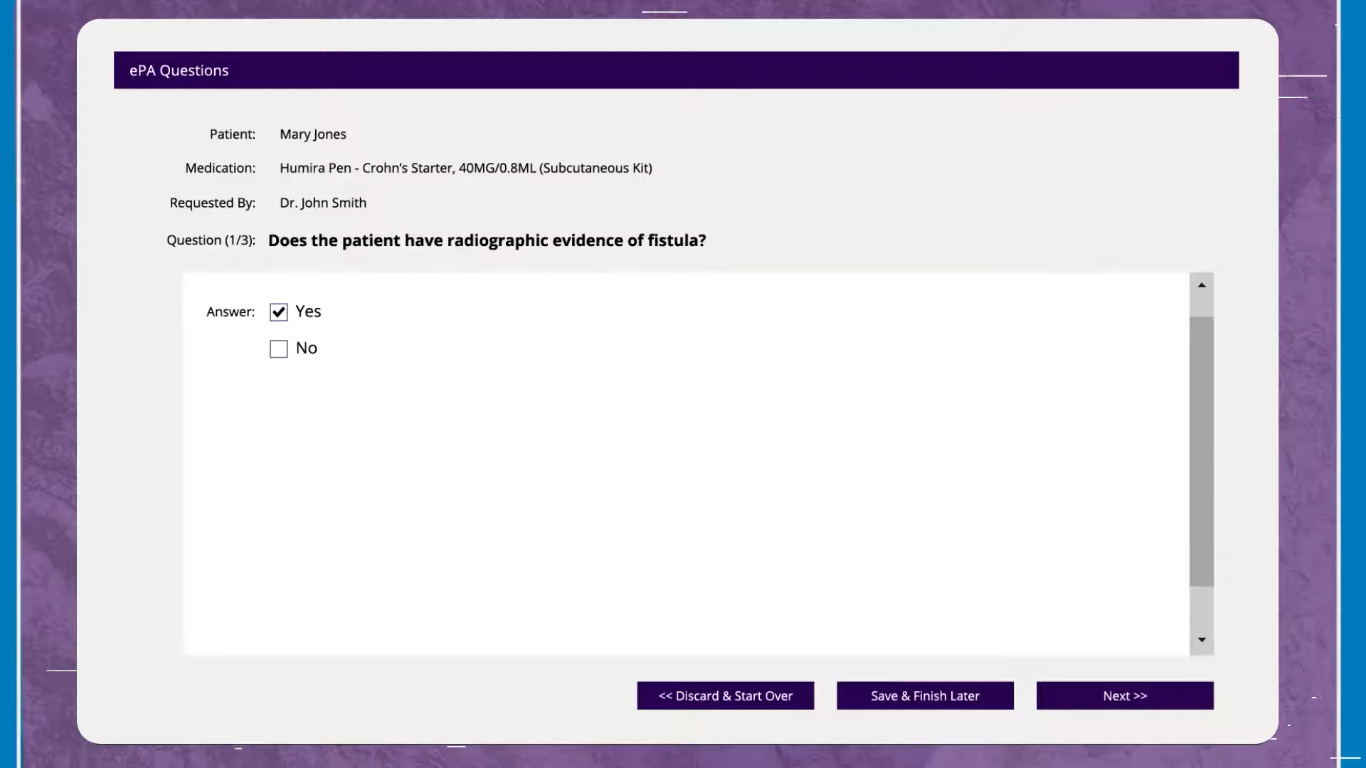 2. Multiple choice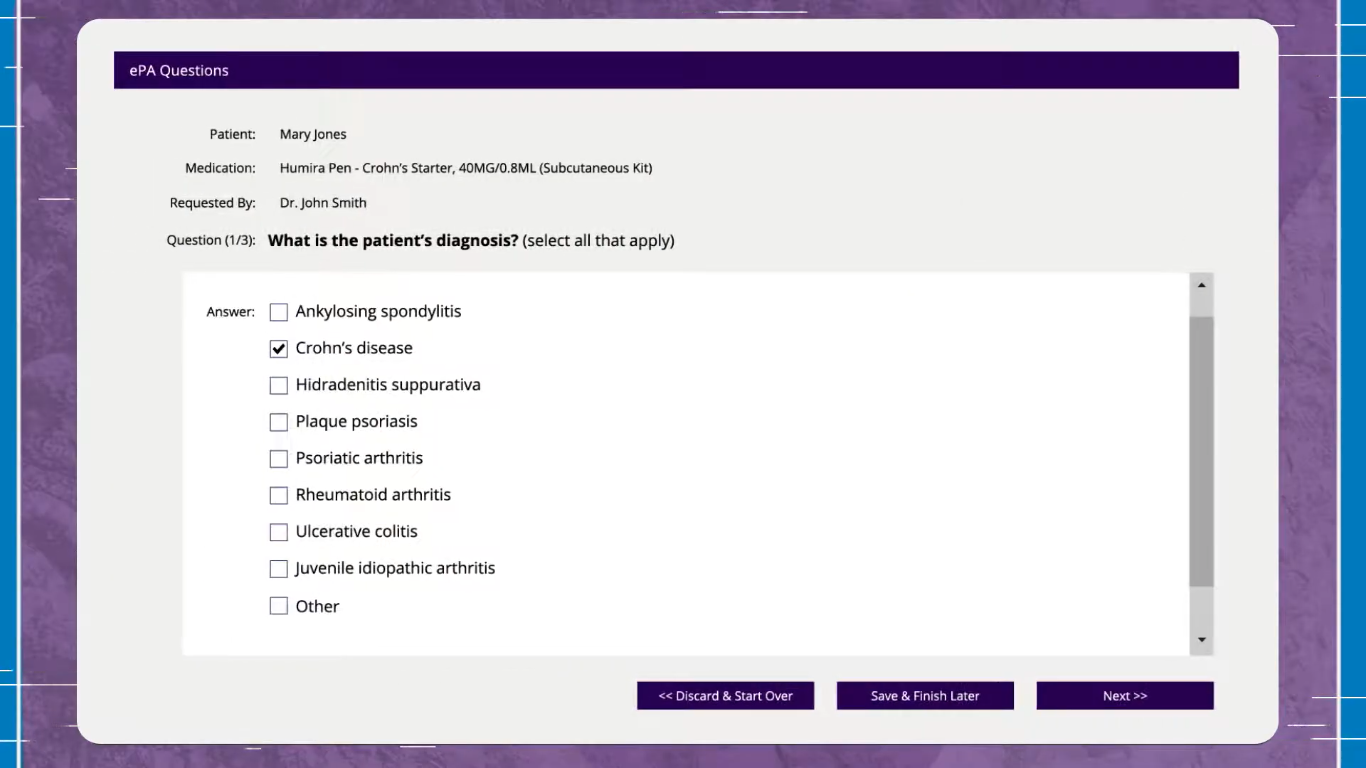 3. Free texts response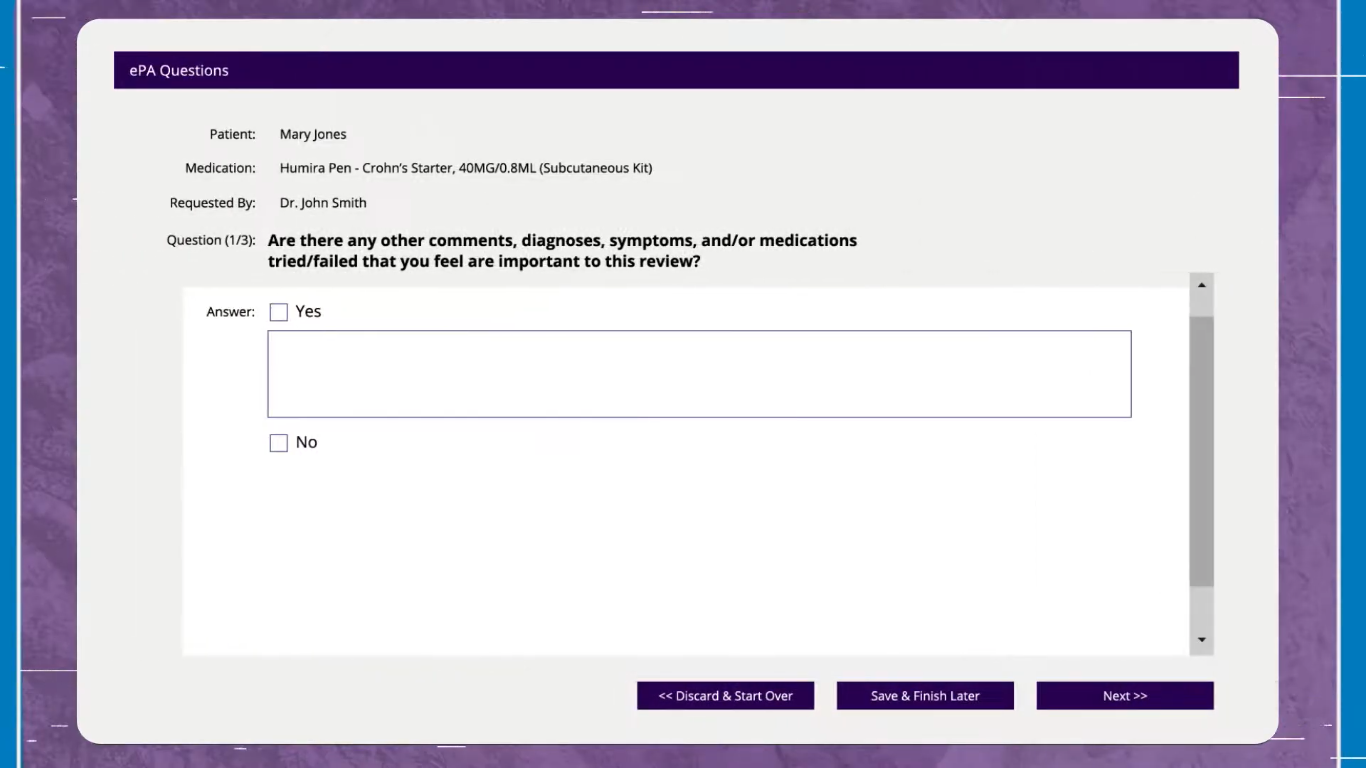 Step 5: Answer questions and submit
This is a crucial step as it may create a conflict between you, the pharmacy and the payers.
Here, you or other staff members need to validate all the answers you have given regarding the medication plan.
You can explore all answers from a single screen.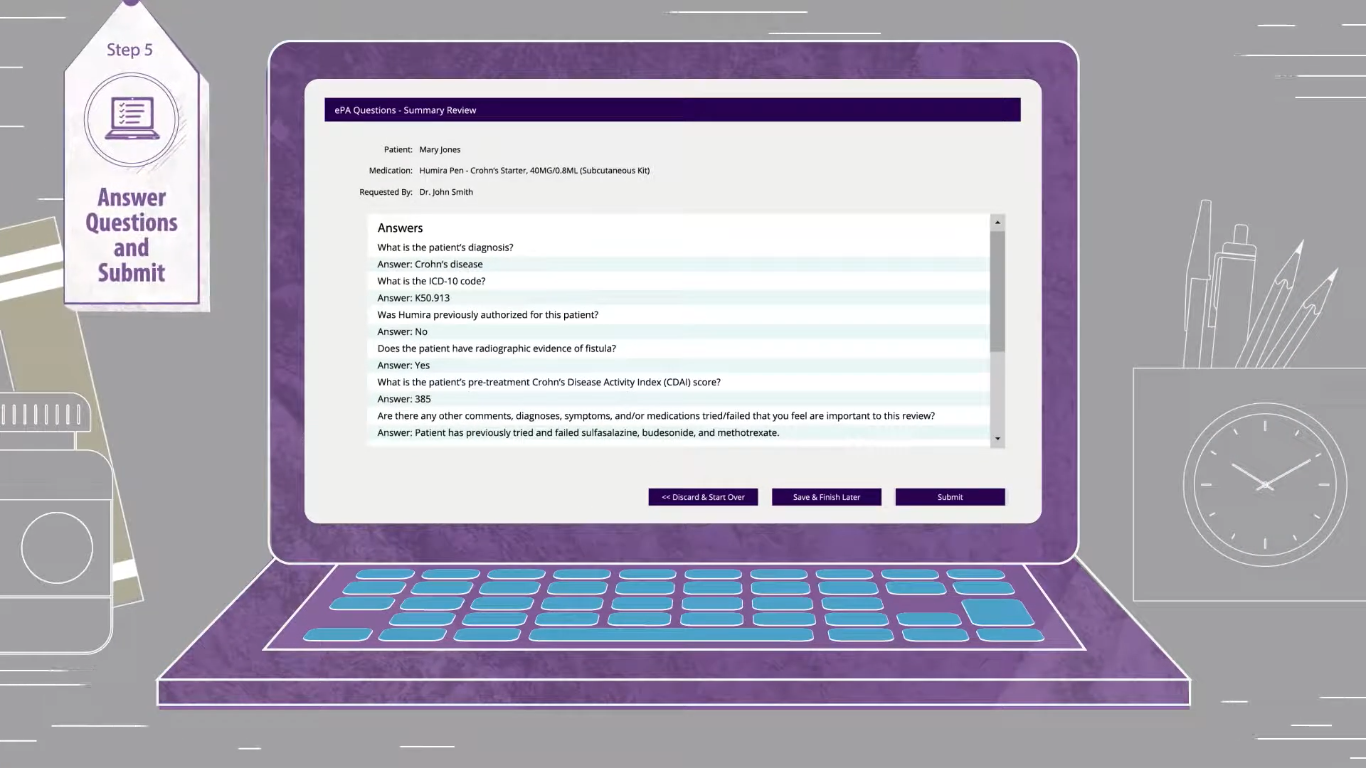 Step 6: Now sit relax and wait for the confirmation
Once you submit all the answers, the software will automatically –
Check the eligibility of the medication plan you have chosen
Patients' financial responsibilities
For that, it uses AI algorithms and RPA technology.
And this process sometimes takes less than 2 minutes.
Once it is done, it will send a real-time notification to you.
In case if there is a change is needed, it also sends an instant notification to you.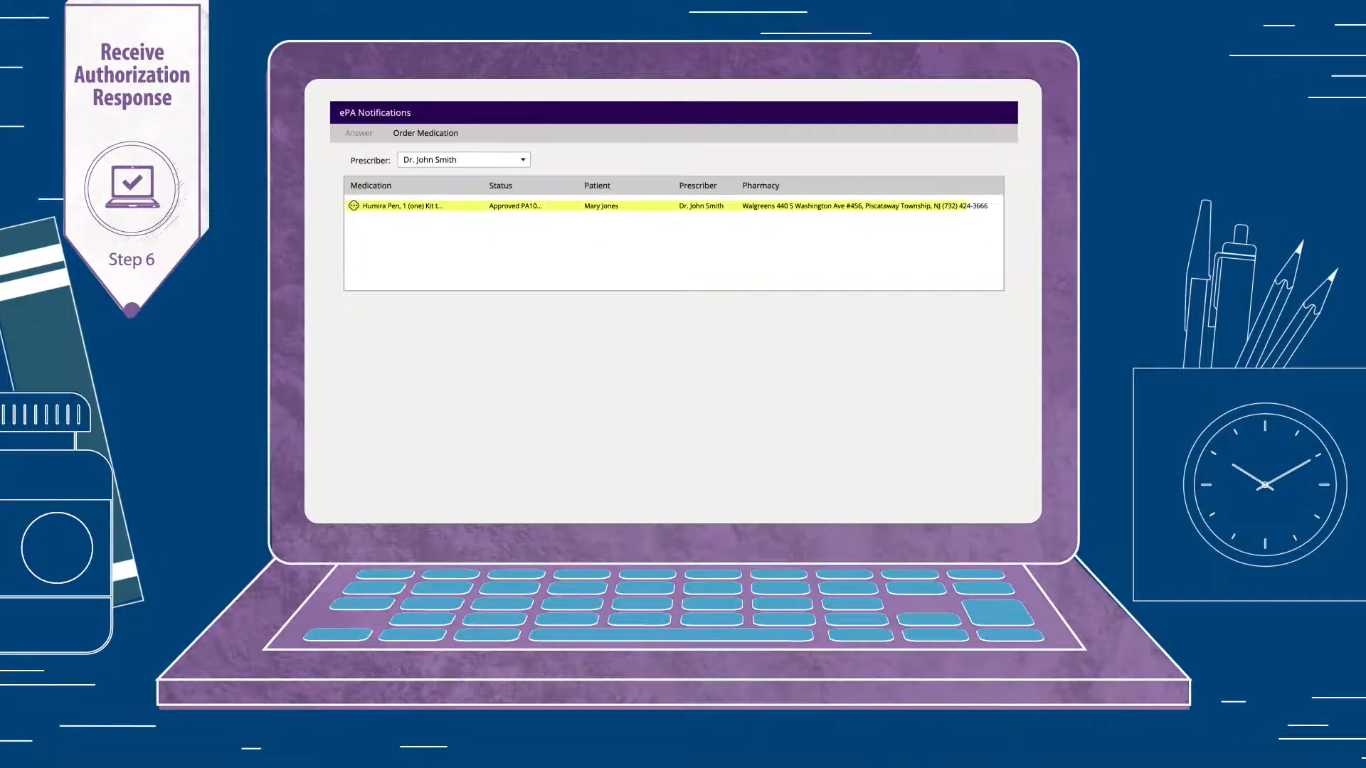 Once a request is approved, you can send an ePrescription note to the pharmacy via SMS and email.
This entire approach ensures that patients won't face care delays due to the unmet prior authorization processes.
Four crucial tasks you can automate with prior authorization software
The electronic prior authorization system working on RPA technology helps you automate almost 80% of your workflows.
It includes –
1. Demographic audit
It's important to eliminate the errors in the patient's demographic data.
Because it may result in – resubmission, denials and lost revenue.
But by using software, you can entirely automate this process.
For example,
Audit to prevent financial and administrative errors
Real-time alerts when an error occurs
2. Verification
You can automate two verification – eligibility and medical and prescription benefits.
3. Determination
Undeniably, this is the most time-consuming part of prior authorization.
Because providers need to check everything manually to determine whether the authorization is required or not.
But the software totally eliminates the need to check manually.
With just one click, it lets you determine the prior authorization needed.
4. Submission and retrieval
You can also automate the submission process.
For example,
Automate reminders to payer regarding the submission
Real-time notification in case of the rework
Review authorization status without any need for phone calls
Notification when the prior authorization is confirmed

What is the importance of having automated electronic prior authorization?
Let's understand it with a simple difference between manual and automated prior authorization approaches.
1. Manual process: You'll get clear approval in 1 to 10 days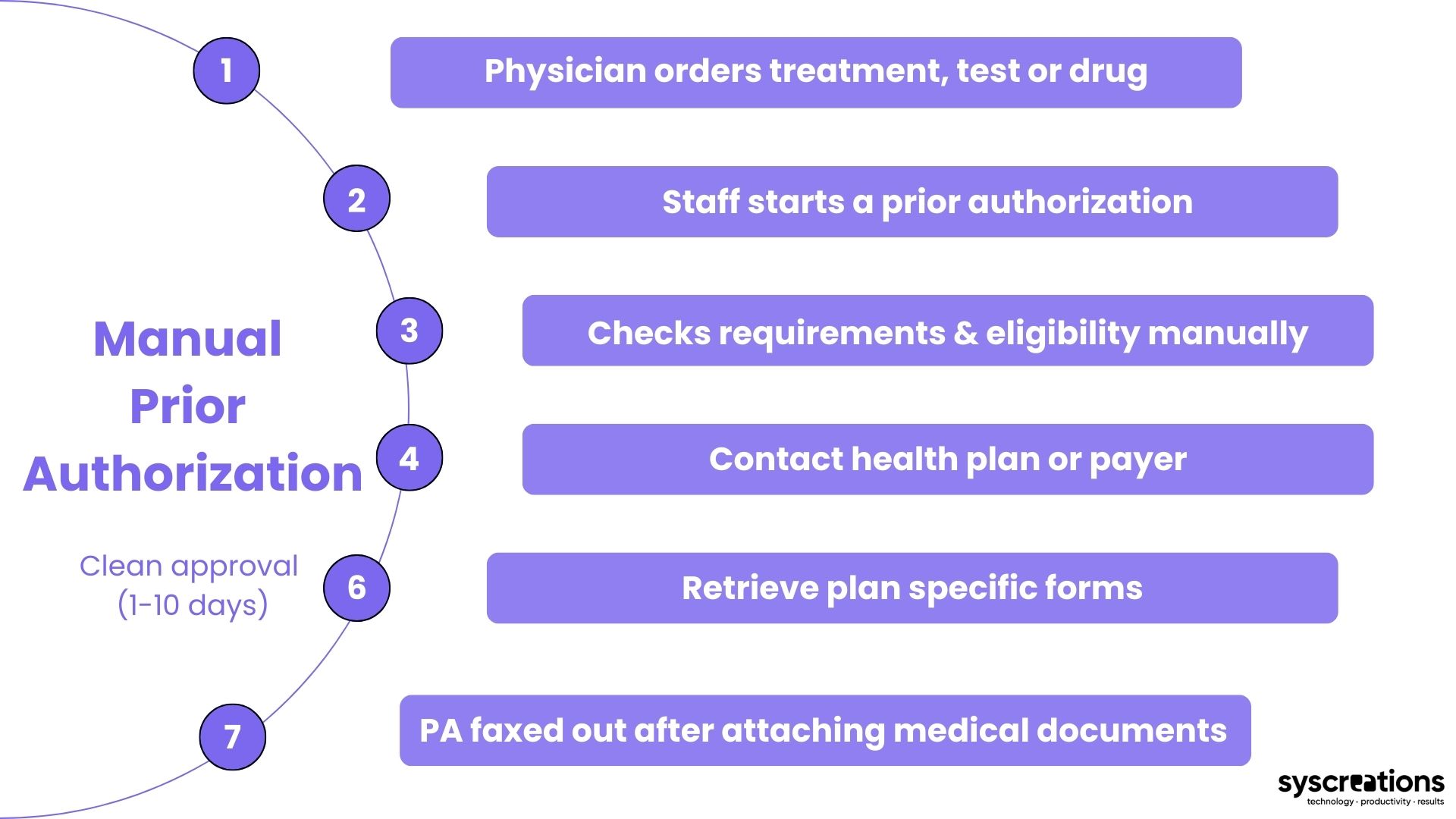 2. Automated process: You'll get clear approval in less than 5 minutes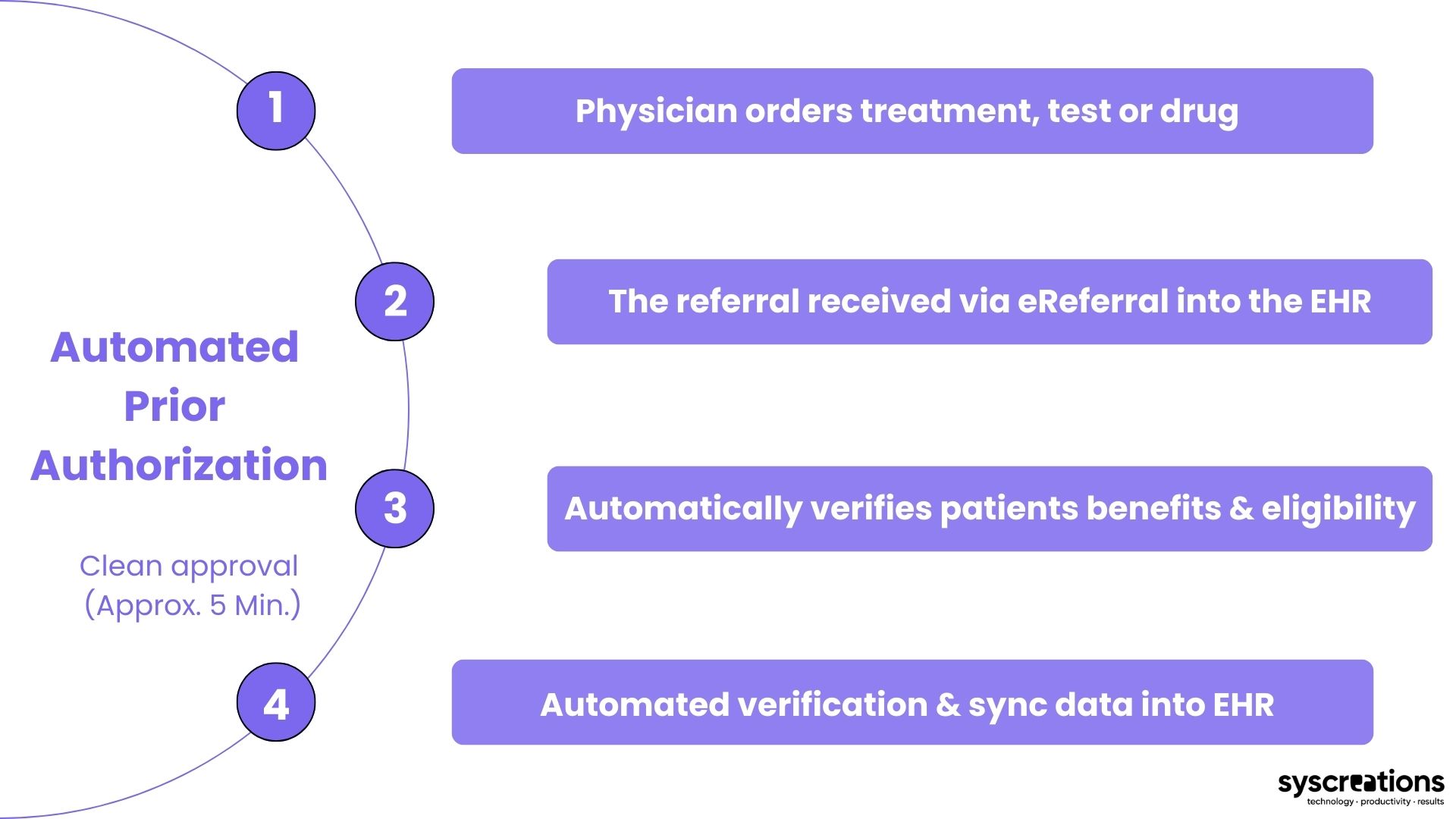 What are the benefits of an automated prior authorization system?
The electronic prior authorization software brings the patients, providers and payers under the same roof.
And the following are the top benefits of it.
No need to fill out the prior authorization form
No need for Fax and phone calls
Eliminates the data entry process
Can avoid performing multiple tasks at the same time
Completely match your ePrescribing workflows
Reduces the processing time
Accelerate patient time to treatment
Lowers the chances of claim rejection at drug pharmacy
Reduces administrative burden
Boost patient satisfaction
Want to automate your prior authorization with software? We can help you with our 3Es
We are an Ontario-based healthcare IT company.
And we are well-known in the North American health tech market because of our 3Es.
Expertise:
We entertain only healthcare IT projects for – startups, enterprises, organizations and individuals.
And we are not just limited to app and software development.
We also have ultimate expertise in – AI, ML, health tech integration, IoT or wearable device integration, VoIP and automation.
Experience:
We have extensive experience in breaking business, technical and compliance roadblocks.
And we have been doing it for 8+ years!
Experts:
This is something that sets us apart from the rest of the IT companies.
Every team member on our 50+ IT teams is healthcare-specific!
In other words, they have been performing health tech projects since the first day of their professional careers.
It includes – web and app developers, UI/UX designers, business analysts, compliance specialists, AI and ML experts, RPA engineers and integration experts.
So, if you want to perform prior authorization with less frustration and more productivity, let's conduct a call and talk about your ultimate goals!