How Could 2-Year Old Online Prescriptions Provider – Felix Health – Raise $10 Million?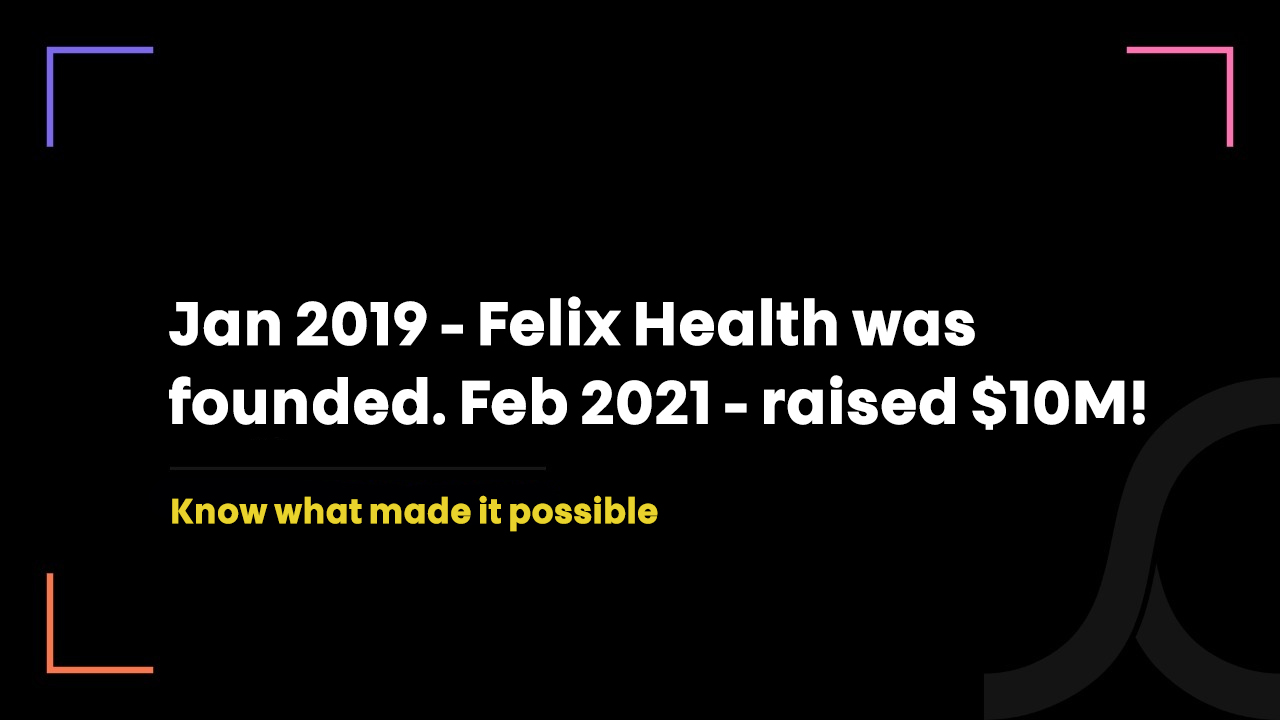 3 years ago
I woke up to news - very fascinating news for all healthcare and technology experts.

Toronto-based healthcare startup - Felix Health - raises CAD 10 million in its series A round of funding.
It is very significant for two reasons - the amount they have raised and how fast they've closed a successful funding round since inception.
The company provides technology-enabled treatment for some common healthcare challenges of Canadians such as birth control, acne, migraines etc.
We are all about helping you get the treatment that's right for you.
​
​Safe, secure and trusted! pic.twitter.com/avkjK9EIMc

— Felix (@felixhealthca) January 15, 2021
I instantly became so interested to be completely aware of Felix Health's business practice.

So I dug deep down and analyzed them thoroughly to understand how a company founded in 2019 raised a whopping amount in such a short span of time.
And here is what I found.
What's so special about Felix Health that it raised $10M within around 600 days of its inception?
1) The way Felix Health operates
Felix Health aims to solve the toughest healthcare challenges of Canadians in the easiest way.
It lets Canadians manage their healthcare issues from the most accessible medium they have - a mobile phone and website.
With the ultimate ease of interacting with Felix Health, users find it very convenient and time-saving.
The following is how it operates.
Once the users create an account on its website, users have to answer a few simple questions related to their medical history and symptoms which take less than 15 minutes. Because of the quiz-type questions with large fonts, the users don't feel bored.
Within 24 hours of submission, one of the licensed doctors reviews the answers provided by the users.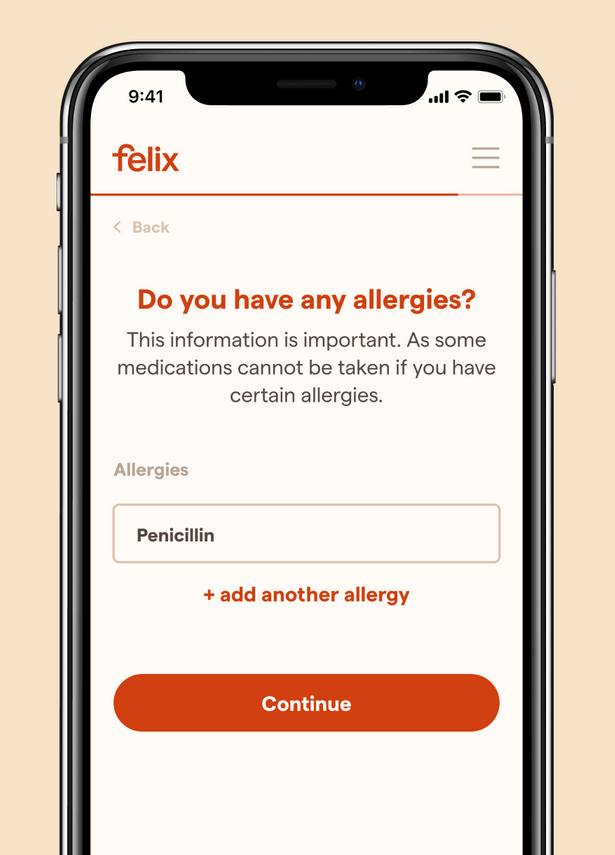 Source: https://www.felixforyou.ca/
The doctor suggests medications.

The users have the freedom to choose their preferred medication.

Users can also select the shipping frequency of medication. In case of any doubts, the users can chat with doctors in real-time.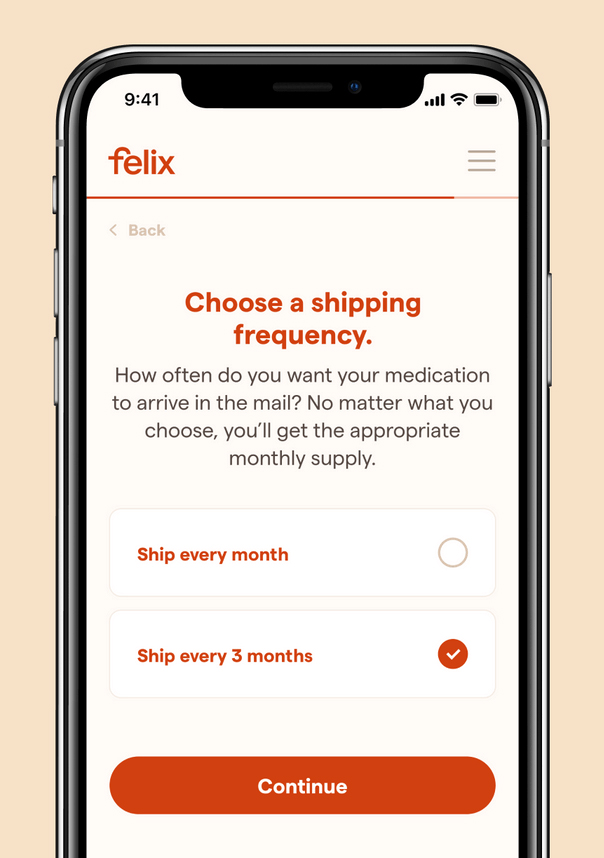 Source: https://www.felixforyou.ca/
Once the online prescription gets approved, the pharmacy partner of Felix Health fills the prescription for doorstep delivery.

Users can also activate auto-refills to never run out of the prescription.
2) The way Felix Health charges for online prescription and medication delivery
Pricing has been the major challenge for all healthcare startups. But Felix Health solves it exceptionally well.
The online visit fee of Felix Health is just $40 which includes an online chat-based visit with a Canadian licensed doctor and up to 1 year of refills.
Talking about the medication cost, it would depend on the type of drug the user selects.
But regardless of the drug type, Felix Health provides free medication delivery to the doorstep of the users.
This way, Felix Health does not only save the cost of the users but also save their crucial time by letting them avoid clinic wait rooms and pharmacy pickups.
3) The way Felix Health solves healthcare challenges
There are many common yet significant healthcare challenges that people don't feel comfortable sharing with doctors in an in-person meeting.
These challenges are birth control, erectile dysfunction, hair loss, and genital herpes.
But using Felix Health's platform, Canadians can solve all such healthcare challenges very comfortably as there is only a virtual chat-based meeting with the doctor.
In other words, Felix Health solves the real-life challenges of the users and any startup solving real-life challenges of the users meant to be successful!
4) The way it provides pharmacy and healthcare service in one place
Felix Health is neither an online pharmacy nor a healthcare service provider. It is a fusion of both!
There are many healthcare startups that provide medicine delivery services.
But for that, users first need to have a prescription and for prescription, users either need to physically visit the doctor or schedule a virtual visit with the doctor.
Same way, many healthcare providers or telehealth providers do not provide medication delivery services.
But in the case of Felix Health, users are able to access doctor consultation and medication delivery from the same platform.
This is very useful to users as they don't need to shuffle between healthcare providers and pharmacies.
5) The way it gives priority to ePHI security and privacy
A healthcare startup saves, uses and shares crucial personal health information. Thus, to avoid any data breach, they have to deploy a military-grade security system.
They should also adhere to Canadian data privacy laws that govern how a healthcare entity stores, uses and shares the ePHI.
To be compliant with data privacy laws, the healthcare entity must address all requirements at the organization level.
Talking about Felix Health - it is a PHIPA compliant as it operates its business in Ontario and PHIPA is Ontario's dedicated law for the healthcare industry. 
Being PHIPA compliant does not make Felix Health liable for any legal trouble.
It also helps them to attract users and investors as awareness around data privacy is ever increasing. 
6) Felix Health now supports diagnosis and treatment of anxiety and depression
As per the latest official report, Felix Health has not gained the ability to first diagnose and then treat mental health issues including anxiety and depression through its platform. 
This will allow Felix Health to not just attract more users but build a loyal customer base and increase revenue with this fresh revenue stream.
To offer online mental health diagnosis and treatment services, Felix Health now allows users to directly talk to healthcare providers by requesting an assessment on the company's website by sharing their medical history and symptoms in an online quiz.
What could Felix Health do in a better way? - An opinion
Communication and coordination between physicians and patients are very crucial especially when they are interacting online or virtually. 
The communication mediums Felix Health offers are chat and voice calls.
For enhanced communication and coordination, Felix Health should introduce video calls as well.
This will increase the coordination and enable doctors to get an idea of the current health state of the patients more easily.
Patients will also feel more connected to the physicians due to video visits - rather than chat or voice calls.
Additionally, it would be more convenient and easy for users to access Felix Health's services through a mobile app - rather than a website.
Anyway, this is just my opinion. I am sure Felix Health must be working on some ground-breaking features and breakthroughs.
Are you on a similar healthcare startup journey? We're healthcare-specific app development and compliance experts
We're an Ontario-based team of healthcare app developers and compliance/PIA experts.
For the last 7 years, we have been investing our 8 hours a day for streamlining patient care operations into the Canadian healthcare industry.
We've worked with several healthcare providers including long-term care homes to solve their compliance, app, EHR, EMR-related challenges.
We are even providing a white-label telemedicine solution that starts from $40000 which has been adopted by more than 40 healthcare providers in Canada and the USA.
For specific pricing, check out our dedicated page.
For your any compliance, app, platform, EHR/EMR-related challenges, you can directly contact our most-experienced team by filling out a 4-line long form.