A Detailed Guide to Healthcare API: Use Cases, Benefits, Top APIs, Challenges, Development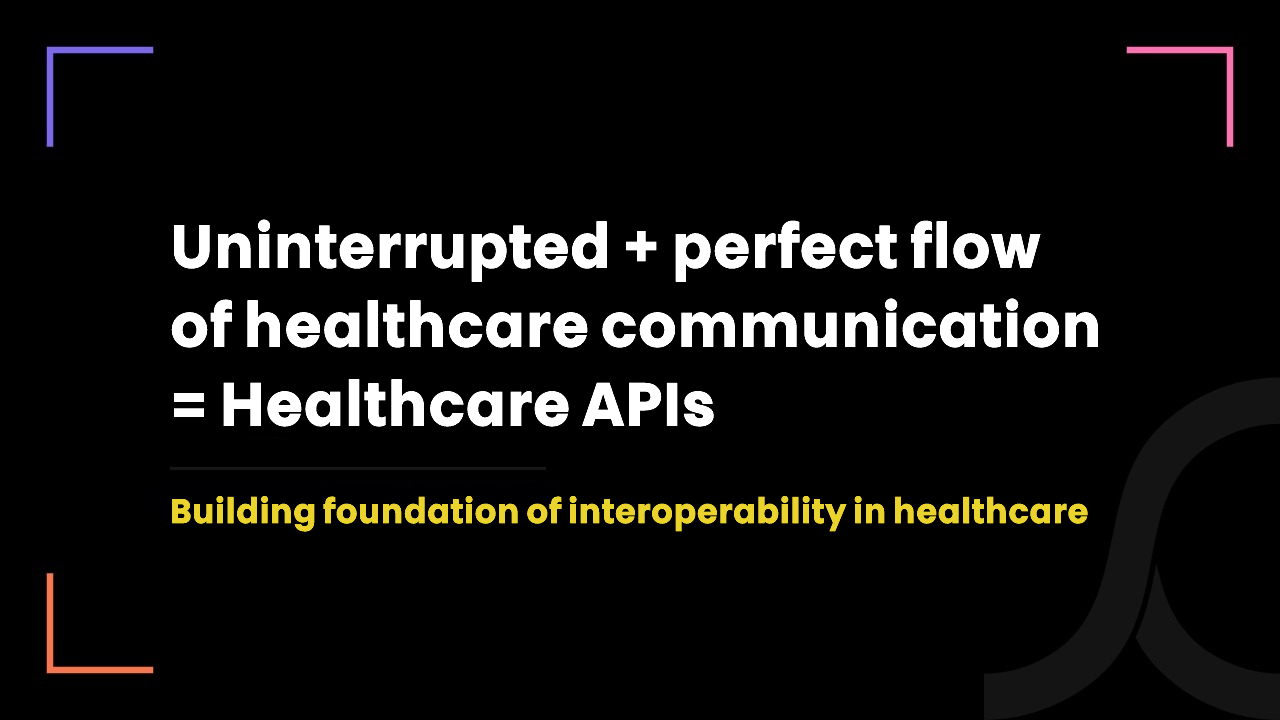 2 years ago
Let's just get straight to the point today. No! It's not because I woke up on the wrong side of the bed.
The reason is healthcare API, today's hot topic. The technological segment without its operational existence would be nil. 
Before we move on to the what's & why's of healthcare APIs, let me just give you some numbers to keep the maze interesting.
According to a PRNewswire report, the global healthcare API market is predicted to increase at a CAGR of 7.1 percent from USD 277.4 million in 2021 to USD 390.9 million in 2026.
What is healthcare API? The bridge of technology
Any interested party — from patient to physician to medical researcher — may instantaneously access matching files via cellphones in a proposed scenario.
Considering a perfect healthcare setting in which data from fitness trackers, patient applications, hospital systems, pharmaceutical software, and lab instruments is seamlessly exchanged. 
In simpler terms, Application Programming Interfaces (APIs) are short pieces of software that serve as a link between two separate applications in the medical realm, allowing for seamless data transmission. Patient data such as EHRs/EMRs, clinical imaging, drug data & interaction, clinical data management, analytics, telehealth, and public health content.
Explore the do goods of APIs in the healthcare industry
Using a gateway (proxy) layer while linking different applications, APIs are creating a customer conducive environment and solving the issues of interoperability.
Using the data standards in healthcare, assisting EHR platforms in avoiding data silos in closed infrastructures and promoting seamless data connectivity with third parties, unified API platforms give safeguards and services that increase the security of healthcare companies' digital ecosystems.
Healthcare APIs enable providers to safely and swiftly communicate patient information with other providers. With APIs, clinicians can now be certain that all patient information is centralized and easily accessible. Furthermore, medical billing API aids in the effective management of costs. Some free healthcare APIs are accessible to users to aid with tailored healthcare.
Swift and easy development- by the developers, for the developers
Let us give you an example, AdvancedMD contains over 40 templates for various specializations as well as workflow improvements. Developers may simply alter them to include all of the functionality they want. Developers may use these predesigned API integration tools and features to help with the building of healthcare web apps. This allows you to construct your app, software, or web app in a very short period while also lowering your development expenditures.
Let's take a look at how APIs assist healthcare in being more effective & efficient - The use cases
Integration of healthcare operations
Healthcare APIs like Clinical API are used internally to gather personal data, staff requirements, better data administration, and so on. It also makes record sharing with other hospitals and medical offices easier. Thus lowering your overtime expenses, fewer medical mistakes, and improving patient care.
A bridge between doctors & patients
For doctors, clinicians, and caregivers, patient's data will be promptly reflected on your dashboard after integrating API with your IoT devices. Then, based on the documentation, they can prepare or provide a care plan.
This treatment-related data will be shown on the patients' platform and preserved in their systems. Reducing administrative expenses while improving treatment efficiency.
API health insurance facilitates insurance management. With the use of healthcare APIs to integrate a patient's information into a system that interacts with insurance companies. The APIs will decide the patient's prescription or insurance coverage, among other things.
By integrating health fitness trackers and other smart healthcare devices with electronic health record (EHR) systems Like EPIC & CERNER, API integration enables patients to make use of health fitness trackers and other smart healthcare devices.
mHealth apps increasingly outperform other mobile device apps in terms of user activity. API integration enables patients to make use of health fitness trackers and other smart healthcare devices.
Bluestream API, for example, is meant for hospitals looking for methods to swiftly incorporate virtual care into their workflow. HIPAA-compliant video visits, virtual appointment scheduling, and real-time activity tracking are among the services offered.
Top 5 healthcare APIs
1) Azure API for FHIR
Introduced by Microsoft, it is a medical API that allows medical data to be safely and securely stored in the cloud. This healthcare API service makes use of IoT connections to give safe biometric data access via the healthcare data API from various medical APIs devices. Since it is not a free source API you have to pay according to the space you use.
2) Human API
Powered by AWS, it helps connect hospitals, patients, pharmacies, labs, altogether. It uses AI algorithms to create and collect FHIR standard format data. Providing a free healthcare API for testing is a much-needed platform.
3) Redox API
Bypassing the traditional painful norms of EHR integrations, Redox offers super functionality through a single modernized API with a dashboard for managing connections to healthcare items, providers, and EHR providers.
4) Bluestream API
One of the top telehealth APIs. This HIPAA-compliant medical API service creates virtual care for patients. This healthcare API has reduced unnecessary human efforts.
5) Google Cloud Healthcare API
Gaining fast popularity. It enables the interchange of data sets between healthcare and apps. This healthcare API vendor assists with the import of data from many sources and the conversion of all data into a single standard format. Although the Google cloud healthcare API is not free, the pricing of the API is determined by several variables such as data storage, network consumption, and so on.
Some of the challenges in healthcare APIs
Across healthcare, the biggest challenge is that so many are still utilizing and purchasing outdated technology that is not API-enabled. They continue to conduct everything remotely, including sending data sets using secure FTP flat files.
There is a lack of uniformity in how they are applied. Frameworks like FHIR have implementation standards, however, they are neither enforced nor generally followed.
The backward compatibility. Standards like FHIR are just now becoming backward compatible, keeping CIOs and suppliers in the dark. The latest versions are backward compatible leaving the previously widely used standards of interoperability nowhere.
Amongst other challenges are budget constraints, privacy & security, and workflow culture like some companies' wariness towards the incoming flow of information.
Why should you build a healthcare API?
Let me just start by saying that it leads to the development of a new set of healthcare innovators. Providing a conducive environment for developers with no specific expertise in health care but with safe access to clinical data from the industry might produce solutions of tremendous value. 
These advantages, when combined, may enable the healthcare system to realize the full potential of its huge data resources. And yes it gets peachy with the monetary benefits that you can reap out of it as well.
And what finally comes next is APIs have enormous potential for enhanced patient care and collaborative decision-making between clinicians and patients, which can alter health care delivery.
'A fruitful development on both sides- healthcare and yours'.
How can we help you build a healthcare API?
We are a healthcare IT-focused decision-making company delivering effective and efficient solutions for the ever-growing healthcare industry for the past decade.
A 360-degree environment with an experienced and expert team of healthcare tech-specific individuals. We have in-house compliance experts who are well versed with HIPAA, PIPEDA, PHIPA. 
At the same time, the most important specification of API building is the standards of operations and interoperability by HL7 & FHIR are decision-making all taken care of by our in-house  HL7 & FHIR certified specialists. 
All you have to do is get in touch with us with your idea and let us take care of the rest with a quality of product delivered guaranteed.