What is Healthcare Software Automation and How Does it Prevent Burnouts in Healthcare?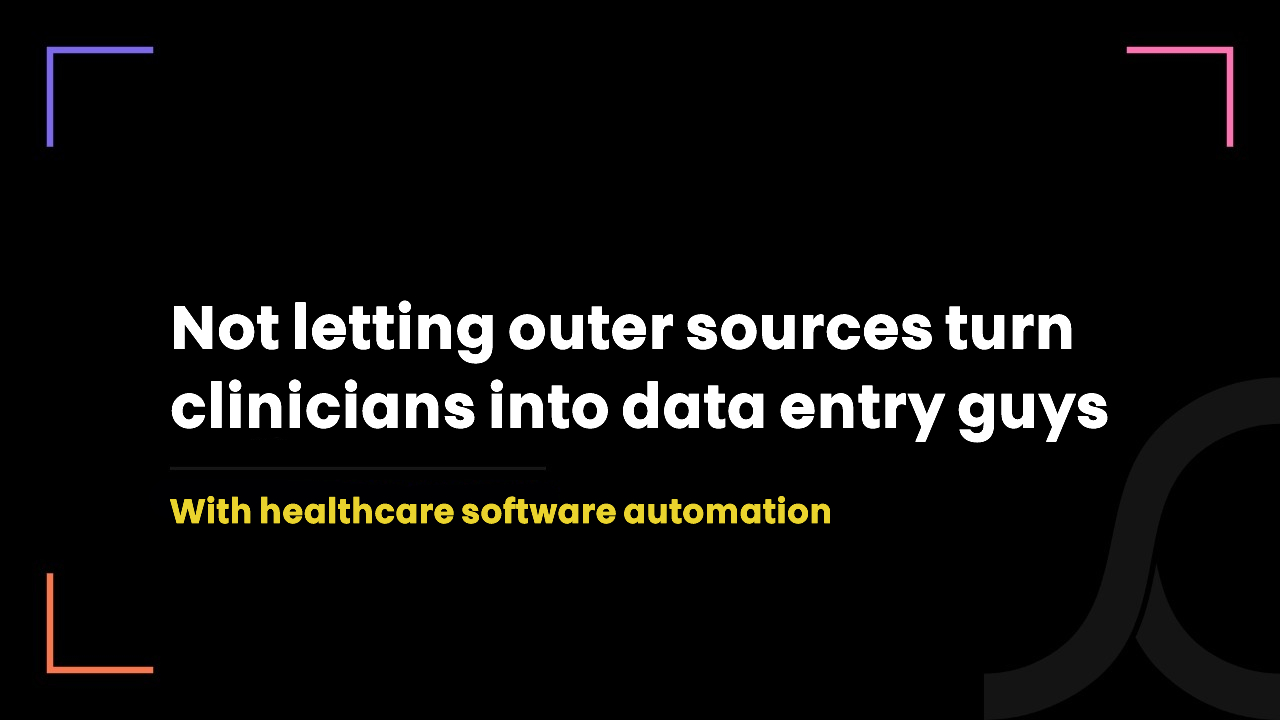 10 months ago
It does not matter how futuristic and feature-packed healthcare software you are using. If your clinical staff needs to operate that healthcare software manually, you're terribly wasting time and resources.
Instead of operating healthcare software manually, imagine that software doing the majority of tedious tasks such as data entry, data extraction, and reporting automatically by itself.
You would not only save time for your clinical team but prevent burnout and empower them to deliver quality care as they now have more time for delivering care.
But how? How can you automate the manual tasks you are doing in your healthcare software?
What is healthcare software automation?
Healthcare software automation is the process of automating manual tasks performed into any sort of healthcare software.
For instance, healthcare software automation automates prescription data entry into Pharmacy Management Software like Kroll.
It automates reporting into nursing home management software. It even automates entire patient admission and discharge workflows performed in EHR/EMR. It automates the clinical form processing process.
Moreover, it automates billing workflow in the medical billing software. It automates patient engagement workflows in patient engagement software.
Overall, it automates almost every task performed by humans in any type of medical software.
How does healthcare software automation prevent burnouts in healthcare?
The busiest and stressed person in the clinical room is always a clinician.
Because he/she does not only provide care to patients but keeps track of everything into several software he/she is using from EMR/EHR to appointment booking to patient engagement etc.
While healthcare software makes it very easy for him/her to enhance patient outcomes, it briefly increases his/her administrative work which he/she has to carry out in software manually.
And this extra workload which isn't clinical work results in medical burnouts.
But by automating clinicians' tasks on healthcare software they are using, we are able to free clinicians from manual and time-consuming work.
And this leads to more available time and zero or negligible medical burnout.
How to automate healthcare workflows performed over software manually?
It is a complex task. But for experts, it is a piece of cake.
Majorly, RPA (Robotic Process Automation) technology is used to automate healthcare workflows.
Using RPA technology, RPA developers build a software bot in any of the RPA automation tools such as UiPath or Automation Anywhere.
This software bot is trained to perform fixed tasks by itself. All you need to do is, install this software bot same as installing a .exe file on your computer and see the magic.
If it is an attended bot, you have to activate it when you need it. But if it is an unattended bot, it activates by itself at a fixed time or after a fixed event.
When this software bot has to scan PDF to identify characters and make its digital data entry in system or software, it utilizes OCR (Optical Character Recognition) technology.
And when this software bot has to automate a process that does not have fixed input and output, it utilizes AI and machine learning technologies. Such a kind of automation is called cognitive automation.
A software bot built upon cognitive automation is capable of making decisions like humans by itself.
Watch this video to understand how the software bot is adding clinical data filled into physical forms into a CSV file and then into healthcare software, all automatically.
Can any healthcare software and healthcare workflows be automated?
Yes. However, the complexity to automate different healthcare software is different. It majorly depends on the type of software processes you want to automate.
For instance, if you want to automate the prescription data entry process into pharmacy management software like Kroll, you would require a software bot working on both RPA and OCR technologies.
But if you want to automate the reminder process on patient engagement software, you would require a basic software bot working on RPA technology.
Similarly, if there is a more complex process even on the very basic healthcare software, you would require an advanced software bot working on AI and ML as well!
So, in this sense, the complexity of healthcare software automation largely depends on the type of process you want to automate, not the software itself.
How much does it cost to automate healthcare workflows on software? And what's the ROI?
Well, the cost depends on several factors such as the type of process you want to automate, automation tools, type of software bot etc.
Thus, it is not feasible for now to estimate the cost without knowing your exact requirements.
However, we can surely help you calculate the ROI.
So, if a clinician spends 1 hour doing tedious and repetitive tasks on the healthcare software every day, you can save 1 hour daily per one clinician using automation.
This is your direct ROI. Indirect ROI includes no clinical burnouts, faster delivery of care, no errors, high efficiency and clinicians having more free time and mental peace.
You must read: How to save 50% on healthcare automation costs?
How to get started with healthcare software automation with us?
We're an Ontario-based healthcare-focused IT company.
In addition to design, development and QA, we help healthcare providers, clinics, hospitals and startups to automate their time-consuming workflows using RPA, OCR, AI and ML.
We have on-hand experience in automating Kroll workflows, EMR/EHR workflows, patient engagement tools workflows, medical billing workflows, patient discharge & admission workflows.
We've come to know from our clients that we help them save at least 10000 clinical hours every year.
And being a Canadian company, we always ensure to deploy automation while not compromising patient data privacy and security.
Before automating a software-based workflow, we assess, plan and set KPIs because each healthcare workflow needs to be treated differently when it comes to automation.
If you want to automate healthcare workflows, we don't want you to contact us first. First, collect the strength to face the reality of what you have wasted so far by keeping a distance from automation!