Why Should Home Health Care Agencies Invest in Elderly Care Platform?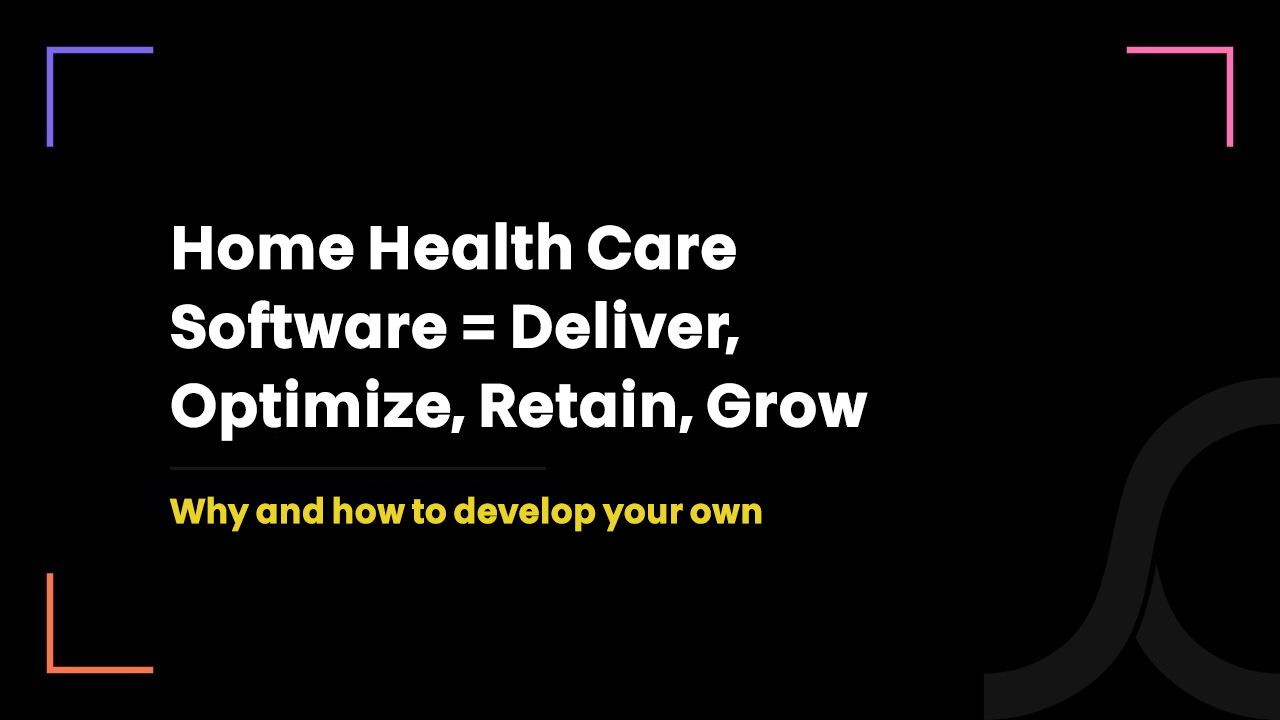 1 year ago
In 2014, over 6 million Canadians were aged 65 or older and by 2030, this number is anticipated to reach over 9.5 million.
With the rising population of elderly people in Canada, the long-term care system is going through uncontrolled demand.
According to reports the average wait time to get a bed in long-term care facilities in Canada is at least 1 year.
In some regions such as Waterloo and Wellington, it is more than 5 years.
Not adding up more beds is the major reason for the long wait time.
Thus, due to long wait times and long-term care crisis during the pandemic, most seniors now prefer to stay at their homes and seek home health care services.
As a result, several home health care agencies have witnessed a steady increase in the number of inquiries they receive in the last few months.
To manage a growing business and optimize the daily senior care operations, they have adopted technology in terms of home health care management software.
However, many still manage senior care with paper-based processes.
So, today in this blog, let's discuss why home health care providers should invest in elderly care apps or software. 
Our other useful resources you should check out:
What is an elderly care platform and how does it work?
The elderly care platform or home health care software aims to streamline every administrative as well as senior care operation performed by the staff of elderly home care providing agencies.
It establishes a clear communication link between caregivers, clinicians, seniors, their family members and a back-office team of home health care providers.
It is useful to assign senior care tasks to caregivers, to record and track the medical condition of seniors, to know the medication of seniors, to remotely monitor the seniors, to offer virtual care etc.
The elderly care platform can be a mobile app or web-based software or both.
Caregivers, clinicians, back-office team, seniors and seniors' family members have role-based access to the elderly care platform and they can perform and record their part of tasks easily in the platform.
Birdie is one such very popular home health care management platform - recently raised $11.5 million
UK-based elderly care tech startup named Birdie has recently raised $11.5 million to drive efficiencies in the senior home care sector.
It offers a SaaS-based eldercare platform to home health care agencies.
With its platform, Birdie eliminates the need for paper-based records and enables real-time visibility of the type of senior care being provided.
It has the vision to support home health care providers with its platform for more coordinated and personalized senior care services to seniors and help them to live longer in their homes.
Birdie platform streamlines major three operations of senior care - wellbeing tracker, care delivery and advanced data management.
Recently, another home health care startup named Alayacare which is Montreal, Canada-based raised a whopping $225 million CAD in its series D funding round to expand in the US healthcare market.
Why should home health care agencies invest in developing elderly care management platform? 
Senior care in 2021 requires streamlined operations and less time and effort involved in communication, coordination, tracking, reporting and data management.
You can achieve this only with elderly care management software.
The following is the confirmed ROI of your investment in developing a home health care platform or elderly can management software.
Easy job assigning to caregivers
You can automate the job assigning workflow to automatically distribute the in-home care job to caregivers.
Caregivers can also see all their upcoming jobs with all details in their profiles.
When the caregiver reaches a senior's place, the elderly care platform automatically checks in caregivers based on their GPS data.
Senior care tasks details in one place
A caregiver can easily know the senior care tasks she/he is supposed to perform as his profile has the complete list of tasks that are updated by the back-office team.
After completing each task, the caregiver marks that task as completed and sends the automatic report to the senior's family members and back-office team.
Easy access to medication details
Caregivers can also have direct access to medication she/he is supposed to give to seniors.
Video conferencing with clinicians
From their profile itself, the caregivers can schedule virtual appointments with clinicians on behalf of seniors.
Access to the clinical information of seniors
Clinicians can access all clinical information of seniors, thanks to EMR/EHR integration with the elderly care platform.
Clinical information includes allergies, lab reports, previous prescriptions, medical notes, vital body signs etc.
Medical logs and tracking
The caregivers can add the vital body signs under each senior's profile. Body signs include blood sugar level, heart rate, blood pressure etc.
Clinicians and other authorized users can track this medical log and identify the proper care plan for each senior.
Remote patient monitoring
If your elderly care platform is integrated with any patient monitoring system, caregivers and clinicians can monitor the current health status of the seniors without being physically present at them.
The clinicians and caregivers also receive the urgent alert on their mobile phone when the value of vital body signs of seniors fall below a fixed limit.
Easy communication and coordination
Be it caregivers, seniors, their family members, clinicians or back-office team, they all can be on the same page as there is the centralized communication module for chat, voice call and file sharing.
Why not use a 3rd party home health care management platform?: The honest answer
If you are running your home health care agency on a small scale, we would encourage you to use any 3rd party platform by paying the monthly fee.
But if you are operating at a medium-large scale, you should consider developing your own elderly care solution. Here is why …
3rd party platform providers charge you very smartly.
First, they charge you on a monthly basis.
And secondly, they offer several packages with access to only a few features in the basic package.
Meaning, you leave with no choice rather than buying their most premium or expensive software package.
And most importantly, they charge based on the number of seniors.
Meaning, if you are providing senior care using their software to 50 seniors and if they are charging $50 per senior, you would end up paying $2500 per month.
Customization according to your workflow
Understand the fact here. They haven't developed that platform for you only.
And because of that, it is most likely that it does not satisfy all of your needs unless you customize it according to your workflow.
But when it comes to customization, they either don't support it or charge a huge amount for it.
You are just a user of that 3rd party elderly care platform. You don't own it.
And thus, you can't use it the way you want and you cannot even upgrade it when your requirements change in near future.
In this sense, even if you are paying huge monthly fees, you are not getting ROI you deserve.
Thus, it is advisable to invest in developing your own platform based on your workflows & needs.
If budget is your major challenge, the MVP approach can solve it
MVP is nothing but the approach to developing a software with only useful and minimal features.
Because of fewer features, the development company won't charge you high and in this way, you can develop and own your elderly care platform within your budget.
Once you use it and test it in the real world, you can add more features into it and scale up the operations.
MVP approach is considered as the risk-free approach as you only invest more after testing and using your basic software in real life.
Not only the budget, but we solve technical and compliance issues too
We are an Ontario, Canada-based healthcare-focused IT company.
With our most resourceful team which includes developers, designers, business experts, RPA engineers and compliance specialists, we can develop the best elderly care mobile and web app Canadians have never used before.
Yes, being a Canadian company, we understand the gravity of compliance. Thus, we always ensure to develop your platform compliant with all data privacy laws.
Integrating any EHR/EMR with your home health care platform is a piece of cake for us as we have been doing this for 7 years.
You can check out our case studies to validate what magical things we can do.
In essence, we have 3E - experts, expertise and experience!
And I think these are the only things required to deliver success to our healthcare clients! Agreed?