How to Increase Restaurant Profit?: A Real-Life Guide from IT Professional to All Restaurant Owners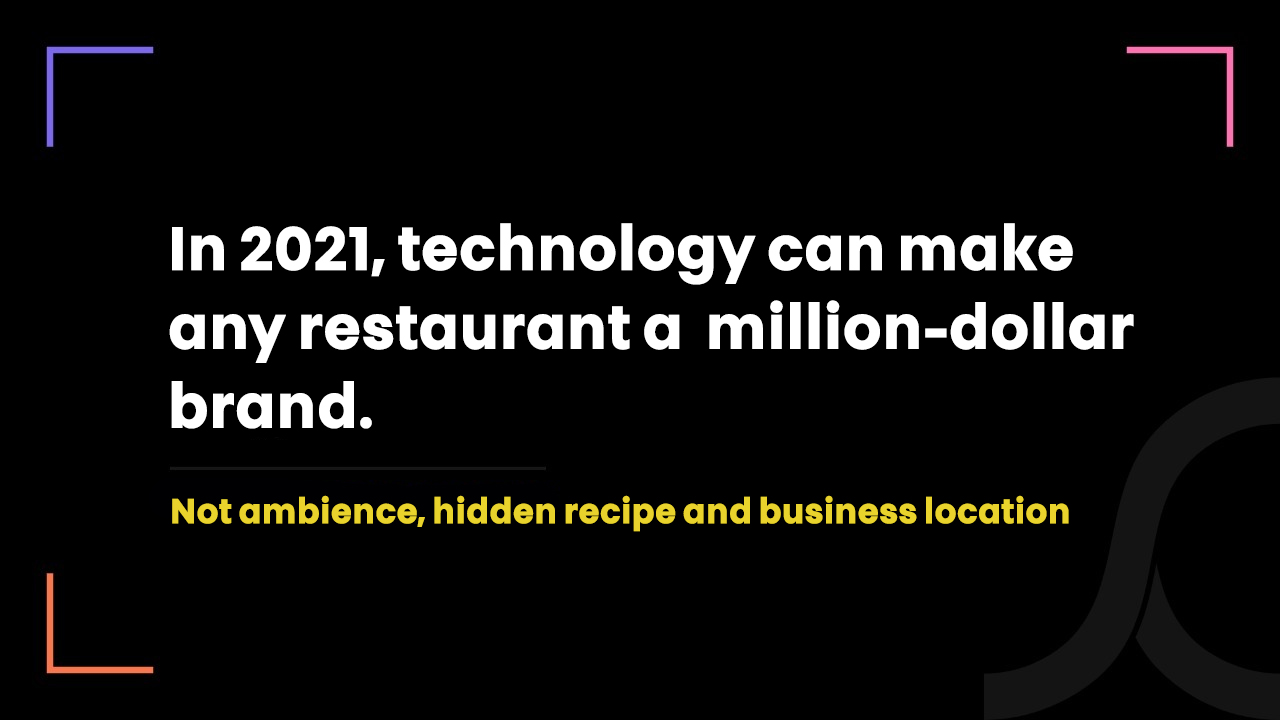 3 years ago
An open letter to Canadian restaurant owners,
from the IT professional who does not have to do anything with the restaurant business but has capabilities to make your restaurant a million-dollar brand: 
10,000 restaurants have shut their doors permanently in Canada since the pandemic.
And 50% of the running restaurants' owners are planning to close it if the situation remains the same.
Let me tell you. This 50% of owners are already losers.
Because they are waiting for the situation to settle down - instead of exploring several other options to double their restaurant profit even during the pandemic.
If you are among them and thinking there is no way you can run your restaurant business profitably until the pandemic ends, YOU ARE TERRIBLY WRONG. 
Because many restaurants similar to yours are not only doing business profitably but attracting investors to invest millions of dollars.
The best example here is General Assembly Pizza which recently raised $13 million. (this is probably your 2-3 decades of earning!)
One of my favourite pizza joints in the city! General Assembly Pizza closes $13 million series A financing round for their subscription service (which is awesome btw). Looking forward to seeing the brand evolve! https://t.co/DXpeMS8TIG @ga_pizza_

— JdS (@jdsguess) February 22, 2021
You can argue here that the General Assembly Pizza may have some game-changing hidden recipe, has the best ambience, has years of the market footprint.
No. General Assembly Pizza has none of these.
But yes, they have a unique business approach or service - pizza subscription. 
If this does not excite you, I would like to remind you again that this restaurant has raised $13 million just because of its pizza subscription service!
And they launched their pizza subscription service only 5 months ago!
Now, I am very confident that you've successfully figured out why you will take 3 decades to make $13 million and why General Assembly Pizza raised $13 million in just 5 months! 
So, now let's discuss how you can start a food subscription service and increase restaurant profit.
How does a food subscription service operate?
Suppose, there is a restaurant providing food subscription boxes.
If you think you can easily implement this simple process to start the food subscription service, you've won the half battle. 
Now, let's talk about how you can win the remaining battle.
Resources you would require to run a restaurant business the way GA Pizza runs
Think about your past. When you started a restaurant business, you must have definitely required a lot of resources such as kitchen equipment, staff etc.
So, while taking your food business to the next level, you will also require some resources such as,
1) Delivery Drivers
You can only offer an in-store pick-up option. But not many customers would prefer to travel just to pick up their meal.
During the extensive period of lockdown, people found doorstep delivery of every essential item affordable, convenient and time-saving. 
Their same expectation continues even in 2021. Thus, it is profitable for your restaurant business to offer doorstep delivery options for food subscription boxes.
And for that, you will require delivery drivers.
Challenging part:
Yes, there will be the challenge of managing the delivery drivers and their jobs.
For instance, if you have 25 deliveries to make in the next 2 hours and there are 5 drivers available for the jobs, how would you make sure that each driver completes a single delivery in 24 minutes to make 25 deliveries successfully without delay in 2 hours?
You might consider compromising the promise of on-time delivery. But it will affect your brand image badly.
You might consider hiring more delivery drivers, but it increases your operational costs.
The workable solutions here are tech-enabled.
You can reduce job assigning time by letting your restaurant app assigns the delivery jobs automatically to your available drivers. 
They receive all details of the delivery on their mobile phone automatically.
You can reduce communication and coordination time by streamlining the entire process.
You can even track delivery drivers' locations online to ensure they are on-time. 
2) A mobile app or website
This is the most basic requirement to run any business profitably during and beyond the pandemic.
Can you imagine Netflix without a mobile app and website? 
With a mobile app or website, you can provide an easy medium to your customers to,
Explore your food subscription plans
Select the food subscription plan(s)
Customize it
Make payment
Place on-demand orders
Track the order
Raise queries
Communicate with delivery drivers & restaurant
But the question here is,
Between mobile apps and websites, what should you select to start a food subscription service in Canada?
Let me share some real facts which are not going to change even in the future.
Almost every business that now owns a website will need to have a mobile app in future.
A mobile app offers a better user experience than a website.
A mobile app offers a great range of features such as push notifications that you can utilize to generate sales.
A mobile app loads much faster than a website and it also works offline.
A website gives you better visibility on Google search than a mobile app.
Developing a mobile app is 70-80% costlier than a website.
A website requires more frequent maintenance than an app.
Surely, the app is better than a website.
But this does not mean that there is nothing that can replace mobile apps.
A progressive web app can brilliantly replace mobile apps while not making you lose anything! 
What is a progressive web app (PWA)? And why should you consider it for starting a food subscription service?
PWAs are not typical static websites that take years to open a new page.
A progressive web app is the future of websites.
In simple terms, a progressive web app has all the capabilities same as the mobile app.
It loads fast.
It works offline.
It gets updated automatically in real-time even in the background.
It sends notifications to viewers.
It has a UI similar to mobile app UI.
Still, confused? Watch the following video of the Starbucks website to get an idea of the progressive web app.
Yes, the Starbucks website is running on PWA. 
#BusinessGuide 
Who will be your prospective customers? 
Once you'll launch a food subscription service in Canada, you will soon find out that you are getting customers who have different expectations and characteristics.
Because not all people are familiar with the concept of food subscription boxes.
And people who are familiar with such a concept and find it useful are majorly millennials, international students, people living alone etc. 
Meaning, you have to target these user groups, their different expectations and delivery models in your app/website, marketing strategies and customer service.
Are you thrilled to increase your restaurant business profit? Here is how we can help you uniquely
We are an Ontario-based new-generation IT company.
We follow fresh ideas, future technologies and crazy business concepts. 
With our young yet experienced team members and executives, we prioritize performance over profit.
We can help you to develop an app or progressive web app, automate business processes and provide excellent customer service. 
Ultimately, we can help you to increase your restaurant profit with technology.
We are not giving any false promise here. Being a local Canadian company, we respect every Canadian business owner who is having a challenging time due to the pandemic.
Give us an opportunity. We will prove that any restaurant can be a million-dollar brand! 
Let's have a friendly discussion!