How to Make Healthcare Affordable With these App Ideas? $739B Healthcare Reduction Act is New Fuel to Achieve it
1 year ago
Let's face the reality.
Healthcare is expensive globally and at some point, not everyone can afford it.
But, the healthcare cost scenario in the USA is far different from the rest.
As per CNBC, "The United States accounts for more than 40% of all global health spending".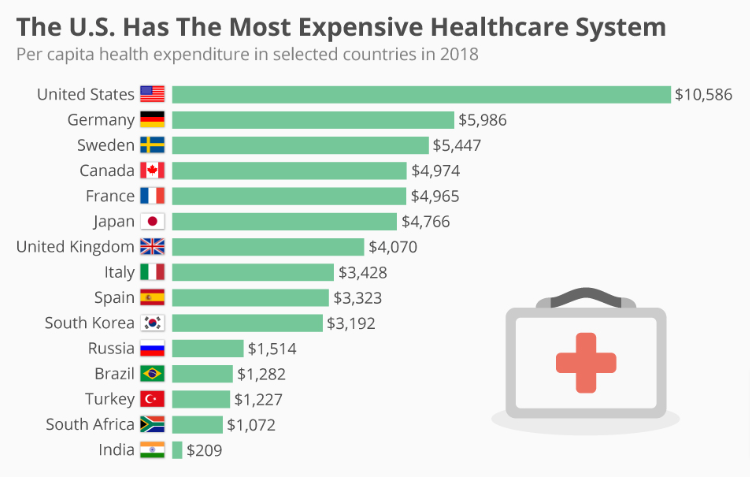 Moreover, According to the American Medical Association (AMA), "healthcare costs are rising by about 4.5% a year".
High healthcare costs not only affect the patients but also affect the healthcare system, care providers and overall GDP of the country.
So, in this blog, we'll cover how to make healthcare affordable with simple yet effective app ideas in Canada and the USA.
But first, let's explore the latest news.
Senate Passes a whopping $739B bill to address the question of climate change and how to make healthcare affordable.
The Senate Democrats recently announced the $739B bill, known as the Inflation Reduction Act. in order to –
Reduce planet-heating emissions
Lower the healthcare costs
Reasons . . . . .
The situation is hazardous!
Staff shortage, inflation, and the rising cost of healthcare are the most prominent aspects of the American healthcare ecosystem right now.
But, Democrats have given hope to millions of Americans by promising that the bill will lower prescription drug costs.
Because how to make healthcare affordable is becoming an everyday discussion among the top healthcare giants and sometimes it evolves into a debating topic on National Television.
However, Democrats have already started to tackle all the obstacles that are restricting them to make healthcare affordable.
For instance,
They allowed Medicare to start negotiating the price of certain expensive prescription drugs along with limiting Medicare recipients' out-of-pocket prescription costs to $2,000 a year.
How does expensive healthcare affect individuals and the entire economy?
Let us clear one thing.
The effect of expensive healthcare services varies as per the economic condition of the individual.
For instance, individuals with sufficient funds can easily access healthcare services.
On the other hand, patients with less financial resources may encounter some troubles with healthcare services such as,
Poor access to some healthcare solutions
Elder people may have to cover their expensive healthcare by themselves
Affects the living of nursing home residents
Degradation of the medical services

Furthermore, it impacts the entire nation's economy which results in,
The government has to reduce investment in other sectors
For those reasons, healthcare organizations and governments must keep an eye on how to make healthcare affordable for households.
But how to decode this?
A patient-centric approach is a key that many healthcare organizations and businesses are overlooking.
To accomplish that, we have app ideas to control high healthcare pricing.
So, let's understand each of them in detail.
Explore 5 app ideas to make healthcare more affordable in Canada and the USA
As a healthcare IT company, we understand the ins and outs of the healthcare industry.
We are always looking for the most comprehensive healthcare IT solutions that can help both patients and care providers in the same environment.
With our complete market analysis, we come up with the below app ideas to make healthcare more affordable, accessible, and convenient for everyone.
1. Healthcare pricing platform or app or tool:
"Healthcare is the only service a person seeks without knowing how much it costs as it deals with life and death."
As a result, patients end up paying more than they should.
To access top-quality care with affordable healthcare solutions, a healthcare pricing platform or tool is the most complete solution for the patient.
But, how does it work?
Let's understand with a quick example.
A patient named Maya is finding a doctor in her neighborhood using a healthcare pricing app.
Step-1: Maya logs in to the healthcare pricing platform.
Step-2: She enters her treatment requirement and postal address.
Step-3: The app shows a wide number of healthcare professionals in her neighborhood and can also explore virtual care possibilities.
Step-4: Maya now can compare the price, reviews, and insurance requirements using the healthcare pricing app.
Such a simple process helps the patient to find affordable and convenient care solutions.
With the same vision, Turquoise Health raised $20 Million for its healthcare pricing platform.
Turquoise Health is making healthcare affordable in the true sense!
Using the app, patients can easily compare the healthcare price and insurance plans. In addition, they can browse care providers, treatment solutions, and payers without any hassle.
2. Subscription-based healthcare services app:
The subscription-based model is rapidly growing in the healthcare industry as it is beneficial for both patients and care providers.
For instance, let's understand a telemedicine subscription-based care plan.
There's no specific number for how many times a human needs a healthcare service in a year.
But still, let's assume Maya requires at least 5 telemedicine visits per year at a cost of $50 per visit. It means she spends $250 on telemedicine visits each year.
Also, her 2 family members require at least a combined 10 visits which costs $500 annually. This means the overall spending on telemedicine visits is $750 per year.
On the other hand, if Maya purchases a family subscription care plan, she gets 15 telemedicine visits per year at a cost of $500 or even less.
As a result, she saves almost $250 on the telemedicine visit.
From that, we can safely conclude that a subscription-based care plan is an ideal way to make healthcare more affordable for patients.
3. Automation in the healthcare system:
We know it is not a mobile app idea. But it is important.
Automation is the perfect answer for how to make healthcare affordable.
Healthcare organizations and care providers almost spend 80% of their time managing their repetitive workflows.
It results in time-consuming healthcare services which directly influence the operational and care solutions costs.
But with automation, the healthcare system can entirely avoid this chaos. The software bots installed on the system perform data entry, billing, reporting, and tasks without any human engagement.
And here are the benefits of automation in healthcare.
Improves clinical workflows
Reduces the healthcare professionals burn out
More quality care experience for the patients
Decreases operational costs
Reduces the administrative workflows
More affordable healthcare services for the patients
4. Healthcare chatbot:
A healthcare chatbot is an AI-based solution that understands and classifies various medical conditions of the patients.
It gathers patients' clinical information by asking common questions about their medical conditions and symptoms.
With that data, it gives answers to the multiple healthcare needs within the app so that patients can avoid unnecessary medical visits which makes healthcare more affordable at an individual level.
5. Care now, pay later services:
This transparent "care now, pay later" healthcare approach is addressing patients' real concerns at any stage of their care journey.
Patients having no insurance plan or insufficient funds can use these services so that they can get medical care without any delay.
Most importantly, this care plan is also beneficial for tourists and international students as they both lack healthcare insurance coverage.
In addition to this, patients can pay for their healthcare services on a monthly basis under this care model.
This is how healthcare entrepreneurs and startups can resolve the most common concern of how to make healthcare affordable.
You must also read: Know how healthcare fintech startup is using care now, pay later plan
We scale up the healthcare cost-saving efforts with our healthcare IT solutions
We are an Ontario-based healthcare IT company and we're proactively working in this ever-expanding industry for over 7+ years.
We have a mindset to change the healthcare industry and that's the reason, we put our extra efforts into every healthcare IT project.
What makes us different from the rest is our dedication to healthcare IT.
Our healthcare-specific knowledge and passion lead us to empower healthcare startups, enterprises, and care providers approach.
We are purpose-driven people who only believe in creating ingenious healthcare IT solutions.
For that, we have an army of 50+ healthcare IT professionals that includes – app developers, UI/UX designers, QA engineers, RPA experts, compliance specialists, and business analysts.
So, if you want to bring clinical value and healthcare tech expertise to your healthcare business vision, let's strive together!