How to Build Healthcare Marketplace or Marketplace for Healthcare Jobs? Know How Incredible Health Raises $80M for the Same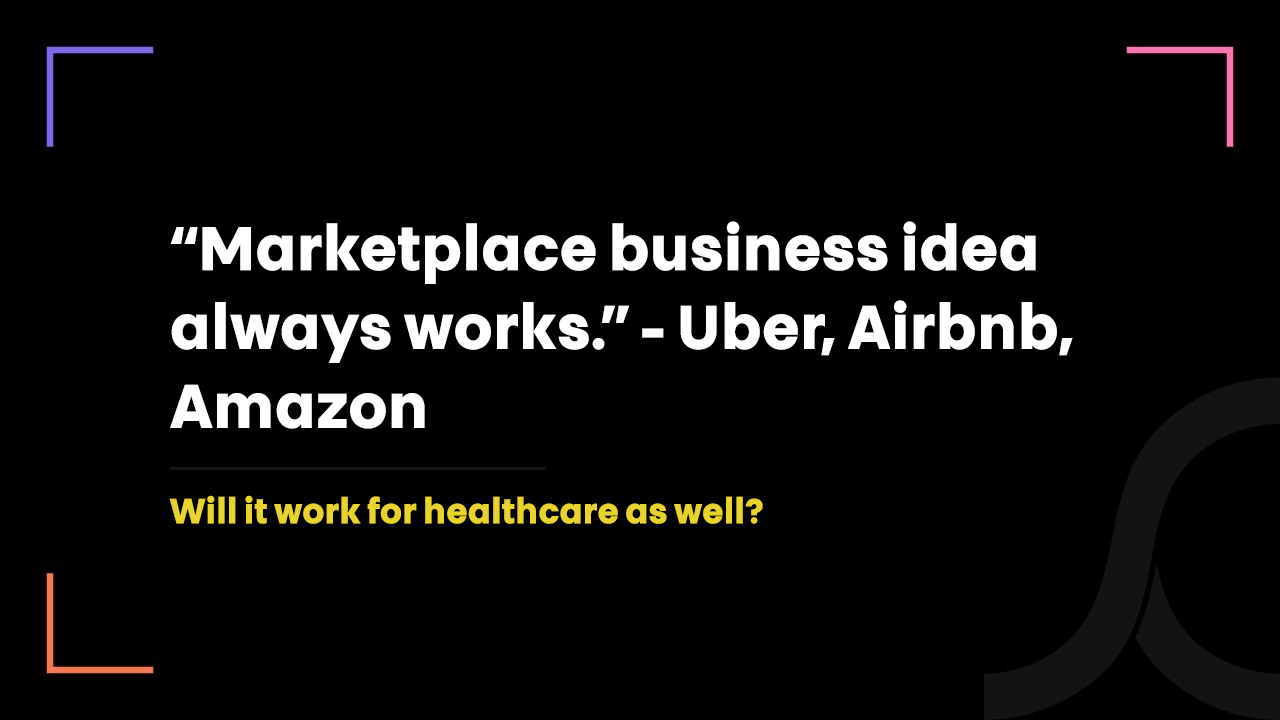 1 year ago
Do you know what are two things that are common in Uber, Airbnb, and Amazon? 
First - all of them are billion-dollar companies.
And second - they all are marketplaces!
Uber is the marketplace for drivers and riders.
Airbnb is the marketplace for homeowners and travellers.
Amazon is the marketplace for sellers and buyers.
There are hundreds of such successful marketplaces.
But they are limited to only eCommerce, mobility, hospitality, and banking industries. 
When it comes to healthcare, the healthcare marketplace is still untouched. 
And here lies the greatest business opportunity.
You can invest to build a marketplace website for healthcare and be an Amazon for the healthcare industry. 
Or start a marketplace for healthcare jobs just like Incredible Health!
So, let's start the guide from the basics … 
What is a marketplace and how does it work? 
A marketplace is neither a most innovative idea nor a complex one. But it is an idea that always works!
It remains in existence in the form of a mobile app or a website and aims to connect providers (sellers) with consumers (buyers) and vice versa.
It works as the selling platform where service providers list their products or services and consumers buy their services or products.  
The major benefit of starting a marketplace is that it requires a very less number of resources.
Uber is running the marketplace without owning any car. 
Airbnb is running the marketplace without owning any apartment. 
The only resource they have is the mobile/web app. 
Similarly, if you are planning to start a healthcare marketplace or marketplace for a healthcare job, you won't be required to be a healthcare provider or belong to the healthcare industry. 
You just require a mobile app or website or both on which people and companies from the healthcare industry list their services & products and consumers buy them.
Here is how a marketplace works.
Service providers list their services on the marketplace by adding descriptions, prices, and images. 
A user searches for the service, compares the different service providers, reads the reviews, and purchases the service from the selected provider. (It can be the product too!) 
The user makes the payment and receives the service. 
The marketplace admin takes the commission from the service provider. 
The healthcare marketplace is not just limited to patients and doctors
When we talk about a healthcare-specific marketplace, people assume a website or app that connects patients who are seeking healthcare services with doctors.
A marketplace only connecting patients and doctors is called the doctor marketplace or physician marketplace.
But when we talk about healthcare marketplaces, we have to focus on individual healthcare providers, clinics, hospitals, medical suppliers, pharmacies, patients, healthcare insurers, etc. 
So, the idea of a healthcare-focused marketplace is not just connecting patients and doctors but connecting hospitals and medical suppliers, connecting patients and pharmacies, connecting patients and healthcare insurers, connecting patients and virtual care providers, and connecting medical staff or nurses to healthcare entities.
In other words, your main healthcare marketplace should be the fusion of the following marketplaces to achieve great success by covering the entire healthcare market.  
Marketplace for healthcare jobs
Pharmacy marketplace (B2C)
Compounding pharmacy marketplace (B2C)
Health insurer marketplace (B2C)
Telemedicine marketplace (B2C)
Medical supplies marketplace (B2B)
Physician marketplace (B2C)
This way, with just one marketplace website or app, you will be able to solve the entire supply-demand challenge of the healthcare industry.
Using your platform, all individuals, healthcare professionals, healthcare entities, and manufacturers active in the healthcare industry can easily buy and sell their products, services and expertise.
Imagine the scale at which your idea can influence the healthcare industry!
Everyone from the healthcare industry can be your target audience.  And this matters a lot. 
Because not all business ideas get such a huge market to play!
Why will the healthcare marketplace idea dominate the industry in near future? 
Because of its strong value proposition.
The value proposition for healthcare service/product providers: 
Easy healthcare product/service listing 
Opportunity to get new customers/patients 
Control over pricing with the ability to change pricing from the dashboard 
No upfront fee 
No running cost 
No need to worry about IT and infrastructure.
24*7 customer support by marketplace
The value proposition for buyers/patients: 
Easy way to explore all healthcare services and products 
Easy purchase or ordering 
Make data-driven decisions based on reviews 
Make a secure online payment 
Find preferred healthcare providers within minutes 
24*7 customer support by marketplace 
Direct communication with healthcare service and product providers 
If you still have doubts, let's understand with a real-world example.
Incredible Health nabbed a whooping $80M as a marketplace for healthcare jobs
🎉BIG ANNOUNCEMENT🎉 We've raised an $80M #SeriesB funding bringing our valuation to $1.65B!

Thank you to our team, investors @base10partners @a16z @obviousvc @rethinkimpact @stardustfund & strategic partners @JohnsHopkins @kpthrive for their support. https://t.co/rEPtkGQyNl

— Incredible Health 💙 (@JoinIncredible) August 17, 2022
Founded in 2017, Incredible Health is growing at a tremendous pace.
With more than 180+ experienced workforce, Incredible Health is currently working with 600 hospitals in order to help fulfill their staffing needs.
What's more important here is that almost 10,000 nurses join the marketplace for healthcare jobs every week.
The demand is rising as healthcare staffing shortage is a new pandemic!
For instance, "The U.S. is on track to be one million nurses short by the end of 2023"
Means, the marketplace for healthcare jobs is a win-win situation for both healthcare stakeholders and medical staff.
A story behind starting a marketplace for healthcare jobs or a digital nurse hiring platform
Iman Abuzeid CEO and co-founder Rome Portlock have friends and family members who work in the healthcare industry.
Both often pay an attention to their frustration about low-grade hiring processes and talented staffing shortages.
The everyday scenario drove them to take a deep interest in the chaos.
And they discovered that the procedure and tech solution are not modified in the past 20 years.
Sensing the poor run of the entire healthcare ecosystem, they built a marketplace for healthcare jobs or a digital nurse hiring platform.
Here are key takeaways from its healthcare marketplace.
It focuses on permanent jobs. Not on temporary.
It reduces the hiring time to 14 days from 82 days.
It also automates the screening procedure.
Its primary focus is to improve the lives of healthcare professionals.
Don't miss out to add these features to the healthcare marketplace for the ultimate user experience  
There will be 3 modules. One for product/service providers or sellers, one for patients or buyers, and one for admin. 
Features for healthcare service/product providers: 
Easy sign-up
Profile
Business/medical documents submission
Healthcare product/service listing
Image uploading
Pricing
Discounts
Set minimum order value
Promo codes
Analytics
Earning
Automatic invoices
Easy communication with patients including virtual care with telemedicine
Notification
Features for consumers/patients:
Easy sign-up
Profile
Search for medical products/services
Apply filters
Compare healthcare service/product providers
Contact providers
Easy communication including virtual care with telemedicine
Buy product/service
Payment
Rate and review
Notification
Features for marketplace admin: 
Seller management
Buyer management
Payment management
Dispute management
Pricing management
Earning
Analytics
Mobile app vs website vs progressive web app (PWA): Let us help you make a wise decision
In case, you are wondering, a progressive web app (PWA) is the future of websites.
Unlike a static website, a PWA runs fast, works offline, supports push notifications, and costs just slightly higher than a typical website. 
The 16-step process we follow to build the best healthcare marketplace
If an idea isn't executed the right way, even the greatest idea fails. 
Thus, we always assess our approach and find possibilities to upgrade it even more.
After executing more than 100 healthcare solutions in the last couple of years, we are currently following the 16-step execution approach which guarantees remarkable success.
Step #1: Finding the Target Audience
Step #2: Understanding & Evaluating Their Requirements 
Step #3: Finding Top Competitors
Step #4: Carrying Out Competitive Analysis
Step #5: Defining the Business Model
Step #6: Defining the User Journey
Step #7: Creating a Feature Set
Step #8: Carrying Out the Technical Feasibility Study
Step #9: Designing Wireframes
Step #10: Code the Frontend of the Marketplace App or Web
Step #11: Code the Backend of the App/Web
Step #12: Testing the App/Web
Step #13: Carrying Out Compliance Audit 
Step #14: Launching the App/Web
Step #15: Taking User Feedback
Step #16: Update the App/Web 
Not all technology companies can help you achieve your healthcare marketplace idea successfully 
Why? Because...
Not all technology companies have an

understanding of the Canadian healthcare system

, healthcare market, consumers, healthcare players,   business models, Canadian government programs, etc.  
Not all companies have

prior experience

in delivering healthcare solutions.
Not all technology companies have

healthcare compliance experts

and only deliver you a compliant app or website.
Not all technology companies aim to solve all technical, compliance, and business challenges and

be your true strategic partner

to let you grow your marketplace business. 
And, we are not an 'all' company. We are the 'only' company! 
We only have specific knowledge of a specific industry and market which is Canadian healthcare! 
And we only deliver an epic healthcare marketplace or marketplace for healthcare jobs because we only work with Canadian standards of work!