A Micro Guide to OHIP Billing for Virtual Care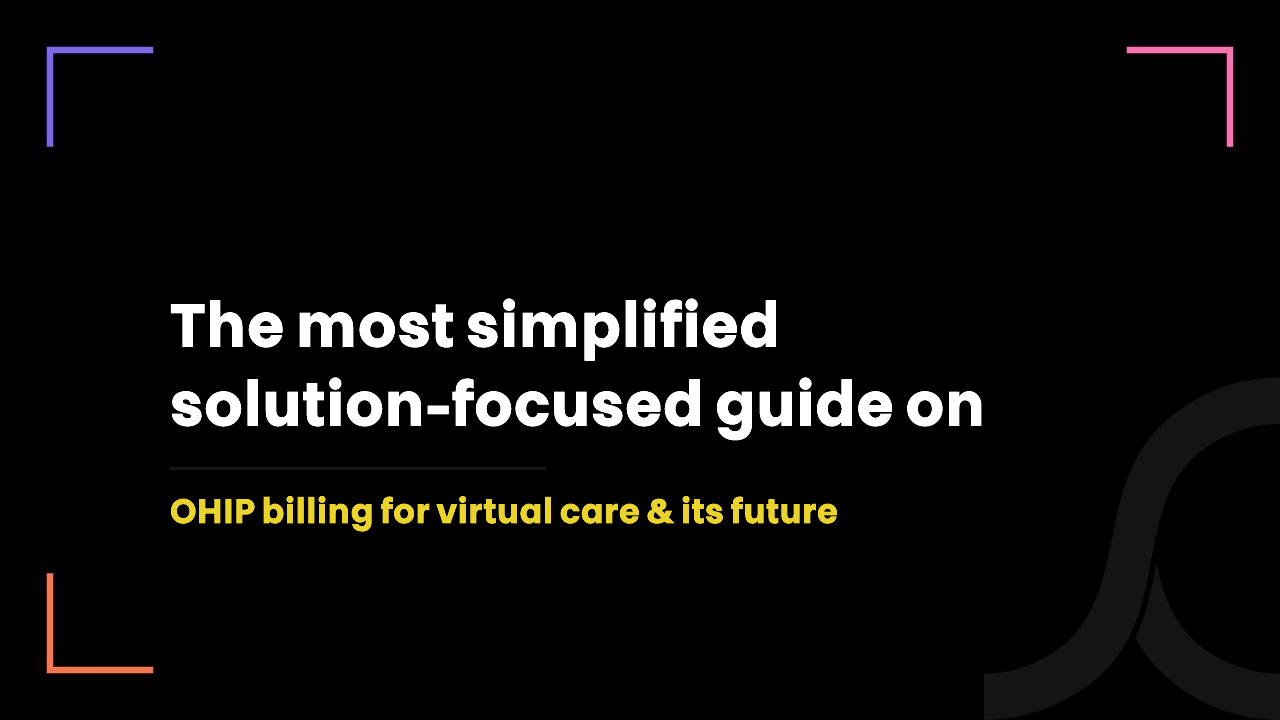 2 days ago
The Problems Virtual Care Providers & Physicians are Facing in Ontario
The problem is uncertainty. 
The uncertainty of whether MOH will continue supporting OHIP K codes in the post-pandemic world or will disappear with the pandemic. 
In case you don't know, OHIP K codes were introduced by the government of Ontario in 2020 to help patients receive OHIP-covered virtual care during the pandemic time.
The government has extended OHIP K code support several times but still, K codes are considered temporary codes. 
If the government declares the OHIP K codes null and void, virtual care providers will be left with no choice but to start charging patients which will result in a very rapid decrease in the number of users.
Because users will now prefer in-person care as it is still covered under OHIP. 
Another problem is that OHIP billing for virtual care is limited to K codes.
If a physician or dentist provides care outside of the K codes, he/she must be registered with OTN (Ontario Telemedicine Network) and add an OTN billing code - either B103A (for hosted video visits) or B203A (for direct-to-patient video visits) in reimbursement claims.
In addition to this, the virtual care platform she/he is using to provide virtual care must be verified by the OTN.
(We will discuss OTN verification later in the blog.)
The Solution to Secure the Future of Your Virtual Care Program in Ontario
The fact is, virtual care services in Ontario aren't covered by OHIP directly - except for those temporary OHIP K codes.
To get paid for virtual care services, physicians need to register themselves with OTN.
In case you don't know, OTN (Ontario Telemedicine Network) is a government-funded non-profit organization that works to expand the use of virtual care in Ontario. 
To register with OTN, physicians, and dentists need to fill out a registration form and email it to serviceactivation@otn.ca or fax it to 416-354-8280. 
Once a physician is registered on OTN, he/she must satisfy two conditions to get paid for virtual care services.
Condition #1: The physician must be using OTN-verified telemedicine or virtual care software to provide care. 
Condition #2: The physician must be located in Ontario during the virtual care with patients.
That means the ultimate solution here is to get your telemedicine platform verified by OTN.
What is the Role of OTN in Telemedicine Billing in Ontario? 
OTN is an independent organization that is funded by the Ontario government.
It makes sure that virtual care platforms in Ontario follow the defined standards that result in quality, secure, and rapid virtual care for the people of Ontario. 
To support virtual care billing outside of the K series of billing codes, your virtual care platform must be verified by the OTN.
Also, the government is considering making it mandatory for virtual care platforms in Ontario to have an OTN certificate to provide OHIP-covered services. 
(By the time you read this, the government might have already imposed this law! However, all things will come into effect gradually but very soon.)
Meaning, to offer all OHIP-covered virtual care services and to claim reimbursement you must offer virtual services through an OTN-verified or OTN-certified telemedicine platform only.
What Does It Mean by 'OTN Certification or Verification'? 
OTN has listed several requirements into two broad categories - technical and administrative requirements.
To be verified by OTN, your virtual care platform must adhere to all of these technical and administrative requirements of OTN. 
We have explained the complete procedure to get verified by OTN in a separate blog!
We are Canadian Telemedicine Tech, Business, and Compliance Pioneers
We're an Ontario-based healthcare-focused IT company that has been dealing with telemedicine tech, business, and compliance for more than 8 years.
With a staff of 50+ healthcare IT professionals (app developers, UI/UX designers, business analysts, QA engineers, compliance specialists, and integration experts), we empower healthcare providers, startups, and enterprises with telemedicine tech and solve their compliance and business challenges. 
If you're stuck with telemedicine tech, business, or compliance challenges, we are well-equipped with the knowledge to drag you out from the gray zone to the growth zone!
📌 Check out our telemedicine app development solution