Vester Recently Scored $30M USD: An Online Vet Advice with Talk to a Vet Online Solution in Canada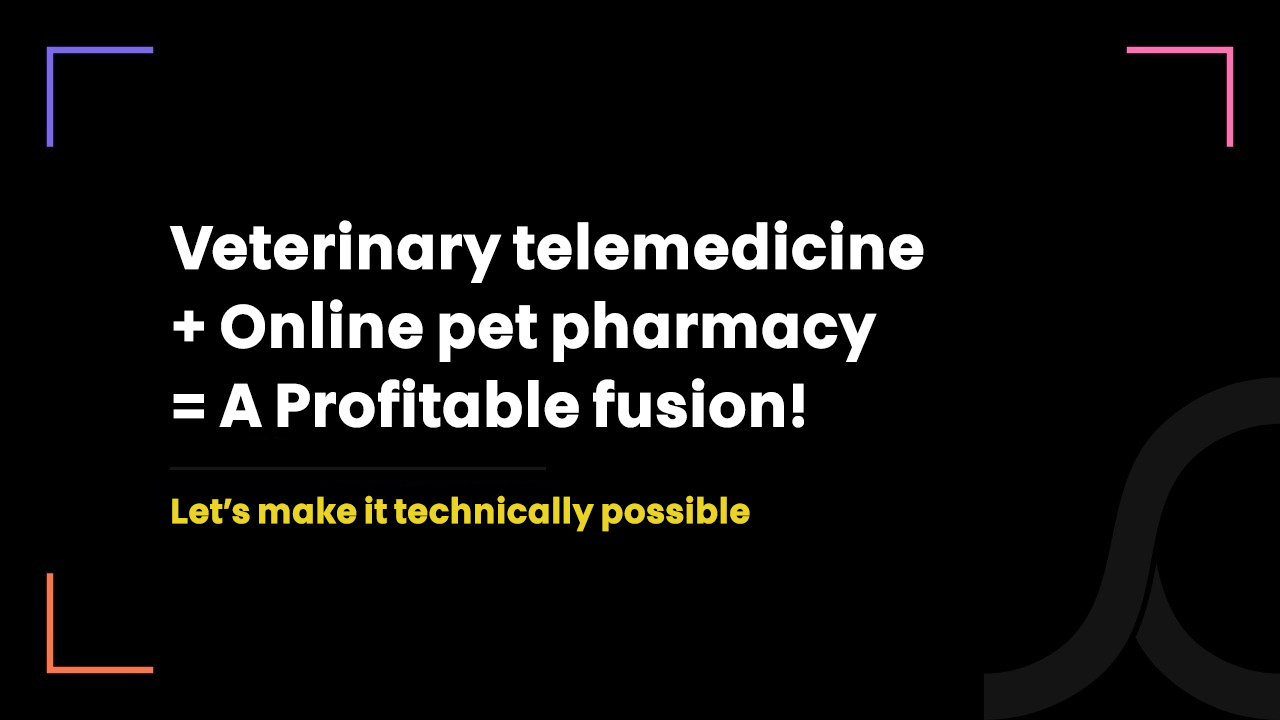 2 years ago
Toronto-based Vetster recently rolled out an online pet pharmacy named VetsterRx to let pet owners order and receive pet prescriptions from the comfort of home.
As per their official press release, users can now order medicines for their pets using Vetster mobile app or its website.
However, the new online pharmacy for pets is now only available to customers of the USA.
Here, it is worth mentioning that Vetster has already been providing veterinary telemedicine services for pet owners to seamlessly talk to licenced vets via voice call, video call or chat, in their virtual vet advice app.
Thus, you must be wondering,
Why did Vetster launch an online pet pharmacy along with online vet solutions?
Let's understand this with a very basic but real-life example of 'business'.
Suppose, you are selling bread and milk. Your customers buy bread and milk from your shop with an average purchase value of $10. With $10, you make a profit of $3.
You notice that customers after buying bread and milk from your shop prefer to buy cookies from the next shop as you are not selling cookies.
So, you decide to start selling cookies as well. Outcomes?
Your customers are now buying bread, milk and cookies from your shop only. Eventually, you will have a larger customer base as you are now also receiving customers who only want to buy cookies.
Your customers are now happy that they don't have to visit the next shop to buy cookies as they are getting everything from one place.
An average purchase value now increases to $14. Thus, your per-customer profit also increases to $5 from $3.
The same concept applies to Vetster or any other telemedicine platform.
After a virtual visit, patients need to buy medicine anyway. So, why don't you integrate the online pharmacy feature with your telemedicine platform itself and let your users receive 360-degree care from medical consultation to prescription and medicine delivery from your single platform?
The outcomes of online pharmacy integrated with telemedicine platform are happiest users, a large user base, one more revenue stream and more profit per user.
How does a pet care marketplace with an online pet pharmacy like Vetster work?
The following is the complete workflow.
User onboarding:
Users sign up for their account by providing basic contact information as well as information about their pets.
Appointment booking with vet:
A user has two options to book a virtual appointment with a vet.
Option 1: He manually searches for vets from all listed vets on the telemedicine platform and books the appointment with his most preferred one. Here, a user can search for vets by applying different filters based on location, language, fees, services etc.
Option 2: A user answers a few basic questions asked by the platform and then the platform itself using its sophisticated algorithm finds the most suitable vet for the user.
Virtual veterinary consultation:
At the time of the appointment, a user can talk to a vet via either video call, voice call or chat. In the case of a video call, the user receives a video call joining link which allows the user to have a video call with the vet from the app itself. If the user is using a web browser, the user can have a video call as well as a voice call from the web browser without installing any software.
ePrescription:
Vets' version of a mobile app or web app is equipped with a digital toolkit that enables vets to write ePrescription by selecting medicines from the large database.
Medicine delivery:
Here, users have an option to either receive medicine at the doorstep from the online pharmacy of that veterinary telemedicine platform or purchase it on their own from any local pet pharmacy.
Payment:
Users can make payments using a debit/credit card or using any eWallet as there is a payment module integrated with the online pet care marketplace.
What are the user benefits of virtual vet advice with an online pet pharmacy?
Canada has a very severe shortage of vets across several provinces such as Alberta, B.C.
According to a 2019 labour market study by the Society of BC Veterinarians, the gap is approximately 100 vets a year in B.C.
Talking about Alberta, CBC News recently published a report stating 370 vet positions are still open across Alberta.
Vet shortage does not only affect the pet owners but also results in burnout and stress on the industry.
So, with a telemedicine platform, we can help the industry to continue delivering care with a fewer number of vets. Because virtual vet care is rapid and comfortable for vets as well that allows them to treat more pets in a given time.
Other benefits include,
Online pet care is almost 50% more affordable than visiting a vet clinic as there is no need for travelling and giving extra time for it.
Pet owners can book virtual appointments with vets within seconds by making only a few clicks on the app. They even receive prescriptions at home within 24 to 48 hours, offering the ultimate convenience which is rare to find when they visit a vet clinic.
Professional developers build an online pet pharmacy integrated with the pet care marketplace which is always compliant with data privacy laws. The platform only collects the data of users which is legally approved to handle under the privacy laws. Video calling modules and payment mo+dules are also safe and secure as only popular and validated APIs are used to add features around communication and payment.
Vetster recently scored $30 million USD in series B funding (Updated 2022)
Now you have a clear understanding of how Vetster connects pet owners with qualified vets via text, call, and video call, while at the same time providing online pharmacy services.
However, after the COVID-19, the number of pet adoptions by Canadians is rapidly increasing.
For instance, discover some of the stats of it.
"One-third of Canadian pet owners welcomed a new animal friend into their household since the pandemic began, representing an estimated 3 million pets".
"More than 3 million Canadians plan to adopt a pet in the next 12 months".
"The pet population is growing fast because of the country's aging population.
As a result, Canada is seeing a number of online vet services raising funding, as the pet adoption demand continues to increase after the pandemic.
For that reason, recently Vetster scored $30 million USD with investing partner PetMeds as online vet advice, along with pet pharmacy services.
PetMeds' partnership with Vetster provides access to nearly 2 million clients and 70000+ PetMeds veterinarians. As a result, they can also use Vetster's online vet solutions.
This information will help you if you don't have technical knowledge
First and foremost, you need to know the different types of apps you can develop for your on-demand online vet platform.
Here, you hire an app agency that follows the entire app development lifecycle and builds the app from scratch.
The cost is very high as developers need to invest more than 500 hours and they charge on an hourly basis.
An MVP app has only basic and useful features. The whole idea of the MVP approach is to invest less, build a basic product, launch it in the market to test it and then invest more in stages and add more advanced features.
If you have a limited investment cap, an MVP app will work best for you.
To build a native app, developers have to write two different codebases for iOS and Android. This means, the development hours increase to double, and so does the development cost.
A cross-platform app works on the same codebase on both Android and iOS devices. This means that developers only have to write code once. Thus, the cost of development decreases significantly.
Progressive web app (Affordable alternative to a mobile app):
A progressive web app opens on a web browser but it has UI and features similar to the mobile app such as offline access, pushes notifications, background updates, security etc.
In case you are not planning for the mobile app, PWA will work best for you - at almost 30 to 40% less price of a mobile app.
Your guts + our healthcare-specific expertise & knowledge = Your confirmed success!
We're an Ontario-based healthcare-specific IT company that has been dealing with healthcare apps and tech for more than 7 years.
Our app developers, UI/UX designers, business analysts and compliance specialists have very specific experience and knowledge in healthcare IT.
We in fact have worked with several pharmacies and healthcare providers to help them with care delivery, patient experience and compliance.
To empower healthcare providers with the right tools and technology, we offer a white-label telemedicine platform at half the price of the custom platform.
In case you are wondering, we can help you from ashes to glory, from idea validation to documentation, workflows, UI/UX, development, compliance, QA, pilot and launch.
What exclusive we have in addition to technical expertise is clinical understanding as same as vets. Because we've only worked on healthcare IT projects throughout our professional life!