How and Why is the Ontario Medical Association Promoting Telemedicine?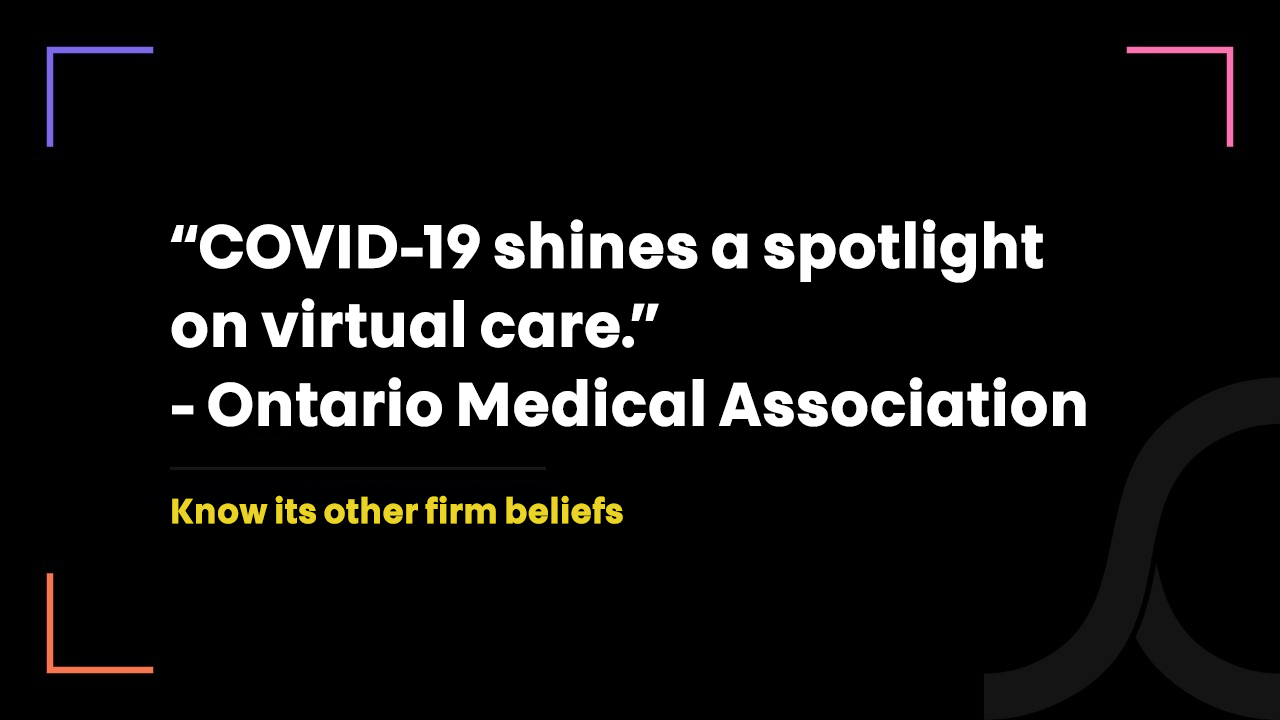 2 years ago
Ontario Medical Association (OMA) has more than 39000 members including practising physicians, residents and medical students. 
OMA published an article on its website on May 20, 2020, which depicts their firm belief in telemedicine that it is the most efficient, safest and reliable way to deliver care. 
What Ontario Medical Association thinks of telemedicine? 
Ontario Medical Association agrees on the fact that COVID-19 has changed the relationship between patients and their physicians and with restricted public movement and other health precautions likely to remain in place for longer than expected, a large number of providers are switching to virtual care or telemedicine to ensure continuity of care. 
OMA hails the pre-pandemic history of telemedicine as it has been popular in Canada ever since the Ontario Telemedicine Network (OTN) had begun providing two-way video conferencing between physicians and patients in the mid-2000s. 
OMA further published the opinion of Dr. Darren Larsen, Chief Medical Officer of OntarioMD on virtual care.
He said, "You can offer virtual care in many different ways and that care should meet the needs of both yourself and your patient. That varies by time and place."
OMA also appreciates the decision of the provincial government on issuing temporary billing codes for virtual care and bringing it under the coverage of the health card. 
According to OMA, such welcoming changes from the government provide a strong incentive for physicians to try to deploy virtual care into their practice. For several providers, virtual care isn't only a medium to maintain their patients' health, but their practice's finances, too. 
OMA believes virtual care is ideal for several practices due to the clinical values it offers. With the example of Dr. Braedon Hendy, a family physician based in Belle River, Ontario who has been using telemedicine, OMA puts emphasis on ease and convenience virtual care offers to patients. 
OMA also highlights how virtual care helps seniors to seek healthcare without leaving their homes and how virtual care helps patients talk to providers without taking any leave from their work. 
OMA further gives an example of Dr. Halperin who has been successfully using virtual care for her endocrinology practice. She finds that telemedicine fits very well with her "high-frequency, low-touch" patients. 
What's the future of telemedicine after pandemic? - Here is what OMA has to say about it
You must be thinking that after the pandemic, no one will use telemedicine as it will be safe to visit the clinics again. But OMA has a different opinion on it. 
OMA says virtual care is likely to continue playing an important role as long as COVID-19 continues to threaten our healthcare system. 
But even after the pandemic, both use and use cases of virtual care will be ever-evolving as providers have already realized its value and how it benefits providers in their work-life balance and their flexibility. 
How is OMA working with the government for the bright future of telemedicine?
Ontario's Ministry of Health launched temporary billing codes for virtual care during the first wave of the pandemic in Canada to promote virtual care adoption on both clinic and patient sides.
After the pandemic made the benefits of virtual care clear - both in terms of safety and efficiency, the Ontario Medical Association started negotiating with MOH to make those billing codes permanent.

As a result, the government has extended the privilege of virtual care billing codes several times since its first launch in March 2020 and also launched several new billing codes. 
Talking about Alberta, the minister of health Tyler Shandro announced in June 2020 to make billing codes for virtual care permanent in order to continue Albertans speaking to doctors from the comfort of their home. 
Telemedicine resources provided by the Royal College of Physicians and Surgeons of Canada
Founded in 1929, the Royal College of Physicians and Surgeons of Canada has listed out the resources to help providers adopt telemedicine in a seamless manner. 
So, here we are sharing the same list for better reach.
Alberta
British Columbia
Manitoba
Newfoundland and Labrador
New Brunswick
Nova Scotia
Ontario
Prince Edward Island
Quebec
Saskatchewan
How have we been helping clinicians with our telemedicine tech and compliance expertise?
We have been playing our role of healthcare IT expert from behind the stage to empower healthcare providers with the right tools and technology. 
But to solve the healthcare challenges that emerged with the pandemic, we have doubled our team strength and efforts to make telemedicine technology more comfortable, affordable and also compliant with data privacy laws. 
Ever since the pandemic, we have been investing our 8 hours every day on telemedicine tech and compliance with an ultimate goal to help each Canadian access healthcare easily. 
We work with healthcare professionals, enterprises and startups to develop their custom and MVP version of telemedicine mobile and web apps that streamline entire clinical workflows. 
We also eliminate all compliance challenges with our comprehensive healthcare compliance consulting service as a specialization. 
To help individual healthcare providers own a telemedicine platform without worrying about technical complications and the development process, we provide a ready-to-use white-label telemedicine platform.
Essentially, what we provide to healthcare providers is peace of mind by solving all their telemedicine tech and compliance challenges so that they can be focused only on their medical practice. 
On the concluding note, we would like to share some epic case studies that depict our resilient and community-centric approach during the pandemic. 
Case study 1: How did we build a telemedicine app during the pandemic?
Case study 2: How did we execute PIA on a healthcare project?