What Makes Our Product the Best Patient Portal Software?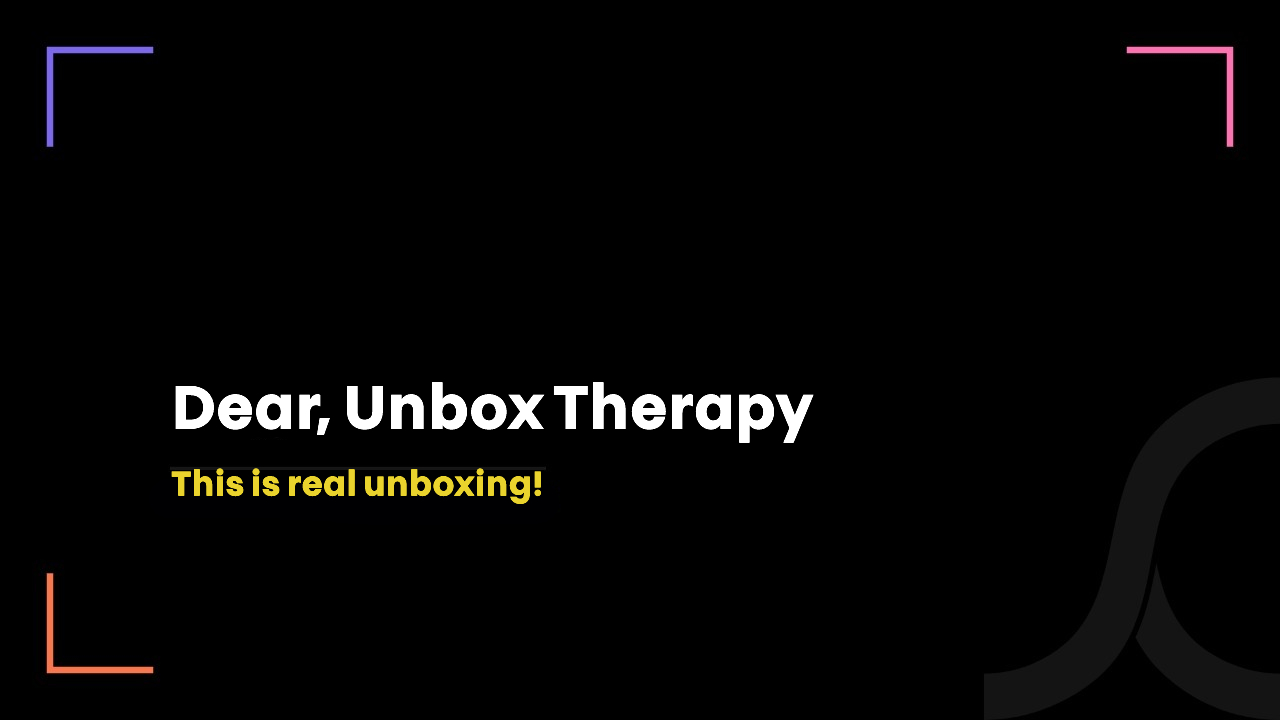 4 weeks ago
The true meaning of the patient portal software
Patient-centric approach!
That's what every healthcare provider strives for.
To achieve that, it's essential to build a strong relationship with the patients.
The patient portal does the same.
The ultimate goal of the patient portal software is to bring healthcare professionals and patients together.
That's the reason, "Nearly 40 percent of individuals nationwide accessed a patient portal in 2020". (Source)
Despite the positive response from the patients, almost 50% to 60% of healthcare entities are not offering patient portal solutions.
But why? Here is an answer.
The major roadblock for the healthcare entities with patient portal software
Its costs.
Let's understand with a simple example.
If you want to implement a patient portal in your healthcare ecosystem, there are two ways.
1. Build a custom patient portal
2. Use a third-party platform or called SaaS
But both of them are not valuable solutions.
Here is why.
There is no doubt that a custom solution gives you endless flexibility and tons of benefits, but its development costs require a minimum of $80,000 capital.
On the other hand, for third-party platforms, you have to pay them on a monthly or yearly basis which does not give you the ROI you expect.
What's more, it also comes up with drawbacks such as,
No guarantee of the patient data privacy and safety
No scope for customization
You don't have any control.
You can use it as long as you keep paying the fees.
No flexibility. No transparency.
The entire scenario here is that you are in the middle of the freeway with just chaos!
So, what's the ultimate solution here?
Our white-label patient portal software! It is the combination of affordability, flexibility, and ultimate transparency.
How our best patient portal software delivers clinical value and peace of mind?
We have been performing healthcare IT solutions for the past 8+ years.
Meaning, we are familiar with every nuts and bolt of the healthcare industry.
So for us, experience matters the most and so does affordability.
And here is a small glimpse of our white-label patient portal software.
Its no-code platform that gives you 360-degree flexibility in customization. What's more, you can do it without any knowledge of coding.
No monthly subscription charges. You just need to pay one time for licensing and get the lifetime usage right.
It costs you almost 70% less compared to custom.
We can customize it as per your unique needs and branding.
It is HIPAA-compliant software.
No hidden charges for users. Get an unlimited number of user access.
We ensure the delivery in a maximum of 45 business days.
To help you understand our white-label patient portal software comprehensively, we have listed its major admin side features.
And for exploring the entire software in detail, you just need to fill up the contact form and we will give you a live demo of it along with its cost within 2 to 6 hours.
Top 14 admin side features of our white-label patient portal software with real screens
1. Create a new patient profile
It's a simple process in which you just need to click on the '+' icon on the home screen.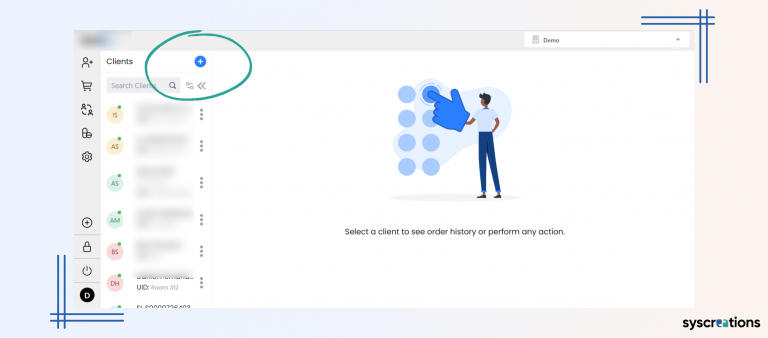 After that, you just need to fill up all the necessary information shown in the below image.
It will help you understand more about the patients which is the first step in making a good relationship with the patients.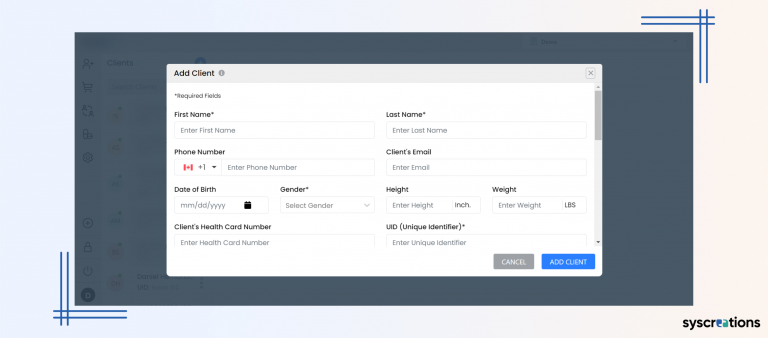 2. P.O.A. (Power of Attorney)
Sometimes, patients don't have the condition to make their health-related decisions on their own.
This situation generally arises in the case of kids and seniors.
At that time, P.O.A. details help healthcare professionals.
It contains the contact and relation details of the person who is authorized to make decisions on behalf of patients.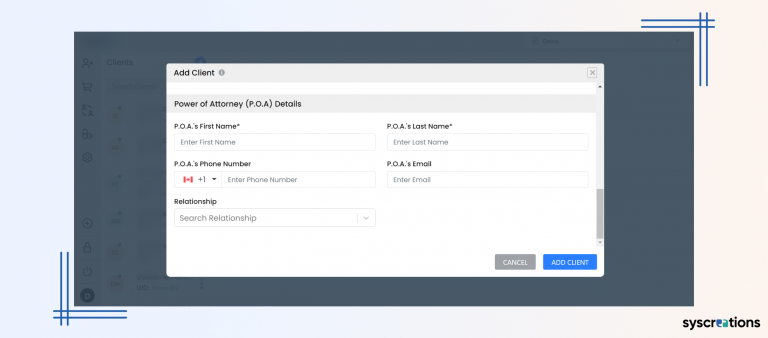 3. Manage all patients' profile
We have designed the dashboard in such a way that you can easily explore the full list of patients in just one click.
Furthermore, you can also view the profile of the patient by just clicking on the name.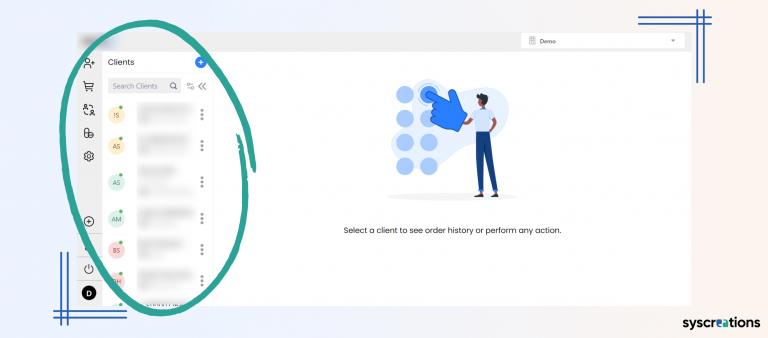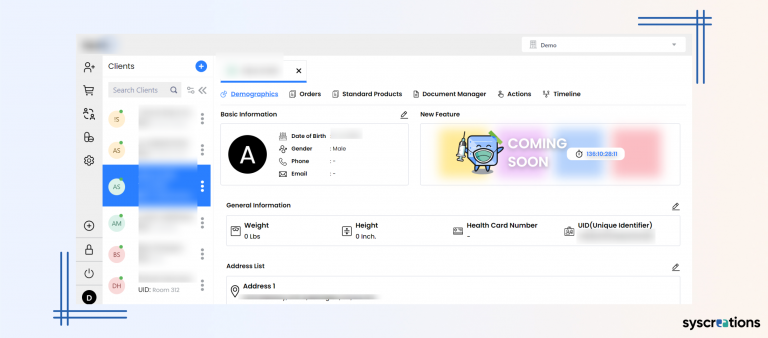 4. Search bar to find the patient
No hassle in finding the patient profiles
You just need to type the name or health care number or UID in the search bar.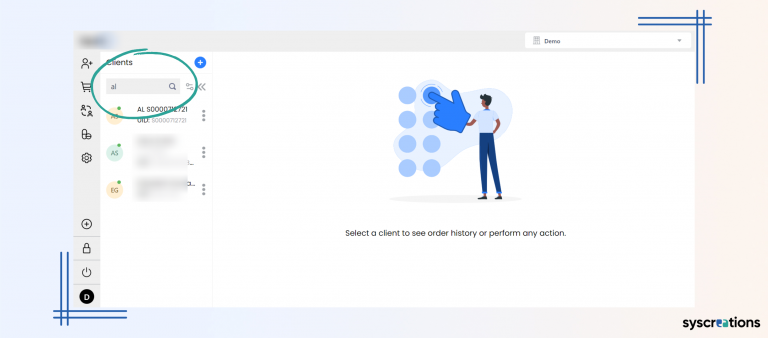 5. Parallel browsing for patient profiles
It is the unique features that make our product the best patient portal software.
It allows you to browse multiple patient profiles at the same time as shown in the below image.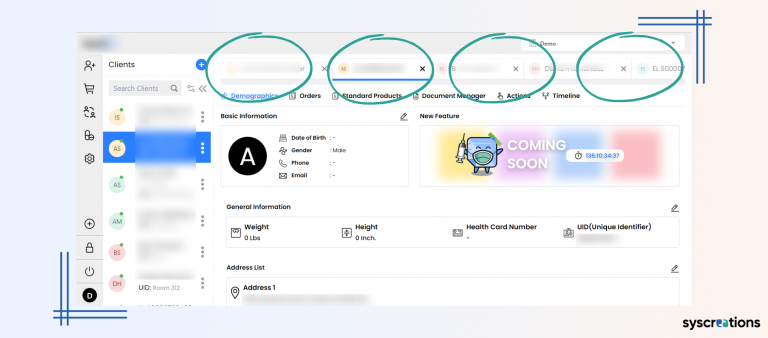 This is what we called the user experience along with convenience.
However, the profile numbers depend on the screen size of your laptop or computer or may be monitored.
For instance, a screenshot is taken from the 14-inch laptop so it shows the 4 profiles at the same time.
But if you have a larger screen size, you can easily browse more than 10 profiles parallel.
6. Edit patient profiles
You just need to click on the three dots near the patient's name in order to remove or update the patient's information.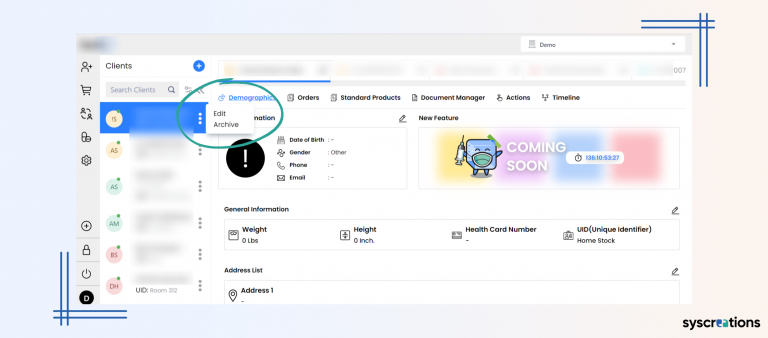 7. Shortcut keys or hotkeys
Time is a critical factor in the healthcare ecosystem.
It directly impacts the patients care experience as well as the costs.
As a result, we have added the shortcut keys in our white-label patient portal software that completely saves time in all senses.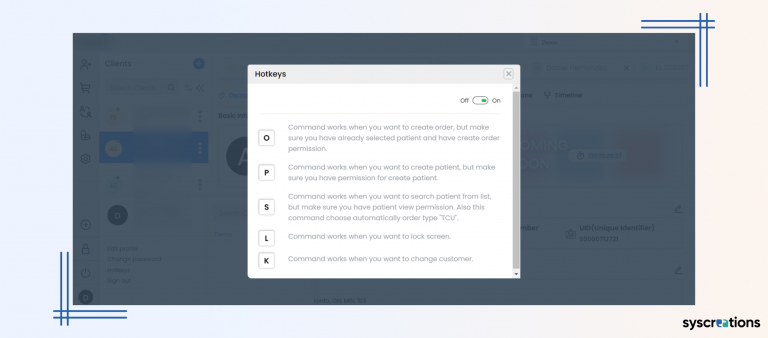 8. Patient document management
It is one of the most important features of patient portal software.
The feature allows you and your team members to upload a new document or update the existing one with ease.
Moreover, it also enables you to make it easily discoverable by putting tags and types of documents.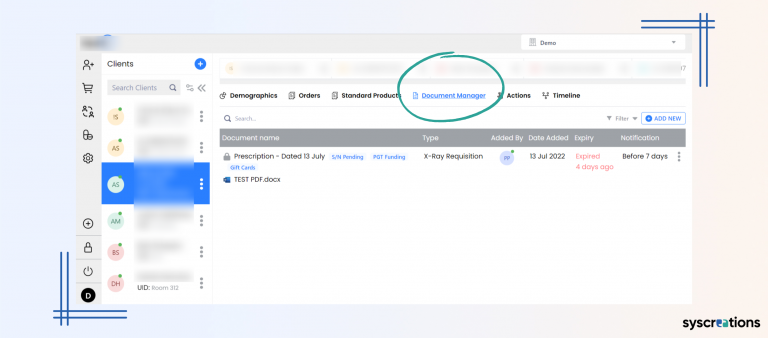 9. Put a restriction on accessing patient documents
Data privacy is essential.
Thus, this feature allows the admin to restrict access to some crucial documents of patients for other users.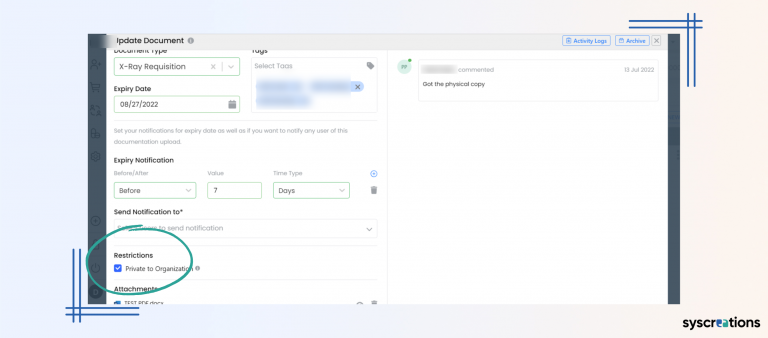 10. Set documents expiry
Documents expire after a few months and it is essential to keep all the clinical and patient documents up-to-date.
Under this feature, you can set up the expiry notification along with when and to whom to send it.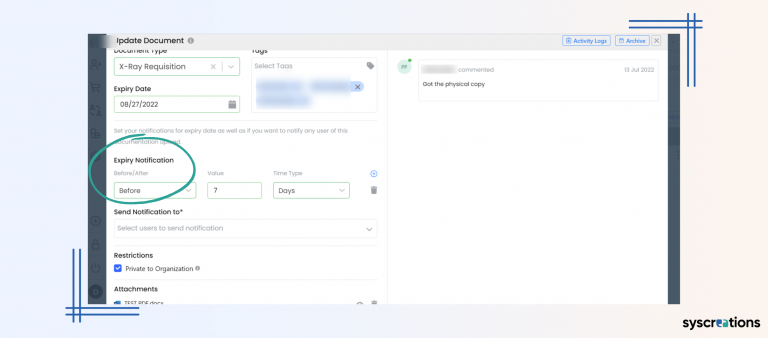 11. Manage all the users
Using this feature, the admin can easily manage each user's patient portal access and permission.
In fact, it also shows when was the last time user was active on the patient portal.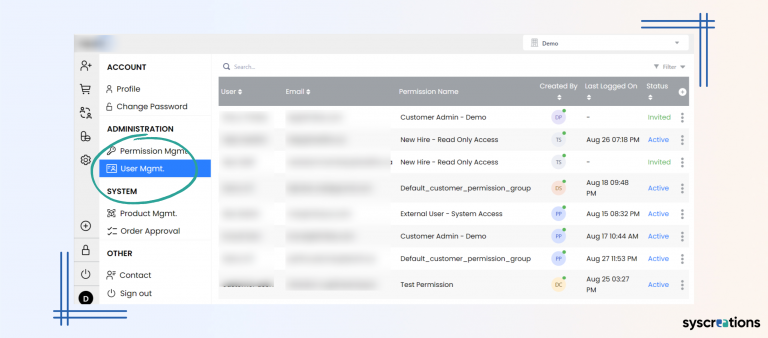 12. Manage user permission
Permission management enables you to easily assign, update, or decline the feature permission of each user.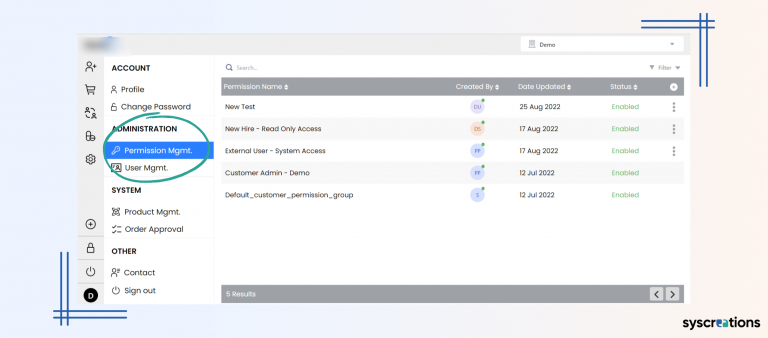 However, in many custom or third-party patient portals, admin have to select and deselect the features manually for each user which is tedious and time-consuming.
But we have an ultimate solution for that.
You just need to select and deselect the features and give them a name you want.
So, the next time when you want to give the same permission to someone, you just need to click on the permission name you have set earlier.
Explore the below image to get a more clear sense.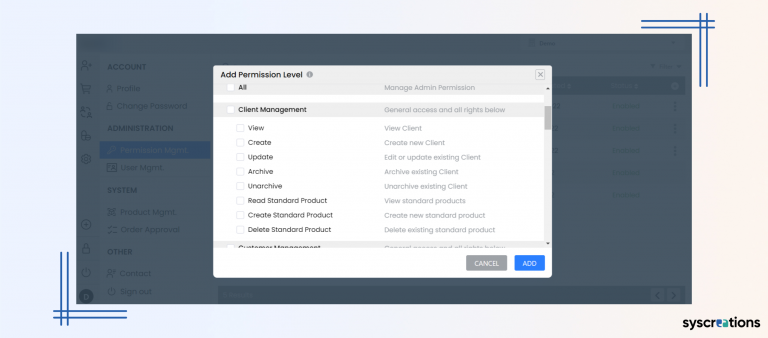 13. Collaboration and communication
It is another purposeful feature of the best patient portal software.
It allows you and your team members to collaborate and communicate by giving a comment on each and every action.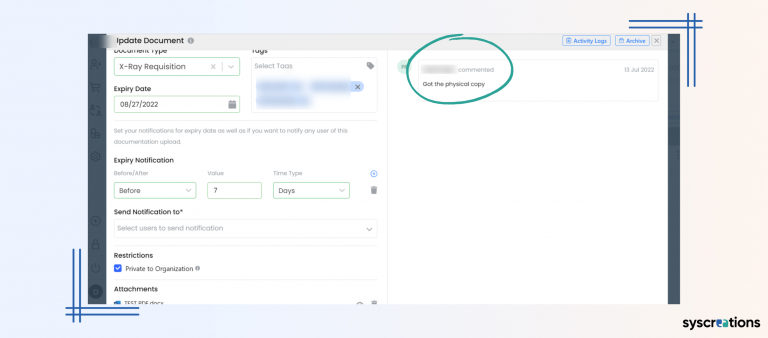 14. Two-factor authentication
As a healthcare-focused IT company, we comprehend how important privacy and security are.
Hence, our patient portal comes up with two-factor authentication which ensures top-level security for your account.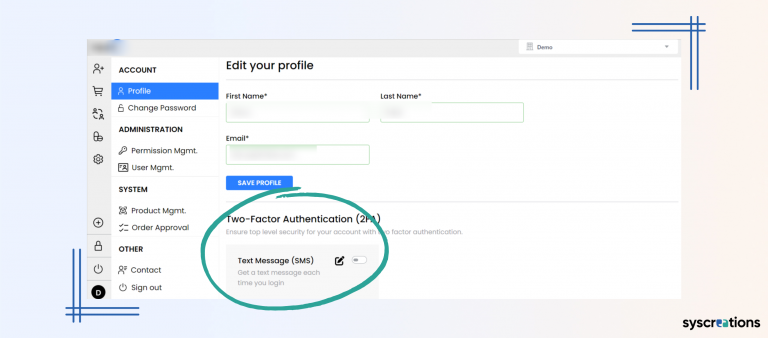 How to start with our white-label patient portal software?
Step-1: Fill up the contact form.
Step-2: We will connect with you in 2 to 6 hours.
Step-3: The live demo of the entire product along with its cost.
Step-4: We will listen to your customization needs.
Step-5: Customization of the software as per your needs.
Step-6: We perform a QA test and will deliver it within 45 business days.