Top 10 Patient Retention Strategies in Clinical Trials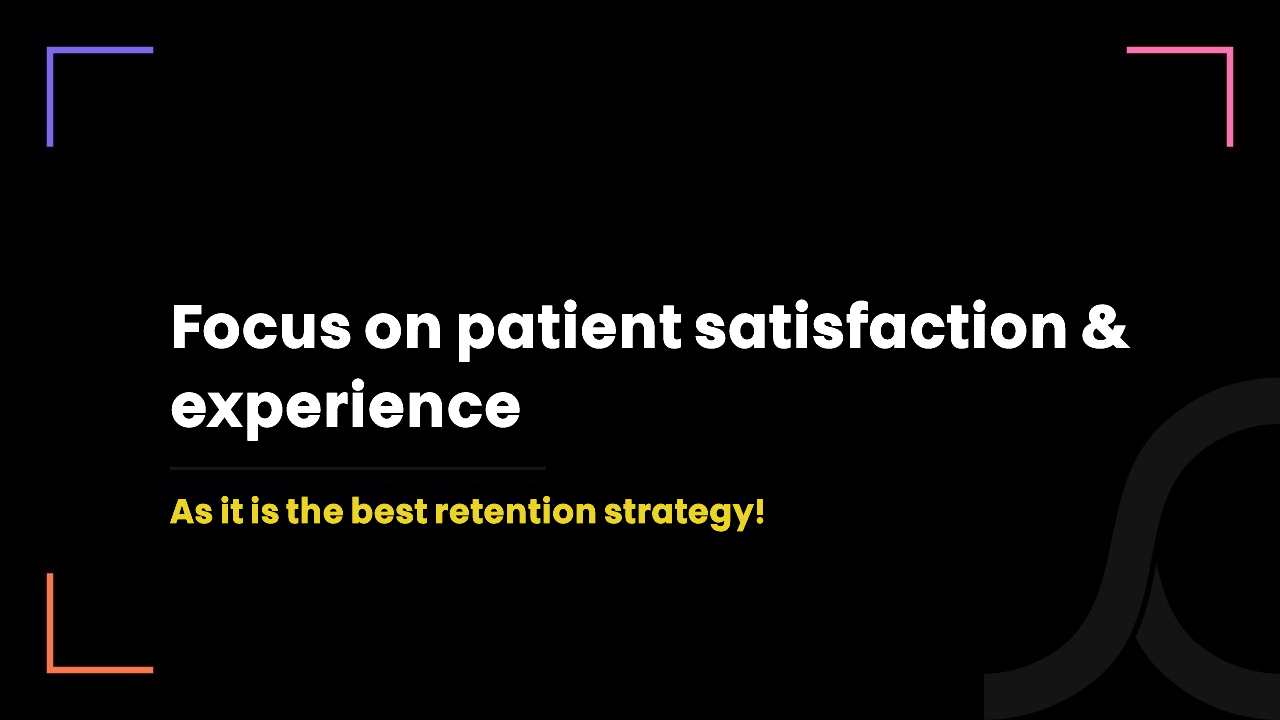 1 year ago
The more people will participate in clinical trials the faster our healthcare industry will discover better treatment and prevention for the disease.
And we both know that patient retention plays a significant role in it.
So, this blog has covered everything about it.
Best patient retention strategies in clinical trials to retain participants effectively & efficiently
A satisfied patient is the best retention strategy in clinical trials!
Because when we look at patient perspectives – what they feel is a robot (clinical trial staff) coming in, talking to them, and doing the examination.
But what they expect from a clinical trial apart from just outcomes is appropriate care satisfaction and experience.
Means, focusing on patient satisfaction & experience throughout the clinical trials is the key to improving patient retention rate.
So, let's start with how it is done.
1. Provide every small detail about clinical trials from the starting
Patients participate in a clinical trial with multiple expectations. Thus, it is essential to be clear about what the entire clinical trial is all about.
For instance, patients drop out of clinical trials if they are concerned about their safety.
So, here is what you need to do.
Your clinical trial staff should have every answer to participant questions.
The informed consent should be easy to understand as research finds that patients quit trials if consent materials are difficult to read and understand.
Use the 7th to 8th-grade language if your clinical trial is located in America.
Check the informed consent readability before submitting it.
2. Implement a scheduling approach that suits the patient's timing
Effective scheduling is one of the best patient retention strategies in clinical trials.
Because the patient participated in the trial for better outcomes not to be stuck in your scheduling conflicts.
A long waiting time and inflexible scheduling results in poor care experience and satisfaction.
To avoid such a mess, you can offer flexible scheduling.
Means, adjust with the patients' schedule as much as possible. This will save their time and give them ultimate transparency.
3. Keep engaged with participants online and offline
Patient engagement is what lacks in most of the clinical trials.
By combining both online and offline patient engagement approaches, you can increase the patient retention rate without any hassle.
Online method
People are spending most of their time on smartphones and computers and you can convert it into the most promising patient retention strategy in clinical trials.
Here is how.
Send daily or weekly progress reports which will involve patients in their own care
Email newsletter about the tips and new research findings
Offline method
Don't avoid patients' questions even if they are asking them multiple times
Share some exciting facts about the examination you are going to perform
Discuss their likes and dislikes about the clinical trials
4. Listen and try to solve the concerns of their family members
Care partners and family play a crucial role in patient retention.
Thus, it is essential to address every inch of their concerns about safety and care outcomes.
To perform it more effectively, you can involve them in their loved ones' trials.
Share patients' progress reports, caring tips, and well-being newsletters on a regular basis so that they can also take care of their loved ones precisely.
5. Promote your clinical trial
Giving branding to your clinical trial can help you to recruit and retain participants at a rapid pace.
For instance,
Patients are more likely to trust the brand
It gives a public image and allows you to target specific demographics.
On a crucial note, we are not saying that promoting your clinical trial on a large scale. 
You just need to give an attractive name, create a logo, and promote it with brochures.
6. Understand positive and negative trends with the help of participants' feedback
Participants' feedback gives a clear picture of every working and non-working aspect of the clinical trial.
However, it is important to gather feedback in an appropriate manner.
For instance,
Get the feedback from the first visit of the patient
Gather feedback at the end of each phase of the clinical trial
Give instruction to the staff to get feedback in the midway of the trial
After gathering all the information, you can easily analyze the positive and negative areas of your clinical trial along with the patient experience and satisfaction from the trial.
7. Send reminders to the participants
It is one of the best patient retention strategies in clinical trials.
Participants frequently forgot to attain clinical trials as of their busy schedules which sometimes results in a dropout from trials.
By setting up the reminder system, you can lower the chances of missed trials using SMS or phone calls.
8. Explain participants to how they are important for this clinical trial
Almost half of the participants drop out of the clinical trials due to a lack of awareness.
Furthermore, they motivated themselves to continue the clinical trial.
So, you must have to explain to them how they are playing a significant role in improving medical research on disease prevention and finding better treatment.
For instance,
You can describe the importance to a patient with a chronic condition about how he or she will get the newest treatment along with additional care support from the healthcare experts and clinical trial staff.
9. Your clinical trial site location also plays a big role. Make it convenient for patients.
There is no meaning to how effective your trials are for the patients if the site location becomes a burden for them and restricts them to attend trials on a regular basis.
So, here is the strategy to select a high-quality site location.
1. Define needs and criteria
Staff qualification and availability
The flexibility in gathering and storing equipment
Participants' availability and recruitment capabilities
2. Identify sites that suit the above criteria
On online and offline directories
References and word-of-mouth
3. Select the site
Remember, the ideal site location is not just beneficial for the patients but also helps to complete the trial in time, on budget, and with high efficiency.
10. Use technology to increase patient retention and satisfaction along with reducing your efforts
The clinical trials are all about patients!
None of the above patient retention strategies in clinical trials will work if you don't have time to focus on the participants.
Here is when technology or health tech solutions like clinical trial software walk in!
It is the all-in-one solution to manage the entire ecosystem including patients, clinical trial staff, and other healthcare specialists efficiently and effectively.
For instance,
Manage patient clinical, financial, and personal data
Virtual communication tools or health apps for patients
Streamline the staff scheduling
Automatic reminder to participants
Insightful reports to analyze patients and entire clinical trial progress
Clinical data management to provide data-driven care to patients
The end result will be a better care approach and outcomes which helps in improving patient retention and getting desired output from the clinical trial without compromising the time and cost.
Who are we?
We are an Ontario-based healthcare-specific IT company holding a strong vision to revolutionize healthcare by helping healthcare startups, enterprises, organizations, and clinical trials with their business, technical, and compliance needs with our 50+ healthcare IT masterminds!