Specialty Drugs in the US Healthcare: Unlocking Opportunities for PBMs and Pharmacy Owners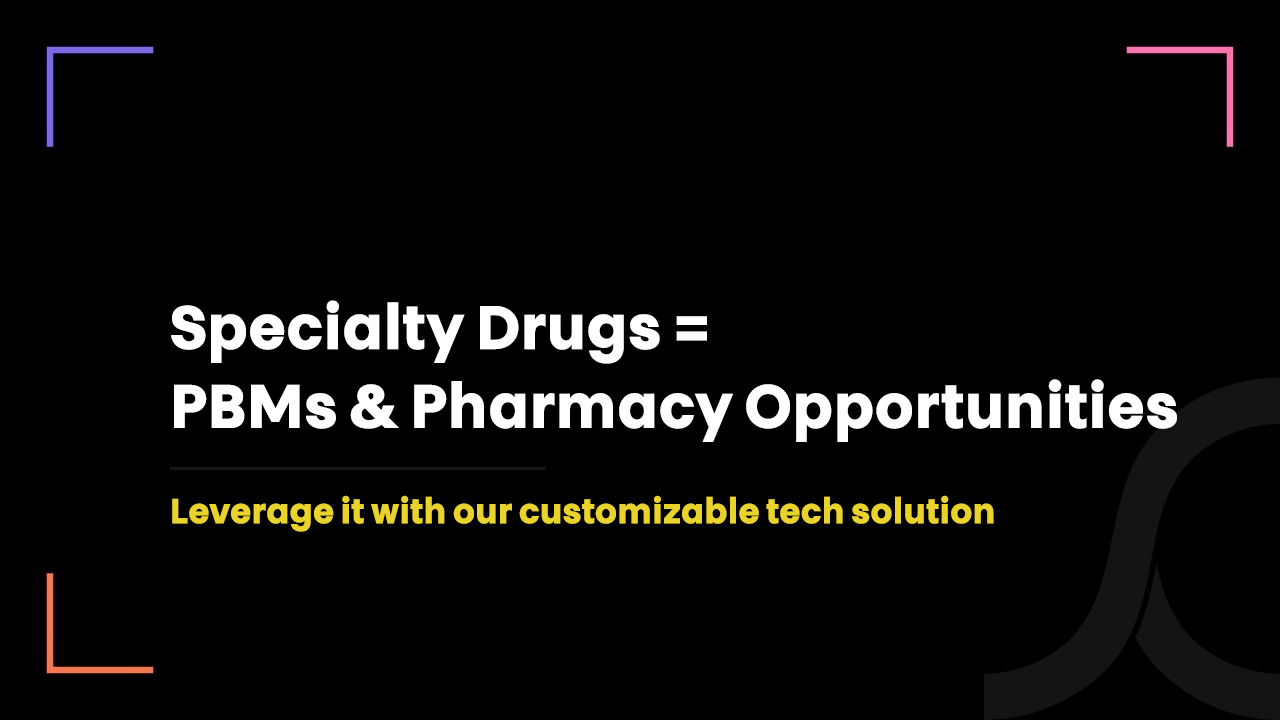 7 months ago
The US healthcare industry has witnessed rapid growth over the recent years in the specialty drugs sector.
These medicines are designed to treat complex and chronic health conditions like cancer, rheumatoid arthritis, hepatitis C, etc.
As specialty drugs have significantly improved patient outcomes, it has presented opportunities for various domains in the healthcare system.
The Role of Specialty Drugs in Healthcare
Specialty drugs are different from traditional medicines in different ways.
These medicines
Are expensive
Requires specialized handling & administration
Involves complex reimbursement process
Are not easily available
These medicines target a smaller patient population having specialized conditions and need customized patient support programs.
Specialty drug growth is fueled by advancements in the biotechnology field.
It enables more effective treatments for previously untreatable or hard-to-manage diseases.
The Impact of Specialty Drugs on the US Healthcare
Specialty drugs have opened doors of upgradation in several domains of the healthcare industry.
Along with that, it has impacted the industry in several ways.
● Enhanced Patient Outcomes
Specialty drugs have revolutionized the treatment landscape for patients with chronic and complex conditions.
They offer:
Improved Symptom Management
Disease control
Extended survival rates
Impacting the lives of patients positively.
● Financial Implications
The high cost of specialty drugs poses financial challenges for patients, payers, and healthcare providers.
However, they also present revenue-generating opportunities for PBMs and pharmacy owners, as they often provide higher profit margins compared to traditional medications.
● Evolving the Role of PBMs
PBMs play a crucial role in managing specialty medications.
They offer various services
Negotiating drug prices with manufacturers
Implement utilization management strategies
Administer patient support programs
Develop formularies
Facilitate the distribution of specialty drugs
Manage complex reimbursement processes
● Expanding Pharmacy Services
Specialty drugs have prompted pharmacy owners to diversify their services and expertise.
Pharmacies are now equipped to provide comprehensive patient counseling, administer specialized injections or infusions, and offer medication adherence programs.
This expansion presents an opportunity for pharmacy owners to enhance their revenue streams and establish themselves as integral members of the healthcare team.
Leveraging Opportunities for PBMs and Pharmacy Owners
● Clinical and Financial Management
PBMs can create innovative programs to manage the clinical and financial aspects of specialty drugs. This includes:
Developing comprehensive utilization management strategies
Coordinating patient support services
Implementing cost-containment measures (such as prior authorizations and step therapy protocols)
● Formulary Optimization
PBMs can optimize formularies by carefully selecting specialty drugs based on clinical efficacy, cost-effectiveness, and patient outcomes.
Collaboration with healthcare providers and pharmaceutical manufacturers can facilitate access to the most beneficial therapies while ensuring optimal utilization of resources.
● Enhanced Patient Support
PBMs can offer comprehensive patient support programs, including medication counseling, adherence monitoring, and financial assistance.
These services improve patient engagement, medication adherence, and overall treatment outcomes.
● Collaborative Networks
Pharmacy owners can establish partnerships with healthcare providers, PBMs, and specialty pharmacies to create collaborative networks.
These types of networks
Enhance patient care coordination
Facilitate timely medication access
Enable efficient communication among stakeholders
Improved patient outcomes and satisfaction
● Technology Integrations
PBMs and pharmacy owners can leverage technology solutions to
Streamline administrative processes
Enhance medication tracking
Facilitate real-time communication between healthcare providers, payers, and patients
Automation and data analytics can optimize inventory management, streamline billing and reimbursement processes, and identify trends in medication utilization.
A useful resource: Pharmacy Workflow Automation Solutions
Make the Most of these Opportunities with our Health Tech Solutions
Though the opportunities are appealing, it needs strong health tech knowledge and experience to build software for specialty drug pharmacies.
Ensure that the development company you choose has a record of working in the healthcare domain.
Understanding your compliance, tech, and business needs is one of the vital steps to building or upgrading your health tech.
If you want to build, upgrade, or integrate your pharmacy software for it to be used with specialty drugs then, you're at the right place.
We're an Ontario-based healthcare IT company.
We follow the 3Es in our approach - Experts, Experience, and Expertise.
Combining the hands-on experience of 8+ years with extensive knowledge of the regulations, we had successfully delivered 60+ projects.
If you have any health tech requirements for your pharmacy business, connect with us by filling out the form below.