Pet Insurance App: 3 Ideas to Stay Ahead in the Booming Pet Insurance Market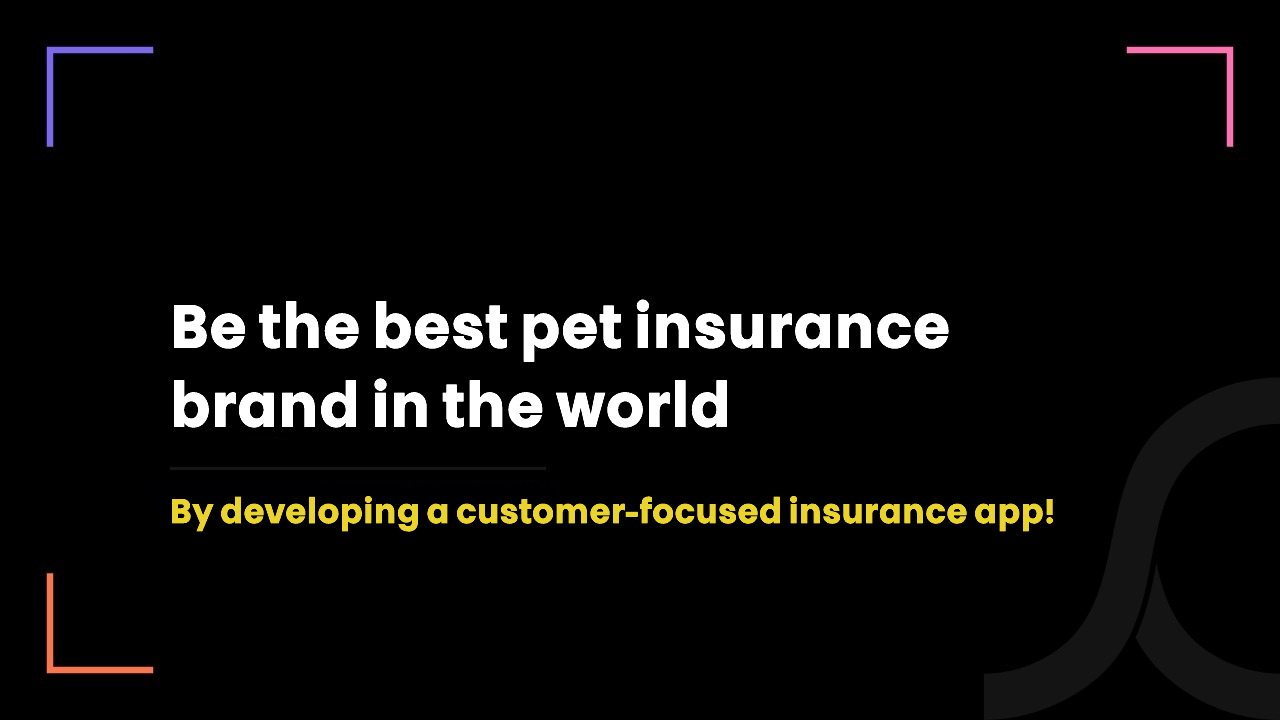 1 year ago
Let's start this blog with some mind-blowing statistics!
Gen Z and millennials represent around 70% of pet owners
Around 4.1 million animals are adopted from animal shelters each year
The global pet insurance market size is expected to reach USD 32.7 billion by 2030!
Because of that reason, the number of pet insurance startups is increasing rapidly.
And if you have the vision to enter its fruitful market, this blog is for you.
We have shared everything you need to know about it – from pet insurance app development to profitable business ideas!
How does a pet insurance app solve the main challenges?
The app has huge potential to bring both – pet owners and payers under the same roof.
Because it easily solves major problems without compromising quality and cost!
For example,
1. Personalization
Not everyone has the same need.
Thus, it's nearly impossible to achieve personalization with the old-age insurance processes in which you have to perform everything manually.
But with the pet insurance app, you can easily provide personalized solutions to each user with the help of centralized and easily accessible data.
Not only this, but it also gives full flexibility over accessing the information a user needs in just a few clicks.
2. Instant pricing
Not every pet insurance company provides an ideal quote as per the needs of the pet owners.
Meaning, a user needs to go through several processes in order to get the most appropriate pricing.
But with the app, you can easily fix it.
You can provide the user with prompt insurance pricing for each of the pet services they want.
3. Quality of services
We all know that it's not easy for insurance agents to provide 24/7 support to pet owners.
But thanks to the app – a user can access it at any time from anywhere in the world and get the solution they need without any initial support.
4. Real-time interaction
The real-time interaction between the user and the insurance agent is the key to speeding up the claim process.
And it is only feasible with the pet insurance app.
Because it allows the user to get the help they need by directly connecting with the insurance agent – at any time from anywhere.
This is how a pet insurance app eliminates the time-consuming and costlier challenges for customers and providers.
The perfect example of it is – Napo!
It's a UK-based pet insurance startup that recently raised £15 million in a Series A funding round with the help of its powerful app and customer-focused approach.
🐶 Napo, the UK-pet insurance company, has raised £15 million Series A. DN Capital led this oversubscribed funding with the participation of the pet care focused Companion Fund, MTech Capital, Picus Capital and others.

👏🏻 Congratulations to the whole Napo team! pic.twitter.com/Aha4amFR2y

— DN Capital (@DNCapital) November 14, 2022
Please note: We are not in any circumstances promoting the idea of building clone apps. The Napo app we mentioned here is merely for the inspiration for new entrepreneurs.
Top benefits of the pet insurance app for the pet owners
Illnesses, behavioral treatment and dental work – these are some of the most common health needs that a pet requires to stay healthy and fit.
However, if we look closely, the costs of vet fees are rising day by day.
What's more, an accident and a missing pet add an extra layer of cost into the pocket of the pet owners.
But having pet insurance provides cover for the veterinary fees in case your pet is injured or becomes ill.
And with the help of the app, managing a pet's insurance becomes more faster and less frustrating.
Because it comes up with –
Faster and hassle-free bill pay
Much easier access to policy details
Allows to act quickly after the accident
Helpful guidance and resources
Fewer documentation hassles
Can get a clear view of their medical claims
Top benefits of the app for the pet insurance startup
The traditional insurance process is full of roadblocks – for pet owners and payers.
The main reason is – the lack of real-time visibility and manual processes.
But a pet insurance app simplifies every process related to insurance claims.
For examples,
Full flexibility over accessing the data
Reduces claim processes hassles and operation costs
Simplifies billing and invoicing processes
Reduces operational costs
Lowers the chances of errors
What can you cover in a pet insurance app?
To understand it better, let's divide the app into two segments.
For pet owners:
Accident and illness solutions
For agents or insurance companies:
Communicate with the client
How you can make money as a pet insurance startup?
Let's take the example of Napo.
To get pet insurance benefits from Napo, a pet owner needs to pay monthly and yearly-based payments.
From that, a Napo earns a commission from each payment.
This way, you can generate revenue from the pet insurance app.
How you can retain more pet owners and reduce your operational costs at the same time?
The key to retaining more pet owners is to offer solutions beyond just insurance!
And the below feature ideas are the perfect example of it.
A chatbot is nothing but software that interacts with the customer just like a human agent.
The only difference is that – it works 24/7.
It understands the queries or demands of the pet owners and gives a personalized answers without any delay.
This way it also helps in reducing the operation time and costs as it requires no human intervention.
InsurTechs have invested $124 million in AI and chatbots, which is $54 million more than average across all industries.

Know more about chatbot use cases in the insurance industry- https://t.co/N5Asz7K6i6#InsurTech #Insurance #Chatbot #AI #InsuranceIndustry #InsuranceChatbot pic.twitter.com/1NWw2RuO5y

— Kommunicate (@kommunicateio) November 10, 2022
This is one of the best ways to provide an ultimate customer experience.
Because it allows pet owners to find and get virtual veterinary solutions from the app itself.
This saves them a lot of time and helps them avoid the live-in person visit with the vet.
RPA (Robotic Process Automation)
Almost every claim process is time-consuming and error-prone.
And it impacts the overall productivity of the employees and increases operational time and costs.
But with RPA, you can avoid all this mess.
It is a powerful technology that performs repetitive tasks just like a human.
For example, you can use RPA solutions for your – data-entry, billing, invoicing and policy upgrade or cancellation.
How much does it cost to build a pet insurance app?
The truth is – there is no fixed pricing for it.
Because the app development time and costs depend on what you want in the app.
So, without knowing your exact requirements, we can't tell you the number and time it takes to develop.
And we don't want to give you a false number and mislead you about the development costs.
However, there are several factors that drive the costs and time to develop the pet insurance app.
For example,
The features you want and their complexity
Technology stack you want
UI/UX requirements and their complexity
Want to build a pet insurance app? Know how we can help
Based in Ontario, we are a healthcare-focused IT company.
And for the past 8+ years, we have been helping healthcare startups, enterprises, organizations, entrepreneurs and individuals with their technical, business and compliance needs.
To do so, we have a 50+ team of healthcare-specific IT professionals.
It includes – UI/UX designers, web and app developers, business, analysts, compliance specialists, QA engineers, integration experts and RPA engineers.
What makes us special is that – we are fully aware of the user requirements of pet owners and the workflow requirements of vets.
Because we have successfully delivered more than 10 telemedicine apps for vets in the past.
So, if you want to build a strong market presence as a pet insurance startup, let's conduct a call and talk about your business vision!