The Truth About Developing Pharmacy Apps In Canada | 2023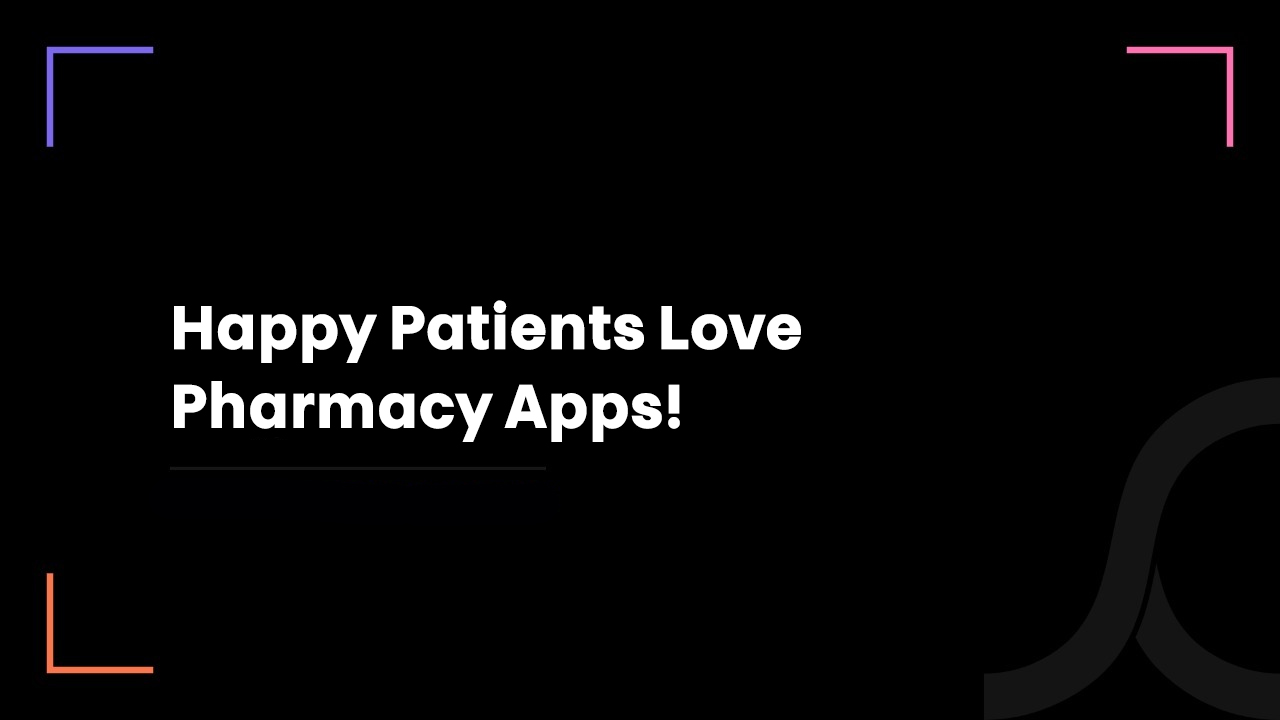 2 months ago
Did you know that pharmacy apps in Canada can make a big difference in how we take care of our health?
These fantastic apps can help patients feel better, make healthcare more accessible, and bring exciting changes to the medical world.
Let's dive into the incredible world of pharmacy app development in Canada and see how it's shaping the future of healthcare in 2023!
The Global Market of Pharmacy Apps
The pharmacy market is seeing an upward transition globally from $49.7 billion and $69.7 billion in 2018 and 2020, respectively, to $177.8 billion in 2026.
According to a survey, 20% of patients using the pharmacy apps felt 23% more satisfied than those not.
In Canada, pharmacy apps have become a popular choice among patients because of their various services.
Instead of visiting physical pharmacies, people can now access these convenient features:
Order medicines online
Get doorstep delivery
Manage prescriptions
Access Over-The-Counter (OTC) products
Explore health and wellness products
Have virtual consultations with licensed pharmacists
Different Types of Pharmacy Apps in Canada
1. Medication Reminder Apps
These apps are designed to help users manage their medication schedules effectively.
Users can set up personalized reminders for taking medications, ensuring they adhere to their prescribed treatment plans.
Medisafe is one of the leading medication reminder apps in Canada.
It offers extensive features like
Complete Medication Management
Family Scheduling & Tracking
90+ Measurement Trackers
Drug Interaction Warnings
Refills & Appointment Reminders
Resource Centers
2. ePharmacy Apps
ePharmacy apps enable users to purchase medications and other health-related products online.
They offer many pharmaceutical products and over-the-counter (OTC) medications.
It allows the users to order from the comfort of their homes and have the items delivered to their doorstep.
PocketPills is the leading ePharmacy in Canada. It offers features like
Discrete Packaging
Free Delivery
Automatic Refills
Personalized PocketPacks
Caregiver Support
3. Health Tracking Apps
Health tracking apps allow users to monitor their health metrics, such as
Blood pressure
Blood glucose levels
Weight
These apps often integrate with wearable devices and other health monitoring tools to provide comprehensive health insights.
Headspace is leading this sector in healthcare apps. It comes with extensive features.
Providers guided meditation to users
Emergency SOS sessions for anxiety or panic moments
Track meditation, score, and resource progress
Allows to add mindful minutes to Apple Health
Facilitates training and guides users with mindfulness experts
4. Telemedicine Apps
Telemedicine apps facilitate virtual consultations with healthcare professionals.
Users can have video or text-based appointments with
Doctors
Pharmacists
Healthcare Specialists
This type of pharmacy app makes medical advice and prescriptions more accessible.
Maple Telehealth App is one of the most used telehealth platforms in Canada.
It is well-known for its service, which includes
24*7 access to doctors
Prescriptions
Sick notes
Portale medical records
5. Medication Information Apps
There are apps available that offer comprehensive details about different medications.
These apps provide information on the proper dosage, potential side effects, drug interactions, and necessary precautions.
Users can use these apps to obtain reliable information about their prescribed drugs.
Epocrates is an app preferred by pharmacists to calculate drug dosages and identify medical compositions with features like
600 dosing calculators
Medical equations
Drug interaction checker
Pill identifier
6. Pill Identifier Apps
Pill identifier apps help users identify unknown pills or medications.
Users can simply input the pill's characteristics, such as color, shape, and markings, and the app will provide relevant details.
WebMD has emerged as a leader in identifying the pills for healthcare professionals and patients.
It is facilitated with the features
Symptom checker
Medication reminders
Allergy tracker
Doctor directory
Drug interaction checker
Customization and saving functionality
7. Medication Management Apps for Caregivers
These apps are designed to help caregivers manage medications and treatment plans for multiple patients.
They can track medication schedules, set reminders, and communicate with healthcare professionals on behalf of the patients they care for.
eCare21 assists the caregivers in tracking the patient's activities with the help of wearables.
It bridges the data gaps to improve patient outcomes.
8. Pharmacy Store Locator App
Pharmacy store locator apps assist users in finding nearby pharmacies or drugstores.
Users can search for specific medications, check store hours, and get directions to the nearest pharmacy.
Medicine Shoppe Canada is an app by the McKesson Canada group.
Find the closest pharmacy to you, get directions, hours, and view available services
Increased access to your pharmacy and your pharmacist
Access your prescriptions anywhere
Faster refills for either pick-up or delivery
Manage all of your family's health needs with a single account
Find out what promotions are going on at your pharmacy.
9. Personal Health Record Apps
PHR apps allow users to store and access their health records securely.
These pharmacy apps can include medical history, prescriptions, allergies, and test results.
It enables users to share essential health information with healthcare providers easily.
OneRecord allows users to access their health records anytime, anywhere. Its users can add.
Lab results
Clinical notes
Recurring health data
Diagnostic and procedural information
Prescribed medications
Vaccinations and allergy information
This app even allows secure data sharing and multi-profile management.
10. Medication Adherence and Compliance Apps
These pharmacy apps focus on improving medication adherence and compliance through
Personalized reminders
Educational content
Gamification elements
These pharmacy apps aim to motivate users to follow their treatment plans consistently.
Dosecast outshines the rest of the medication-tracking apps with the following features:
Dose reminders on your phone, tablet, or wearable device
The option to take, skip, or postpone doses (think "snooze" button)
Calibration across time zones
Flexible medicine scheduling
Customization of your medicines
Multi-device cloud sync
Review dose history and compliance
These pharmacy apps are divided into four main categories:
1. Customer App
2. Pharmacist App
3. Courier App
4. Admin App
If you're building a pharmacy app, choosing a tech stack that can accommodate growth is crucial. This means utilizing various programming languages like Swift for iOS and Kotlin for Android and implementing a database. We've created a table that outlines the Work Breakdown Structure (WBS) for the app's features and technologies.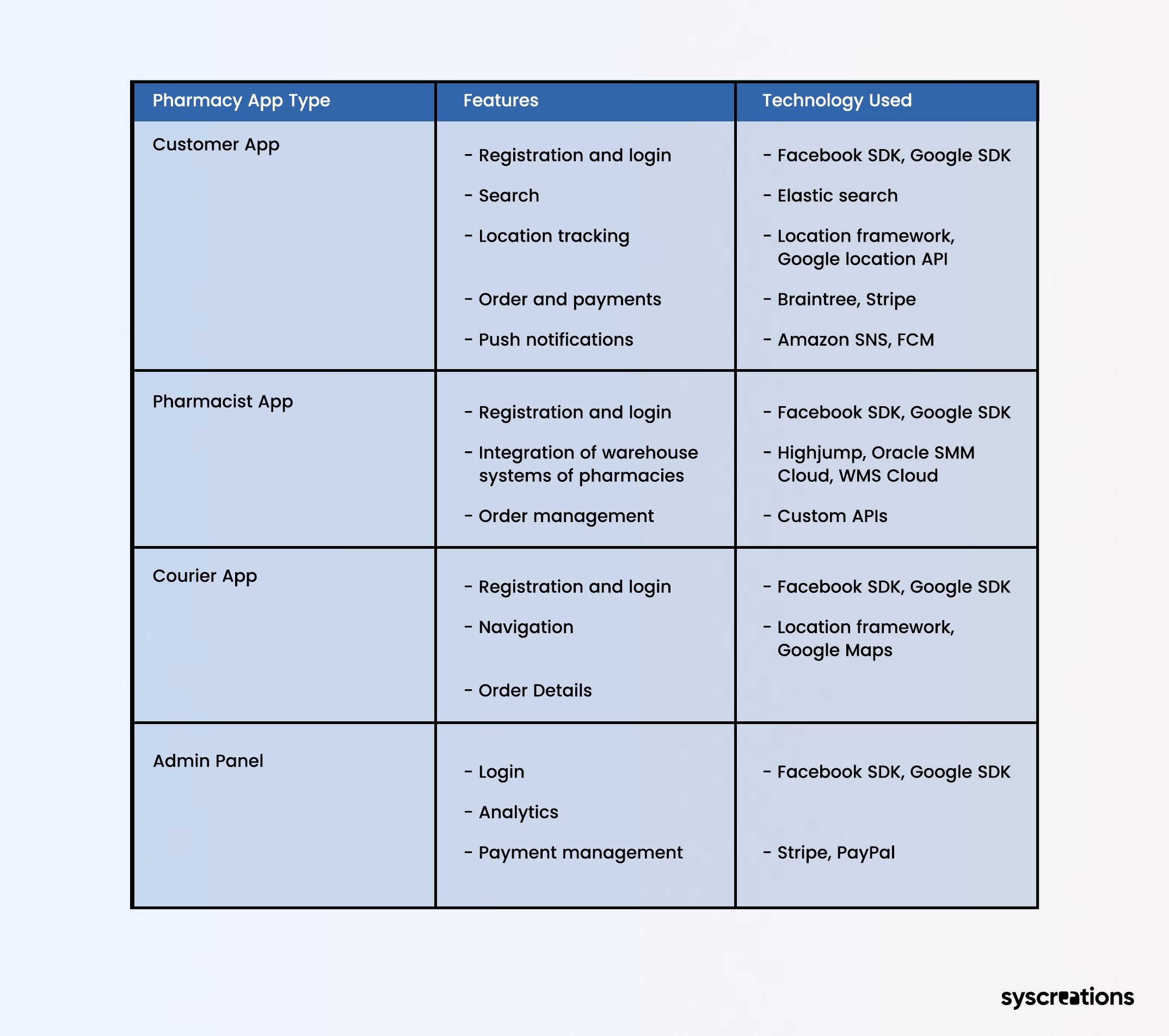 The Popular Pharmacy Apps in Canada
1. Shoppers Drug Mart
Shoppers Drug Mart is a well-known pharmacy chain in Canada that offers a mobile app with features such as
Prescription refills
Medication reminders
Online shopping for health and beauty products
Store Locator
It also provides exclusive deals for members of the PC Optimum loyalty program.
Pharmaprix is the Quebec counterpart of Shoppers Drug Mart and offers similar features through its mobile app.
2. PocketPills
PocketPills is a digital pharmacy that operates through an app, allowing users to
Manage their prescriptions
Doorstep medication delivery
Personalized medication packs for easy adherence
3. Well.ca
Well.ca is an online health and beauty retailer based in Canada, offering a mobile app with a wide selection of
Health products
Vitamins
Personal care products
4. London Drugs
London Drugs, a Western Canadian pharmacy and retail chain, provide a mobile app that allows users to
Order prescription refills
Shop health products and electronics
Access exclusive deals and promotions
The Key Features of Pharmacy Apps in Canada
Regulatory Compliance
User-friendly Interface
Secure Data Handling
Medication Database
Medication Reminders
Pharmacist Consultation
eCommerce Integration
Health Tracking Integration
Cross-platform Compatibility
The Medical Compliance Required for Developing Pharmacy Apps in Canada

Let's Explore the Key Points Together!
1. Features: Decide on the cool features you want in your app, but remember that more features might take more time and money.
2. Design & User Experience: Make sure your app looks great and is easy to use. This might need some extra time and testing.
3. Devices: It may take more effort if you want your app to work on different devices like phones and tablets.
4. Integration: It could get more complex if your app needs to connect with other systems, like health records or pharmacy databases.
5. Compliance: Healthcare apps must follow some rules, so ensure your app meets all the regulations.
6. Testing & Quality: Making sure your app works perfectly is super important, so testing might take some extra time too.
7. Expert Team: A skilled team is essential for a great app. The expertise of the developers and their location can affect the overall cost.
We're here for you!
Step by step, we'll work together to create a user-friendly app that fits your needs and meets regulations.
Just "hit the contact" button at the top, and we'll guide you through the process.