Get Started With PointClickCare Marketplace Listing + Top Listed Solutions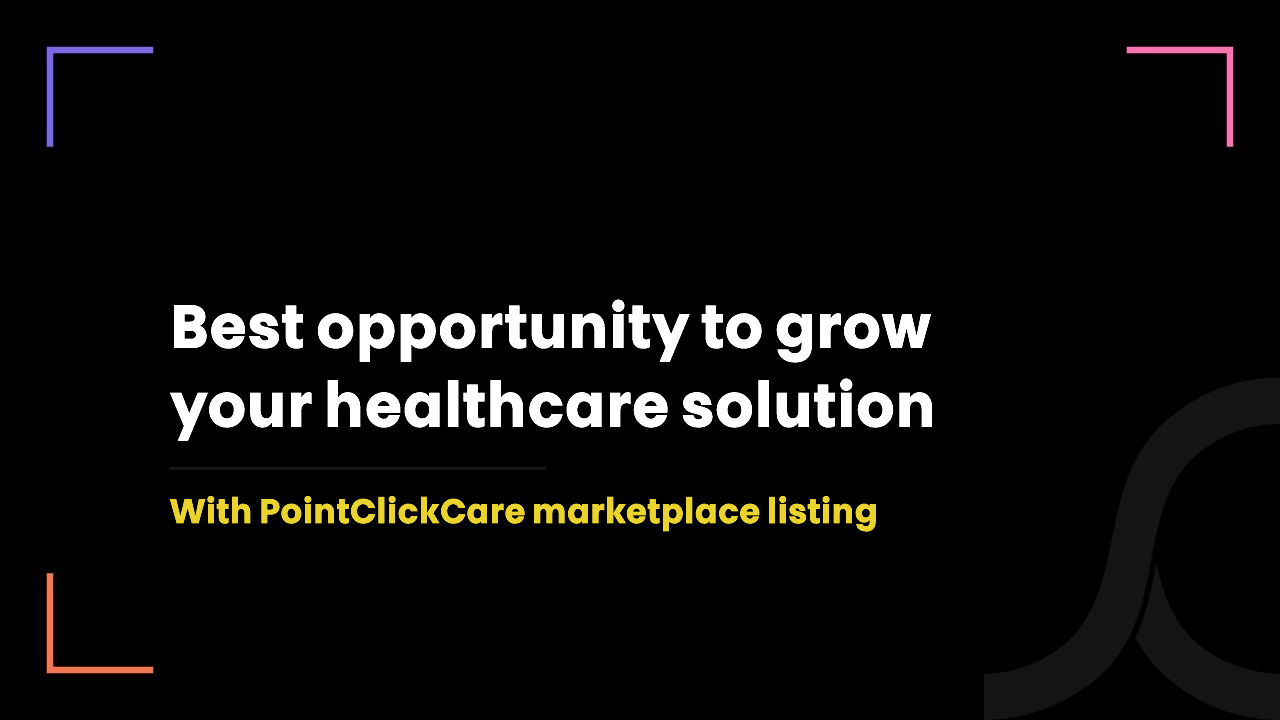 2 years ago
What is the PointClickCare marketplace?
PointClickCare which is a leading EHR provider for the senior care industry runs a marketplace to extend its offerings and explore new possibilities.
Providers using PointClickCare EHR can easily integrate apps listed on the marketplace to their existing PointClickCare EHR with just a few clicks, without worrying about interoperability and compliance.
Such easy integration of 3rd party platforms through the PointClickCare marketplace facilitates providers to level up the senior care operations beyond the limitations of PointClickCare EHR's native features.
What are the benefits of PointClickCare marketplace listing?
Competitive edge: Let users (and your competitors) know you as the best healthcare digital solution because of your product listing on Canada's top EHR.
Market share: More than 21000 senior care providers across Canada use PointClickCare EHR. So, you can gain greater market exposure by putting your product in front of your new target audience.
Customer loyalty: Help senior care providers to solve age-old clinical and administrative challenges and in return, earn rarest customer loyalty.
Growth: Introduce your product to the right audience, connect & collaborate with LTC homes, nursing homes, skilled nursing facilities etc and make extra revenue.
Types of healthcare digital solutions you can list on PointClickCare Marketplace
Technology solutions: This includes any senior care apps or digital solutions as well as connected hardware utilizing cutting-edge technologies.
Pharmacy solutions: This includes digital solutions around medication, billing and order management.
Labs and radiology solutions: This includes best-in-class solutions for labs and radiology results that improve the process and resident outcomes.
Service solutions: This includes any professional services to assist senior care providers in their daily operations.
What's the role we play for your max benefits?
We are an Ontario-based healthcare-focused IT company. And here is how we can help you.
If you already have a healthcare digital solution:
We'll collaborate with the PointClickCare team, fulfill all technical and non-technical requirements of marketplace listing and work closely with the PointClickCare team to execute the interoperability part successfully.
If you don't have a healthcare digital solution:
We accommodate healthcare app developers, designers, business analysts and compliance specialists who have a combined 150+ years of experience in building healthcare digital solutions.
So, with our expertise, we'll build a compliant healthcare digital solution and then list it on the PointClickCare marketplace as per requirements.
You must read: Nursing home software development guide to build best LTC home app
Check out some top listed apps/solutions on the PointClickCare marketplace
1) Skilled wound care
It helps senior care homes to enhance the residents' healing with the latest insights, surgical/visit notes, and recommendations from top-notch providers shared directly to EHR.
It also provides detailed documentation around dermatologic conditions and gastrostomy tube replacement.
2) Naveon
It enables providers to ensure the successful discharge of patients. Using it, patients, their family members and providers can begin discharge planning from day 1.
It keeps patients updated with accurate post-discharge information both in textual and video formats and connected to the care team in case of any newly emerged issue or just casual follow-up meetings.
Because of its easy integration with PointClickCare, providers can manage discharge and post-discharge workflows from the existing EHR itself which saves time and increases patient outcomes.
3) Jubo Health Technologies
Jubo Health Technologies provides a web-based engagement platform to streamline communication between care teams and family members of patients or residents.
It shows the health summary report of each resident to his/her family members in real-time. This health summary report includes temperature, blood pressure, oxygen level etc.
With its integrated family contact list, care teams can easily communicate with family members using any communication channel including WhatsApp, Facetime and even Skype.
4) Well IQ
Well IQ offers a patient feedback solution. Using it, providers can ask and collect feedback from patients/residents and their family members.
And since it is integrated with the PointClickCare marketplace, staff do not need to ask and collect feedback manually. All feedback given through Well IQ can be accessible through EHR itself.
The best part of Well IQ is that it creates reports based on collected feedback that lets care teams know some useful insights into what their patients and family members feel about them.
5) Dietary Manager Online
It eases every operation of the dietary department of senior care homes. It optimizes operations around catering, inventory and ordering.
Most importantly, it facilitates senior care homes to manage the food preferences of each senior and deliver food that meets the resident's preferences.
Some other features include,
Multi-user operations
Online training
PPD management
Dietary manager online-virtual mentor
Conclusion
We would like to make your experience on our site more knowledgeable, so here sharing some of our other valuable resources.