How To Launch a Healthcare App? Yes! We Launched 100+ Successful Healthcare Apps [The Secret's Out!]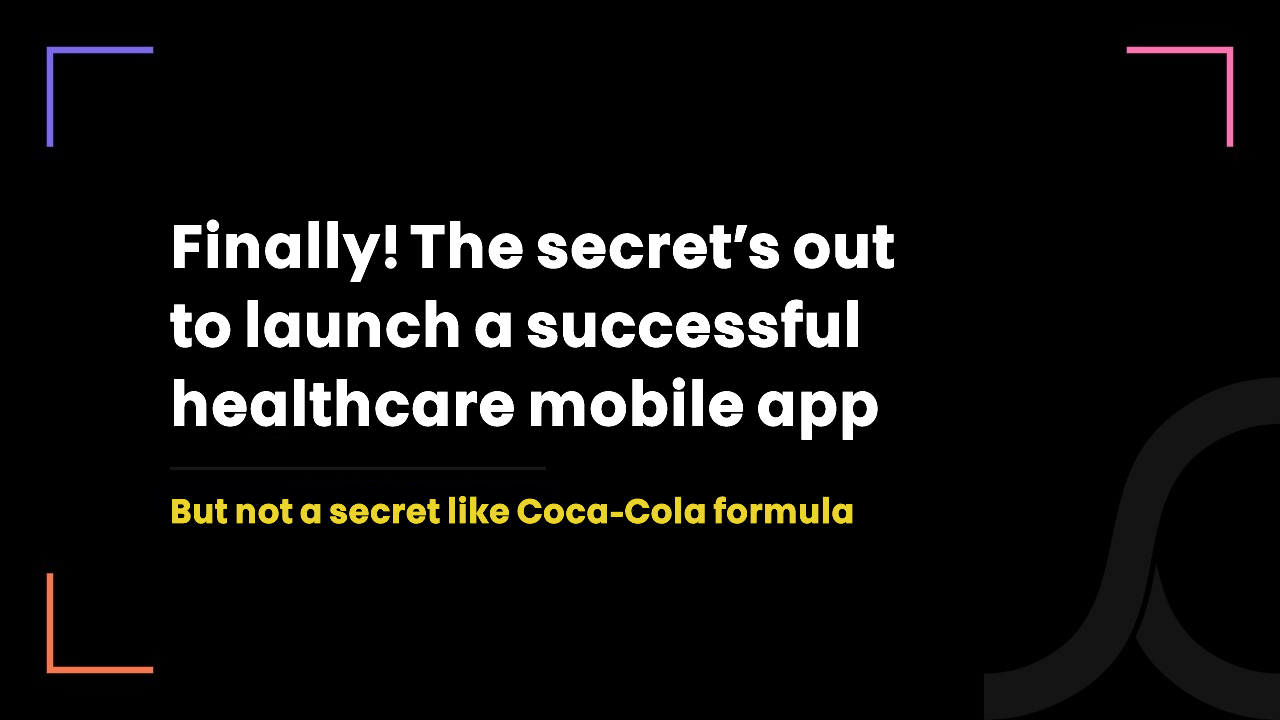 2 years ago
Let us take you out on a 'Launch Date'.
Throughout our decade-long journey into the healthcare industry, from being a startup to a globally renowned top healthcare app development company, we have come a long way.
We understand the most common dilemma of the healthcare app market is user competitiveness.
Thus, we developed a course of actions for not only launching a healthcare app but also the after and before, Do's & Don't in a healthcare app launch by providing solutions as quickly as possible with viable resources.
Understanding the giant app ecosystems in the healthcare market we have compiled steps and measures you can take to launch your app on app stores.
Our other useful healthcare-focused blogs:
Not sure how to launch a healthcare app? Here are the pointers you should consider before launching one
Well, it is not a secret anymore so no need to shush!
Get on board, if you are planning to launch your app in the healthcare industry.
1. Understand healthcare market downright
According to IQVIA, there are now over 318,000 healthcare apps across app stores worldwide. With each day 200 apps getting on the market, the competition becomes more intense. Thus, acknowledging your domain can help you stand out in the face of fierce competition.
2. Emphasis on social media
Healthcare is a niche, yet a huge market with a huge user base. Social media platforms can act as tools of creating awareness and build a user base using media outreach methods and gain momentum on social media, execute targeted ad campaigns and other marketing activities.
Because whether you are a healthcare provider or consumer everyone uses social media.
3. Create a base of operations
You need a place from where you can run the launching operations. We know it sounds like conducting a spec-ops mission. But, what we are simply trying to say is to build a healthcare website that has information regarding your app.
With this, you'll be able to attract more users while also assisting your current user base with their difficulties and questions.
4. Choose the platforms
So you are all set with a solid online presence. Now you have to decide on which platform you want your app to be launched on. With healthcare companies like us, you can have a sound app launch strategy. Because we also perform extensive market research on your behalf.
5. Advertising campaigns
We advise before your app goes live, promote it. With a well-curated marketing strategy circling your target consumers, you will have a few users interested in your app even before it is launched.
Checklist to follow when you launch a healthcare app- The 5 steps to success
1. Get the graphics gun locked and loaded
For you to launch a healthcare app successfully on the App Store or Play Store, you need visually engaging images. Make sure your healthcare app has been made on a visually soothing colour schema desirable for healthcare apps. This visual engagement with users will gain you an initial boost.
2. Testimonials & feedbacks
Make sure to add testimonials in your app's description in the app stores that you collected during the pilot run of your app highlighting how useful the app is. This will build trust among the visitors who can turn into potential users.
3. Make an audiovisual effort
As we said earlier there are thousands of healthcare apps available on app stores worldwide and locally. So, what makes your healthcare app different from the others?
Adding a video demo of explaining app functionalities with clear communication through this marketing strategy to users in real-life situations, can give you the edge over others in the market.
4. Content creation
Unlike Madara Uchiha, this is the power of your creation. Start creating blog posts, landing pages, guest blogs from the healthcare sector individuals to get to your ideal users. And once the release date is decided you can target your actual and potential users with this marketing strategy.
5. Get your app noticed
Using features like App Store Optimization (ASO), get your healthcare app noticed in the app stores you've chosen for it. The greatest strategy to follow is to tailor your app title using relevant keywords.
The after-care for launching a healthcare app successfully
Everything fell into place. You got your app live on the app stores. Does that mean you are done?
No. There are a couple of things that you need to do even after the launch.
1. Track app performance
You will need to constantly monitor your app and optimize it to deliver an involving user experience throughout. By regularly assessing app ratings and analytics you can keep track of the healthcare app's performance.
2. Boosting engagement
By using strategic social media marketing, hosting events, running targeted ad campaigns, collaborations with the target users you now need to push your focus towards attracting new users by ongoing engagement and campaigns to get more and more downloads.
3. Get feedbacked
Regularly go through the review sections, ask your known to give insight, and have the app reviewed by those closely working with healthcare like clinicians, nurses, and caregivers.
Gaining this feedback will not only help you improve app functionality but also with ideas for features you can add to your apps. Because you now understand the target users and their trouble points.
4. Regular updates
There's always room for improvement. And if you don't do it, someone else will. In the face of fierce competition in the healthcare market, you need to bring changes in the form of updates in your healthcare app. It can be new features, new UI/UX for current users, or having promotional offers.
You don't want your app to be obsolete, do you? Then what are you waiting for to get in touch with us for the best healthcare app development experience with a guarantee to launch your healthcare app successfully?
This is how we do it! Hold tight… the secret's out
Working with the healthcare-specific industry and clientele, we have successfully delivered 100+ healthcare apps and we know launching a healthcare app is not exactly a piece of cake because we develop them as well.
So with the help of our team of experienced, expert, and very talented developers, managers, specialist in-house compliance consultants we have developed the methodology with which we deliver and launch a healthcare app successfully.
We began with discussion as you approach us with your app idea and within 2 working days, you get a ready proposal.
Discovering the prospects and making a contractual deal we assign you a team of experts as per your healthcare app requirement.
As the dedicated team of experts move towards the designing phase our in-house compliance experts make sure your healthcare application is up to the HIPAA, PHIPA, and PIPEDA standards. The compliance consultancy is included in your development package, don't worry.
As we move forwards with sprint planning and workflow management our developers using clean code architecture develop your application according to the HL7 FHIR standards.
As expert QA testers, we put up servers and test your application for quality assurance through various tests. Providing user training to you we launch a pilot and right after fixing errors in the current version.
Your app is all ready to launch. But wait! Our relationship just doesn't end here, we provide continuous development, enhancements and regular bug fixes.
So if you feel that we can help you out with your vision to launch a healthcare app successfully. Just give us a call or drop your inquiry and we'll get back to you promptly.