Setup Microsoft Teams in long-term care homes with Microsoft Teams training and hardware support to reduce administrative burdens and promote collaboration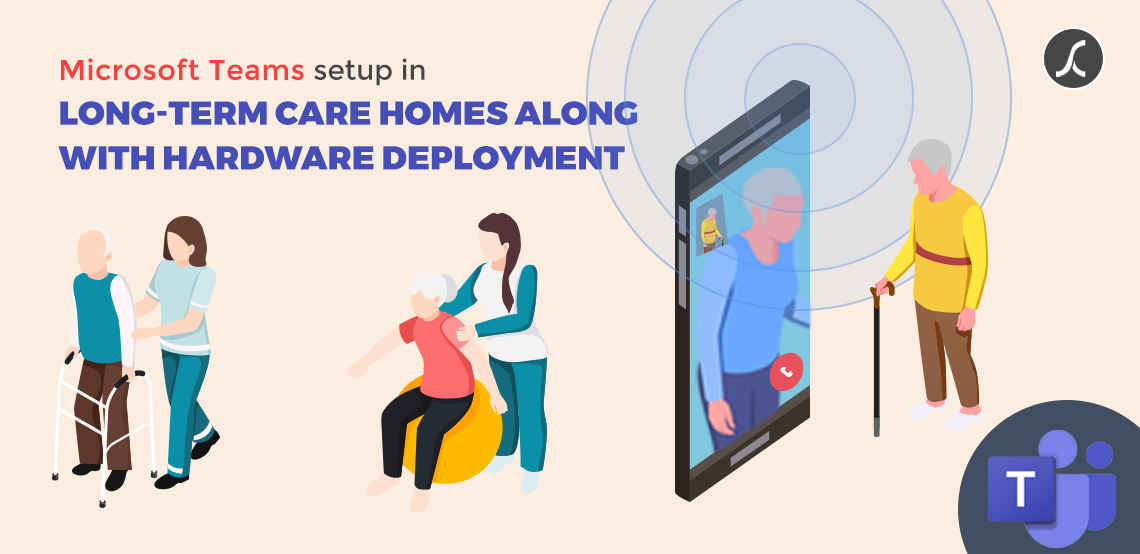 4 years ago
It is heartbreaking to read the news that close to half of the coronavirus-related deaths the Canadian government is tracking are linked to long-term care homes. Healthcare workers working in LTC homes are pushing all boundaries to provide effective healthcare services to residents. But since they are overburdened and lack many crucial resources, they simply cannot treat all residents having infection effectively. 
However,  by quickly implementing technologically advanced solutions, LTC homes can reduce administrative burdens and free up hours for LTC home staff members which they can utilize in resident care.
In this blog, we will discuss one such purposeful solution - Microsoft Teams. 
In this blog, you will get to know,
What is Microsoft Teams? 
Microsoft Teams is nothing but a cloud-based team collaboration software and a part of the Office 365 suite of applications. Business messaging, calling, video meetings, and file sharing are the major challenges it solves. The best thing about Microsoft Teams is that businesses of all sizes can employ it. 
Microsoft Teams was launched in 2017. But soon, it will replace Skype for Business as Microsoft has been rolling out features of Skype in Microsoft Teams for the last few months. 
Microsoft has also been adding many new healthcare-specific features in Microsoft Teams. In fact, Microsoft has successfully implemented many groundbreaking features in Microsoft Teams which make it the perfect tool to use in LTC homes or any other healthcare organization during and beyond COVID-19.
Microsoft Teams healthcare-specific features 
During the healthcare crisis like COVID-19, how fast and safe healthcare professionals can save & access information, call, collaborate and streamline workflows defines how successfully an LTC home is combating the healthcare crisis. 
The healthcare-specific features of Microsoft Teams enable LTC homes to combat COVID-19 situations resourcefully. The following are the top Microsoft Teams' healthcare-specific features. 
Care Coordination - Microsoft Teams Patient App

 
Microsoft Teams is now armed with a care coordination solution that helps healthcare organizations including LTC homes provide the best resident care. Using the Fast Healthcare Interoperability Resources (FHIR), Microsoft Teams patient app integrates with Electronic Health Record (EHR) systems. This integration brings valuable medical information into Microsoft Teams which enables Care Coordinations. 
Microsoft Teams Patient app lets physicians, clinicians, and nurses curate a list of high-risk residents and fetch all their details from the EHR system. The patient app adds many features to Microsoft Teams. 
Create multiple patients or resident lists within a single channel 

View and sort patient information 

Audit Logs for all view and search actions
Templates
Microsoft Teams now allows admin to create teams by applying different templates of settings, channels, and pre-installed apps. This feature helps LTC homes leverage teams effectively. As of now, Microsoft has launched two templates. 
Ward template:

Used to streamline patient/resident management and operational needs of the ward or department. 

Hospital template:

Used to establish collaboration and communication between wards. It includes many operational channels like Announcements, Custodial, and Pharmacy.
Secure Messaging 
Different care teams can chat within the team or to different teams. In fact, Microsoft Teams' chat module accommodates many disruptive features that are rare in others. 
The sender can set a special priority for the messages he sends. Because of this feature, the recipient gets reminders of sent messages until he reads the message. 

The sender can enable 'read receipts' so that the sender gets a notification when the recipient reads the message. 
Together, these features are very purposeful to establish quicker attention to important messages. 
Smart Camera Optimization

 
Physicians can take photos on their smartphones and upload them to healthcare apps through Microsoft Teams. Microsoft Teams can crop this uploaded picture automatically and smartly to showcase only needed data. This feature saves time and effort. 
Schedule Management Tool
Generally in the LTC homes, management teams keep changing the shifts or schedules of staff members from one week to another week. In such a 'working environment', management teams find trouble to create & broadcast weekly schedules and staff members find trouble to remember their shifts. 
Microsoft Teams eliminates this challenge with a schedule management tool. This tool makes it easy to create schedules for management teams and track the schedules for staff members. 
Microsoft Teams usefulness in LTC homes during COVID-19 and beyond
If you are planning to deploy Microsoft Teams in a long-term care home, the following are the top reasons why it is a totally safe bet, especially during COVID-19. 
Microsoft Teams allows healthcare professionals working in LTC homes to send messages, capture & share images, and relay urgent information. It facilitates healthcare professionals to provide care even when they are not physically present in the LTC home. 
One hub to coordinate resident care

 
Microsoft Teams fetches resident data in real-time through the EHR system and enables healthcare professionals to communicate resident updates through one hub. This is the game-changing ability of Microsoft Teams which reduces the efforts and time of healthcare professionals during the most challenging time of their life. 
During this ongoing crisis, when many healthcare professionals cannot conduct daily in-person meetings, healthcare professionals can seamlessly conduct audio or video meetings with anyone inside or outside of LTC homes through Microsoft Teams. 
Administrative workflows simplification 
In the current situation, it is crucial for LTC homes to reduce administrative burdens to free up hours for resident care. By using Microsoft Teams, the management team can create schedules and share announcements across the LTC home to keep everyone updated with the latest updates.
How to set up Microsoft Teams in long-term care homes? 
Setting up Microsoft Teams in long-term care homes is undoubtedly the best decision you can make considering the challenges COVID-19 has evolved with. 
However, Microsoft Teams isn't a plug and play solution. It requires a customized configuration, integration, staff training, and of course hardware devices. Thus, it is a rational idea to not shoulder additional burdens. Instead, hire experts to set up Microsoft Teams professionally within a few hours. 
SyS Creations is the Ontario-based top IT consulting and development firm which has developed and deployed its own Virtual Healthcare Solution to many LTC homes.

With an aim to save LTC homes' time, costs, and efforts, we help them plan, configure, and deploy Microsoft Teams. We even provide staff-training to navigate new technology and hardware support to buy, install, and configure hardware devices such as tablets, tablet mounts, tablet arms, styluses to run Microsoft Teams while following LTC hygiene policy. 
You can schedule a one-on-one virtual meeting with our expert to share your requirements and get an instant quote.