How to Start an Online Pharmacy Business in the USA? A Comprehensive Guide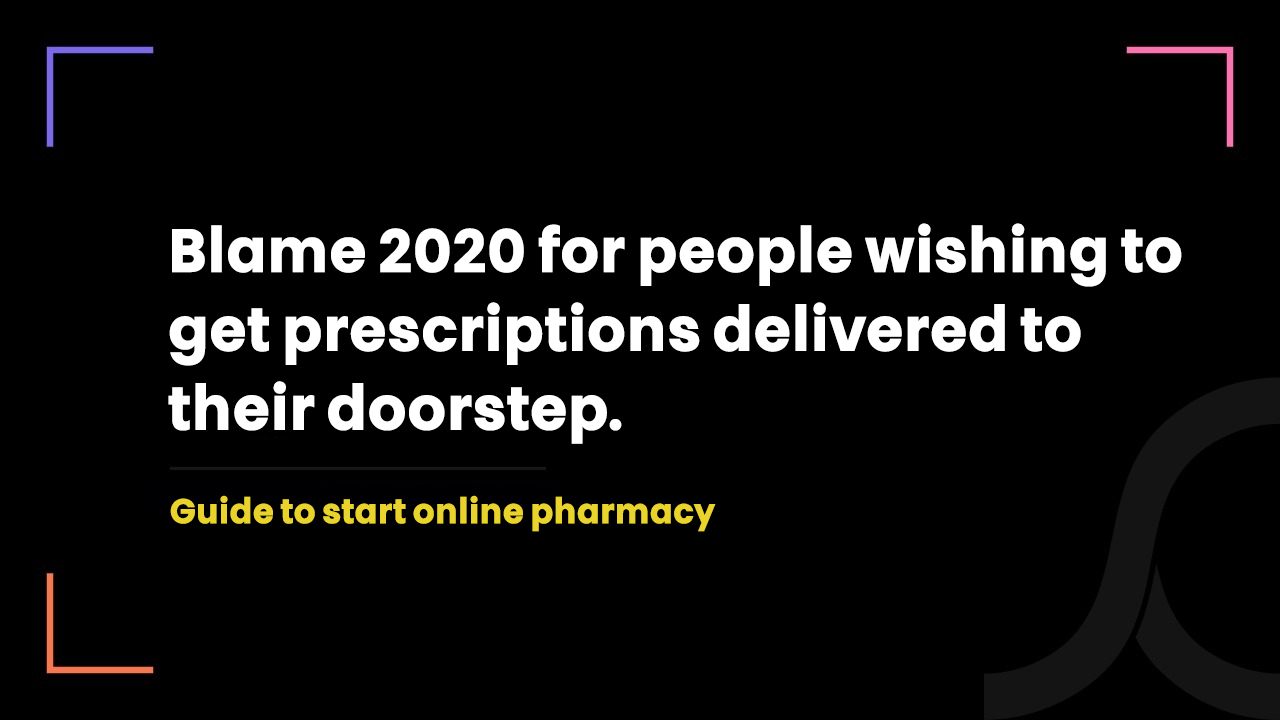 2 months ago
It has been more than 8 years since we first helped a US-based pharmacy business go online successfully.
And there is only one major change we've witnessed in these 8 years.
Then - only a few were planning to start an online pharmacy business in the USA to revolutionize the industry.
Today, all pharmacies are going digital.
The reason is a multi-billion dollar market!
For example,
The US online pharmacy market was valued at $51.8B in 2020 and is expected to reach $145.8 in 2026.
So, if you are planning to start a pharmacy business online in the USA, this blog is for you.
How to Start an Online Pharmacy Business in the USA?
Starting a pharmacy business online is not rocket science.
You just need to tackle its 3 important aspects – business, technical, and compliance.
To help you get through it smoothly, we have done thorough research on top online pharmacies in the USA.
We have identified all their moves and created a comprehensive strategy for you.
Let's explore each of them.
Your Business Strategy Needs to be Customer-Centric
For online pharmacies, the most profitable business strategy is – to focus on the customers.
If you crack it right, there's nothing in this world that can stop you from being the next Walgreens or CVS!
So, here is what you need to do to achieve it.
1. Offer every small product related to healthcare (if it is feasible for you)
If we see, online pharmacies are not just limited to one or two segments anymore.
They are selling almost everything.
Meaning, that you have to pay attention to – health, wellness, and fitness solutions.
This will help you gain more customers and generate more revenue from your online pharmacy store.
2. Provide ePrescription solutions
There is nothing that can beat this business strategy.
Because it is a convenient solution for your customers.
For example,
To purchase specific products, patients will be required to submit a prescription note.
However, sometimes, patients don't have a prescription note during the purchase time.
But if you offer ePrescription solutions, they will be able to connect with the healthcare provider over in-app chat and get the prescription note via SMS and email – in the form of PDF.
This approach will improve the customer experience along with helping you gain more revenue.
A Futuristic Technical Approach is a Key to Perform Beyond 2030 
Now it's time to build an online presence.
And this is one of the crucial steps.
Because there is no meaning in having a customer-centric business strategy when your pharmacy store doesn't have a powerful architecture.
In other words, you have to build a robust, scalable, and secure online presence.
And there are two options for it.
Online pharmacy mobile app
You can develop either one or both.
Because in the end, it depends on your requirements and capital to invest.
However, if you want to survive in the shifting healthcare market, you should hire healthcare-specific developers over non-healthcare developers.
And Remember, Don't Ever Forget to Address Healthcare Compliances! 
Addressing healthcare compliances is the major challenge you will most likely face while starting an online pharmacy in the USA.
Because an online pharmacy gathers, saves, processes, and shares crucial personal information of the patients. 
Thus, both the federal government and provincial governments have imposed many healthcare laws governing your activities with the data of patients.
If your online platform or app does not comply with these laws, you can be liable for a very hefty penalty.
The fact that makes the situation more severe is the fact that there are different healthcare laws in different provinces.
For example,
HIPAA applies to your online pharmacy app in the USA.
But in case, you also want to enter the Canadian market (which is booming right now), PIPEDA applies to your app at the federal level. 
This is why it is crucial to hire an app agency that has mastered healthcare laws and all technical, business, and operational regulations. 
Okay. So, How Does an Online Pharmacy App Work?
Online pharmacies in the USA deliver several value propositions to customers.
These value propositions include easy prescription filling, transfer, & refill, live tracking of the order, doorstep delivery, and virtual consultation with a pharmacist or pharmacy technician. 
However, to deliver such value propositions, you will require an online platform - be it a website or a mobile app.
Here is how an online pharmacy app workflow looks like.
What are the Types of Online Pharmacies You Can Start in the USA?
To start an online pharmacy business, there are major 2 types.
1. Digital/Online pharmacy with brick-mortar store
Here, a pharmacy store having a physical presence is selling medical supplies and drugs online through a mobile app or website.
In which, customers have three options,
Order online and get it delivered to the doorstep
Visit the store to pick it up from the pharmacy store
Costco Pharmacy is the best example here.
2. Digital/Online pharmacy with no physical store
Here, customers can only place online orders.
The pharmacy fulfills its orders from its dispensary centers or through its partnered retail pharmacies.
New startups entering the pharmacy industry should adopt this model due to low capital cost requirements.
PocketPills is the best example here.
Check Out Canada's Most Popular Online Pharmacy – Costco Pharmacy 
Costco Pharmacy is one of the largest and most popular pharmacy retailers in Canada.
Though it has many brick-and-mortar stores in almost every major city in Canada, it offers a mobile app to order prescriptions online. 
Through its app, Costco Online Pharmacy offers 3 ordering options.
Customers can share new prescriptions or ask their physicians to share them with Costco. 
If customers have filled prescriptions at another pharmacy, customers can easily transfer them to Costco pharmacy. 
Customers can re-order the existing prescription.
Expert Advice: Integrate Telemedicine Features into Your Online Pharmacy App 
Your customers would appreciate it if they could receive physician consultation, ePrescription, and medicine delivery from a single source. 
This will not only deliver an excellent customer experience but double your customer base and revenue streams.
A telemedicine feature in your pharmacy app enables your customers to talk to licensed physicians remotely and rapidly.
Licensed physicians can also write ePrescriptions which the app automatically shares with your pharmacy to fill and make doorstep delivery of prescriptions.
The telemedicine feature is also helpful to pharmacists to solve questions of the customers and guide them on medications.
PocketPills also offers telemedicine service through its platform.
The following are some of the screenshots of our white-label telemedicine app.
Why was it the Need of the Hour for Pharmacies To Go Online in 2022? 
Imagine a scenario.
You visit a restaurant where the chef himself comes to you to take a food order and asks - on a scale of 0-10, how spicy food would you like to have?
You get impressed.
Because this is new for you. 
Knowingly or unknowingly, he set a standard within you.
He presented you with the real way you deserve to be treated in the restaurant. 
Now onward, whichever restaurant you visit, you wish to be either treated the same way or in a better way.
The same happened with the people in 2022.
A few apps that deliver groceries, flowers, and food to the doorstep of the people set the standard for affordable, rapid, and convenient product delivery. 
These apps left a game-changing impact on people's buying behavior.
People started counting the time & money their visit to the nearest store would waste. 
They started looking for apps or websites to fulfill all their needs - even medical needs - from the comfort of home.
The market scenario is so profitable that even Amazon and Uber rolled out digital pharmacy services.
This means it's a fruitful business opportunity to start an online pharmacy business in the USA, Canada, and beyond!
Amazon Pharmacy launches, letting customers order prescriptions online https://t.co/N57uFCRZMz

— CNBC (@CNBC) November 17, 2020
How Much Time and Cost Does It Take to Start an Online Pharmacy Business in the USA?
To be honest, there are no fixed numbers.
Because it totally depends on your business, technical and compliance needs.
Also, a pharmacy app development process is not just limited to the coding part.
Several other crucial processes play a significant role in it.
It includes – discovery, documentation, UI/UX design, compliance audit, QA testing, usability testing, penetration testing, and maintenance.
And without knowing your exact requirements, we don't want to give you any random numbers and mislead you.
So, the most feasible solution here is – to tell us your unique requirements and we'll create and share a personalized quote with you!
But who are we?
We're Ontario-Based Health Tech Experts, Worked With 20+ Pharmacies, and Have In-House Compliance Experts! 
For the last 8+ years, we've been investing our 8 hours a day in the North American healthcare sector to make it more accessible and affordable.
We accommodate app developers, app designers, business experts, and even healthcare compliance experts. 
We don't just develop the app.
We develop an app, carry out compliance audits, carry out PIA & TRA, and eliminate all security risks.
That's our promise that you will receive a compliant pharmacy app. Because that's how only we work!
Most importantly, we are clever enough to integrate Kroll pharmacy management solutions into your app or platform.
If you still have uncertainties, check out our 2 most epic case studies:
Let's talk. We won't waste your time!