Build Teledentistry App to Start Virtual Dental Care in 2023 [Custom & White-label Solution]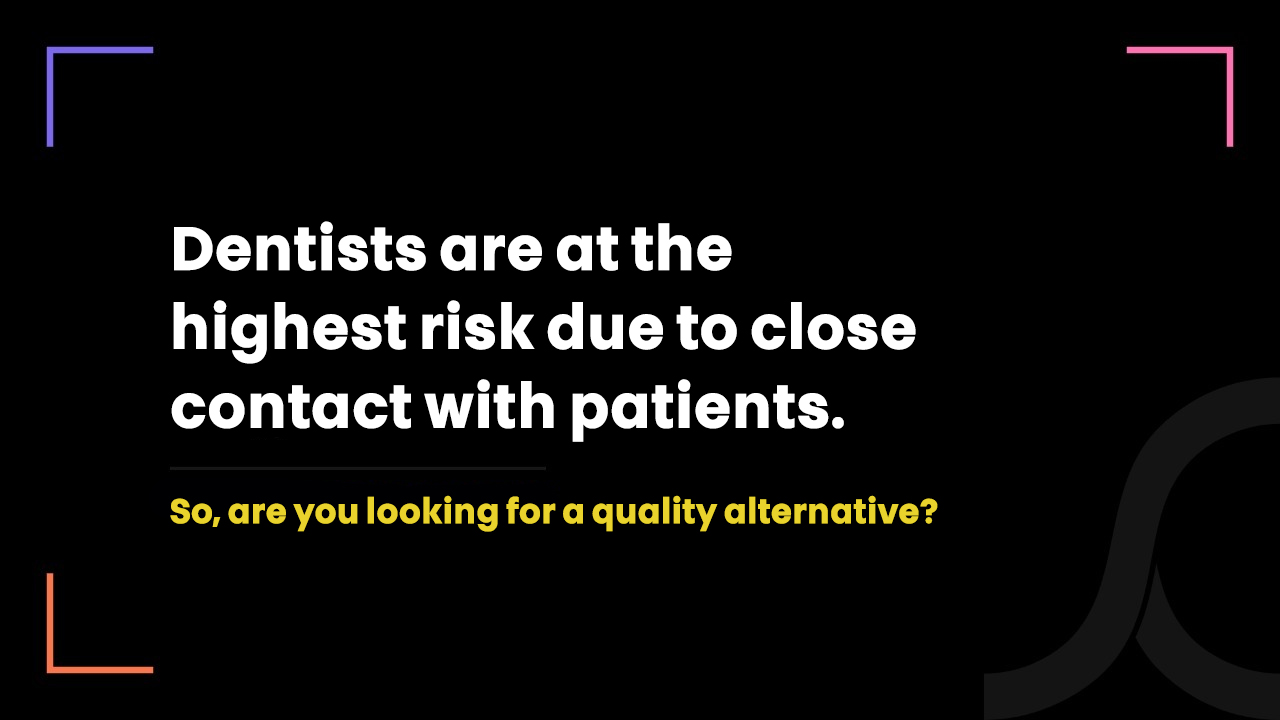 3 months ago
The Teledentistry app has enormous potential to
Help you scale your dental care practices with ease
Help you improve patient care outcomes and experience
Help you acquire more revenue with high ROI
And if you are looking for the same, this blog is for you.
We have created a detailed guide to custom dental app development if you want to build a teledentistry app from scratch.
But in case you have less time to window and low capital to invest – we also have a perfect solution to it.
Just scroll the blog till the end, we have shared live demo links to our white-label teledentistry app!
A Quick Guide to Build a Custom Dental App
We have been performing healthcare mobile and web apps for 8+ years.
Till now, we have successfully delivered more than 200 healthcare-specific apps including teledentistry.
Here is the 17-step process we execute to build a custom healthcare app.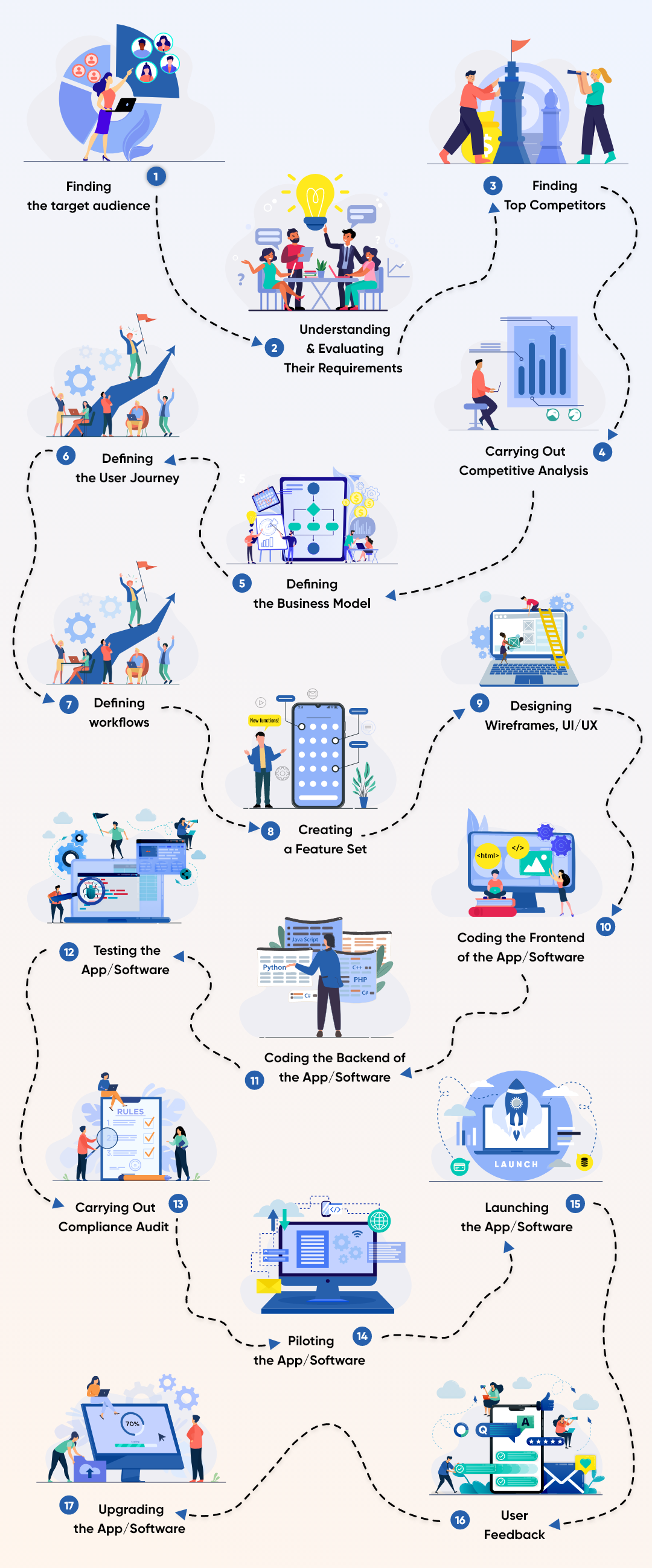 A Complete Workflow of the Teledentistry App that You Should Consider for Custom Dental App Development
Your app workflow is very crucial.
Because it'll define how simple your app navigation is.
To achieve a simple, yet meaningful workflow, the following is a detailed guide to it.
1. Online dentist appointment
Patients can book an online dentist appointment from the telemedicine app or software, without calling anyone. 
Dentists or caregivers can book the appointment on behalf of the patients.
2. Patient onboarding
On the scheduled time and date, the patient gets a reminder for a virtual dental consultation.
In his appointment dashboard, the patient finds a pre-visit medical test uploaded by the dentist.
Once the patient fills in his medical details, he or she can connect with the dentist over a video call.
3. Online consultation
The dentist and patient can talk via secure video call, chat, or voice call. 
The dentist can ask patients to upload pictures to examine the oral issues easily.
The dentist has easy access to patients' medical historic data, thanks to pre-visit medical tests and EHR/EMR integration with teledentistry solutions.
The dentist can write the medical note simultaneously - which gets saved automatically under the patient's profile.
4. Medical and lab referral
If specialized care and lab testing are required, dentists can refer patients to labs, secondary care providers or hospitals for more specialized care.
Here, the app reduces burdens for dentists by auto-filling 80% of details in referral notes and ensuring it is error-free.
5. Prescription
The dentist can explore the drug directory and write the ePrescription for the patient from the app itself.
The app generates the PDF version of the ePrescription and saves it under the patient profile.
The app shows patients the list of nearest or partnered pharmacies and asks patients to select a preferred one.
Once the patients select a pharmacy, it asks patients to select between 'home delivery' or 'pick up'.
Once selected, the app automatically sends an ePrescription to the pharmacy and the patients get a notification when the medicines are ready to pick up or delivered at the doorstep.
6. Billing & Reimbursement
Dentists can charge patients on the basis of pay-per-visit and the different fees for the first visit and follow-up visits.
With a built-in payment module, patients can pay the fee using several payment methods.
If a patient is insured under any private insurance (government insurance doesn't cover dental care), he or she needs to add insurance details.
The built-in billing module enables dentists to submit a claim to the insurer from the app itself.
Why Should You Build a Teledentistry App? 
There is not a single reason.
However, multiple factor showcase that developing a dental app for virtual care practice come up with several benefits for – patient, provider, and stakeholders.
For example,
1. Contactless and safe dental care delivery
Dentists have to check the patients very closely which increases the risk of transmission.
But in online dental consultation, there is no such thing as it happening entirely virtually.
Of course, dentists can't consult every patient online.
But a teledentistry solution surely reduces the patient footprint in a dental clinic which reduces the risk.
2. A more affordable care
Dental care in Canada and the USA is a high-priced healthcare service.
What makes it even costlier is the fact that primary dental care is not covered by government health plans in Canada. 
Additionally, during the pandemic, many dental offices are charging extra for disinfection measures and PPE.
But with dental app development solutions, there is no such extra cost.
Above all, it also saves traveling time and cost for both patients and dentists. 
3. The fastest access to care
Using a teledentistry app, patients can book an appointment within minutes and see the dentists without leaving home.
Such a care delivery method is game-changing for countries like Canada and the USA.
Because it has a large geographical area and not each area has high accessibility to healthcare.
The Biggest Challenge You Will Face On Your Way to Building a Teledentistry App in Canada and the USA is
Compliance with or addressing data privacy laws is the biggest challenge. 
Since a dental app or software handles crucial personal and medical information of the patients, there are many privacy laws applicable to it.
For instance, if you are running your virtual practice in Ontario, PHIPA applies.
Same way, in Alberta, PIA applies and at the federal level, PIPEDA applies. 
Meanwhile in the USA, HIPAA applies.
These laws have several technical and operational requirements that you have to address to be compliant with these laws. 
If you fail to comply with applicable privacy laws, you will become liable for a hefty fine.
Thus, it is very important to hire a local technology partner who has exceptional knowledge of data privacy and security laws.
Expert Guidance on How to Use a Teledentistry App for a Dental Practice in an Optimal Way 
There is one really bad thing about technology.
If you don't use it the right way, it won't benefit you.
So, while switching from in-person dental services to online dental services and beyond, there are some points that you have to consider for the outcome. 
The Royal College of Dental Surgeons of Ontario has documented it adequately. 
So, we are just sharing the link here for your education.
Check it out from here.
About Connect2D Teledentistry and Opencare – Most Popular Among Canadian Dentists
Since Zoom and Skype aren't compliant with all Canadian data privacy laws and do not have dentist-specific features, dentists in Canada require dedicated software.
Connect2D Teledentistry is Canada's first dedicated virtual care software for dentists.
It connects licensed dentists and patients via secure messaging and video calling.
Talking about features, it surely lacks some of the features.
But the features they are offering are really valuable such as
We recently gave a prestigious place to Connect2D Teledentistry in our hand-picked list of Top 10 Canadian healthcare startups.
Talking about Opencare, is a dentist marketplace where patients can find the nearest dentists or dental clinics and book an online dental appointment. 
So far, we have discussed teledentistry software.
Now let us explain how we can help you build a dental app in Canada, the USA and beyond!
Who Are We? How Qualified Are We to Help You? 
We are an Ontario-based team of healthcare app/web/software developers, designers, business analysts, and compliance specialists. 
Yes, we are healthcare-specific and we only think, talk, brainstorm, perform and deliver health tech solutions.
And that's why there is nothing in healthcare that is impossible for us! 
We have worked with healthcare professionals, startups, enterprises, and organizations (even government agencies) and solved their rarest challenges with our expertise in healthcare IT. 
We provide comprehensive solutions for – IT consulting, telemedicine and other healthcare app development, healthcare software development, health tech integration and even assist with compliance.
Check out our epic case studies to validate our master's. 
Case study 1: How did we build a HIPAA/PIPEDA-compliant telehealth app? 
Case study 2: How did we execute PIA on a healthcare project?
Case study 3: How did we eliminate 47 security issues from a telehealth app?
We Can Integrate EMR/EHR With Your Telemedicine Software or App 
The EMR/EHR integration with the telemedicine app opens a wide range of possibilities for you – to thrive as a virtual dental care provider.
Because it offers,
Faster and easy access to patient data
Lowers the need of paperwork
Saves operational time and cost
You can integrate EHR/EMR such as Telus PS Suite, Oscar EMR, Accuro EMR, Cerner EMR, PointClickCare EHR, MED e-care EHR, EPIC and the list goes on and on.
Yes, We Only Know How To Develop A Compliant Dental App 
With our in-house compliance experts, we ensure your app follows all data privacy and security laws and has zero privacy vulnerabilities.
Once the app has been developed, we carry out TRA (threat and risk assessment) to find if there is any privacy gap, and once we know the privacy gap, we solve it!
This way, we avoid your visit to the office of the privacy commissioner!
We Can Develop the Following Types of Teledentistry App 
Based on different requirements and investment caps of dentists or healthcare startups, we provide different types of telemedicine solutions.
1. Custom telemedicine app/software
Here, we follow the complete app development life cycle and develop the product from scratch while addressing your unique needs and clinical workflows.
2. Clone telemedicine app/software 
We find inspiration from top telemedicine apps such as Maple, and Babylon and build telemedicine solutions similar to their UI and app features. 
3. White-label telemedicine web/app solution
We also offer a white-label telemedicine app.
Rather say, it is a ready-to-use solution for any type of virtual care service – including teledentistry.
It is developed by our 50+ healthcare-specific developers.
Moreover, it is compliant with all data privacy laws and equipped with all common and advanced features.
For better understanding, check out the real-screen images of our white-label solution.
(Please note: This is the common version. We will customize it according to your unique needs.)
1. Admin panel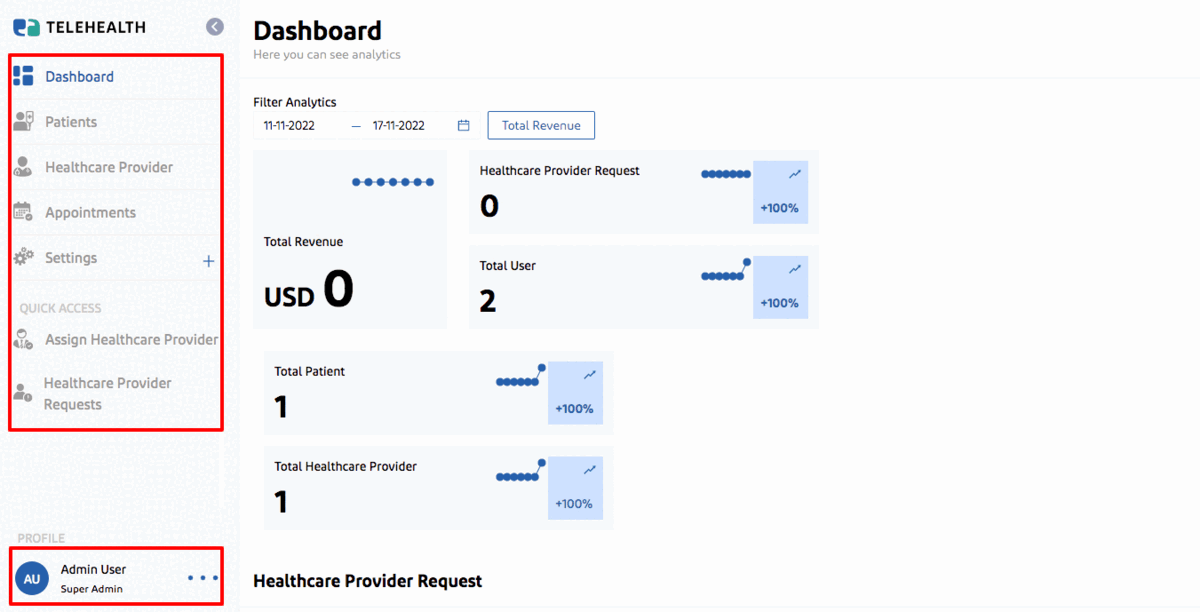 In which
Username: admin@admin.com
Password: Admin@123
2. Provider panel
3. Patient side panel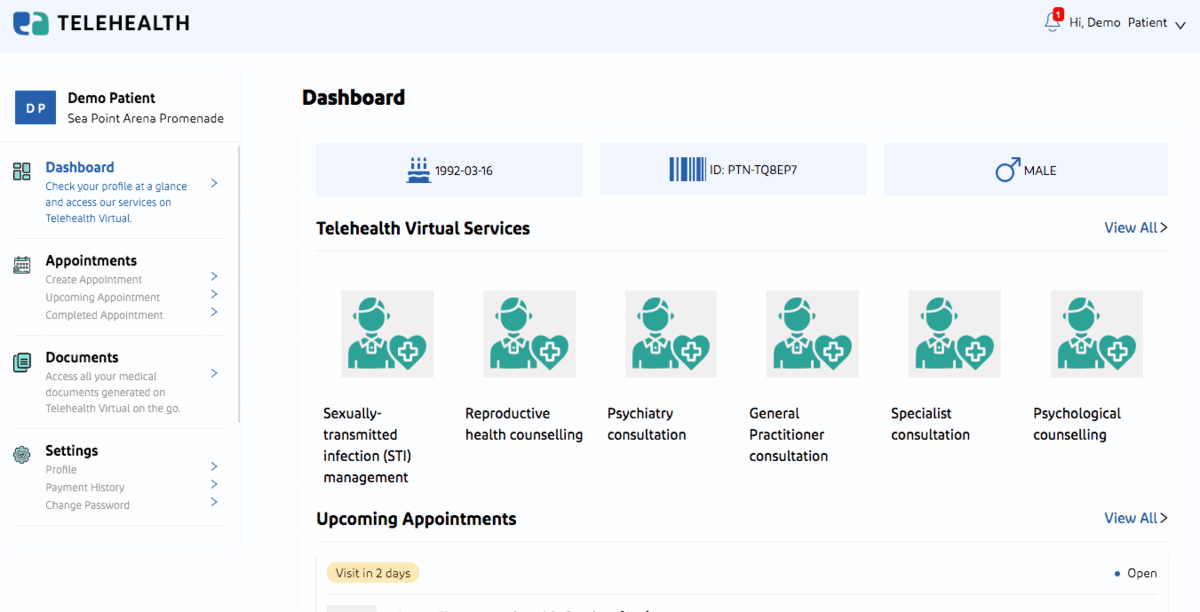 Here, the username and password are auto-filled.
A Few Things That Make it the Best Teledentistry App in the Market!
First thing, it is a ready-to-use platform.
Thus, you can avoid developing a dental app from scratch.
And if we calculate, you can save,
Apart from that, the following are other important things about it.
It is a HIPAA, PHIPA, and PIPEDA-compliant app.
Have an in-built ePrescription feature
You can customize it according to your unique needs.
You can also provide sick notes via email and SMS.
Seamless integration with EMR/EHR, LIS, HIS and IoT devices
HIPAA-compliant document storage
Isn't it the best along with the affordable teledentistry app in the market?