How to Build a Successful Telemedicine Clone App?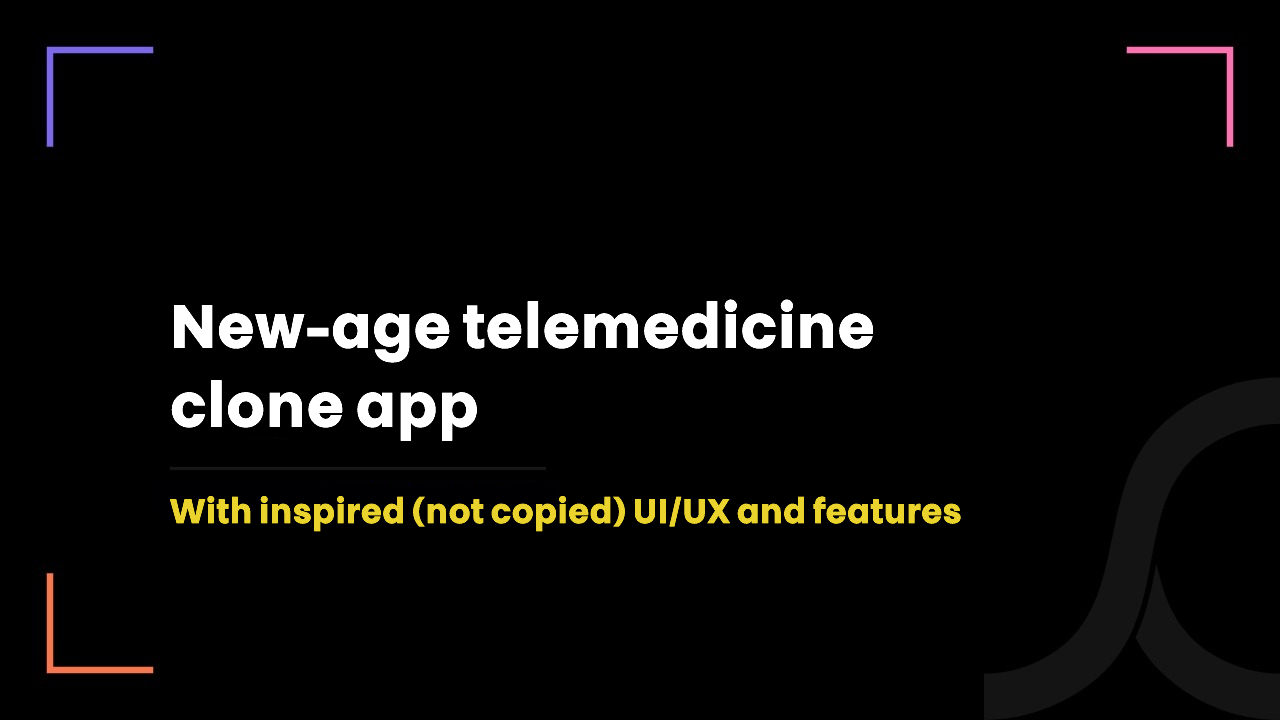 2 years ago
Do you know that the meaning of clone app development has totally changed in the last few years?
Nowadays, most app development companies' clone processes are simple – copy the entire UI/UX of the original telemedicine application and even its features.
We know that, for healthcare start-ups, clone app development is the best practice.
But in reality, it's no longer an ideal way to represent the unique concept of the healthcare service.
So, what is the ideal clone app development process? And how to build a successful telemedicine clone app?
Let's find out!
The real meaning of the clone application!
A clone application is not a copy of the original application but is inspired by the original app with some unique features and modified designs.
It is one of the most popular among start-ups and small enterprises because clone applications save a lot of time.
For instance, when it comes to telemedicine, it needs very in-depth market research as well as product planning and design, but a clone telehealth app can easily be developed by skipping those steps.
It also needs fewer efforts in the development process, features selection and design planning for telemedicine apps.
Simply, it allows you to launch the telemedicine app by saving your valuable time and money while not giving a cold shoulder to the user experience.
How can a doctor consultation clone application benefit you?
As we discussed, for healthcare start-ups, the clone app is the ideal way to launch the app without any hustle.
Apart from that, there are several benefits of using a clone app for the doctor consultation such as,
Custom application development requires a lot of time, money and effort. But, a clone application is much faster and more affordable than a custom app.
Because of the less time and effort, you can focus on other important things related to your healthcare services or startup.
The design and development process is inspired by the original app so there will be fewer bugs and errors.
It still allows you to customize the app design and feature as per your requirements.
On which basis should you select a telemedicine clone app?
Now we both know how a clone app can benefit your healthcare service.
However, below are certain possibilities that indicate you should choose the clone app over the custom app development.
When your investment cap is lower
You want a clone app for doctor consultation in a shorter time
When there is no need for custom or new features
When you just want to test your product in the market
If you are having the above requirements, the clone app is the perfect solution for your doctor consultation services.
So, is the clone app better than the custom app development?
Let's discover!
Clone app vs custom app development – which is better?
Several aspects show that both clone and custom telemedicine apps are a good choice but it totally depends on your goals.
Custom app development:
You have to go through an entire development process.
It's a long and time-consuming development process.
Needs a high investment
Testing of the custom app is more complex and time-consuming.
Needs a lot of thinking and research to create the ideal user interface (UI), business model and feature set as per the target market
Clone app development:
You already have UI/UX and feature set - inspired by the original app
In a clone app, a shorter time is needed to develop the app.
It is a more affordable solution.
There is the possibility that the clone app faces fewer UI/UX bugs as it is inspired by the original app.
It is the ideal choice when you only want to get the job done and do not want to bring some new concepts and features to the market.
In a sentence, if you want a cost-effective doctor consultation app in a shorter time, then the clone app is the best option for that.
Know how we are developing the clone apps for telehealth.
Our ideal approach to develop the telehealth clone app
"Over the next five years, consumers expect to make greater use of virtual healthcare opportunities".
That's the reason we are still doing the right and ideal way of developing the clone app.
Because we believe – "We must grasp inspiration rather than just copying".
With our telemedicine clone app development services, you will get,
The same concept as the original app but with improvements
30% to 50% of new features than original telehealth app
A fresh UI/UX that gives uniqueness
Future-ready tech stack
QA testing of clone app in the same way of custom app
Want help to build a telemedicine clone app?
"We chase perfection to become excellent! "
We are an Ontario-based healthcare IT company.
When it comes to healthcare IT, we have "perfection" because of our experienced team of healthcare professionals, UI/UX designers, web and app developers, business analysts, compliance specialists and QA engineers.
And we have achieved "excellence" by working 5 days a week for over 7+ years only on healthcare IT projects.
We help start-ups, clinics, hospitals, healthcare businesses and healthcare professionals to achieve their business goals with our healthcare IT expertise.
On a closing note, we would like to share with you our white-label telemedicine platform.