Telemedicine 2.0: How to Integrate eCommerce with Telemedicine Platform?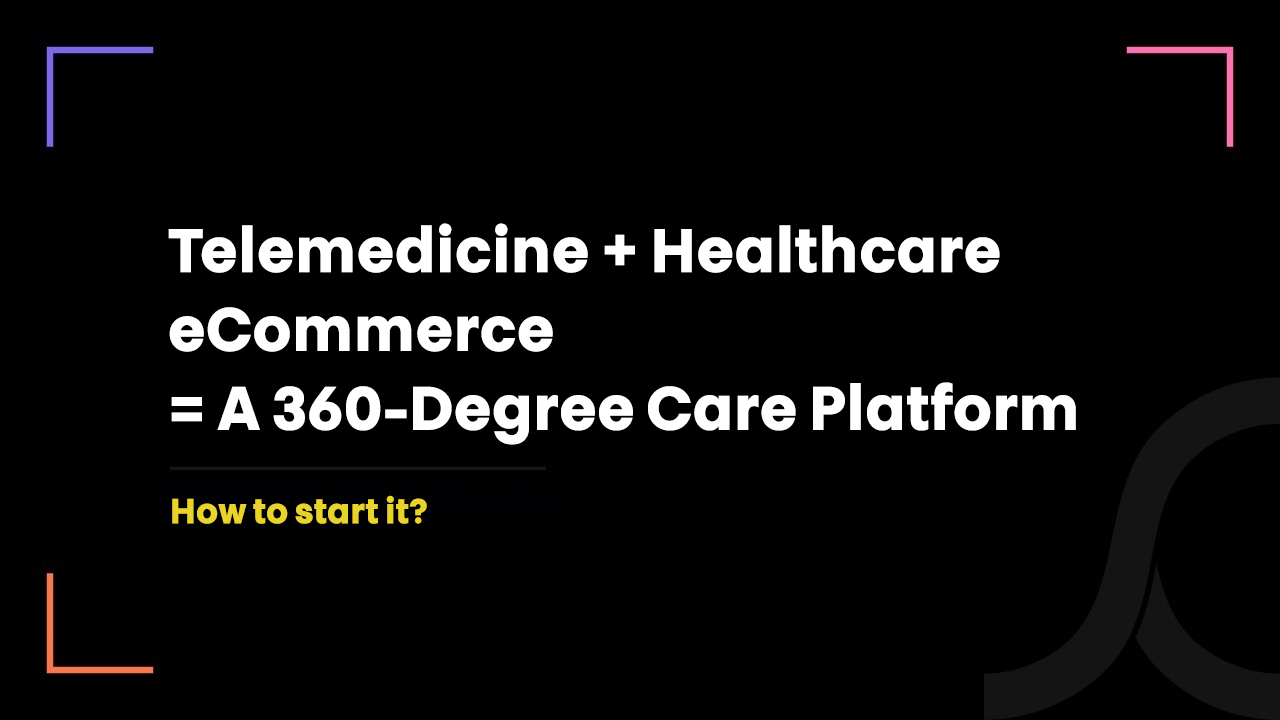 2 years ago
In 2019 - telemedicine was all about video calls between physicians and patients.
In 2020 - telemedicine was all about streamlining entire clinical workflows.
In 2021 - telemedicine is all about 360-degree care solutions including the supply of medical devices, drugs and wellness products!
But the question is,
How did telemedicine emerge from video chat to 360-degree care solutions?
Before we move forward, it is worth discussing what a 360-degree care solution means.
Unlike typical telemedicine solutions, the 360-degree telemedicine solutions enable patients to:
Book the virtual appointment
Get ePrescription
Get sick notes

Get drugs and wellness products from the same platform itself via built-it eCommerce features
This way, the 360-degree telemedicine solution or telemedicine eCommerce platform streamlines the entire care delivery process from appointment to prescription to even drugs and wellness products.
So, now when you know the concept of telemedicine eCommerce, let's discuss how it emerged from nowhere.
In 2020 - during the pandemic - people adopted telemedicine to a great extent and the telemedicine startup market heated up to its peak.
To survive the competitive market, many new and existing virtual care startups added several new features into their telemedicine products.
Things went so extreme that now there are many telemedicine apps with integrated eCommerce capabilities and people are loving it.
Because people don't just want medical consultation from a telemedicine app.
They want to purchase drugs and wellness products from the same platform with the same comfort too. 
Our other very useful and interesting research:
Hims and Hers is the best example of telemedicine eCommerce
Hims and Hers is the most innovative and strategically executed telemedicine startup.
Hims .Inc is a telemedicine company that runs two separate brands - Hims for men and Hers for women - for selling personal care products and providing virtual care.
It is the fastest startup to earn a unicorn status after a mobility startup named Bird.
One of the reasons why Hims and Hers earned the unicorn status is because it is not just limited to telemedicine.
It also provides healthcare eCommerce services from its platform. It sells several men's wellness and women's wellness products.
So, understand the whole strategy here.
A patient comes on your platform for virtual doctor consultation.
The physician assesses the patient and writes the ePrescription.
With this prescription, the patient goes to another online pharmacy or retail pharmacy to get drugs.
So, why don't you let patients purchase the drugs from your platform itself?
After all, users want that too. Because it saves their time and it is a much convenient option for them.
This enhances customer loyalty and generates one more revenue stream for you!
Hims and Hers is doing exactly the same thing and that's why they are a unicorn telemedicine startup!
You should read this: 5 Business Strategies of Hims and Hers 
How to integrate eCommerce with telemedicine?
When you integrate eCommerce with a telemedicine app, the app would have extra features that enable your users to buy the products you are selling through the app.
More particularly, your telemedicine app would get the following features:
Product filtering and sorting
Detailed product description
Product gallery
Shopping cart
Shipping address
Order summary
In-app payment
Live tracking
Wishlist
Loyalty program
Promo codes
Product reviews
To integrate eCommerce with telemedicine - you have two options.
You can either utilize a 3rd-party eCommerce platform such as Shopify or WooCommerce and integrate it into your app or integrate custom features.
To address your unique needs, support custom workflows and not put compliance-readiness at risk, it is advisable to integrate custom eCommerce features into your telemedicine app.
Most importantly, the 3rd-party eCommerce platforms do not offer you the eCommerce features you wish to add to the telemedicine app.
And here, you also need to pay the monthly fees to 3rd-party eCommerce platforms.
So, first paying app agency to integrate 3rd-party eCommerce platform and then paying monthly fees to 3rd-party eCommerce platform isn't the rational idea at all!
Instead, hire an app agency that charges you one time to integrate all custom eCommerce features into your telemedicine app while addressing all compliance requirements.
What can you sell online through your telemedicine eCommerce platform?
In addition to providing virtual medical consultations, you can sell the following medical products online.
Medical drugs (requires a prescription)
Medical cannabis (requires a prescription)
Over-the-counter pharmacy products
Wellness products
Medical devices
If you are planning to sell medical drugs - you must integrate Kroll with your telemedicine platform
Kroll is the most popular pharmacy management solution in Canada.
It supports e-refills, viewing medication lists, checking price after insurance, single-click patient data, drug details, drug inventory management etc.
To get instant access to these features and drug & patient data, you should integrate Kroll into your telemedicine app.
You should read this: How to integrate Kroll?
Get local Canadian tech help to build a telemedicine platform with eCommerce features
We're an Ontario-based healthcare-specific app development agency.
We have been proactive in the Canadian healthcare industry for 7 years and have worked with several healthcare providers including long-term care homes.
Telemedicine is our most trusted and well-explored expertise. We even provide a white-label telemedicine solution.
With our in-house compliance experts, we make sure we only deliver the compliant mobile app.
Because, as a Canadian company we understand the importance of compliance.
Here, we would like to share the case study of how we developed a HIPAA/PHIPA/PIPEDA compliant telemedicine app.
So, let's have a productive conversation where you share your requirements - we share our tech, business and compliance knowledge!