Get Kroll Integration Done Through Canadian Experts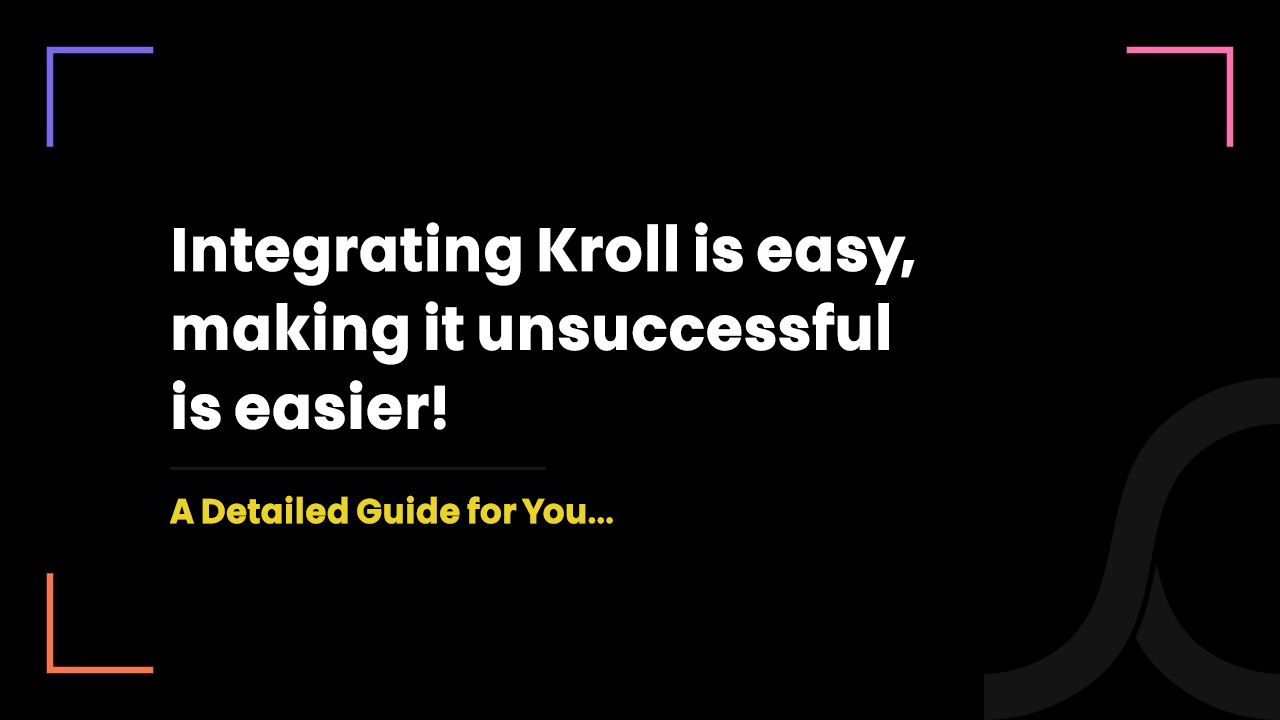 5 months ago
Are you already using Kroll? This blog is for you as well!
We're an Ontario-based healthcare-focused IT company that earned the ultimate expertise in Kroll integration. 
We are in fact capable of automating workflows in Kroll - so that pharmacies can save human costs and human errors.
Anyway, let's first start with the integration of the Kroll Pharmacy Management Solution.
Why should you integrate Kroll?
The short answer is:
Because it saves time, costs, and lets your team/users achieve productivity and manage workflows from your existing mobile app, website, platform, or system in the Pharmacy industry. 
The longer answer but more useful:
Kroll is the complete pharmacy management solution.
More than 90% of pharmacies in Canada are using Kroll Pharmacy Management Solution.
It supports e-refills, viewing medication lists, checking prices after insurance, single-click patient data, drug details, drug inventory management, etc.
So, if you are developing a digital product for pharmacies or for any healthcare provider who has to collaborate every day with pharmacies, you must integrate Kroll with your product.
Because it is not financially feasible to develop a feature set dedicated to your digital product which Kroll has been providing already. 
Our other useful resources on Kroll:
1) How to get patient data through Kroll integration?
2) Telus Health Kroll Consulting
3) Get started with Telus Kroll PharmaConnect
What will be the benefits of Kroll integration?
First of all, you will save a lot of development costs and time.
Because, if you don't integrate Kroll, you will have only one choice - develop features similar to Kroll by hiring a development agency.
And the development agency will charge you $100,000+ to develop pharmacy management features similar to Kroll and it will take them more than 4 months.
This is a major benefit:
The most significant benefit will be easy and direct access to Kroll's features and Kroll's drug directory.
In other words, your customers can utilize almost all pharmacy management features and data provided by Kroll from your app/website/platform/software.
For instance, if you fill a prescription on your Kroll software, it appears on your app as well.
And from the app itself, you and your other stakeholders can manage the prescription and other workflows.
What are the risks and how to mitigate them?
Yes, there are risks. After all, you are going to link two different systems with different technical foundations together.
Major risks are,
Interoperability is nothing but the ability of Kroll and your system to exchange and make use of information.
If your technical partner integrates Kroll into your system poorly, these two systems cannot share the information correctly. 
This way, your entire project faces a huge failure.
However, one can easily mitigate this risk if one has proven expertise working with healthcare systems and complex integration such as EHR integration and EMR integration.
Compliance and Privacy Issues
It is a big risk. Because, when you integrate two systems, you may leave many newly emerged privacy issues unattended and that will create legal trouble in the future. 
It affects your status of compliance readiness and you unknowingly trigger the close watch of privacy commissioners. 
The only way to eliminate this risk is to carry out compliance audits and TRA (Threat and Risk Assessment). 
The compliance audit validates whether you are following all technical and operational requirements of applicable laws.
Whereas, TRA reveals the privacy vulnerabilities your digital system has. Once you know privacy vulnerabilities, you can solve them to make your system secure.

There is another concept known as PIA (Privacy Impact Assessment) that reveals privacy issues your entire organization has. 
Healthcare data must be transmitted securely between Kroll and the digital product to prevent interception or tampering. 
The use of secure protocols such as HTTPS and SSL/TLS is essential to maintain the confidentiality and integrity of data in transit.
Regular data backup and recovery processes must be in place to ensure that data is not lost in case of a system failure or data breach.
This helps ensure business continuity and minimize the impact of any security incidents.

Is there any integration limitation in terms of supported systems?
No. You can carry out Kroll integration with any digital system such as a mobile app, website, or software including CRM. 
However, based on your integration target, the technical partner needs to change the integration process to meet interoperability requirements.
Can any developer integrate Kroll?
As we discussed earlier, there are risks associated with this integration.
So, only those developers who have mastership in mitigating those risks can be able to carry out the integration successfully.
Does Kroll provide its API access to everybody?
No. You have to go through a process to get API access.
Kroll made it mandatory for all to first submit the business case which the Kroll team later reviews and decides to give you API access based on your business case.
Is Kroll integration a one-time process?
Yes, if carried out successfully, it is a one-time process. However, it requires maintenance efforts. Thus, it is advisable to have a technical partner.
In case you face any technical trouble, you can contact your technical partner or Kroll team for assistance.
Get Kroll integration done with our dedicated Canadian technical experts
We follow simplicity because our excellence does not allow us to find complexity even in the most complex project.
Worked with 100+ Canadian healthcare entities as the local technical partner, we're now clever enough to deal with any challenge.
Kroll integration is one of our most tested expertise with many successful implementations.
We accommodate dedicated technical experts who have a mastership in HL7 and FHIR.
Just share the type of system you want to integrate with Kroll and we will do it for you.
#OnlyForKrollUsers
If you have a team working on Kroll, we can add extra 8 hours in their 24 hours!
Yes, by automating workflows on Kroll using RPA technology.
With it, the computer on which you have installed Kroll automatically performs all clicks within Kroll software and gets tasks done faster than ever!
This seems a fantasy, but at SyS Creations, it is called ability earned through knowledge!