Fruitful Business Opportunities with Virtual Nurse App or Platform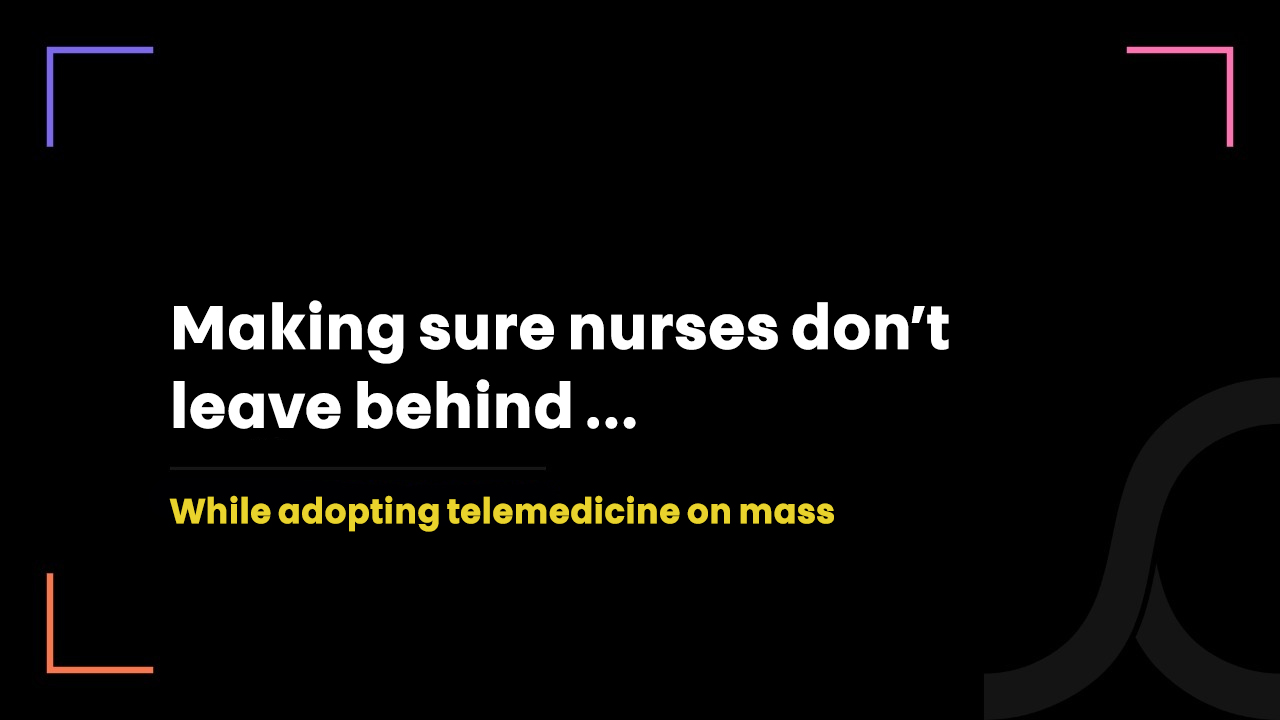 2 years ago
In the last one and half years - since the pandemic - we have discussed and implemented several use cases of virtual care or telemedicine.
But what we are most excited about is its new use case recently getting popular in the USA and the Canadian healthcare system.
Yes, it is nothing but virtual nursing.
Overview of virtual nursing
What is it?
With the advent of healthcare technologies and solutions such as telehealth and remote monitoring tools, care delivery is shifting to a virtual & remote approach - in which clinicians provide quality care online without being physically present at the patients.
However, when it comes to patient monitoring, nurses should be present at the patients to monitor the vital body signs of the patients, assess the current medical needs and assist patients in recovery.
With a virtual nurse platform or mobile app, we can let nurses carry out their clinical tasks remotely and virtually from their smartphones.
For instance, nurses receive vital body signs of patients in real-time on their smartphones.
They can even talk to patients using a secure video calling platform and answer their questions or refer patients to general practitioners, specialists and consulting physicians.
Virtual nurse platform is very useful to home healthcare service providers, hospitals and long-term care homes.
How does it work?
Virtual nursing can only be possible with a mobile or web-based platform which acts as the only medium of communication between nurses, patients and other clinical staff.
By logging into this platform, nurses can see a list of their patients along with clinical data of each patient as a virtual nursing platform is integrated with EMR/EHR.
By visiting each patient profile, nurses can view real-time as well as historic data of patients' vital body signs in graphical format.
They can talk to patients via voice call, video call or chat regarding their medical complications, recovery plan and any assistance. Eligible registered nurses can also write the ePrescription.
If a patient requires medical consultation, nurses can schedule his virtual appointment with the physician and make the physician aware of a patient's condition.
Benefits of virtual care nursing
Virtual care nursing is a new concept in healthcare. However, looking at its benefits, it will soon become a mainstream care delivery model.
Nurses can anytime know the vital body signs of patients from smartphones. And if they miss it out for some reason, they can easily get access to the historic data from a storage option.
If a nurse finds out the patient's condition is worsening, she/he can quickly schedule a medical consultation with a physician.
Nurses can answer all clinical and non-clinical questions of patients from their smartphones and even suggest the next steps in case of a medical emergency.
Nurses can communicate with patients & their family members and suggest steps or provide knowledge to recover quickly. They can also keep a track of patient recovery and update physicians for the same.
Building a trusting & respectful relationship
Nurses can build a trusting and respectful relationship with patients and their family members by being virtually connected to them every time. Many studies suggest that expressed emotion (EE) by nurses toward patients could have an effect on a patient's illness, with positive expression increasing the rate of recovery.
Fruitful business opportunities with virtual nurse app or platform
While our development team builds compliant healthcare solutions, our team of business experts always finds areas where a specific healthcare solution can perform profitably.
Following are the top business opportunities with a virtual nurse app or platform our business experts have discovered.
Selling virtual nurse platform as a white-label solution
Large hospitals, long-term care homes, home healthcare services providers and even clinics are empowering their nursing teams with virtual care platforms.
You can sell your virtual nurse assistant platform to them as a white-label solution.
Those who do not opt-in for custom development due to technical complexities and budget requirements can be your customers!
You can let healthcare providers use your virtual nurse platform by paying a fixed monthly fee or a monthly fee based on their usage.
Such a model is very popular in the healthcare industry as individual healthcare providers and low-medium scale healthcare centers find it more affordable than purchasing or building healthcare solutions.
You can let nurses register themselves on your platform to offer eligible healthcare services to users of your platform on a commission basis.
This is similar to Maple offering telemedicine services with registered physicians who are individuals and not employed by Maple.
Some hand-picked advice from our healthcare technical, business and compliance teams
You must be in the ideation phase only. On your journey to execute it and to make it financially successful, you will most likely face several challenges which you cannot easily overcome as you may not be equipped with the required technical, business and compliance knowledge.
So, we are just listing out a few of the advice our expert teams have for you.
Technical advice:
If your investment cap is limited, go for the MVP version of a virtual nursing platform or develop a cross-platform app. (Read this blog to know 4 practical ways to save 50% on healthcare solution development.)
Building a telemedicine platform for nurses is not only about codes. You need to satisfy many prerequisites such as workflows, documentation, UI/UX and prototyping to create a strong base that helps development teams to build an epic product with a clear vision and expectations.
Business advice:
Any kind of virtual care platform in 2021 is not only limited to video consultation. It should provide a 360-degree virtual care experience to the patients. Thus, you should consider integrating other healthcare modules such as online pharmacy, healthcare eCommerce with your virtual care nursing platform. This allows you to offer a comprehensive healthcare service set to patients while generating extra revenue streams.
Compliance advice:
Prepare a compliance strategy even before documentation and make sure to document it as it is crucial to document everything related to the compliance readiness of your healthcare product.
Carry out TRA (Threat and Risk Assessment) on a developed platform. It reveals privacy vulnerabilities your platform has.
We offer you local Canadian technical, business and compliance help to build a virtual nursing solution
We're an Ontario-based healthcare-focused IT company - known as local Canadian healthcare IT, business and compliance experts.
With our Canadian healthcare-specific knowledge of clinical terms, clinical protocols, market requirements, consumer behaviour & compliance requirements, we offer our healthcare clients peace of mind with a customized solution!
We accommodate healthcare developers, designers, business analytics and compliance specialists who all work together to develop a compliant healthcare solution.
Yes, being a Canadian company we understand the gravity of compliance, thus we only develop compliant healthcare solutions.
Be it long-term care homes, hospitals, healthcare startups or individual healthcare providers, we eliminate all technical, business and compliance pain areas with our 7 years of experience in the Canadian healthcare IT market.
Our core values are honesty, authority, dignity, quality and equality which you'll soon experience!