Telemedicine for Physiotherapists: Explore our Custom & Ready to use Telehealth App for Virtual Therapy Services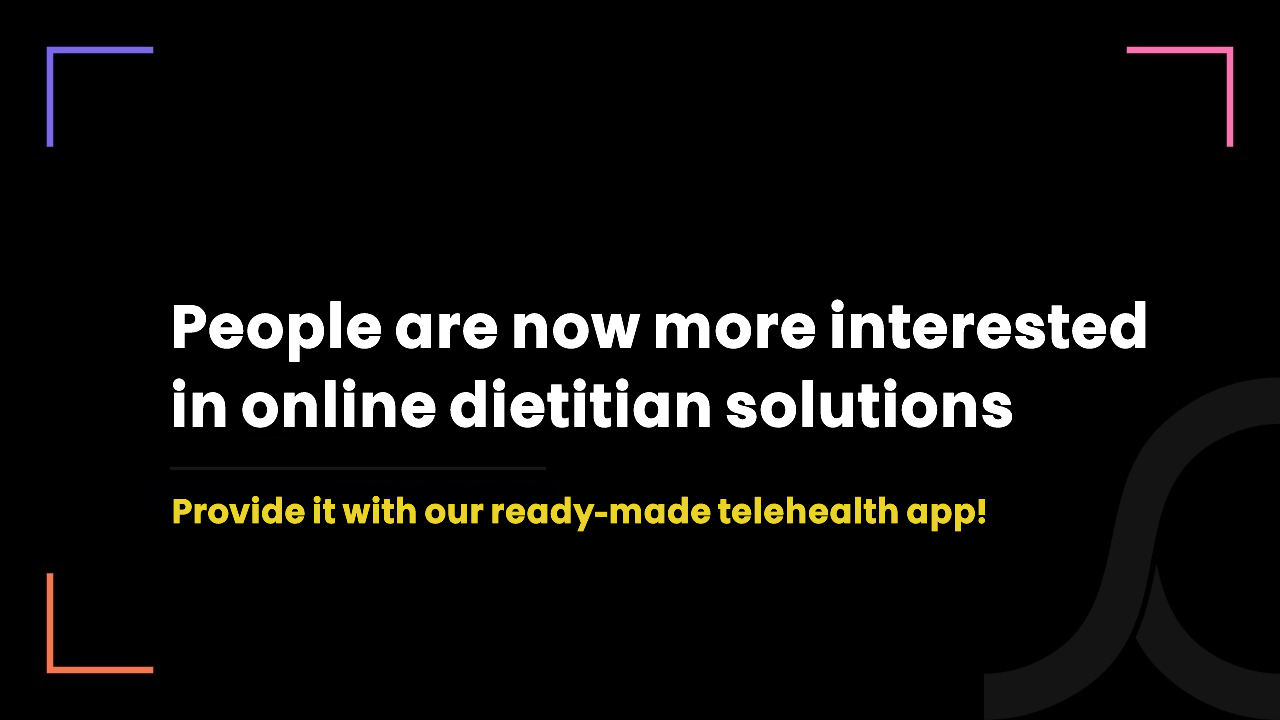 1 month ago
Based in Ontario, we are a healthcare-focused IT company.
With our 50+ healthcare-specific business, technical and compliance experts – we have been performing health tech solutions for the past 8+ years.
And recently, we launched a white-label telemedicine app.
It is a HIPAA, PHIPA, and PIPEDA-compliant app that you can customize according to your needs for virtual physical therapy practice.
So, let us share more about it.
A glimpse of our ready-to-use telemedicine for physiotherapists
Our solution can easily outsmart the rest of the telemedicine apps available in the market.
Because it is not just built by our healthcare app development team.
But we have created it with the help of 30+ Ontario-based physiotherapists.
We have done a brainstorming session with them to understand the ground requirements of practitioners as well as the patients.
That's the reason, we consider our solution as the best telemedicine app for physiotherapists.
To help you understand it better, we have also shared real-screen images of it.
Not only this but also provided links to its live demo!
(Note: We have created both web and mobile versions of it. So, as per your need, you can choose either one or both.)
Take a look at our telemedicine web app for virtual physical therapy practice
We have provided a live demo link to our solution along with its login credentials.
You can access and use it as a – super admin, patient, and provider.
1. Super admin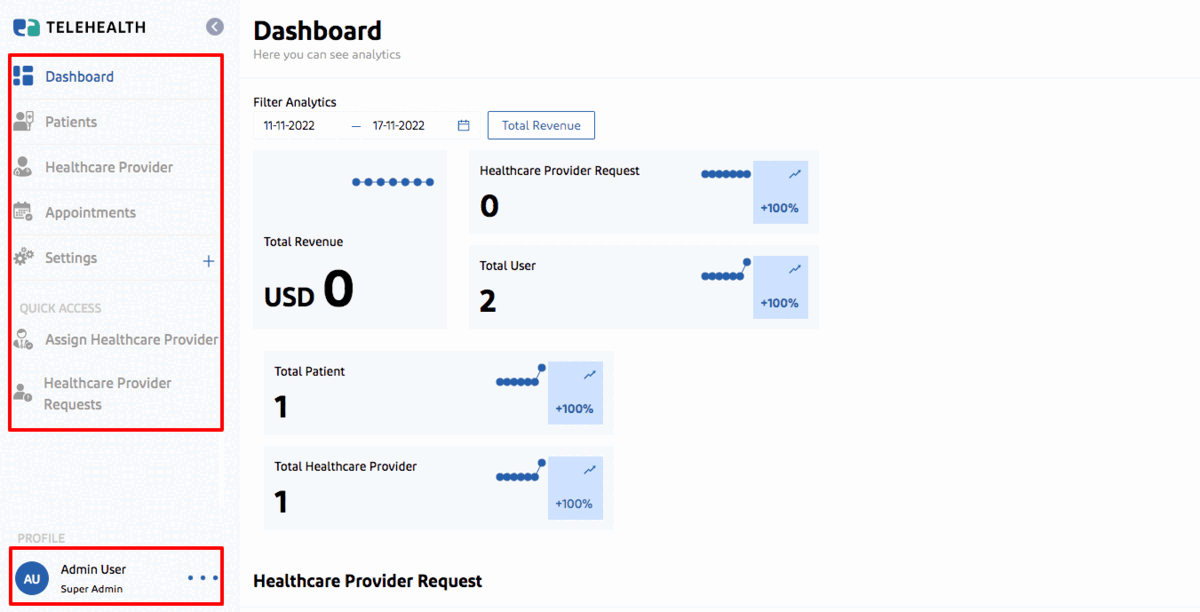 Credentials:
Username: admin@admin.com
Password: Admin@123
OTP (2-factor authorization code): 123456
2. Healthcare provider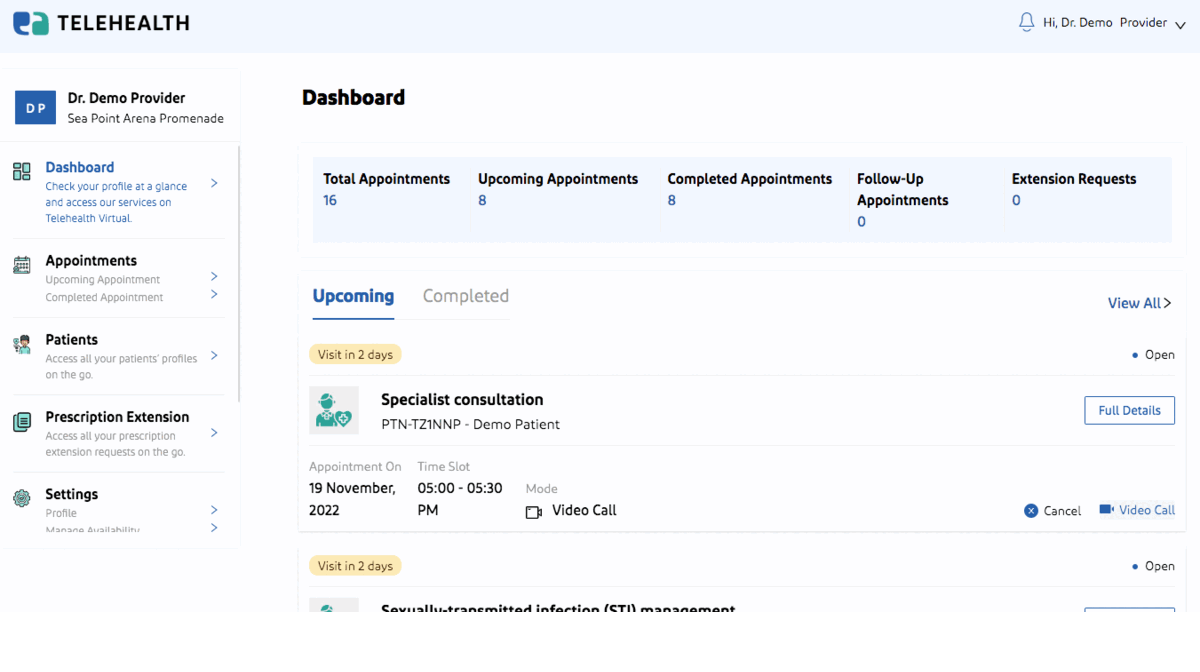 3. Patient

(The username and password are auto-filled for the patient and provider portal.)
Now, take a sneak peek into the mobile version of our telehealth app for physical therapy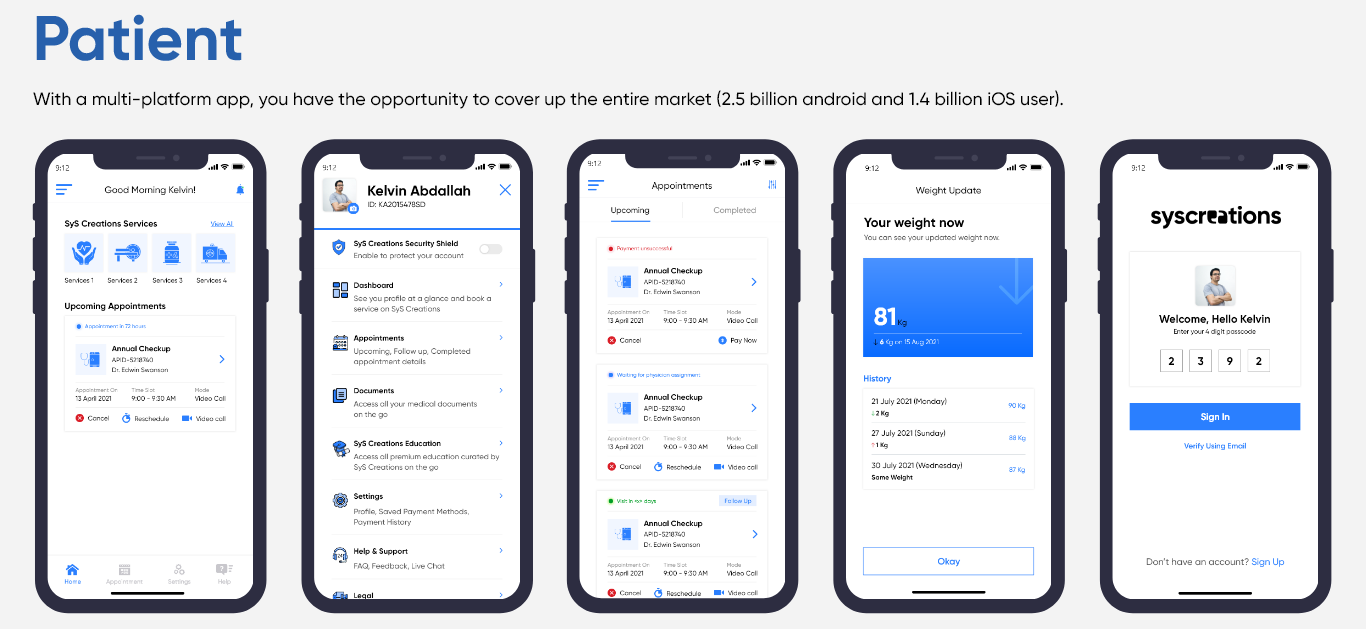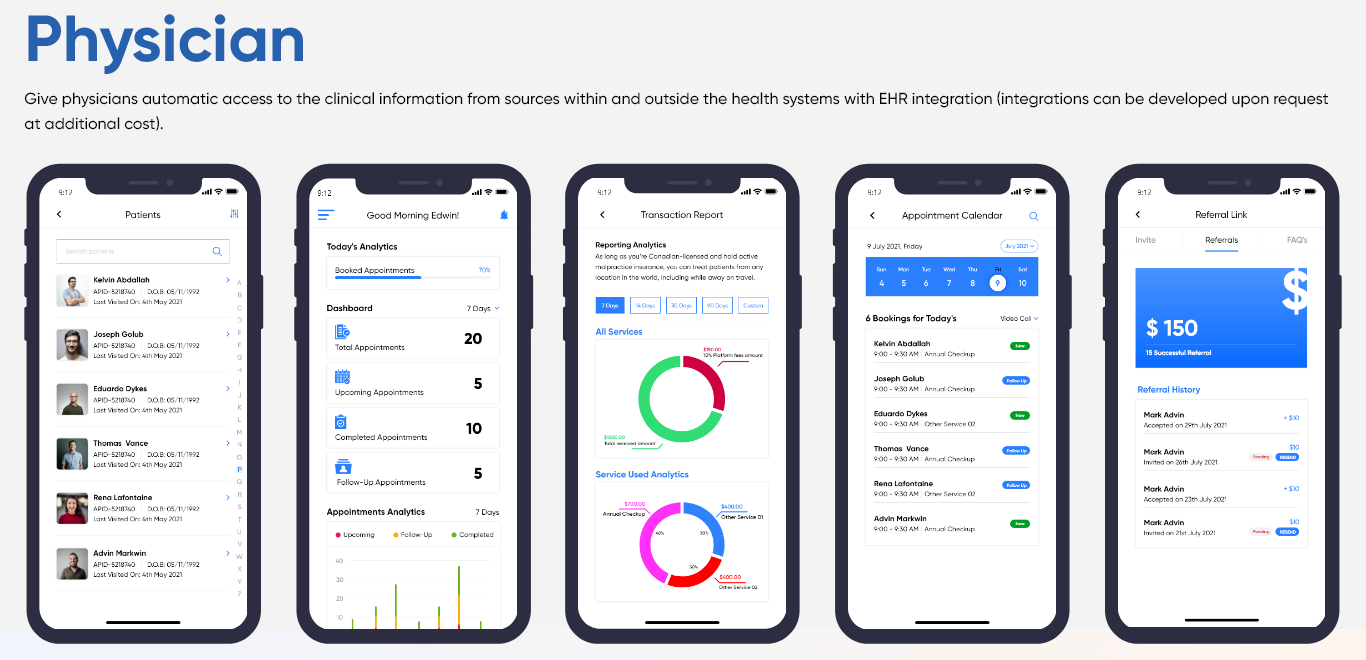 You and your patients will love the features of our telemedicine app for physiotherapists
Features needs to be reliable.
Especially when it comes to healthcare apps.
Because it gives clarity to users – whether the app is valuable or not.
Thus, it is important to have features that are meaningful to you and your patients.
And as a healthcare IT company, we thoroughly understand – what works and what's not.
So, with our business, technical and compliance expertise, we have added some remarkable features that will deliver value to users even beyond 2030!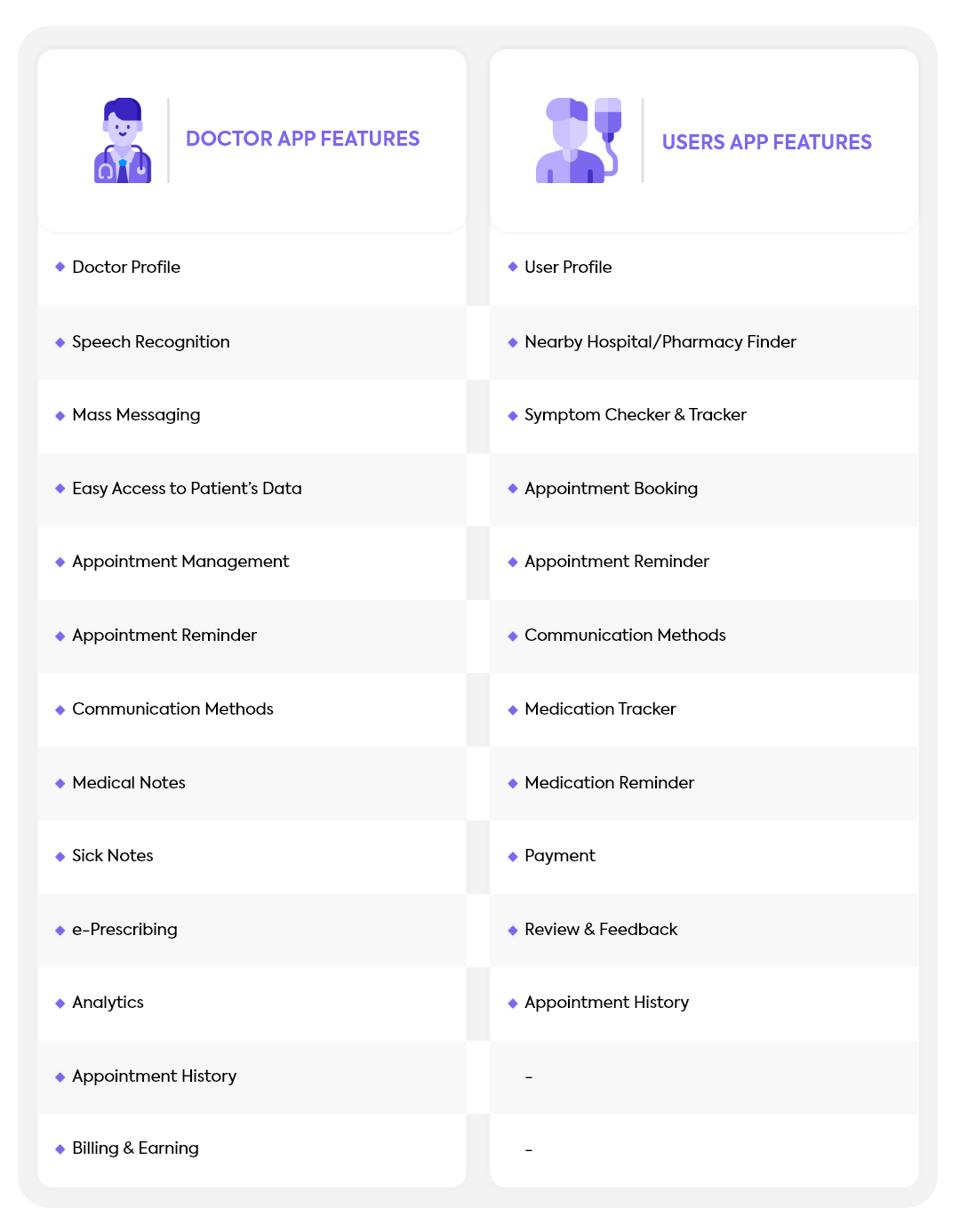 You can also integrate our telemedicine app with your preferred EMR/EHR!
Integration is the key,
To provide better care
To focus on the patient care experience
To ensure high safety
To reduce workflow burdens
By integrating our telemedicine app with EMR/EHR, you can achieve it without any hassle.
Because it lets you access the patient's medical records in a faster and more efficient manner – at the point of care.
Following are some examples of EMR/EHR that we integrate with telemedicine or any other health tech software.
And to do so, we have a dedicated team of health tech integration specialists!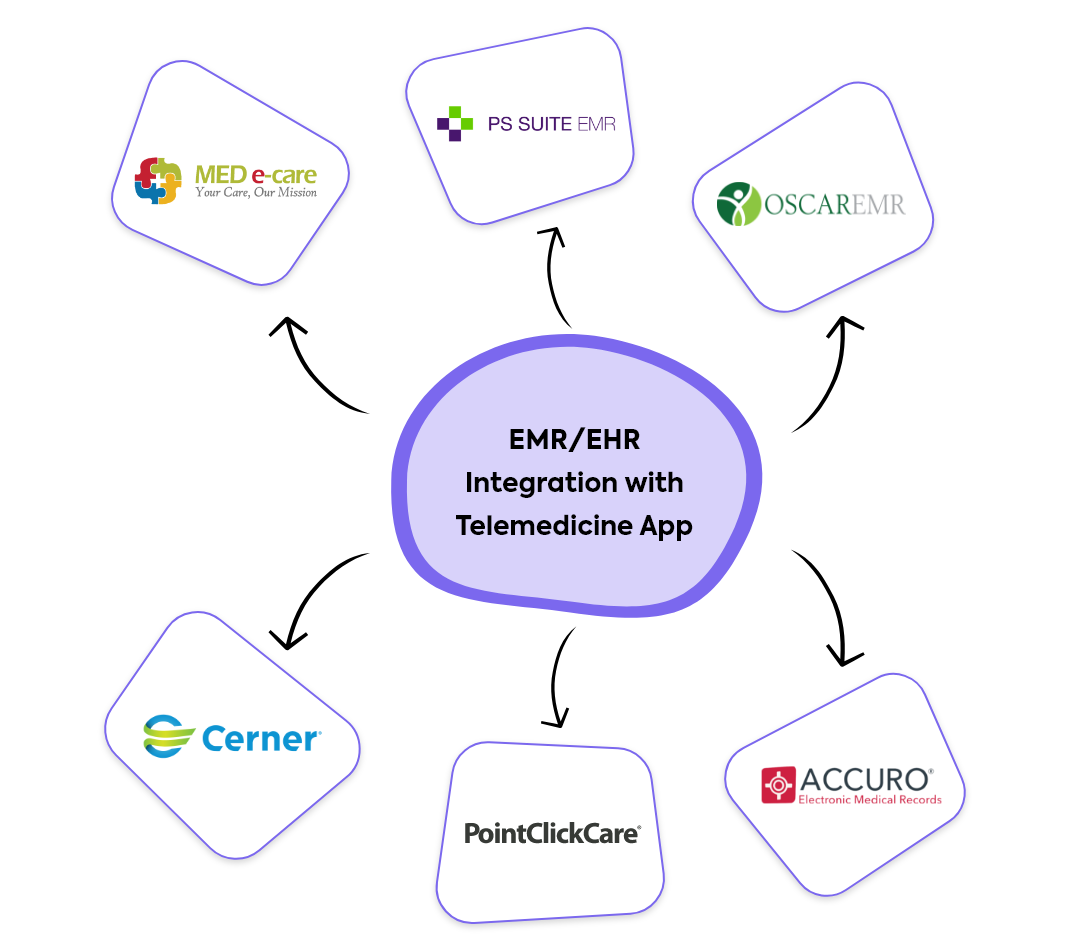 3 vital things to consider when building a telemedicine app
1. Technical Considerations
To ensure the reliable and smooth operation of your telehealth app, the implementation needs thorough consideration of various technical aspects.
Selecting the right software and hardware solutions is a vital part of building a telehealth platform.
Quality of service (QoS) and bandwidth management are two factors that can ensure a smooth telehealth experience for healthcare providers as well as patients.
To handle the increased demand and maintain service continuity, scalability, redundancy, and backup plans are vital technical considerations.
2. Regulatory and Legal Considerations
Compliance with regulatory and legal requirements is one of the major parts of building a telehealth app.
It requires an understanding of:
Licensure requirements (vary from state to state)
Reimbursement policies (billing and coding requirements)
Liability considerations (malpractice coverage)
Staying updated with relevant laws and regulations, such as those related to telehealth, telemedicine, and data privacy (e.g., HIPAA), is essential to ensure compliance and mitigate potential legal risks.
3. Evaluation and Continuous Improvement
Evaluating the system's performance and making improvements based on it plays a vital role in the overall user experience of your application.
In order to do so, you'll be required to get feedback from:
Patients
Stakeholders
Providers
Monitoring and analyzing data related to telehealth service utilization, patient satisfaction, and outcomes can provide valuable insights.
Continuous efforts for improvement help in refining telehealth services, addressing any arising issue, and optimizing outcomes to achieve the desired goals.
Looking for custom telemedicine app development and not a ready-to-use solution?
If you have such a requirement – you're still in the right place.
Because we have performed it several times (more than 50).
In fact, we are well-known in North America for our rapid and result-oriented telemedicine app development approach!
And following is the complete lifecycle that we execute for it.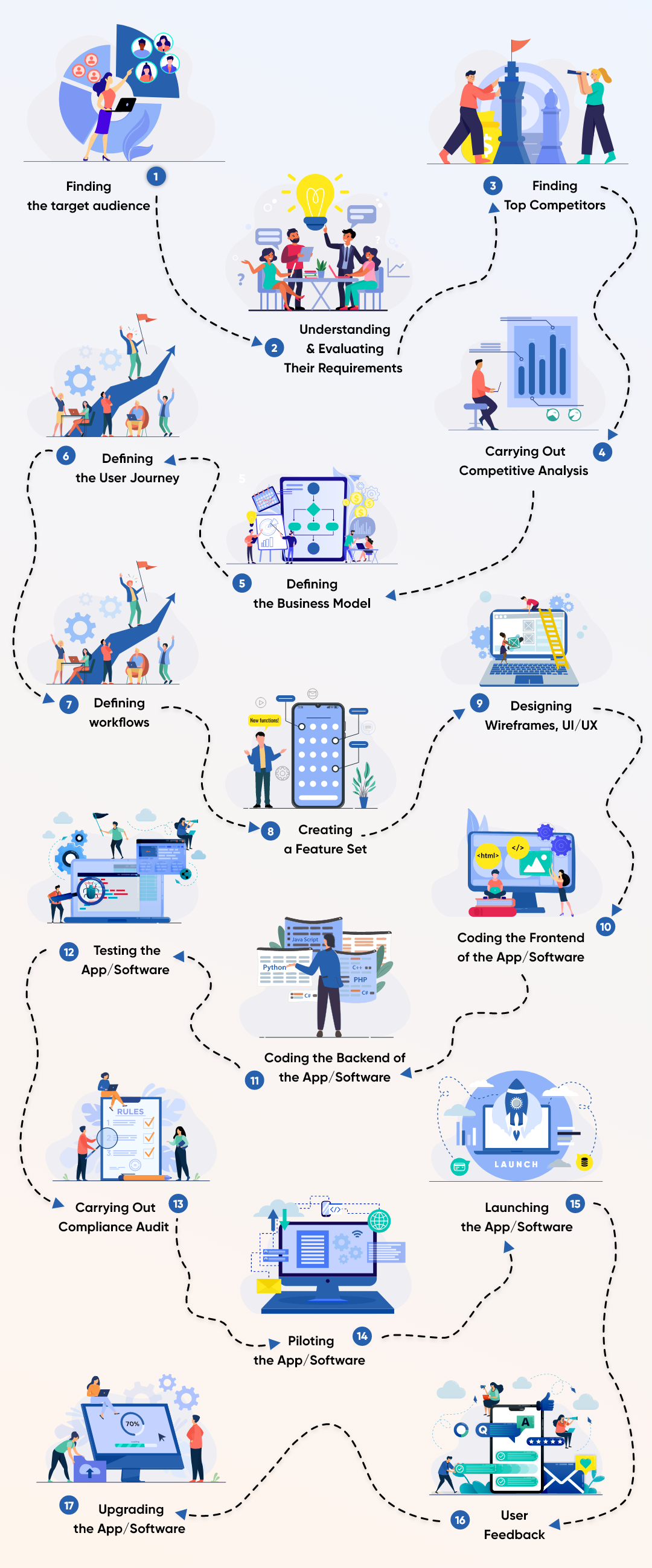 How can we help you deliver physiotherapy services remotely?
If you want to start virtual physiotherapy services in Canada and USA, we'll also help you with our expertise, experience, and experts!
1. Physiotherapy clinics & individual physiotherapists:
To develop your own telehealth for physiotherapists app
To install and maintain telehealth hardware devices
To set up the wired or wireless network
To meet HIPAA/PHIPA/PIPEDA regulations
2. Entrepreneurs:
To carry out market analysis
To develop the MVP version of the virtual physiotherapy app
To develop the full-fledged virtual physiotherapy app
To build a strong user base
To meet healthcare compliance
But if you want to skip the entire process, you just need to do one simple thing.
Acquire our white-label telemedicine app!
Because it will save you,
2000+ hours
60% to 80% of app development cost
But why should you provide physiotherapy services with telemedicine for physiotherapists app?
There are mainly two reasons and both of these reasons are important ones!
Reason 1: Market demand
In the past few years, people have changed their ways of getting healthcare services.
Rather say – people are now preferring remote care solutions over in-person visits.
Because they are finding virtual visits with doctors more convenient, safe, reliable, and affordable.
To address this newly developed patient behavior, you need to put a legacy healthcare delivery model to an end and adopt a trending healthcare delivery model – telehealth!
Reason 2: Operational and financial benefits
Having a telehealth tool with uninterrupted internet access and proper telehealth hardware devices makes you derive many operational and financial benefits.
Operational benefits include,
High productivity
Reduced paperwork
Rapid care
Enhanced patient outcomes
Automated tasks
Fewer errors
Financial benefits include,
Less resource utilization
Personalized offers
Extensive reach
Top 3 FAQs on telemedicine for physiotherapists
1. What is telemedicine for physiotherapists?
It is nothing but the remote delivery of physiotherapy services using telecommunication technologies such as – chat, voice, and video conferencing.
To provide virtual physiotherapy service, a physiotherapist and patient both need to have a few important telehealth resources.
It includes – a reliable internet connection, a telemedicine app, and any type of mobile or computer device.
2. Who can provide virtual physiotherapy services?
Physiotherapy clinics can provide virtual physiotherapy services to enhance patient delight, attract new patients, and reduce staff burden.
Individual physiotherapists:
Individual physiotherapists can provide virtual physiotherapy services to offer rapid & remote services and treat more patients in a given time.
Entrepreneurs can provide online physiotherapy services to make money!
3. How much does it cost to build a telemedicine app for physiotherapists?
Let us be honest – there is no fixed amount.
Because telemedicine app development cost depends on several factors.
From your business, technical and compliance need to its complexity and time-to-market.
And without knowing it, we don't want to give you any random numbers and mislead you.
Thus, the most feasible solution here is, just to tell us your unique requirements.
Our team will review it and provide a free cost estimation along with the app development timeline!