Healthcare App Development Guide in 2023 [Cost, Tech Stack, Top Ideas & Solutions]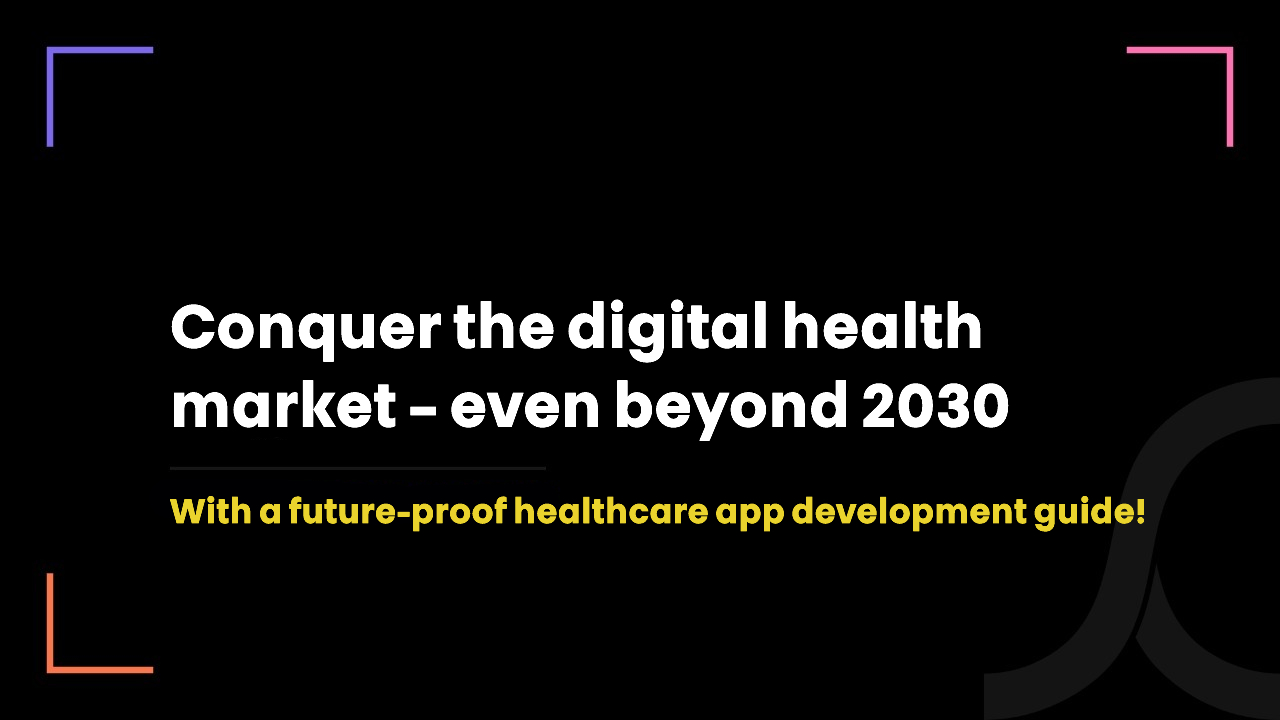 11 months ago
We're an Ontario-based healthcare app development company.
But what makes us distinct from the rest is that –
We only entertain health tech projects.
8+ years of hands-on experience in healthcare app development
Have a healthcare-specific team of business, technical and compliance experts
Our 50+ team has combined 300+ years of experience
Delivered 250+ health tech solutions including healthcare mobile and web app
Last but not least, we work with a single aim to strengthen our healthcare ecosystem using tiny (yet powerful) mobile apps!
And in this blog, we have shared everything you need to know about healthcare app development.
From its cost to powerful tech stack and integration needs to profitable app ideas!
So, let's get started.
One-minute guide to healthcare app development
Developing a healthcare app involves the following steps:
1. Define the problem
This is a crucial step in healthcare app development.
Because your app ideal will collapse if you don't have a clue of what problem you intend to solve.
This process may involve –
Conducting competitive research
Understanding the needs of patients and healthcare providers
Identifying loopholes in the current digital health landscape
2. Define the target audience
It is important to understand who is going to use the app.
Because this will help you decide the design and functionality of the healthcare mobile or web app. 
3. Develop a plan
Once the problem and target audience have been identified, the next step is to develop a result-oriented plan for the app.
This includes a detailed description of, 
Features
Functionality
Resource requirements
Timeline for development.
4. Design the user interface
The user interface is the part of the app that users interact with.
Thus, it is crucial to design it in a way that is intuitive and easy to use for patients and providers.
This process may involve – creating wireframes to test and iterate on the design.
5. Build the app
Once the UI has been designed, it's time to code.
This process involves –
Writing code
Integrating APIs to connect to other systems
Testing the code to make sure that it is reliable and stable
6. QA testing
This is a very important process.
Because it is essential to make sure that your healthcare app meets the exact needs of each user (whether it's a patient or provider). 
QA testing involves various tests such as –
Penetration testing
Usability testing
Security testing
Performance testing
7. Launch the app
Once you are done with the testing part, it's time to launch your app in the real world.
This may involve submitting the app to app stores or making it available for download on your company's website.
8. Monitor and update
Continuous improvement (in the app) is the key to successful healthcare app development!
Meaning, even after the app has been launched in the market, it's important to keep monitoring its performance and gather feedback from your app users. 
This will help you identify areas for improvement and make it more relevant for users!
Our 17-step process to build a healthcare app in the USA, Canada and beyond!
Being a healthcare-specific IT company, we understand every inch of the healthcare ecosystem.
Be it a patient's or provider's needs or a stakeholder's (like you) needs – we have the ultimate expertise in fulfilling it – without affecting development cost and time to market.
We accomplish it because of our outcome-driven approach.
In other words – we only spend 20% of our time on the coding part.
The rest 80% we invest in – making it more reliable for users and future-proof and affordable for you!
And following is the complete lifecycle of the healthcare app development – we execute.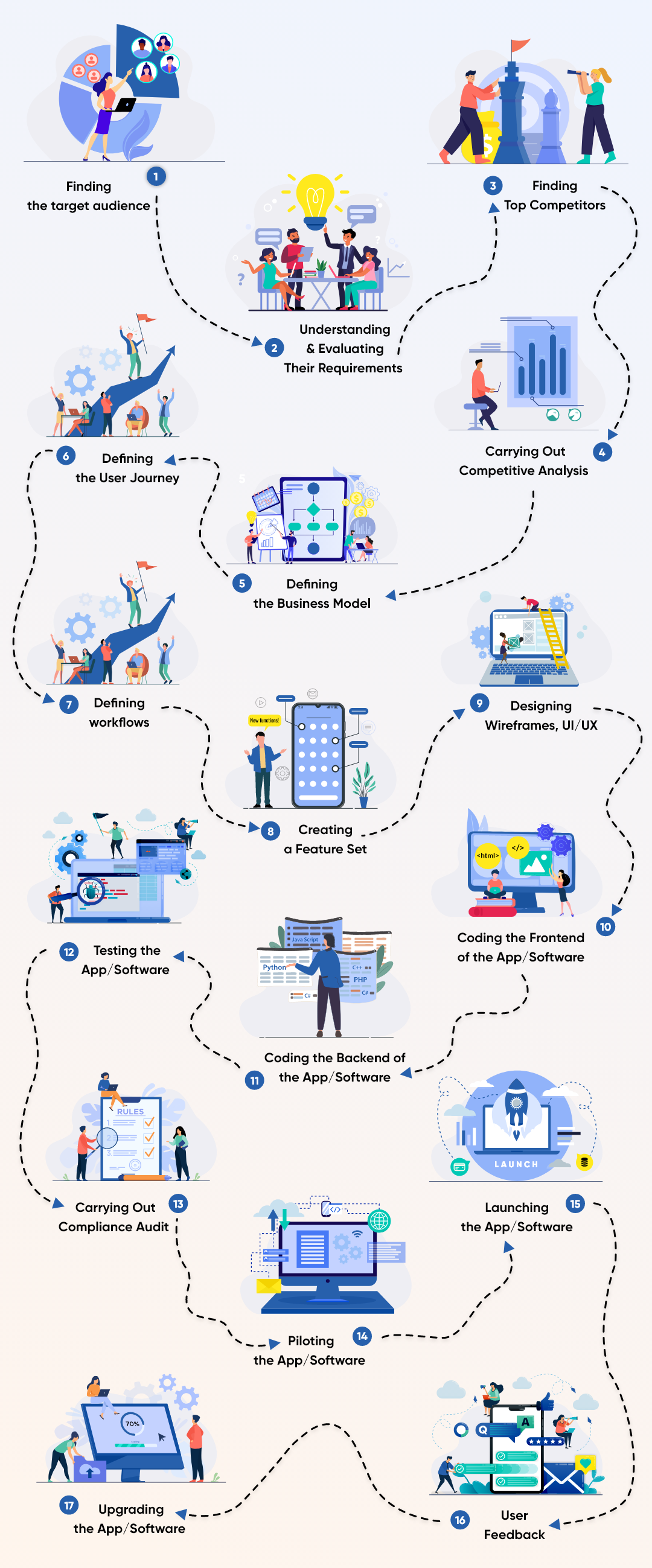 Now we are done with the development process.
So, let's understand other aspects that are going to be meaningful in your journey to mobile healthcare app development in the USA and Canada.
The fruitful market opportunity of a healthcare app in North America
Currently, patients are paying more attention to – faster yet quality care and there is no doubt about it.
Thus, the demand for healthcare apps is increasing at a tremendous pace.
Because this tiny mobile app ensures the highest level of usability, availability and affordability too!
Having these many characteristics, the entire North America has been experiencing a dramatic surge of healthcare mobile apps.
According to Grand View Research, 
The global mHealth apps market size was valued at $43.5 billion in 2022 and is expected to reach $105.9 billion in 2030!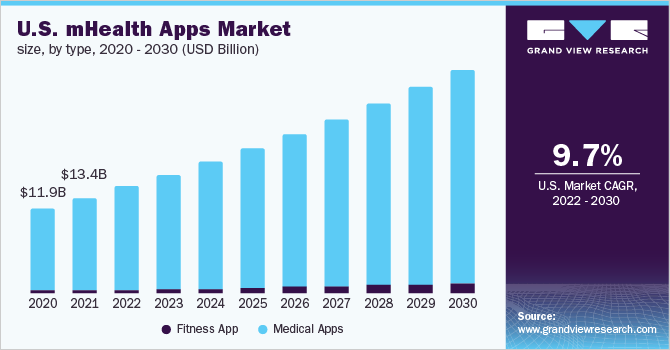 What's more, there are more than 350,000 healthcare mobile apps available in various app stores in 2023 
And this number is increasing rapidly due to the rising adoption of digital health.
Meaning, if you have an idea to build a healthcare app in the USA and Canada, there is a fruitful market opportunity for you!
A glimpse of our never-ending healthcare app development expertise
We don't believe in selling healthcare apps.
But we believe in selling experience.
We want you to enjoy the app development process where we share unique and profitable ideas with you!
So, in case you are not aware of the current market trends, we got you covered!
The following are the top healthcare app ideas which you can consider to tap into the current digital health market.
1. Telemedicine app
Appointment Booking
Doctor Virtual Visit
e-Prescribing
EHR Integration
HIPAA/PHIPA Compliant
Explore our solution to: Telemedicine app development
2. Mental health app
Self-Monitoring
Customized Therapy
Reminders
Therapist Connection
AI-Enabled Assistant
Explore our solution to: Mental health app development
3. Health tracking app
Daily Goal Tracker
Food Tracker
Activity Tracker
Water Intake Tracker
Sleep Tracker
4. Medication delivery app or online pharmacy app
Drug Information
Place Orders
Order Tracking
Medicine Reminder
Explore our guide to: Develop a medication delivery app 
5. Women's health app
Accurate Period Monitoring
Fertility Calendar
Pregnancy Care
Pregnancy Exercise
Explore our useful resources:
6. Fitness and workout app
Activity Tracker
Food Tracker
Personalized Workout Plans
Gamification
Explore our solution for: Fitness app development
7. Medication reminder or tracker app
Medication Tracking History
Snooze Option
Flexible Scheduling
Refill Reminders
Reminders with No Connectivity
Explore our solution to: Build a pill reminder app
8. Appointment booking app
Automatic Appointment Booking
Automatic Reminder / Cancellation
Automatic Notification
Calendars
Explore a guide to: Appointment booking solutions for clinics
9. Cannabis app
Products Listing
Place Order
Track Order
Payment
Feedback
Cannabis Store Locator
Explore our guide to: Build a cannabis delivery app
10. Diet and nutrition app
Meal Data
Goal Tracker
Calorie Counter
Diet Plan
Recipe Suggestion
Explore our solution to: Diet and nutrition app development
11. Meditation app
Learn meditation
Tackle everyday stress, anxiety, depression etc.
Sleep stories
Relaxation and mindfulness
Explore our guide to: Meditation app development
12. Sleep tracker app
Personalized sleep report
Track sleep quality
Wellness report
Sleep improvement guidance
You must also explore: Build a sleep tracker app like SleepIQ
Most popular technologies to build healthcare mobile and web app in the USA, Canada and beyond
We've gained ultimate experience in the healthcare industry by mastering and executing many cutting-edge healthcare technologies.
Meaning, we only develop space-age healthcare mobile apps so that your app never fails in the highly shifting digital health market.
And following are some of the powerful technologies that will rule even beyond 2030!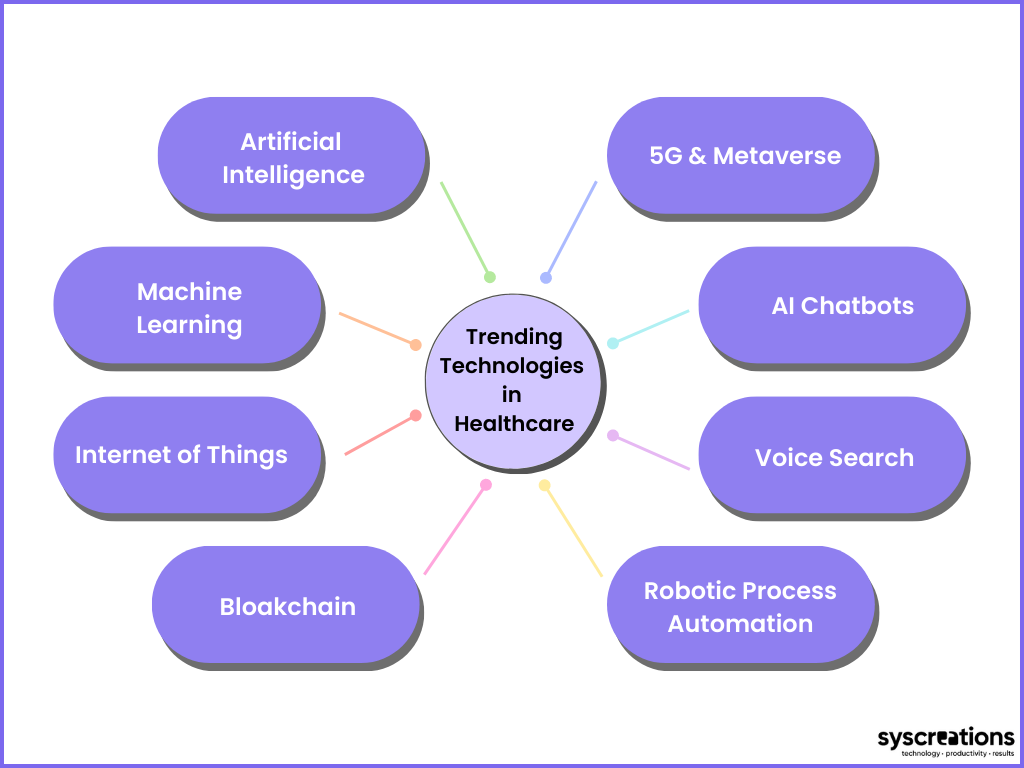 We're strengthening our healthcare system by empowering healthcare providers
We strongly believe that without empowering healthcare providers, we can't strengthen our healthcare system!
In the past 8+ years, we have worked with many healthcare professionals and found many workable solutions for their day-to-day challenges.
For example,
1. Dietitians
We help dietitians to provide online counselling and to interact with their customers online using a telehealth or telemedicine platform.
You must also read: Get HIPAA/PHIPA/PIPEDA Compliant Telemedicine for Dietitians App
2. Veterinarians
When pets get hurt, they require rapid care the same as humans.
We are empowering all vets and pet owners to look after pets rapidly - in the same way, we look after ourselves - with telehealth or telemedicine platforms!
You must also read: Telemedicine for Vets
3. Psychiatrist
We help psychiatrists to provide online mental health services, counselling, and education.
The dedicated features make it easy to treat mental illnesses such as anxiety disorder, bipolar disorder, somnipathy, post-traumatic stress disorder, and eating disorders.
You must also read: Telemedicine for psychiatrist
4. Physiotherapist
We help physiotherapists to take physiotherapy sessions online, to attract more customers and to manage them painlessly.
You must also read: Telemedicine for Physiotherapists
5. Pharmacist
We help pharmacists to speed up or automate time-consuming invoicing & reporting processes and deliver medications online to increase the customer experience and retention rate.
You must also read: How to start online pharmacy business in the USA?
6. Physicians/Nurses
We help physicians and nurses to reduce administrative burdens and provide rapid, remote and quality care to patients.
You must also read:
7. Dentist
We help dentists to practice their care services virtually, attract more patients and add an extra stream of revenue.
You must also read: Teledentistry app
8. Dermatologist
We help dermatologists to improve patient care experience by allowing them to perform their skin and hair care solutions beyond just four walls – using a telemedicine app.
You must also read: Telemedicine for dermatologist
9. Cardiologist
We help cardiologists to provide more effective care with a virtual care solution. Our app lets them even provide ePrescription via SMS and email.
You must also read: Telemedicine for cardiologist
Planning to develop a telemedicine app? Take a look at our white-label telemedicine app.
You must be aware of the fact that the cost of a telemedicine app development can surpass $100000 and a development firm takes around 120 to 160 business working days to deliver the app.
Healthcare compliance might also be a major concern here.
So, to solve cost, delivery time and compliance-related concerns, we have launched a white-label telemedicine app.
It is a ready-to-use platform that we customize as per your unique needs.
Our white-label telemedicine app,
Can be delivered within 60 business working days
Is HIPAA/PHIPA/PIPEDA compliant.
Supports custom clinical workflow
Comes up with an in-built ePrescription and sick note feature
HIPAA-compliant document storage
Customize according to your needs
For better understanding, the following are the real-screen images of it.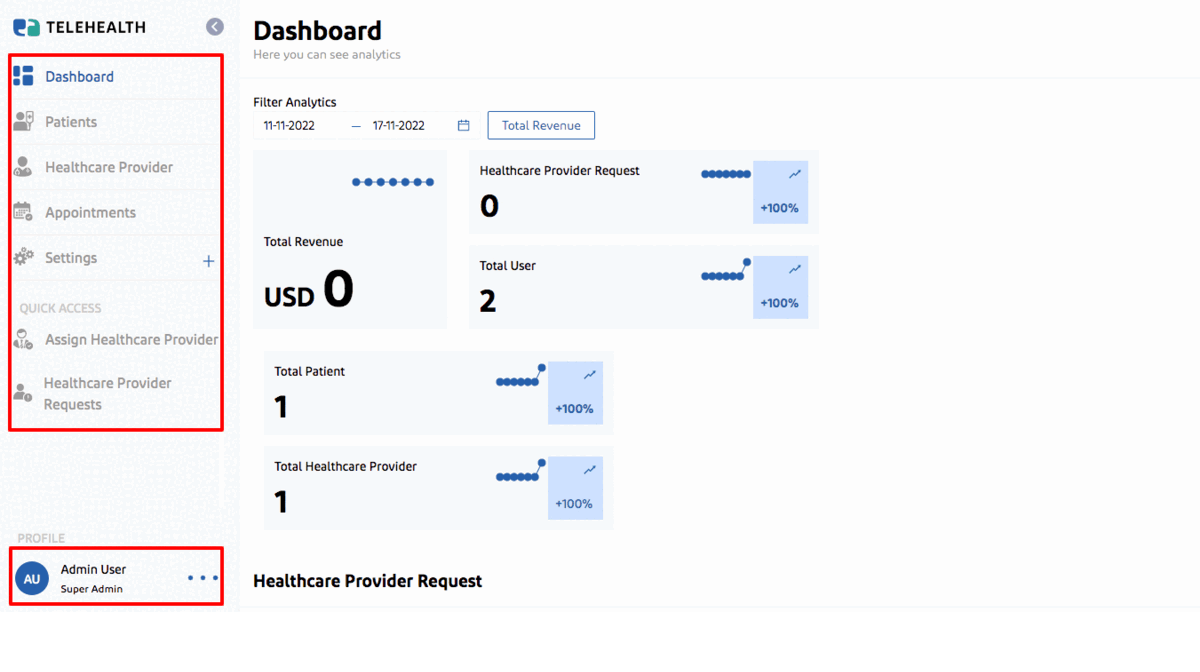 Explore more about our white-label telemedicine app along with links to its live demo for – patients, providers and super admin!
What have we recently delivered as the top healthcare mobile app development company?
Project:
Developing a telemedicine app named Writi for long-term care homes.
The Features we integrated:
Electronic Prescribing
Patient Management
Order Management
Virtual Visits
Collaboration
Patient Medical History
Task Assignment
Billing report
Services We Offered:
Healthcare mobile app development
EHR integration
The Outcome of Our Efforts:
The developed telemedicine app named Writi enabled LTC home staff to focus more on senior care during the coronavirus peak in Canada. It reduced the paperwork by 63% and administrative burdens by 69%.
It has been featured in North America's fastest-growing tech conference – Collision Conference.
Our exclusive skills that ensure the success of your project
Our expertise is something that makes us the best healthcare app development company in Canada and USA.
Here is a little glimpse of it.
We are clever enough to integrate top EMR/EHR to your healthcare app, system, platform or website for easy and real-time data transfer.
We have in-house compliance experts who work with the development team to develop the compliant app with all data privacy laws such as HIPAA, PHIPA, PIPEDA, PIA etc.
Our expertise with PIA helps us to find privacy vulnerabilities in your entire organization.
And our expertise with TRA helps us to find privacy vulnerabilities in your healthcare solution.
Once we know the privacy vulnerabilities, our tech and security team solves that and makes your organization and solution secure and private enough.
We're able to deliver a healthcare app in 60 days due to our rapid healthcare app development life cycle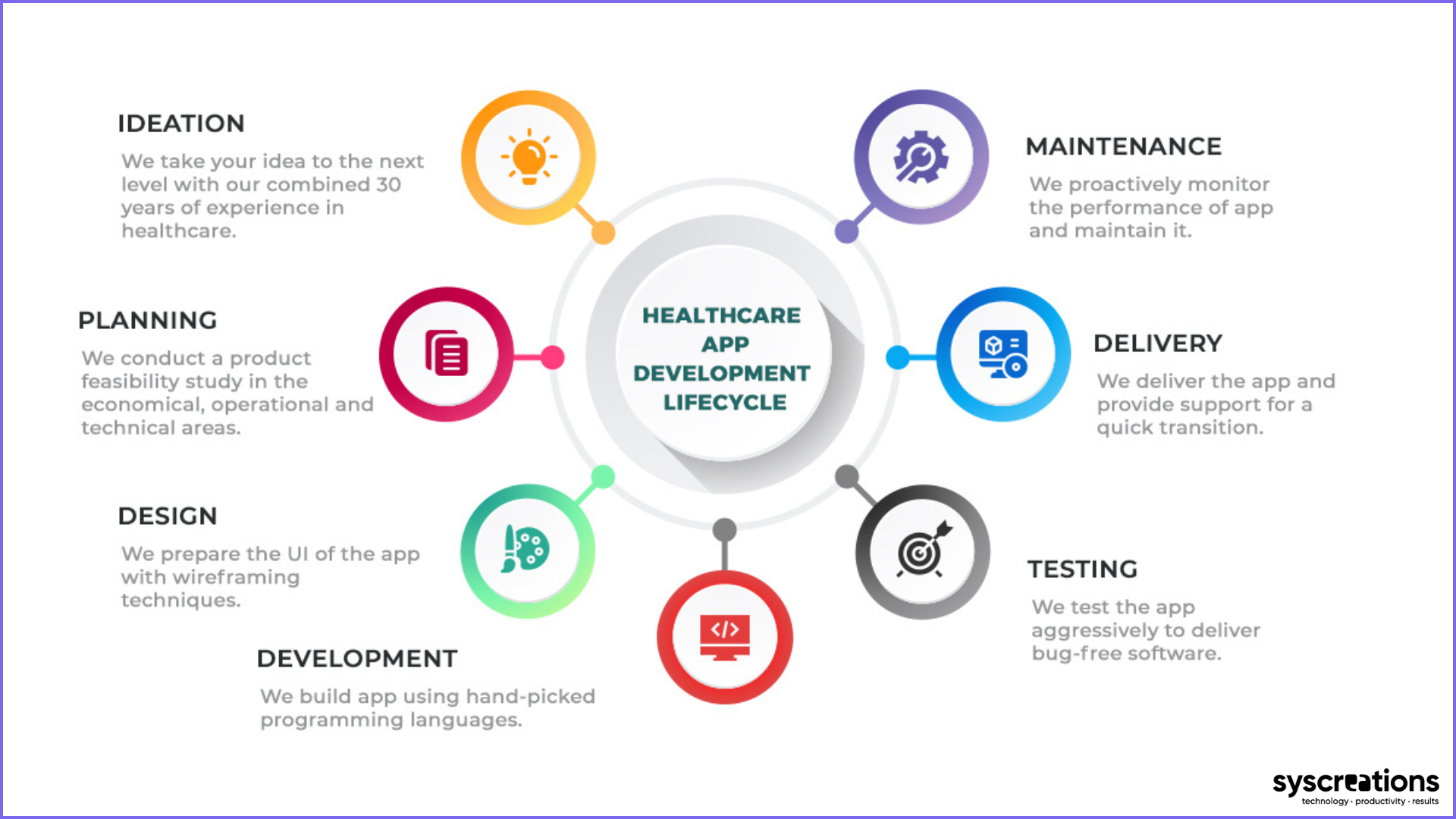 How much does it cost to build a healthcare app in Canada and the USA?
The truth is – there is no fixed amount for it.
And now you already know that healthcare app development is not just about coding.
So, the cost of healthcare app depends on many factors such as –
Type of app
Platform
Technology stack
Number of features and their complexity
Workflow needs
Time to market
Resource working on the project
And without knowing it, we don't want to give you any number and mislead you.