Teleneurology Solutions: Manage Parkinson's and Alzheimer's Disease With Mobile or Web App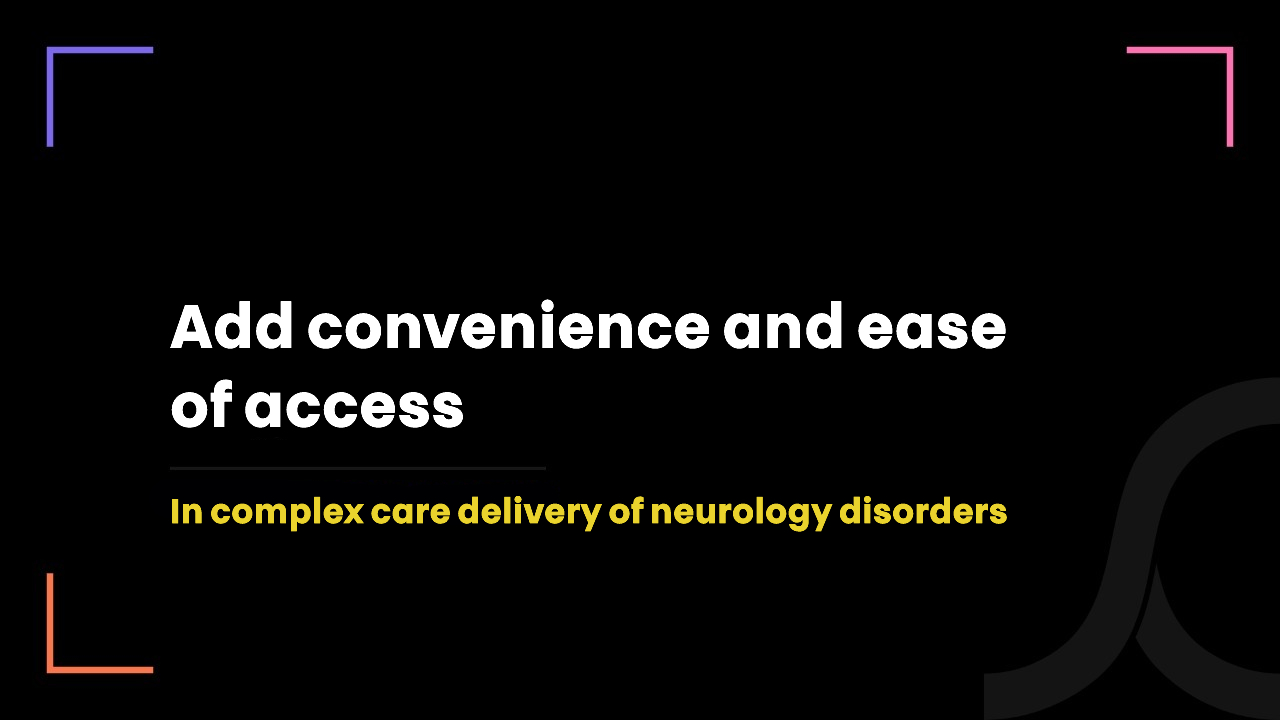 1 year ago
Let's start this blog with some facts about Parkinson's disease.
"More than 10 million people worldwide are living with Parkinson's disease".
"Men are 1.5 times more likely to have Parkinson's disease than women".
"The cause is unknown and there is no cure".
Okay. So in this blog, we'll explore everything you need to know about Parkinson's disease.
And how teleneurology solutions or online neurologist consultation can help in the same.
What is Parkinson's disease?
Parkinson's disease is one type of brain disorder.
Where a part of your brain called substantia nigra loses the nerve cells which results in uncontrollable movement such as,
Difficulty in coordination
What are the symptoms of Parkinson's disease?
There are mainly two types of symptoms in Parkinson's disease: motor symptoms and non-motor symptoms.
1. Motor symptoms (Movement-related):
Slowed movements (Bradykinesia)
Less control in facial muscles
Dysarthria (Slurred Speech)
2. Non-motor symptoms (Not connected with movement):
Orthostatic hypotension (low blood pressure while standing up)
What are the stages of Parkinson's disease?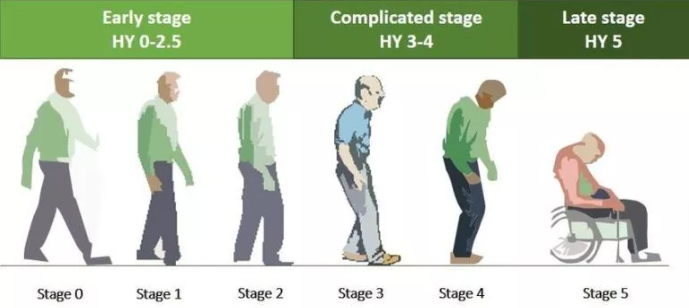 The stages are based on the Hoehn and Yahr scale to measure the progress of the symptoms.
Here are the five stages of it.
The mildest form.
The symptoms are so minimal that the patient can't even notice sometimes.
This means stage-1 can't affect the patients' daily well-being.
The moderate form.
It means patients can easily notice the symptoms compared to stage-1.
Stiffness, trembling, and tremor are the primary symptoms which result in difficulty in accomplishing some of the daily tasks.
The middle form.
The symptoms in this stage are the same as stage-2 but the patient body experiences more symptoms which affect their daily lifestyle.
Moreover, falls and slow movements are common symptoms in this stage.
In this stage, a patient needs assistance or equipment for movements like walking etc.
This means a patient can't live alone or complete the task by himself.
The advanced stage.
"​​Up to 50 % of people at stages 4 and 5 experience confusion, hallucinations, and delusions".
In this stage, a patient needs a wheelchair as the symptoms make standing and walking impossible for them.
What is the treatment for Parkinson's disease?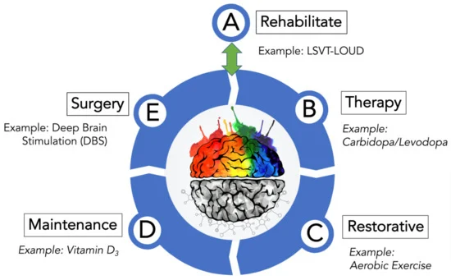 As we said earlier, there is no cure for Parkinson's disease.
However, suitable therapy, surgical treatment, and medication strategy can relieve or control some symptoms.
In addition to this, technology such as telemedicine neurology or teleneurology solutions also can help in controlling Parkinson's and other neurological disorders remotely.
Medication treatment:
In medication treatment, levodopa is the common medicine which is mostly useful for controlling the bradykinetic (slow movement) symptoms.
When a patient takes levodopa, it reaches the brain via a "blood-brain-barrier (BBB)" and converts into dopamine to assist nerve cells in movement.
Surgical treatment:
In some cases, medication does not work for the patient.
At that time, surgical treatment was necessary to control some of the Parkinson's disease symptoms such as tremors, bradykinetic, and stiffness.
Therapy treatment:
Parkinson's disease first affects body muscles.
And for that – a healthy diet, exercise, yoga, and massage are the proven way to improve both the emotional and physical well-being of the patients.
To do so, physical, speech, and occupational therapies are the majorly used therapy treatments.
How teleneurology solutions or online neurologists consultation can help in Parkinson's disease?
Telemedicine or telehealth solutions are an ever-increasing part of the healthcare industry.
Many healthcare professionals and medical case studies showcase that virtual care provides comprehensive care solutions same as in-person visits.
Indeed, telemedicine can easily prevent neurology disorders such as Parkinson's and Alzheimer's without live-in-person visits.
Moreover, the teleneurology platform enables patients to communicate with online neurologists via video conferencing through mobile phones or tablets.
Apart from that, here are other key points of teleneurology solutions.
Improves patient satisfaction as it reduces travelling time and costs
A convenient care solution for any Parkinson's disease stage
No need to visit a pharmacy for medication advice
Virtual meeting with a psychiatrist for mental health concerns
Therapy solutions without stepping out of the home
The most interesting fact about the telemedicine app is that – it helps the neurologist to analyze the patient's real-time data from which a neurologist can provide a more patient-centric approach.
Explore the case studies of teleneurology solutions in Parkinson's and Alzheimer's disease
Case study: #1
Conducted by:
Parkinson's Disease Research, Education and Clinical Center (PADRECC).
Overview:
In healthcare, Parkinson's disease is a complex neurodegenerative disease.
For that reason, an innovative and patient-centric approach is needed.
But with telehealth, Parkinson's disease can be no more complex as it improves patient outcomes remotely by saving both patients and neurologists time.
Explore the entire case study: High patient satisfaction with telehealth in Parkinson's disease
Case study: #2
Overview:
The implementation of telemedicine for Alzheimer's disease is feasible as it gives more accessibility to dementia solutions.
Additionally, a successful telemedicine program for Alzheimer's disease can help in analyzing the clinical information which enables the healthcare providers to deliver a more personalized care experience.
Explore the entire case study: Virtual care for patients with Alzheimer's disease and related dementias during the COVID-19 era and beyond
As a healthcare IT company, we frequently talk with healthcare professionals about the clinical importance of teleneurology platforms and online neurologist consultations.
Such conversations help us to build more effective and promising teleneurology solutions like mobile or web apps for telemedicine neurology services.
So, let's understand it in more detail.
We have multiple solutions for teleneurology platforms or online neurologist consultation
Whether you want a telemedicine neurology web or mobile app, we have two options for you.
1) White-label telemedicine app: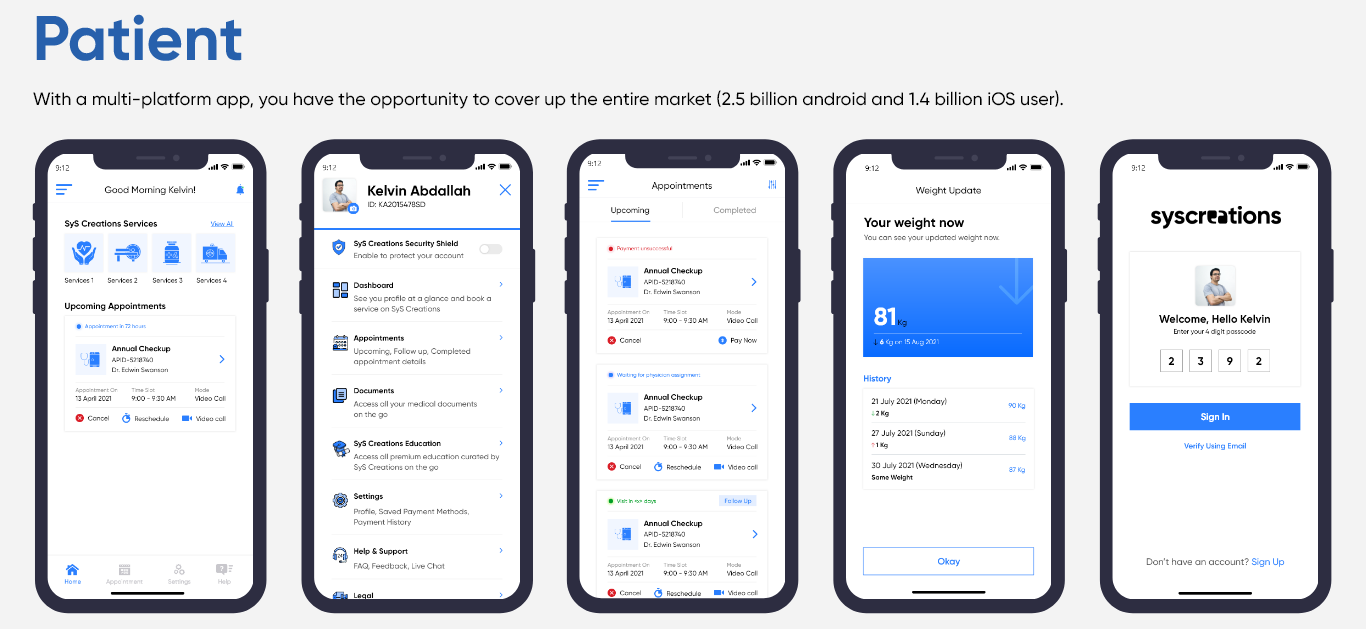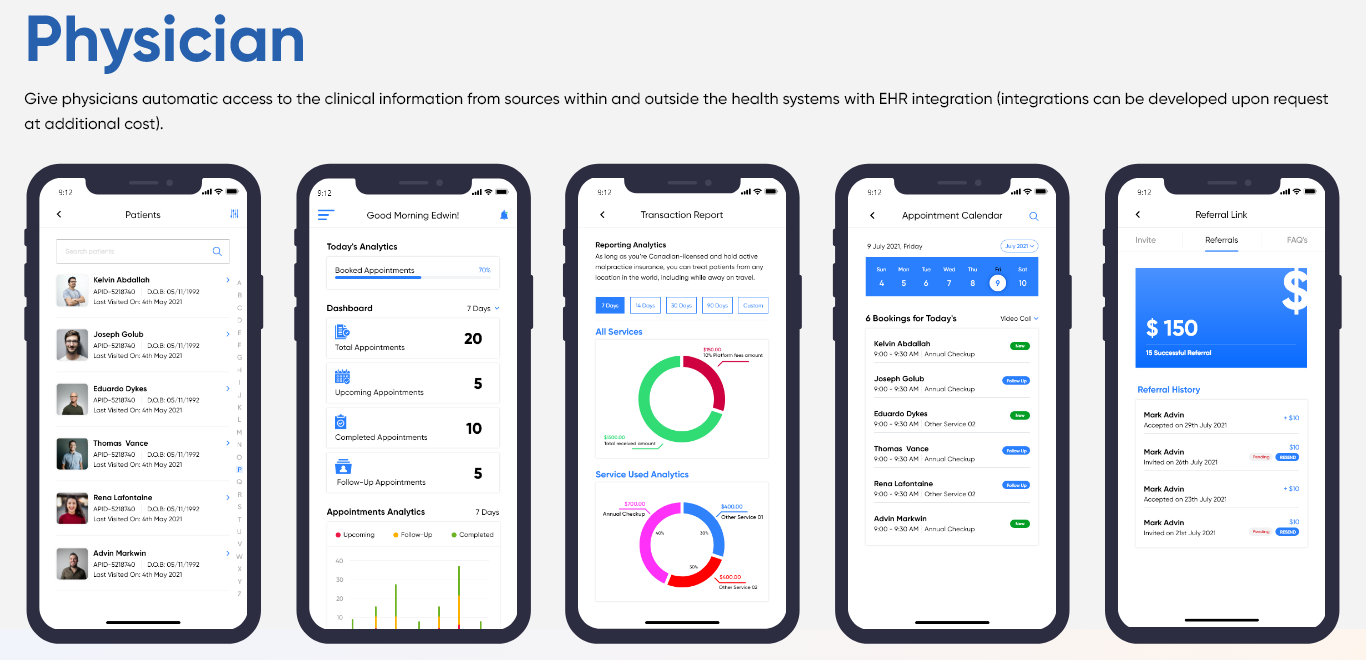 If you have a low-medium investment cap or want to launch the teleneurology app in the market in less time, a white-label telemedicine app is the best solution for you.
Our white-label telemedicine app includes,
HIPAA/PHIPA/PIPEDA compliant
Customization as per your business needs and branding
You must explore: Our white-label telemedicine platform
2) Custom telemedicine app development for neurologists:
We build a custom telemedicine app as per your business requirements with unique design and features.
For us, app development is not about only doing coding all the time.
We comprehend that there are other key elements which are essential for healthcare enterprises to build a dominating market presence.
For that reason, we build a telemedicine app with our result-driven approach that includes,
App development with future-ready tech
Ongoing technical support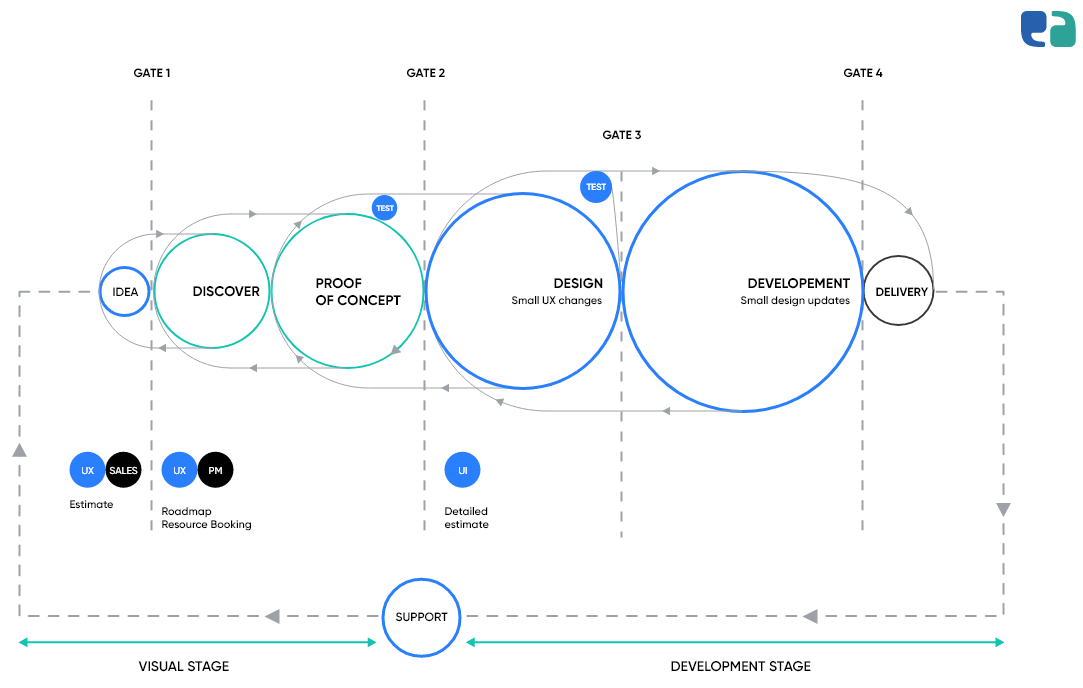 Our clients recognize us as telemedicine masterminds!
We are an Ontario-based healthcare IT company.
Being a healthcare IT company, we have robust clinical, business, compliance, and tech expertise.
We choose healthcare IT against all odds as we have a mission to transform the healthcare industry with our healthcare IT passion, knowledge, and most important understanding.
For us, "we" means a dedicated and experienced 50+ team of healthcare IT professionals who know every ins and outs of healthcare IT.
It includes – healthcare professionals, UI/UX designers, app developers, healthcare integration specialists, dedicated QA engineers, compliance specialists, and business analysts.
If you want healthcare IT excellence, knowledge, and class under one roof, let's have a productive talk about your vision!