Start Telerehabilitation Service in Canada with Your Own Platform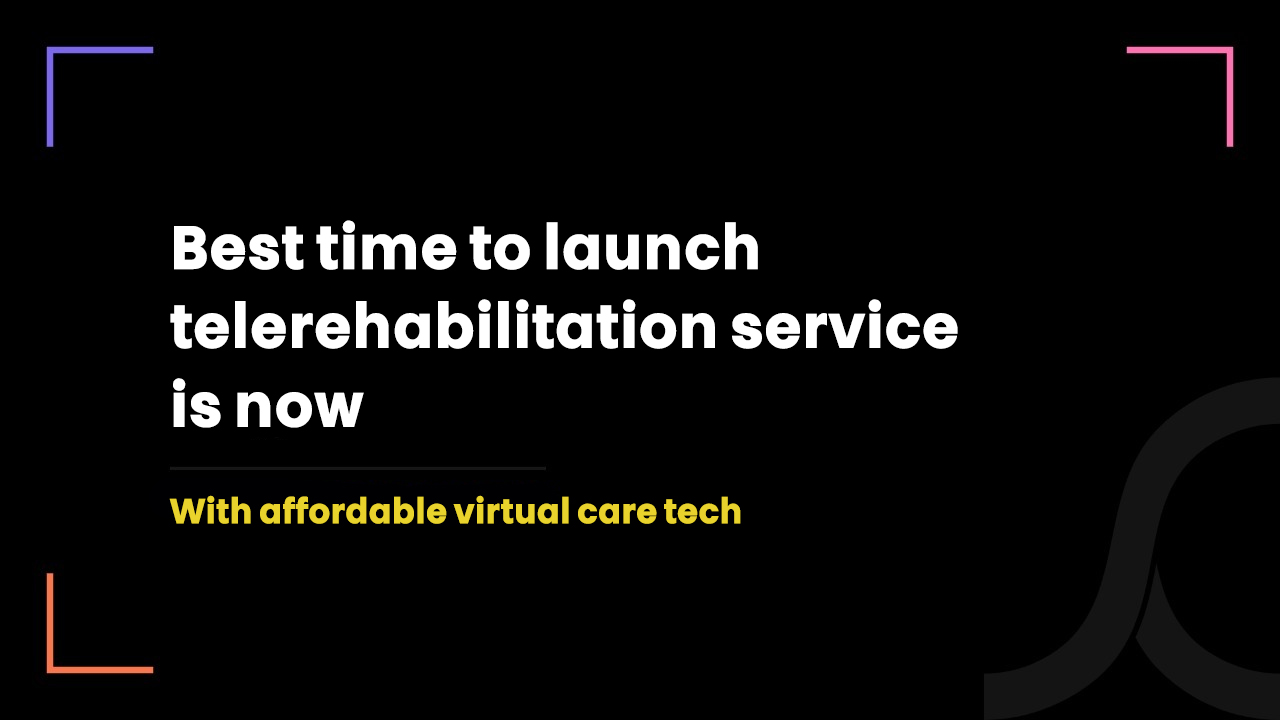 2 years ago
Unique challenges emerged with COVID-19 left rehabilitation centers with no choice but to adopt the remote care delivery approach. 
In November 2020, an outbreak was declared at a rehabilitation center in New Brunswick after one of the staff members tested positive for coronavirus.  
To eliminate risk of virus transmission at rehabilitation centers while not affecting the continuity and quality of care, telerehabilitation is the only workable alternative to in-person care delivery approach. 
It is nothing but the delivery of rehabilitation services using a telemedicine mobile or web-based solution. Considering its use cases and benefits, Canadian Physiotherapy Association is advocating for telerehabilitation.
Telerehabilitation can reduce healthcare costs, improve treatment adherence, enhance physical and mental function and can be delivered in a manner that patients are comfortable with.  
With AI and ML technologies, we can take telerehabilitation to a whole new level - as shown in the following tweet!
Me and @ColellaTracey are delighted that our project "Multimodal AI for Delivering Home-based #Cardiac #Telerehabilitation" is selected for the 2020-21 Cohort for the #Entrepreneurship for #Cardiovascular Health Opportunities (#ECHO). Thanks @Soror_Sha @trogersresearch judges 1/2 pic.twitter.com/S5En3n5l9J

— Shehroz Khan (@Shehroz_SKhan) September 30, 2020
Major resource you would require to offer telerehabilitation services 
Ultimate goal of any rehabilitation center should be providing help to patients regain strength, function and movement to enjoy an overall better quality of life. 
But to achieve it online with the highest standards of quality care and the best possible outcomes, you would require a dedicatedly developed virtual care or telemedicine solution as per clinical workflows of your rehab center. 
A telerehabilitation solution is equipped with different modules for therapists and patients. By logging in, therapists can virtually guide patients to restore them back to healthy and normal life.
List of rehabilitation services you can offer online with telerehabilitation or telemedicine platform
With robust telemedicine IT infrastructure, you can bring all of your rehabilitation therapies online and deliver them with a zero-risk approach.
Telerehabilitation solution has dedicated features for centralized communication and collaboration. Thus, your multidisciplinary team can easily work together with employees, employers and insurance providers to actualize safe, timely and cost-effective return of patients to their workplace.
Motor Vehicle Accident (MVA) rehabilitation 
You can run personalized programs to treat a wide range of MVA-related injuries and focus more on patient recovery, functional training & long-term self-management with advanced tracking and recording features.
Occupational therapists can virtually guide patients who are recovering from illness, returning to work after an accident or learning to cope with the effects of ageing.
If patients have any medical complications, therapists can get access to the medical history of patients and prepare a care plan around it for enhanced outcomes.
Pain management rehabilitation 
You can get the root cause of patients' pain and deliver a personalized program to help patients regain stamina and confidence.
Easy tracking of sleep, pain severity and other body signs helps therapists to evaluate whether there is a need for modifying a pain management plan or not.
Your experienced physiotherapists can work virtually with patients to suggest personalized home exercise programs and guide them around it in live video calls to reduce pain and promote healing.
Automatic reminders and reporting always ensure that a patient never skips his everyday home exercise schedule.
If patients face any difficulty, they can drop a message for therapists in case a therapist is not available for a video call without an appointment.
For World Physiotherapy Day, get stuck into this collection of free full-text papers about telephysiotherapy: https://t.co/JWdJWV5M6A#worldptday#telerehabilitation#rehabilitation pic.twitter.com/FDoEHLhqOy

— Mark Elkins (@JoP_Editor) September 7, 2020
Benefits of starting virtual rehabilitation center
During the pandemic, many healthcare providers have switched to a virtual care or telemedicine solution for their medical practice and it has been very successful for them in terms of clinical outcomes and patient experience. 
Following are top benefits you can derive from a virtual rehabilitation center.
Contactless care delivery

 
You can provide rehabilitation services without being in close contact with any patient which eliminates the risk of virus exposure completely for you as well as for your patients. 
Both patients and therapists can talk to each other without stepping out of their homes which saves travelling costs and time.
It also enables you to save on disinfection measures and PPE cost as telerehabilitation reduces patients' footprints in your clinic dramatically.
Patients can have instant access to therapists using their mobile phones. They can either voice call, video call or chat with therapists.
Easy patient data management

 
A telemedicine solution for rehabilitation centers automatically stores important clinical data under patient profiles which can be easily accessible in graphical format for tracking and assessing clinical outcomes.
Streamlined personal care

 
Patients undergoing therapies can keep a record of their mood, pain, vital body signs, food intake and workout with easy recording tools and a dashboard.
Workflow of rehabilitation therapies delivered through telerehabilitation platform
This will clear all of your doubts regarding appointment booking, care delivery, billing etc. 
1. Appointment booking 
Patients sign up on your platform by providing personal and health card details. 
They can either select the type of rehabilitation service they are seeking or ask one-on-one assessment season with specialists to find the appropriate rehabilitation service they require. 
If they select a rehabilitation service by themselves, your solution asks patients to add more details of their physical and mental health and then allows patients to book an appointment with a therapist. 
Therapists can also book an appointment for patients on their behalf. 
2. Appointment modification and reminder 
Patients and therapists can modify an appointment date and time.
Your solution reminds patients and therapists of upcoming video appointments by sending SMS, email or push notifications. 
3. Video consultation
Patients and therapists can join a video call by clicking on the joining link. 
Therapists have access to all clinical information of patients due to EMR/EHR integration with your solution. 
Therapists can write eNote while having a video call. They can either use a custom note or select from templates. 
Therapists can share images, links and videos with patients for education and training purposes. 
4. Referral 
If your patients have any medical complication and they require medical consultation from a physician, therapists can write a referral note.
Therapists only need to write a referral message as the solution itself adds all personal and clinical information of patients in referral notes.
You should know this: How telemedicine referral works?
5. Billing 
If a patient is insured under a public health plan and care provided by therapists is covered by that public health plan, therapists can submit a claim along with billing codes to MOH directly through the solution. 
If a patient is insured under a private insurance plan, therapists can submit a claim to the insurer from the solution itself due to Telus eClaims integration. 
And if a patient is uninsured, he can make payment using any online payment methods such as credit/debit card or eWallet. 
Check out our white-label telemedicine platform which is a perfect fit for your rehabilitation center
We are an Ontario-based healthcare-focused IT company and have been proactive in Canadian healthcare system as telemedicine tech and compliance experts. 
We have worked with clinics, hospitals, long-term care homes, wellness centers and healthcare startups to help them build future-ready IT infrastructure for running patient-centric virtual care programs with their own solutions. 
We accommodate developers, designers, business experts and compliance consultants who work parallel to build custom, MVP or clone versions of telerehabilitation mobile apps and software. 
To help all individual healthcare providers during pandemic with an affordable virtual care solution, we even launched a white-label telemedicine platform compliant with HIPAA/PHIPA/PIPEDA and other provincial privacy laws. 
We understand the fact that one-fits-all approach does not work in healthcare. So, we customize our white-label platform according to our healthcare clients' clinical workflow. And this is why we always deliver them success!
Following are some of the real screenshots of our white-label telemedicine platform.