Bob has never thought that he could make his employees – productive and clients – happy, so easily!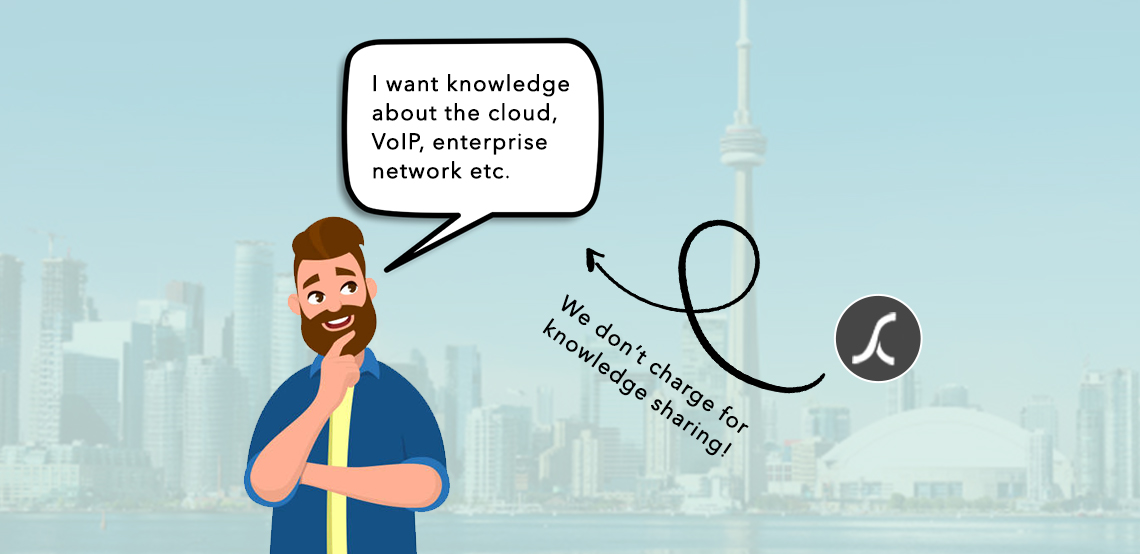 3 years ago
We were busy summing up our work on our last working day of the year 2019.
Our team was pleasantly relaxed even after a long tiring week because of the Christmas holidays already waiting for us with snow, family, gifts, tree lighting ceremonies and holiday movies.
That's exactly how we were feeling!
We were about to step out of our suite 1409. Many of us already did.
Our client success manager-cum-business expert who directly communicates with clients received an email.
It was from Bob who was running a manufacturing company in Toronto.
Our client success manager read the message of Bob aloud as the majority of team members had already walked out.
Bob had written,
"Hey SyS Creations, I hate two things - typing long messages and IT.
But the irony is, I am facing business challenges that can only be solved with IT and the business challenges are so many that I have to write more!
Can you guys solve both these problems with your IT consulting service?"
That was the most honest and humorous message we had ever received from the client.
"Let me talk to Bob. You please enjoy the holidays.", our CEO - Parth Patel - said as he settled himself back on his workstation.
Parth had already made his mind to talk to Bob the same evening. He himself replied to Bob.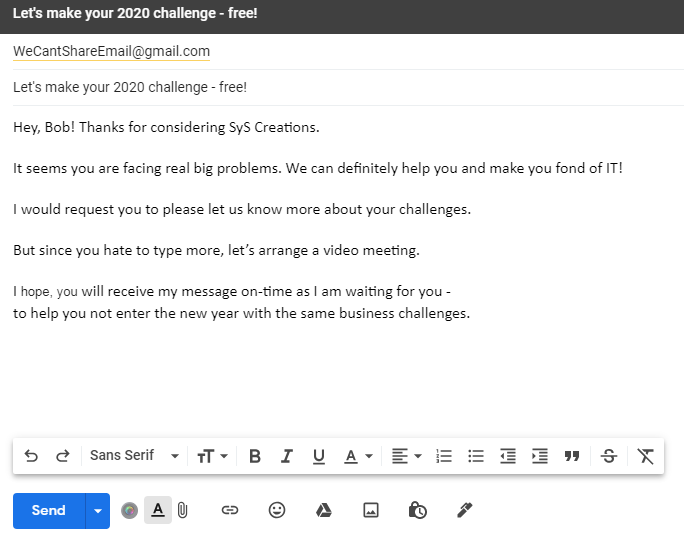 (We can't share the exact client communication. Hope, you understand!)
Bob very soon joined Parth on a video meeting.
Bob appreciated how quickly his requirement got answered by the CEO himself!
(That's how actually we work. We don't have salespersons. Always our senior and experienced team members talk to our clients.)
After a formal introduction, they talked about business.
Parth asked Bob a few questions to know his requirements in a better way.
What are your business challenges and how they are affecting your operations?

Have you already found solutions for those challenges?

Are you planning to leverage IT to its full potential to avoid similar challenges in the future or just want to solve the current challenges with no long-term goals?

Do you have an existing IT infrastructure?

Can you please tell me the ROI you are expecting?

Are you considering automation to reduce burden on employees?
Bob answered briefly.
From the last few months, the customer base of Bob's company had increased a lot due to the holiday season. To meet the high demand, Bob had hired new people.
But with more customers and staff members, the legacy home-like Wi-Fi setup had started giving up.
Both his customers and employees had fed up because of the no proper communication channel.
Pages to keep data were running out with many data-lost complaints.
From the beautiful garden valley, his business had come to the edge of the rocky mountain.
After a pause of almost 2 minutes, Parth declared, "Here is the plan!"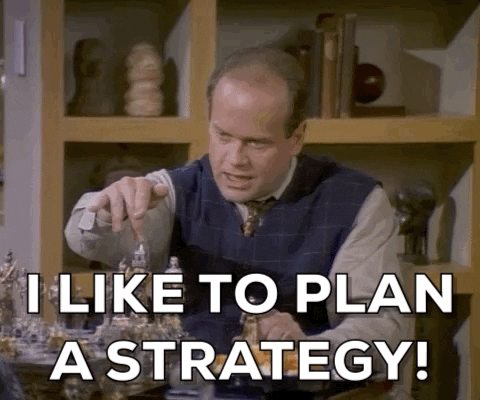 Bob got stunned. He asked, "What about your consulting fee? We haven't discussed it yet."
Parth smiled, "We only charge if our IT consulting helps you get more business and solve current challenges."
Later Parth made Bob familiar with the solutions he had added in the tentative plan.
Parth's solutions for Bob's business challenges were an enterprise Wi-Fi system with routers, switches & access points, cloud adoption to solve data challenges, VoIP for seamless internal & external communication and repetitive task automation to reduce staff burden.
He further added,
"I will send you the full-proof solution plan in the next 3-4 hours.
It will include the required IT budget, ROI, high ROI strategy, outcome, total cost of ownership and many other crucial things.
Once you approve the plan, my IT team will acquire, configure and deploy the IT solutions as well."
That was new for Bob. He exclaimed, "You don't just limit yourself to IT consulting! Wow!"
"We are limitless when it comes to IT!", Parth chuckled.
This is just one example of how we help Canadian businesses thrive more during challenging times.
For every new business and challenge, we follow a personalized SOP, approach and solution delivery model.
In other words, we upskill and dig deep into already explored IT areas daily - even during the Christmas holidays!
Know more about our IT consulting service for Toronto and the rest of Canada.