Start Your Own Virtual Diabetes Clinic Like Steady Health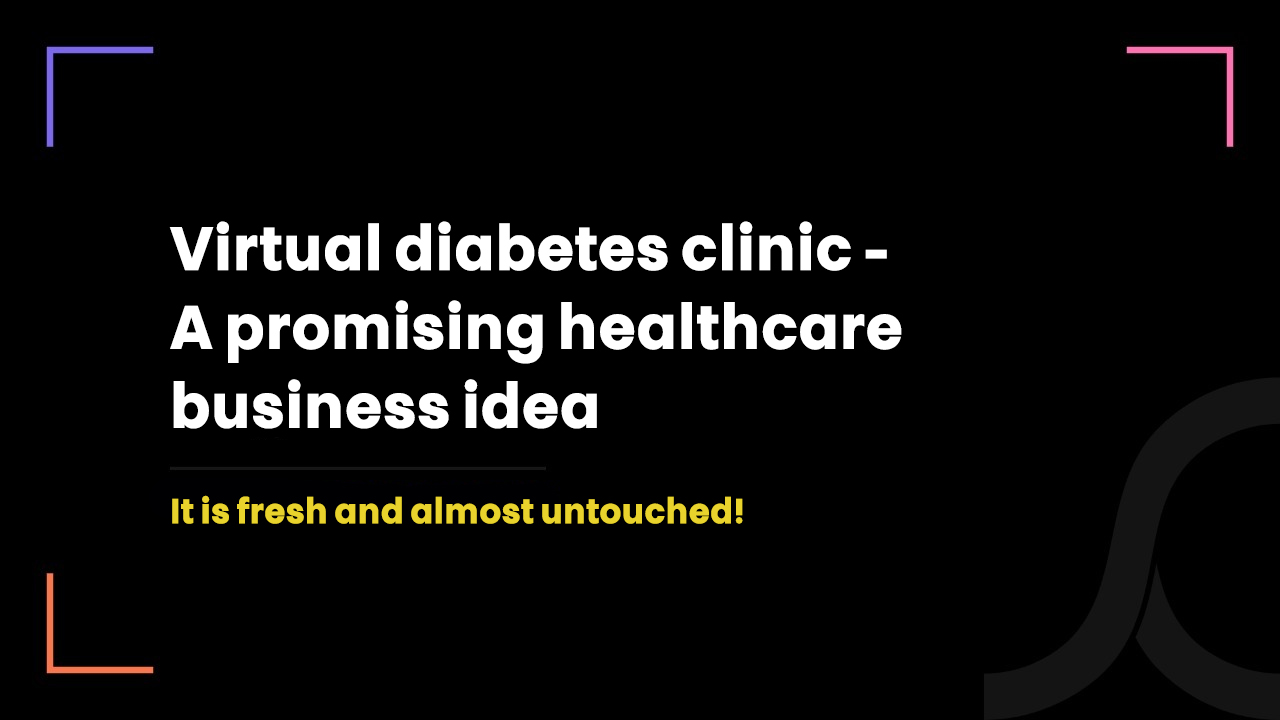 2 years ago
"Life is not over because you have diabetes. Make the most of what you have, be grateful!"
Because it is now easier than ever with mobile-based modern diabetes care! 
How is COVID-19 impacting patients having diabetes?
Past one and half years have been difficult for all of us. However, it has been extremely difficult for seniors & people having chronic illnesses including diabetes. 
Many studies suggest that coronavirus can cause more severe symptoms and complications in some people living with diabetes. 
Such people also take longer to recover from the virus and join back their normal life. It is also observed that many of them develop post-COVID-19 complications. 
While regular medical consultation and round-the-clock monitoring are crucial for diabetic patients, many leave with no choice but to postpone their next clinical meeting due to restricted movement and fear of catching the virus from a clinic. 
By delaying care, they unknowingly push themselves toward more severe stages of diabetes.
COVID-19 and restrictions around it to break the chain have also impacted their diet plans and mediums to perform physical activities or workouts. 
Many patients have either completely put a stop to daily workout plans or significantly reduced their workout time.
As if this is not enough, a large percentage of the population including patients having diabetes are going through awful mental health due to isolation which impacts their overall health dangerously.   
Most prominent way to solve all of these challenges in a single shot is a virtual diabetes clinic like Steady Health. 
It is game-changing!
What is Steady Health and why is it so popular among patients having diabetes?
Steady Health is a US-based virtual or online diabetes clinic - aims to empower people with diabetes to live the life they want.
With a purposeful mobile app, it is marching toward its ultimate goal slowly and steadily by making diabetes care easily accessible, connected and personalized. 
Using its mobile app, patients can chat with the diabetes care team, which includes an endocrinologist and a diabetes coach.
Steady Health also prescribes the CGM that is able to share glucose data with mobile apps for easy recording & tracking and for getting actionable insights that actually make a difference. 
Patients can select between two membership plans - ongoing membership and steady starter program. 
Recently, Steady Health announced that they are joining Carbon Health which is a modern healthcare company operating both urgent and primary care clinics in 13 states. 
On the Apple App Store, Steady Health app has secured a rating of 4.6 out of 5. 
One of the reasons why Steady Health is so popular among patients having diabetes is the convenience it provides them to see a healthcare provider, record the glucose data and track their clinical performance. 
In other words, it satisfies the exact needs of patients without costing them a bomb and without making them wait for receiving care.
Considering the fact that diabetes is emerging as the dominant chronic illness among the young population, investing in a virtual diabetes clinic is a very fruitful and safe choice. 
So, let's now discuss its top benefits.
Which benefits can you offer to your patients with a virtual diabetes clinic?
A virtual care delivery approach has been very popular and successful since the onset of the pandemic in March 2020.
We have recorded that more healthcare providers and startups approached us for virtual care technical and compliance help in 2020 than all last 4 years combined. 
Government and different medical associations have also been promoting virtual care as a mainstream care delivery model to ensure the continuity of care even during the pandemic. 
Talking about patients, they have been preferring virtual care over in-person care as it is more convenient, safe, rapid and affordable. 
If you employ virtual care technology for diabetes care, you can offer the following benefits to your patients.
Talk to the clinical team anytime 
Using a virtual care mobile app, your patients can talk to your clinical team anytime via chat, voice call and even video call. 
A virtual care mobile app offers you the flexibility to set your custom workflow for letting patients contact your clinical team. 
For instance, you can make pre-booked appointments mandatory for talking to the clinical team. Or, you can offer instant messaging options. 
You can charge as per virtual visit or you can run the subscription plan for unlimited virtual visits.
A most comfortable way to receive care - from home! 
Patients do not need to travel to your clinic for medical consultation. They can seek quality care from the comfort of their home.
By partnering with pharmacies, you can even enable patients to receive the medicines at their doorstep. 
Easy glucose data recording and tracking 
A mobile app is the easiest medium for patients to record their crucial body signs including glucose level.
They can either add the data manually to the mobile app or - if you integrate the CGM system with your virtual care app - data gets added automatically. 
Sophisticated algorithms of this virtual care app keep a close eye on glucose data added either manually or automatically and alert the care team if they find any uncommon trend. 
Thanks to seamless integration with EMR/EHR, healthcare providers can also get access to the clinical data of patients from the virtual care app itself. 
A virtual care mobile app dramatically reduces the cost of seeking healthcare services in Canada.
First, it supports the OHIP, MSP and AHCIP-covered virtual visits. It is equipped with a billing module that allows providers to submit claims directly to MOH. 
Secondly, it also supports private insurance. With Telus eClaims integration, providers can directly submit claims to private insurance companies. 
And most importantly, it eliminates the wait time, travelling time and travelling cost which ultimately makes virtual care a most affordable care delivery model. 
How to start a virtual diabetes clinic like Steady Health?
Starting a virtual clinic has always been complex due to technical, business and compliance challenges.
However, we have helped several healthcare startups, organizations and individual providers to start virtual clinics with our custom approach which works best for all. 
We are sharing it here so that you can also follow this risk-free approach for assured success.
Where will you launch your service?
Which technology solution do you need?
Which clinical services will you offer?
What are clinical protocols in place for each clinical service?
How will you manage ePrescription?
How will you fulfill a prescription?
3rd party service integration
Which 3rd party services will you integrate for more streamlined operations?
Compliance readiness and legal protection
Are you compliant with data privacy laws and do you have legal protection?
How will you find and train clinicians for your virtual care program?
How will you make sure there are always enough clinicians available for patients?
To explore each of these steps in detail with examples and case studies, read our very useful resource >> How to Start a Virtual Care Service in Canada? A Checklist
How can we help you wonderfully to start a virtual diabetes clinic?
We are Ontario-based virtual care or telemedicine tech, business and compliance experts. We have been dealing with virtual care technology for more than 7 years. 
With our dedicated healthcare developers, designers, business analysts and compliance specialists, we solve all technical, business and compliance challenges of our healthcare clients and offer them peace of mind. 
Being a Canadian company, we know the gravity of compliance. Thus, we only build a compliant virtual care platform with all applicable privacy laws. 
Another way our Canadian-healthcare-specific knowledge helps us is to build healthcare IT solutions as per the Canadian market and consumer behaviour. 
What we do exceptionally well in addition to development is idea validation, workflows, documentation, UI/UX and prototyping. 
Because building a tech platform for your online diabetes clinic is not only about writing code. It's also about validating, planning, prototyping etc. 
On a concluding note, we would like to show you some real UI screenshots of our white-label virtual care platform.