Ro Launched Virtual Skincare Consultation Under the Brand Ro Derm: Want to Start Something Similar?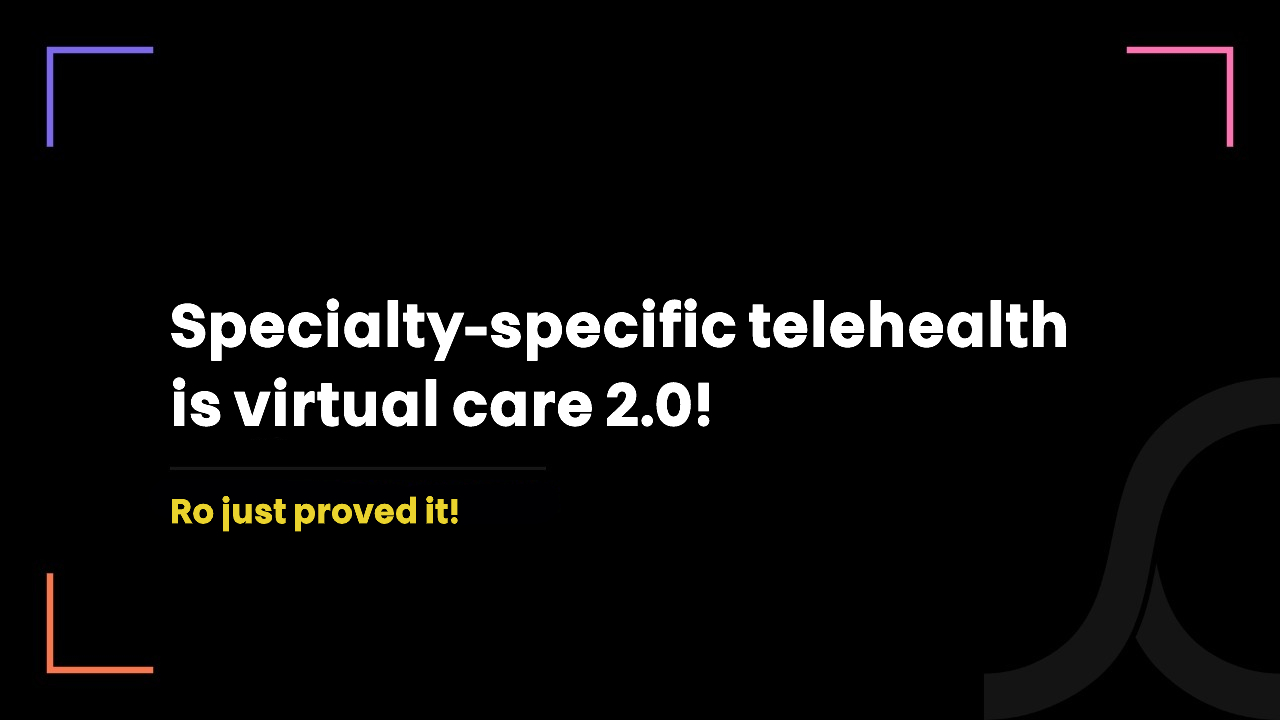 2 years ago
Ro is the telehealth giant.
Its valuation is more than the total valuation of Canada's top 5 telehealth solutions. 
Oh, wait! It has just raised a whopping $150 million at the valuable of $7 billion!
And no, pandemic turning into endemic will not make Ro suffer as people have already acknowledged the useful use cases of virtual care and Ro. 
That's why - rather than playing a safe game, Ro is becoming more aggressive - with the launch of its new brand, Ro Derm for virtual skincare consultation and skincare prescription delivery service. 
So, if you're inspired by Ro & its teledermatology offerings and planning to launch your own virtual skincare startup, this blog will help you find game-changing insights.
Why did Ro launch a virtual skincare clinic when everyone believes the virtual care era is over?
We've been dealing with virtual care tech even prior to the pandemic.
So, we know very well that virtual care was never a bubble, it has been a trend and now has become routine for patients and providers. 
Ro must have the same belief. And believing in the ever-growing market opportunity for virtual care is the first reason why Ro has launched a virtual skincare clinic while everyone has doubts over the virtual care market potential.
The following are some other reasons.
It's the best time for specialty-specific telehealth
To be honest, the era of virtual care is not yet over. But yes, the era of general-purpose virtual care is already over.
Because, general-purpose virtual care apps and solutions are everywhere in the market, leaving very little room for new players to build a market position. 
However, specialty-specific telehealth platforms and apps are still in their infancy. 
Unlike general-purpose telehealth, specialty-specific telehealth delivers more quality care through world-class professionals as that platform is all about solving that one specific healthcare or wellness issue. 
Ro did exactly the same. It chose to launch - not general-purpose telehealth, but specialty-specific telehealth!
Multiple revenue streams are essential to survive for health tech startups!
There is cut-throat competition in the health tech startups ecosystem. One cannot survive with just one revenue stream.
That's why every existing health tech startup is now busy adding more revenue streams by launching new services. 
Benefits? Well, launching more services to generate more revenue streams isn't overwhelming as these startups already have a basic tech and people infrastructure. They only have to fine-tune it as per the new requirements. 
But the benefits are huge. They are able to build a larger user base which results in more revenue.
Additionally, with the launch of a new service, a health tech startup is not only attracting new users for its newly launched service, but it can also effortlessly convert users of that new service to the users of its existing services. 
If our business analysts are not wrong, Ro must have the same plan!
Pandemic made people habituated to virtual care
Do you remember those times when public movements were restricted, clinics were emerging as hotspots and patients, doctors both were avoiding direct contact? 
That was the time when people in real life identified the more affordable, faster and more convenient alternative to in-person care.
During the last 2 years of the pandemic, the majority of people considered virtual care when they were in need of medical consultation. Because providers were also avoiding in-person care. 
And slowly, what started as the compulsion turned out to be a habit for patients. A habit that is persistent in nature and can't be altered easily even in a post-pandemic world. 
Ro trusted this habit and launched a virtual skincare clinic amid claims that virtual care is losing traction!
About Ro Derm - How does it work and What does it offer? 
If you're planning to build a teledermatology platform, you must study Ro Derm very precisely. To make things easy for you, we're here sharing some useful information about Ro Derm. 
The workflow:
Free 10-minute online visit
Using its web platform, users have to log in and set up a quick profile. Users are also asked to provide some basic information about their skin and skin issues. And now, users can have a virtual visit with a dermatologist.
Based on skin assessment, the dermatologist tailors a skincare formula for a specific user. In other words, the skincare prescription is customized and personalized to the skin type of each user.
Users receive a monthly delivery of their prescribed skincare products which costs them $29 per month. Here, users have the flexibility to cancel receiving monthly Rx treatment.
Users can have free and unlimited follow-ups with the dermatologist in the form of chat. Dermatologist measures the progress and if required, he changes or optimizes the care.
The Rx treatment ingredients:
Based on the prescription and skin type, Ro Derm makes a custom Rx treatment for each user containing the following ingredients, 
Tretinoin
Azelaic acid
Niacinamide
Vitamin E
Tranexamic acid
Ceramides
Hyaluronic acid
$5 trial of the full system: 
Ro Derm enables users to leverage its 30-day trial of the full Ro Derm system by paying only $5. 
Following is what is included in its $5 trial.
You must also read: How to start a health tech startup like Ro?
Some of the advanced use cases of virtual skincare clinic
If you don't want to remain limited to only teledermatology and also want to try other opportunities of online skincare, you can consider adopting the following use cases. 
Skin cancer detection: Using AI & machine learning, you can detect whether a patient has skin cancer, if yes, what kind of cancer and in its which stage - all through just a simple image of the skin.
Skincare chatbot: Users can ask questions about skin, common skin issues, possible products etc and receive instant answers.
Skincare eCommerce: You can sell different skincare products and OTC drugs useful for treating different skin conditions.
Online pharmacy: You can facilitate users to receive prescribed drugs majorly for skin issues at their doorstep.
The technical infrastructure needed to start virtual skincare like Ro Derm and how can we help you
Having an idea of starting teledermatology only requires thought but executing that idea requires a tech infrastructure. 
You already have an idea, so let us help you win the execution part.
This is the most basic requirement. It serves as a medium for users to engage in your services and receive updates from your side.
To build a mobile app or web app, we deploy our team of business analysts, developers, UI/UX designers, compliance specialists and QA engineers.
We don't directly jump to the coding part as an epic mobile/web product is the outcome of discovery, documentation, UI/UX, development, testing, compliance, piloting and launching.
Your digital product for teledermatology stores the personal and confidential clinical data of users. Thus, healthcare data privacy laws apply to you.
All these laws have both technical and administrative requirements which you have to address to avoid legal challenges.
With the help of our compliance specialists, we make sure your product is compliant with all data privacy laws such as HIPAA, PHIPA, PIPEDA etc.
We also help you understand and implement the administrative requirements of these laws.
To let providers access clinical data of patients from their EMR/EHR itself while providing virtual care through the telehealth platform, you must integrate EMR/EHR with your telehealth platform.
And, this integration isn't easy as there are several by default interoperability issues that require a skill set in HL7, FHIR interoperability standards.
So, our healthcare integration experts work along with developers to ensure seamless EMR/EHR integration without any interoperability issues.
A mobile/web app is a piece of technology that can anytime behave abnormally. In such a situation, you must have instant access to support executives or at least a support document to not remain shut for days.
We provide you with a detailed support document so that you can solve common and basic errors by yourself. For high severity issues, our support team will always be there on call and by email. 
So, in conclusion, all we want to say is, you have a vision and we have the perfect fuel in the form of healthcare technology expertise to reach where no one has yet dared to!